Area Imprint Tablecloths
Our custom area imprint tablecloths are an effective way to promote your brand at a show or an event. Choose from regular, fitted, convertible, and stain resistant styles. We offer 15 ready-to-print colors to complement your company's logo and brand. Dye sublimation printing produces spectacular colors on our wrinkle-resistant polyester fabric. Tablecloth sizes offered include 4ft, 6ft, 8ft, and custom.
FREE Design Services | FREE SHIPPING | Design Online or Upload Template | 3-Day Turnaround | Rush Options | Free Proof | Pay Later
Choose From Multiple Area Imprint Styles
Start in our product configurator by choosing one of three sizes: 4ft, 6ft, or 8ft. You can also choose from any one of our 15 stock color choices to find the color that best works as a background to your company's logo. Our area imprint tablecloths come in a variety of styles so we can get you the table cloth that best fits your needs. The area imprint styles of we offer include:
Standard Tablecloths
Our standard area imprint tablecloths provide a simple way for your brand or company to stand out at its next trade show appearance. Choose from any one of over a dozen ready-to-print colors, including red, blue, black, brown, green and white. The standard tablecloth comes in any one of three sizes: 4ft, 6ft or 8ft, with custom size tablecloths also available. Coverage options include 4-sided or 3-sided: 4-sided coverage covers all four sides, while the 3-sided size leaves the back open.
Stretch Tablecloths
Perfect for trade shows, promotions and other events, our area imprint stretch table covers work as a stylish substitute to our standard stock tablecloths. Much like the standard option above, the stretch table cloth comes in any one of our three offered sizes, with custom sizes available as needed. The stretch table cloths are also available in either the 4-sided or 4-sided coverage options so that you can get the table coverage that best fits the booth you have at hand. No matter which coverage option you go with, the underside of your table will be safely concealed by sliding the table's legs into hidden pockets that are sewn into the sides of the table cover.
Fitted Table Covers
Need to give your table space a little more definition? Look no further than our fitted style tablecloths. The fitted finish of these tablecloths firmly fits to your table to provide a definite shape to your booth space. Each fitted table cloth with area imprint is available in one of our three standard sizes, with custom sizes available on request. The fitted area imprint table cloth can also be ordered in either our 4-sided or 3-sided options to best suit the table space you have available.
Convertible Style
Ever had table cover bigger than your table size? We've got you covered. Our convertible table cover with area imprint is actually two throws in one, designed to convert your table from 8ft to 6ft or 6ft to 4ft so that you can get a tight fit on the table space you have available, no matter the size. Simply use the included hook-and-loop fastener to make the conversion happen, and soon you'll have a table cover that fits your needs, no matter the size.
Area Imprint Tablecloth Features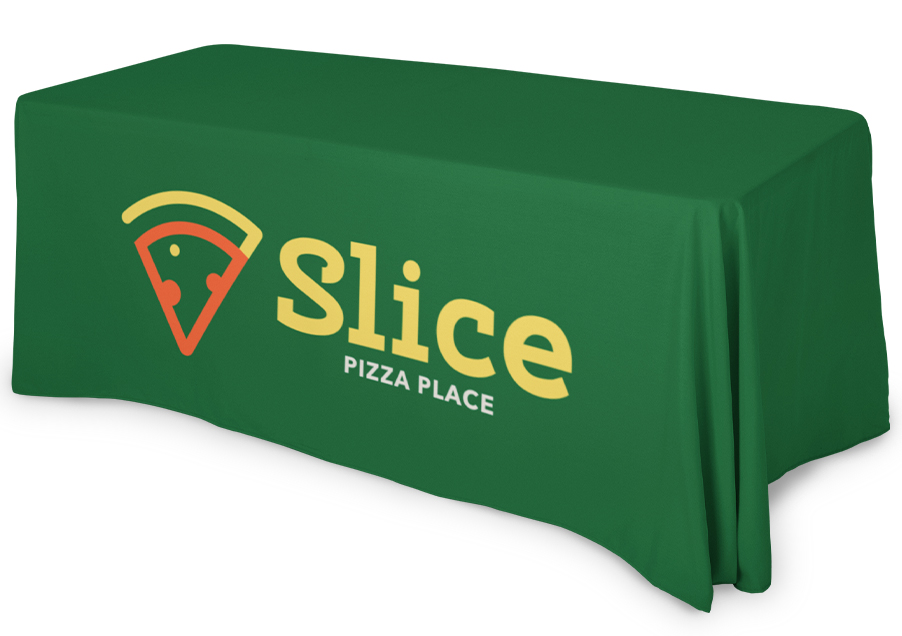 Easy Design Process
Designing your tablecloth is a quick and easy process that involves uploading your custom logo or brand and choosing your background color.

Dye Sublimation Printing
All area imprint tablecloth styles are printed using dye sublimation. This premium printing technique produces vibrant, full-color graphics that are fade-resistant.
Wrinkle-Resistant & Flame Retardant
These table covers with area imprint are wrinkle-resistant and flame-retardant, making them safe for all indoor and outdoor applications.

Reusable and Easy to Clean
Our area imprint table cloths are easy to wash and reuse. Simply throw the tablecloth in the washing machine and air dry. Our printing style is scuff and fade-resistant.

Choose Your Coverage
Choose between 3-Sided and 4-Sided coverage options. Both coverage styles can be beneficial for different applications.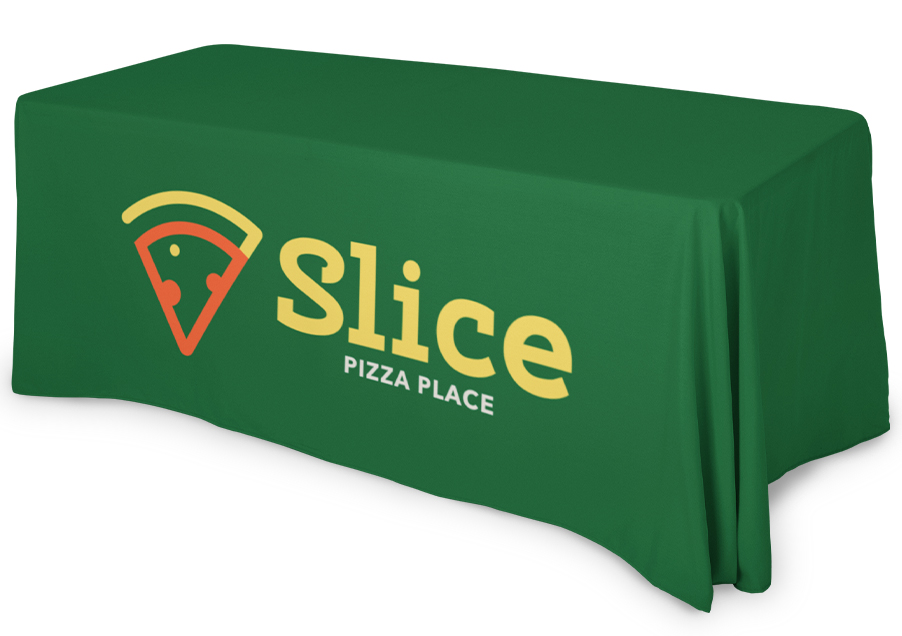 Area Imprint Tablecloths with 3-Sided or 4-Sided Coverage
Four-Sided Full Coverage
We offer most of our table cover styles with the option of 3-sided or 4-sided coverage. Each coverage style can be beneficial depending on the application. The 4-sided coverage, or full-coverage, is best for applications where foot traffic is coming multiple directions. This coverage style conceals all four sides of the table and is best for storing multiple or large items under the table while exhibiting.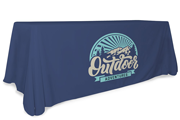 Three-Sided Economy Coverage
The 3-sided coverage option is more budget friendly and allows for easy access under the table from the rear side. The 3-sided coverage also makes it easier to sit at the table and avoids any issues with the tablecloth fabric causing interference. 3-sided coverage is especially useful if you are displaying in an area where traffic isn't coming from directly behind your display, so guests cannot see under the table display.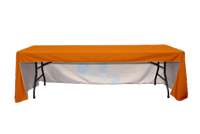 Cleaning and Care
Vispronet tablecloths are made from high-quality fabric and are easy to care for and clean. Cleaning your tablecloths is a simple process that doesn't involve any special chemicals or cleaning processes. Simply throw the tablecloth into the washing machine with similar colors, on delicate cycle. You may also hand wash them if you do not have a washing machine. If you are just spot cleaning, simply wipe the soiled area with a mild detergent or soap and a wet cloth or sponge.
Proper care for the tablecloths is essential for keeping the custom designs vibrant and avoiding any possible damage to the fabric. Follow these simple guidelines below to keep your table cover ready for your next show or event:
Avoid any harsh chemicals
Machine wash in cold or warm water
Hang dry or machine dry in low heat
If wrinkled, use a steamer to eliminate wrinkles
Order Tablecloths from Vispronet® Today
Tablecloths with area imprint are the perfect way to advertise to passersby at your next trade show or corporate event. Use our online design tool to create a customized tablecloth for your brand or business within minutes. Choose your color, style, coverage type and other options, then submit your order. Get a custom area imprint tablecloth from Vispronet® today!
Frequently Asked Questions
What is the turnaround time?
Turnaround times is 3 business days, plus shipping. If you need your area imprint tablecloth faster than our standard production window, we offer rush production for a small fee. We also offer expedited shipping options if you need your table cloth faster than our standard shipping times.
How are these tablecloths printed?
We print our custom table covers using dye sublimation. This high-end printing technique produces vibrant, full colors with photo-quality graphics. Dye sublimated tablecloths are fade-resistant and are safe for regular machine washing.
What is the difference between All Over Print and Area Imprint Tablecloths?
The difference between the two tablecloth styles depends on where you want to apply your custom design or logo. If you are looking to display a brand or logo, we recommend choosing a custom tablecloth with area imprint. This style features your brand or logo directly in the center of the tablecloth for maximum exposure. If you have a larger and more comprehensive design, we recommend choosing an All Over Print style. All Over Print allows you full design control so you can showcase your custom design or artwork over every inch of available fabric.
What table sizes are compatible with your tablecloth styles?
All our tablecloths are designed to fit standard 4', 6', and 8' trade show tables with the following dimensions (width x height x depth):
8' tablecloth: fits 96" x 29" x 30" table
6' tablecloth: fits 72" x 29" x 30" table
4' tablecloth: fits 48" x 29" x 24" table
What are the dimensions of the 3-sided custom tablecloths?
Dimensions change for each size selected. See the area imprint tablecloth measurements below (width x height):
8' tablecloth: Full tablecloth measures 154.3in x 66.1" with a 60" x 21" printable area.
6' tablecloth: Full tablecloth measures 129.9" x 66.1" with a 51" x 21" printable area.
4' tablecloth: Full tablecloth measures 106.3" x 60.2" with a 35" x 21" printable area.
What are the dimensions of the 4-sided table cloths?
Dimensions of 4-sided company tablecloths are as follows (width x height):
8' tablecloth: Full tablecloth measures 154.3in x 88.2in with a 60" x 21" printable area.
6' tablecloth: Full tablecloth measures 129.9" x 88.2" with a 51" x 21" printable area.
4' tablecloth: Full tablecloth measures 106.3" x 81.9" with a 35" x 21" printable area.
How big are the side panels for each size of your area imprint tablecloths?
The measurements of the side panels change depending on the area imprint table cloth size you select. In order to find the perfect fit, please see the following measurements (height x depth):
8' tablecloth: 29" x 30"
6' tablecloth: 29" x 30"
4' tablecloth: 29" x 34"
Are your tablecloths flame-retardant?
Yes. All our table covers are NPFA-701 fire class certified and able to be used at any trade show or event.
Do you offer any other shapes?
Yes! If you are interested in round tablecloths, we offer multiple styles to choose from including Area Imprint, All Over Print, Stain-resistant and more.
How do I clean my table cloths?
Cleaning the table covers is easy and doesn't involve any special techniques or washing chemicals. Machine wash the table cover in cold or warm water on the delicate cycle. To dry, throw in dryer on low heat or hang dry for best results. Use a steamer to pull out any stubborn wrinkles or folds in the fabric. Make sure not to use any harsh chemicals like bleach as these may damage the custom graphics and the polyester material.
Will the tablecloth fade after repeated washings?
No, these area imprint tablecloths will not fade after multiple washings. Each tablecloth is printed using dye sublimation, a premium printing technique that infuses the ink directly into the polyester fibers, creating vibrant graphics that are fade-resistant and safe for machine wash. Make sure to wash these custom printed tablecloth with cold or warm water and avoid any harsh soaps or chemicals.
Are custom sizes available?
Yes, our table cloth styles are available in sizes ranging between 12in x 12in x 12in up to 250in x 44in x 64in. We also offer 3 standard sizes that fit 4ft, 6ft, and 8ft tables.
How do I eliminate wrinkles from the table cover?
The most efficient way to pull out stubborn wrinkles is to use a steamer. We do not recommend using a traditional iron as this may cause damage or leave a mark on the custom printed colors and graphics.
Will these tablecloths be damaged if displayed outdoors?
No, these tablecloths will not be damaged if displayed outdoors. They are printed with fade-resistant graphics and are designed for indoor and outdoor display. However, with continued outdoor display in direct sunlight, the graphics made fade over time from continued exposure to UV-rays.
How do I store my table covers?
To store, make sure the tablecloth is completely dry to avoid any mold or mildew issues in the future. Once dry, carefully fold and store in a dry area like a closet or storage area. Avoid storing in wet areas or areas where the tablecloth may be trampled or damaged.
Where are these area imprint table cloths typically displayed?
There are many applications across multiple industries where area imprint table cloths are displayed. They are used by exhibitors at events and trade shows, school functions, religious events, and more. Area Imprint table covers are highly effective at showcasing a business' brand or logo to a passing audience.
What our customers have to say