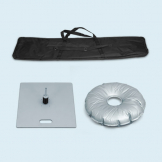 Bowflag® Plus Hardware
Need a little something to go along with your Bowflag® Plus? We've got you covered.
The Bowflag® Plus Pole Set is made from aviation grade fiberglass poles to withstand higher wind and bigger flags. Available in three sizes (M, L, XL) these poles easily bend to fit any of the shapes offered in their size range. You can use the same pole set for the Drop Shape as you use for the Straight, Angled, Concave and Convex Shapes. This is the ideal pole set for use outdoors or with your larger, double sided flags.
The uniform connection from the bottom of all Bowflag® pole sets to the various bases we offer mean you don't have to worry about spare parts or connectors when switching from one base to the next. If you want to move your Bowflag® Plus from an outdoor Ground Stake to an above ground Base Plate or Cross Base you can, without any special parts or adjustments. Worried that your base plate may not be enough to support your flag? Try adding on some Weight Bags, which can be filled with sand or water, for added stability.
Are you going to be travelling with your Bowflag®? If so, you will want to check out our Bags for the Bowflag® Plus. Each sturdy bag will hold all the poles and the flag for safe and easy travel. For your convenience there are even special carrying cases to hold the Base Plate 7" x 12" and 12" x 12".
If you know you are setting up your display for the long run or find that you just want to go for a uniform look you can always add on Accessories for Bowflags® such as the Ground Stabilizer or L Stakes to help keep your poles lined up just the way you like.