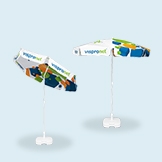 Custom Promotional Umbrellas
Promotional Café Umbrellas make for a great advertising display solution. Vispronet®'s Promotional Café Umbrellas are functional and attractive, sure to get the notice of potential customers. As these umbrellas and optional Patio Umbrella Stands and Bases are suited for an array of different environments, you're sure to attract new customers with Promotional Café Umbrella.
Why a Promotional Café Umbrella as part of your advertising strategy?
- Showcase your brand or message with a unique decorative advertising product
- Vispronet's Café Umbrellas are versatile, and can be used by restaurants, fairs, concerts, sporting events and much more
- Vispronet's Promotional Umbrellas are easy to set up and take down
If you have any questions, please contact us today. Click a Promotional Café Umbrella above to learn more.
Promotional Cafe Umbrellas Comparison
(Download PDF)