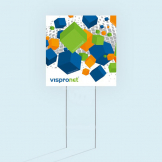 Custom Yard Signs
Vispronet® offers customized yard signs in several styles and shapes to help you and your business get the attention you deserve. Our custom sign options include:
Square-shape custom yard signs
Full-print in premade stock shapes
Full-print in custom shapes
back to top
Tired of Cheap Yard Signs?
If you're tired of getting cheap plastic lawn signs, consider getting a set of corrugated plastic signs from Vispronet®. Our customized yard signs are better than the yard signs cheap sign shops might try to sell to you. Each of our corrugated plastic yard signs is made out of a piece of 4mm sheeting to ensure durability. You don't have to settle for stock designs, either: we offer yard sign printing services through our VisproDesign® suite of custom design tools.
Take a look at some of the options we offer when it comes to custom corrugated plastic signs.
Square Shaped Custom Yard Signs
Whether you're running a political campaign, advertising a house for sale, or promoting an event, customized yard signs from Vispronet® will help you get the word out. Our custom yard signs are printed on durable corrugated plastic corrugated plastic sheets so that they can stand up to harsh weather.
When you order a customized yard sign from us, you can rest assured that your design is printed in full color with the best printing processes available. Choose from both single-sided and double-sided print layouts.
Full Print Personalized Yard Signs in Stock Shapes
If you're looking for a way to make your signage stand out, look no further than one of our customized yard signs, now available in a variety of stock shapes. Choose from over 20 shapes – everything from simple circles all the way up to ribbons, houses or megaphones.
The ability to print on one or both sides makes these corrugated plastic yard signs perfect to set up on the roadside to attract the attention of passing drivers. Durable corrugated plastic construction means that our stock lawn signs can stand up to some of the harshest weather available, unlike the cheap lawn signs you'll see elsewhere.
Full Print Coroplast Signs in Custom Shapes
Our custom-shaped lawn signs let you get a leg up on the competition. Unlike our competitors' cheap yard signs, each Vispronet customized yard sign is cut to your desired shape, such as a car, a house, a piece of fruit, or any other design you can think up. Have your design printed on one or both sides of the sign – we print both full-color images and photos, so you can be sure you're getting the personalized yard signs that are right for your needs. Each customized sign is constructed out of corrugated plastic sheets, meaning that it can stand up to whatever wear and tear you can throw at it.
Lawn Sign Sizes and Pricing
Our custom yard and lawn signs are available in several different sizes, ranging from 12" by 9" all the way up to 48" by 48" (2' x 2'). Custom sizes are also available.
Make Your Own Yard Signs With VisproDesign®
If you've ever wanted to make a set of personalized yard signs that feature your custom design or logo, we're here to help. With VisproDesign®, our suite of custom design software, designing your own corrugated plastic signs is easier than ever. VisproDesign® allows you to design easily without the need for costlier graphic design software -- all because of the multitude of features that it gives you access to, including templates for each of the corrugated plastic signs that we offer.
So ditch the cheap yard signs. Get started on designing your personalized yard signs today with VisproDesign®. Simply look for the "VisproDesign" tag in the lower right of the product image.
Choose Vispronet® for Yard Sign Printing
Your messages will be seen day after day with a customized lawn sign from Vispronet®. Our custom lawn signs are fade-resistant and made of durable corrugated plastic, but portable enough that you can take them on the road. Add in a pair of our sign stakes to keep your sign standing. The simple plug'n'display nature of our corrugated plastic signs means that you can them anywhere. And when you do? Get ready to get noticed.