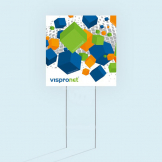 Custom Yard Signs
Whether you're running a political campaign or want to advertise a house for sale or promote a construction project, our Custom Yard Signs will help you get the attention you deserve. With our advanced printing and cutting technologies, we are able to give you the Custom Yard Signs you want at an affordable price. Choose from standard horizontal/vertical yard signs, unique stock shapes or your own shape. Click a product below to learn more.
Coroplast Yard Signs
These aren't your normal Yard Signs. Vispronet® Custom Yard Signs are printed on durable Coroplast®, a corrugated plastic that won't suffer from rips and tears like normal paper yard signs.