Design Templates
Don't fret if you need design inspiration or do not have a design in mind. We offer a wide selection of predesigned templates that can be applied to your product.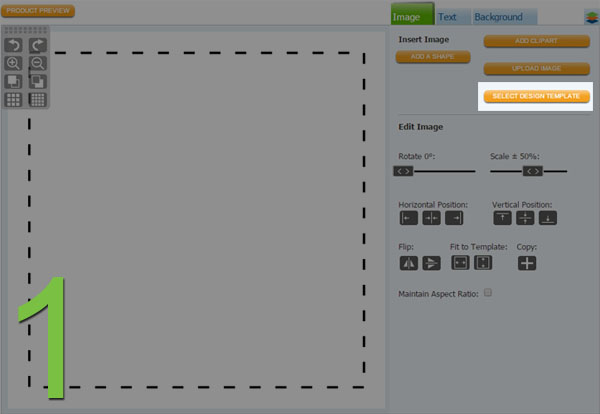 These designs can be found under the Image tab in the Visprodesign® tool and clicking "Select Design Template." (Click image on right for larger version)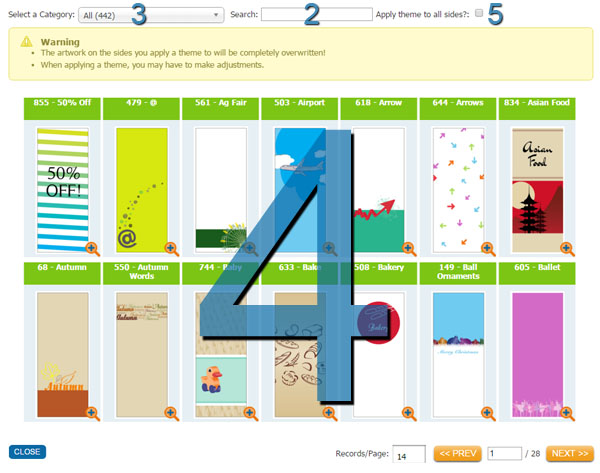 From there, you can search for particular designs or view categories to get overall ideas. Once you find a design you wish to use, select to apply it to your product. You can also choose to apply it to all sides for multiple-sided products. (Click image on left for larger version)
Design templates consist of text, background and clipart elements. These elements can be individually adjusted or deleted to create a truly custom design. You can additionally customize design templates with your uploaded images and text and clipart additions from our clipart library. When using a design template, you'll want to make sure all elements are positioned correctly within the image safety line, as well as the marking line (if applicable). The background of the design should extend all the way out to the solid line to avoid white margins. You'll also want to take into consideration finishing options like eyelets and grommets.
The product preview will show you how the design template will look, and must be approved before you can finalize your order.