Fitted Tablecloths
Looking to upgrade to a more stylish and premium tablecloth for your next event? Are your table legs bent out of shape and an eyesore? Our fitted tablecloths are the perfect solution. Printed on a wrinkle-resistant and flame-retardant polyester material, using a state-of-the-art printing process, our custom fitted tablecloths add the polished and professional appearance to your table that is guaranteed to garner extra attention from passerby.
FREE Design Services | FREE SHIPPING | Design Online or Upload Template | 3-Day Turnaround | Rush Options | Free Proof | Pay Later
What Is a Fitted Tablecloth?
When preparing for events, shows, and conferences, practice and preparation are vital to ensuing a successful show for your brand or company. Small details can affect how passing prospective customers and clients view and internalize your company or brand. One way to ensure you have a tidy, eye-catching display is employing the use of a fitted tablecloth.
Fitted tablecloths are hemmed and reinforced at the corners down to the floor, designed to fit snuggly against your table while completely covering three sides or all sides. The fitted style gives off a more sophisticated and professional appearance compared to the traditional loose style tablecloth, and is the perfect solution to covering any unsightly marks or bends on the table legs beneath. This style table cover is also excellent for hiding items under the table, so it makes for the perfect storage nook while you're at a show or event.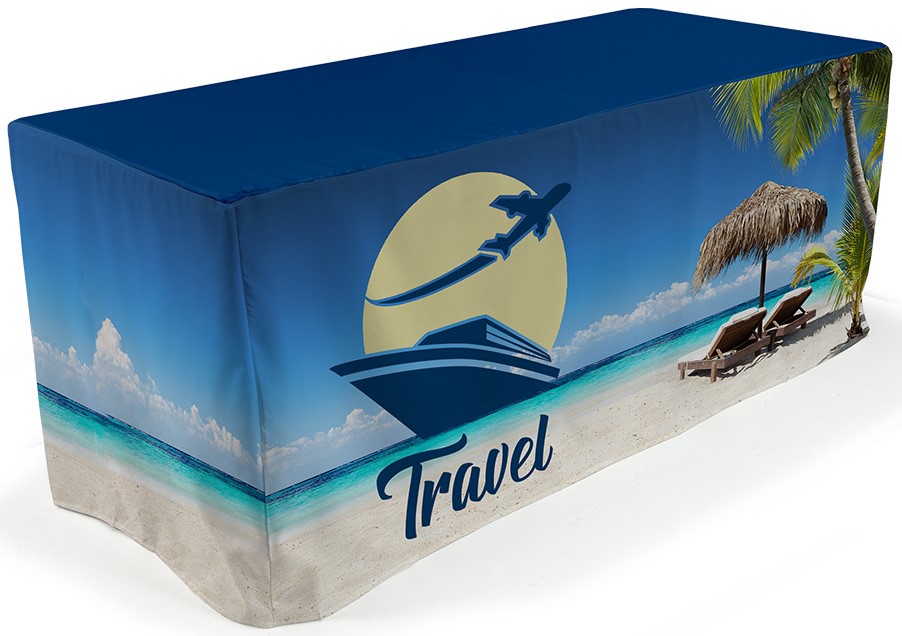 Double-Fold Hemmed Edges
All of our fitted tablecloths come reinforced with double-fold hemmed edges. This reinforces the corners, extending the life of your tablecloth.
Wrinkle-Resistant and Flame-Retardant
Our custom fitted tablecloths are printed on a wrinkle-resistant and flame-retardant polyester material. Stain-resistance is also available.

Full-Color Dye Sublimation Printing
All Vispronet tablecloths are printed using top of the line dye sublimation printing for spectacular, bold, color reproduction.

Choose Your Tablecloth Coverage
Our fitted tablecloths are available with 3-sided or 4-sided coverage. Each style can be beneficial for different storage and display applications.

Easy to Clean and Reuse
Our tablecloths are easy to wash and reuse. Simply clean in washing machine on cold setting and air dry. The dye sublimation print is less susceptible to fading.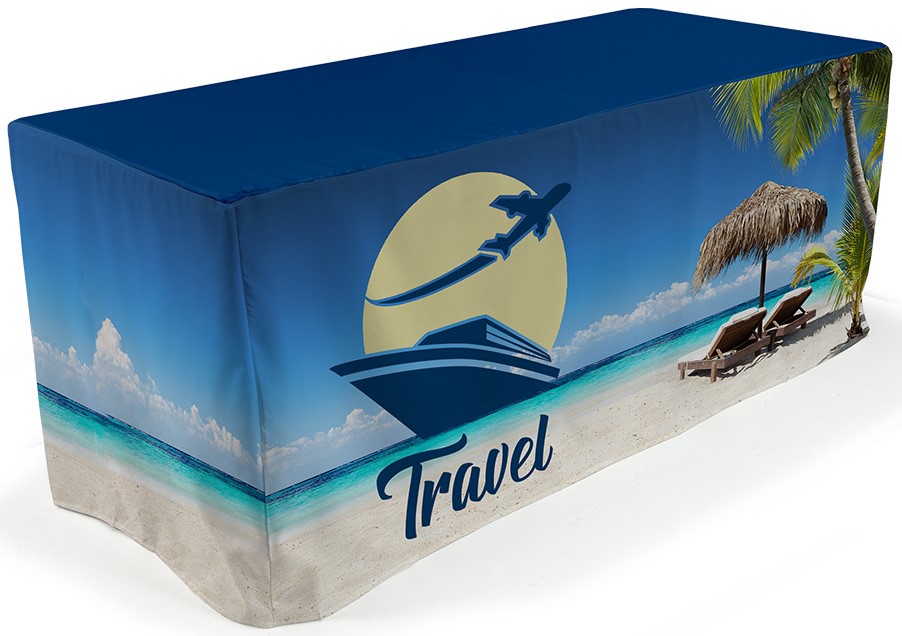 Choose Your Style Tablecloth
We offer a plethora of style choices for our fitted tablecloths. These include our: all over print, colored logo print, stock color, stain resistant, as well as our round and cocktail table style table throws. No matter which style of table cover you choose, all of them share some of the same features, including a seamless one-piece design, double-fold hemmed edges, stunning dye sublimation print, and a wrinkle-resistant and flame-retardant polyester fabric. We offer them in multiple sizes, including 4ft, 6ft, 8ft, and custom sizing up to 20ft long.
All Over Print
Our full print style fitted tablecloths are an excellent way you to show off your brand, design, or company logo. This all over print style gives you complete creative control, meaning that you have the ability to completely design your display cover from the ground up. All of our all over print fitted table covers (aside from stain-resistant) are printed on polyester, which offers wrinkle resistance and a slight stretch, all in one lightweight package.
Logo Print
If you don't need the full creative control that our full-print table cover offers but still want a way to show off a custom logo or brand, our fitted tablecloth with logo print is a great solution. These fitted logo tablecloths offer a simpler way for you to attract the eye of passersby at a trade show or other event. Choose from over a dozen ready-to-print colors, including red, green, yellow, orange, and grey.
Stock Color
Our stock color fitted table covers are an excellent alternative to a fully custom table throw, offered at a bargain price. Each of these tablecloths is available in one of four stock colors: red, blue, black or white. These choices make it a great selection to go with one of our custom-printed table runners to really draw the eye. If you're worried about damage to your table cover, don't be. All of our stock table covers are made from 300D dyed polyester, which makes them wrinkle-resistant, flame-retardant and safe for a washer machine.
Stain Resistant
Our Stain Resistant option is great if you think you may encounter some spills at your next event or show. This fitted tablecloths style is printed on our stretch display polyester or our 300D polyester, which are both flame-retardant, stain-resistant fabrics. The stain resistant tablecloth is available in our all over print option only for rectangular and circular tables.  
Round Fitted Tablecloth and Cocktail Style
If you are looking for a custom round fitted tablecloth, Vispronet carries all the options you need. We offer both a regular circular table and cocktail table style. The round option is available in all over and logo print, and has the option for stain resistant fabric. All of our round styles also feature flame-retardant and wrinkle-resistant fabric. The round fitted tablecloth on tables offers an excellent alternative compared to traditional round loose-fitting tablecloths.
Get Your Fitted Tablecloth Today
All of these qualities make our tablecloths an excellent addition to your next trade show display or booth. If you're looking for something to help improve the customer interaction and experience at your booth, consider getting a fitted trade show table cover from Vispronet today. Simply pick one of the products above to get started designing.
Fitted Tablecloths - Frequently Asked Questions
Are your tablecloths available in custom sizes?
Yes. Aside from our stock sizes, which include sizes 4ft, 6ft, and 8ft, we do provide custom sizes up to 20ft long.
What type of event is this table cover for?
This type of table cover is typically used for conferences, trade shows, job fairs, farmer's markets and any large gatherings of people and businesses.
What material is this made from? How is it printed?
The fitted cloth (aside from the stain resistant) is made from our polyester, which is a flame retardant, wrinkle resistant, glossy polyester fabric that works great for tablecloths.
We print all of our custom tablecloths using the dye sublimation printing process. This style printing makes for spectacular, full color, high definition prints that are less susceptible to fade compared to competitors' offerings.
Can I wash this tablecloth in a washing machine?
Yes! These tablecloths are machine washable. We recommend using the cold setting when washing, and also that you air dry rather than using a dryer.
Is this style tablecloth available in different shapes?
Yes! We also offer our fitted style in for round folding tables as well as round cocktail tables. See the product selection listed above.
Can I iron the fitted tablecloths?
We do not recommend ironing, but we strongly recommend that you steam your tablecloth if needed to remove any slight ripples or wrinkles. Due to the fabric's anti-wrinkle feature, there shouldn't be any really hard to remove wrinkles and most should disappear as you stretch your cloth onto the table.
What colors are available to print for this style tablecloth?
All colors are available for the custom designed options! Choose any and all colors for your custom design. The design area changes depending on which style fitted you choose: All over print, logo print, stock print.
What areas am I able to print?
For the all over print options, the whole fitted tablecloth is printed with your custom design or brand. The logo print only prints in designated areas, and the stock color doesn't offer any customization.
If I need assistant designing my table cover, are you able to help?
You bet! Our highly skilled graphics designers are famous for redesigning and perfecting customers designs and logos. Our services are completely free as opposed to our competitors!
Will I be able to reuse my table cover?
Yes of course! All our fitted tablecloths are durably built from high quality materials and are designed to last a long time.
What our customers have to say