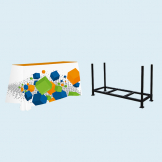 Trade Show Pallet Tables
Are you sick of wasting money at trade shows on table rental fees? Are you tired of waiting for your pallet to be delivered after a show is over? Save the money and wait no more with our Tradeshow Pallet Table products. These products are a 2-in-1 solution: you load up the pallet, which then turns into a table after it's been unloaded!
Tradeshow Pallet Tables are made of durable steel, so no need to worry about a forklift causing damage to your pallet. Pallet tables can be set up in 3 sizes: 6ft, 8ft and 10ft. You'll be able to choose from 2 heights – 30" (sitting height) and 40" (standing height). Click a product below to learn more, and start saving time and money at your next trade show, with a Vispronet pallet table!