December 3, 2021
Finding the Best Sticker Sizes & Labels: The Ultimate Guide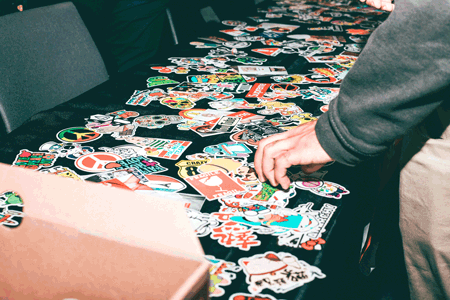 Customizing stickers for your business, as gifts, or for your car or windows is a fun activity.
Finding the best sticker for your purpose is almost as important as the design you create for them.
Chances are, you already have an intended purpose for them, such as securing them to your car, using them as labels, or just placing on your computer or walls.
Before you order your stickers, you need to know the proper size to get them in so that they suit their purpose.
It's important not to have a sticker that's too big for your car bumper or too small for the rear window of your car.
So, what are the popular sizes for custom stickers?
It depends on the shape you will be getting them in and where you plan on sticking them.
Here are some tips to help you find the right sticker sizes for your needs.
The Importance of Choosing the Best Sticker Sizes
Selecting a sticker size is important when ordering custom printed stickers, especially if you are planning on using them in a certain place. If you are getting personalized stickers for your business, such as for the windows of your store or to hand out to people at an event, you want to make sure that the size isn't too small that it doesn't stand out when on a window or wall. It needs to effectively showcase your logo, mascot, slogan, or other aspects of your design.
Don't have a business?
If you are making decals for personal use, such as for your car, you need to know the proper, most common sizes people get so that your sticker is noticed by other drivers and pedestrians. If your decal is too small, it's less likely people will notice it, and, if it's too big, it may not properly fit on your rear window or your car bumper.
Standard Sticker Size Chart
What are some of the most common sticker sizes, regardless of their purpose?
Most stickers are measured in inches. According to this sticker size chart, some of the most popular decal sizes are:
1in x 1in – this will be roughly the size of a large coin
2in x 2in – roughly the size used for most passport photos
2in x 3.5in – close to the size of a business or index card
4in x 6in – the size of a standard photograph
5in x 5in – around the size of sliced bread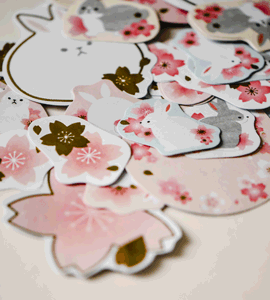 Common Types of Stickers
When ordering custom stickers, a question that often comes up is whether they will be die cut or kiss cut.
What do these terms mean and what is the difference between them?
These are the two most common types of stickers, and they deal with how the design and unprinted backing is cut.
Kiss Cut Stickers
A kiss cut sticker is printed in a certain shape, such as round or square sizes, even if the graphic itself is not that shape.
The removable backing of the sticker is the same shape as the kiss cut. Having a specific shaped backing is common for stickers because it is easy to peel and apply.
Die-Cut Stickers
The other most common type of cut is a die cut sticker.
These decals are printed in a specific shape and cut to size, which comes in handy when you are ordering stickers cut to the exact dimensions of your design. The back peeling is the same shape as the sticker, rather than a rectangle, circle, or oval shape. The sticker will not have a white or clear backing like with kiss cut, making the decal more of a vibrant stand out against backgrounds. Chances are, however, that you need to be more careful when peeling the backing from the sticker before applying it to a surface.
List of Sticker Sizes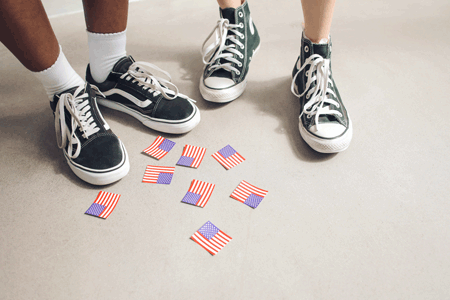 1. Rectangle Sticker Sizes
The most common rectangular sticker size is 3.5in x 2in.
This is because it's the same size as the average business card, making it ideal for using as name tags at events or as actual, sticky business cards to hand out that are different from the competition. This sticker size is also typically used for computers, boxing, and as alternatives to refrigerator magnets.
2. Square Size
When going with the classic square size, the two most common measurements are 3in x 3in and 5in x 5in.
3×3 and 5×5 designs are large enough to be noticed on most applications without being overwhelmingly big, making them the perfect size for all kinds of surfaces. These decal sizes also typically give enough room for a business logo design. These sticker dimensions are often used for packages and laptops, but they are also commonly seen on food and drinkware.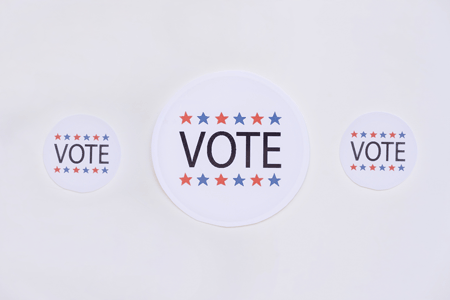 3. Circle Sticker Sizes
Circle stickers are seen in several sizes. Smaller circular decals are roughly 1in x 1in to 2in x 2in, while larger sizes are as big as in x 3in and 5in x 5in.
While the larger dimensions are more noticeable, the smaller sizes are still standard selections for stickers that showcase company logos. The mini stickers are seen on such items as phone cases and drinkware, while the bigger ones are usually placed on books and school and work notebooks.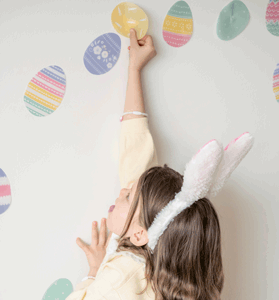 4. Oval Sticker Sizes
The average oval sticker sizes are 1.5in x 2in and 2in x 3in.
Oval shaped stickers aren't as common as circle or square decals, but they do stand out due to their more unique shape. Oval stickers aren't as proportional as square or circular shapes, so it's important to keep that in mind when coming up with a design. These stickers are used the same way as the more obvious shapes, such as with branding.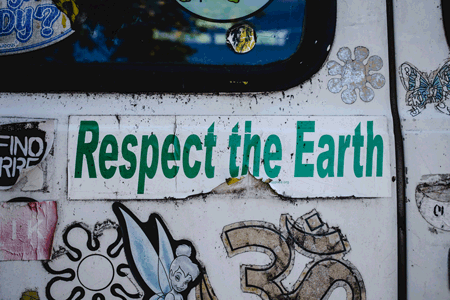 5. Standard Bumper Sticker Size
One of the most common types of decals is the bumper sticker, which is used on all kinds of cars and trucks to get the attention of other drivers. Bumper stickers can promote a local company or website, but they also provide funny sayings and unique messages.
The standard bumper sticker is 11.5in x 3in, but other sizes can also be used, such as 8in x 4in or 12in x 4in. These decal sizes should still easily fit on most car and truck bumpers.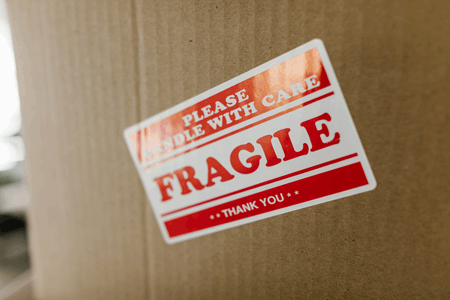 6. Label Sizes
Another common use for stickers is as labels for boxes, jars, and products in stores, warehouses, or at home. Label sticker sizes usually depend on where you will place it, so they come in a variety of dimensions.
Shipping labels for packages are usually 4in x 6in, though domestic shipping labels can also be 4in x 5in and 4in x 8in.
Square shaped product label sizes are more commonly smaller at 2×2 and 3×3.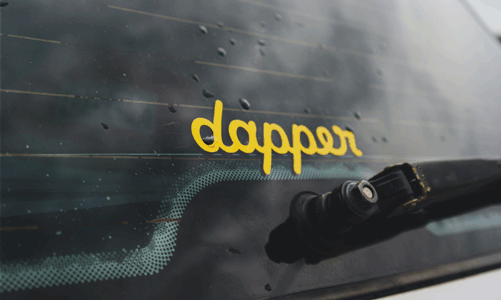 7. Car Sticker Sizes
Aside from the classic bumper stickers, decals are also placed on car windows. Placing stickers on the side windows of your car makes the design noticeable to people who are walking by your car when it's parked. Car decals are used for business branding, but they are also typical for fun prints. Depending on the shape you get your car sticker, it can be as small as the standard shape dimensions or as big as a rear window graphic.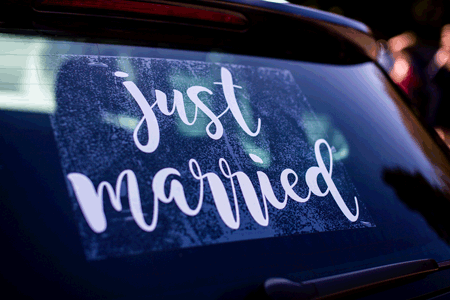 8. Rear Window Decals Sizes
Rear window graphics are the large decals you see on the back windows on cars and pick up trucks, often advertising a business or showcasing a large design. These stickers are made differently from other, more common stickers so that the driver can still see out their rear window.
The classic dimension that spans across a whole rear window is 48in x 24in. Many businesses, however, offer custom or other measurements to suit all kinds of car models.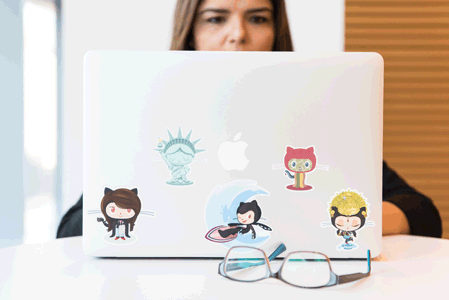 9. Custom Size Stickers
Most printing companies that sell custom stickers also have the option for custom sizing. This is where you can choose whatever size and shape you want, whether it be a popular one or a more unusual one. When coming up with these measurements, it's important to determine where these stickers will be placed. If they are going to be applied to a very specific spot, make sure you measure the exact size you need so that you order the right dimensions. If you want the sticker cut to the exact, more unique shape of your decal, make sure you find die cut stickers rather than kiss cut.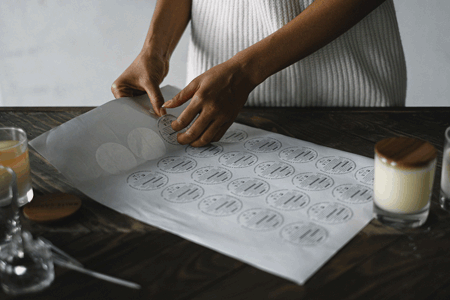 10. Sticker Sheet Sizes
What about when you are ordering a whole sheet of stickers?
What size should you get then?
Sticker and label sheets are often in common paper sizes, such as the U.S. letter, which is 8.5in x 11in, or the legal format, which is 8.5in x 14in.
Most sticker and label companies that sell sheets, however, have a wide range of sizes and formats to suit your needs.
The Bottom Line
It's very important to know the sticker size you want when you are ordering them. Getting your sticker design printed in the right size makes them stand out more when they are placed on a window, wall, or other kind of surface. Choosing the correct size for your stickers will make them easy to apply in their intended space and make them more noticeable to potential customers if you are using them as branding. Think about where you will be applying your decals and, if necessary, measure the spot to make sure you are ordering your decals in the right sticker sizes for you.
Sources
What is a Good Size for a Sticker?: https://penji.co/best-sticker-size/
How to Measure the Correct Label Size for Your Products: https://www.enkoproducts.com/articles/how-to-measure-the-correct-label-size-for-your-products/
How to Choose the Right Size for Your Labels: https://www.onlinelabels.com/articles/how-to-choose-the-right-sheet-size-for-your-labels