Custom Rear Window Graphics
Fits Car, Van, & Truck Windows / Perforated Vinyl / Easy To Apply
configurable 0 0
Custom printed solutions in 3 simple steps.

1. Choose from 3 Design Methods
Click the Proceed to Artwork button to choose Design Online, Upload Template, or Free Design Services.

2. Receive & Approve Your Proof
We'll process your artwork within 2 business hours and send a proof for your approval via email.

3. We'll Bring Your Idea to Life
Our standard turnaround time is 3 business days plus shipping with expedited options available.
Rear Window Graphics Details
Generate awareness and promote your brand or business on the go with custom rear window graphics from Vispronet. Custom rear window decals for trucks and cars are a creative and inexpensive way to advertise the products and services your business offers. Our decals are fully customizable and are made from a mesh adhesive vinyl with 60% print area and 40% perforated area. This perfect amount of perforation allows the custom back window decal to showcase your artwork on the outside of the vehicle, while still being able to see out from the inside of the vehicle.
All car window graphics are printed with UV-resistant inks for vibrant, fade-resistant graphics that will last for years. The rear window graphics for trucks and cars ship ready to apply and are simple to install, with no professional help required. Our perforated decals are designed to fit onto the rear and side windows of cars, pickup trucks, commercial vehicles, jeeps, compact cars and every automobile style in between.
Parts List:
Material:
Mesh Adhesive Vinyl: 60% print area / 40% perforated area PVC adhesive
What Are Custom Rear Window Decals?
Rear window graphics are custom designed perforated vinyl that is applied to the rear and side windows of automobiles. These custom truck stickers are made from the same high-quality perforated vinyl that is applied to businesses and storefronts to advertise products and services. Car and truck rear window decals differ from traditional car window decals because they are fully transparent – allowing you to display full-color graphics on the exterior of the vehicle, while maintaining full visibility from the inside of the vehicle. Perforated window vinyl is designed to withstand weather conditions, including extended direct sunlight, rain, and snow. Decals featuring the American flag are very common, but many businesses also use graphics to spread brand awareness. Displaying custom rear window graphics is an effective way to maximize the reach of your brand, as well as to showcase a professionally styled advertisement for your business.
Design Your Own Rear Window Graphics Online
Vispronet makes it easy to design your custom rear window decal with your artwork, logo, or brand. We offer three different design methods so you can choose the best option based on your design experience. Each artwork submission is checked by our team of graphic artists for any errors before sending you an email with your final proof attached.
Design Online: Our online tool makes it easy to create high-quality car or truck rear window graphics online in real-time. With this option, you can upload artwork and images from your computer, and utilize a library of clip art, shapes, text, background colors, and more.
Upload Artwork Template: This method is best for customers with design software. It involves downloading the artwork template, adding your design or logo to the back window stickers, and reuploading the finished template to our website.
Free Design Service: Not sure how to design your custom made rear window decal? No problem! Our team of graphic artists can create rear window stickers from scratch – for free! Just send us some artwork inspiration or designs you have in mind and we will correspond with you until the back window decals are finished.
Features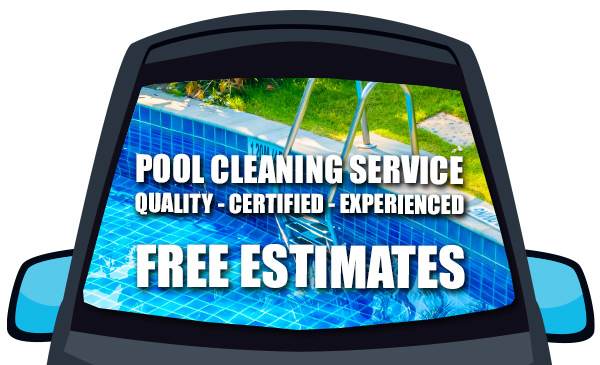 Simple Installation
Our rear window graphics are easy to set up and installation can be completed at home with no professional experience required. See our complete installation video under the "Videos" tab above.

High-Definition Print
Our printing process produces vibrant, full-color graphics that are sure to catch the attention of other drivers and passerby. Our back window decals are easy to spot from the road or sidewalk.

Perforated 60/40 Vinyl
Our mesh vinyl is printed on 60% vinyl with 40% perforation. This allows for maximum exposure to your custom design while also being able to see out from the inside of the vehicle.

Fade-Resistant Graphics
Your custom design or brand is digitally printed on perforated vinyl using UV-resistant inks. This printing process ensures the full rear window decals are fade-resistant and safe to display in direct sunlight.

Reliable Adhesion
The perforated vinyl graphics are applied to the exterior of car and truck windows and are designed to resist weather conditions like rain, snow, and ice.
Benefits of Using Custom Rear Window Graphics
Increase Brand Awareness
Displaying custom rear window decals is a proven effective and inexpensive method to attract new customers to your business, catching their attention with vibrant, full-color graphics as they pass your vehicle. Whether you are parked on a street or driving on the freeway, displaying custom rear window graphics is a highly effective advertising method because it works like a portable billboard, displaying your logo or brand right in the driver's line of sight – making them a super-effective advertising method for any business or brand.
Custom rear window decals are used in an array of industries for businesses ranging from small to large. Small businesses typically use van or truck rear window decals to advertise services or trades like plumbing, electrical repair, delivery services, landscaping, and more. Back window stickers are also a popular advertising method for fleet vehicles, food delivery, city buses, and rideshares.
Inexpensive & Effective Car Window Advertising
Custom rear window graphics offer your brand an opportunity to maximize its reach while also saving on marketing and advertising costs. With a starting price as low as $60, car and truck window decals advertise your brand or business for years after the initial investment. Compared to more expensive methods of advertising like large billboards, or digital ads, custom back window decals allow you to advertise your brand wherever you take your vehicle. With the numbers of drivers increasing every year, truck and car back window decals offer your business an expanding and diverse audience of consumers at a bargain low cost per impression.
Satisfied Customers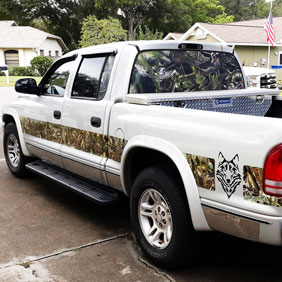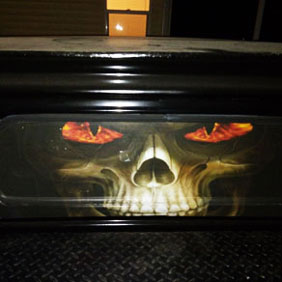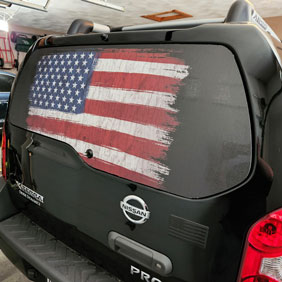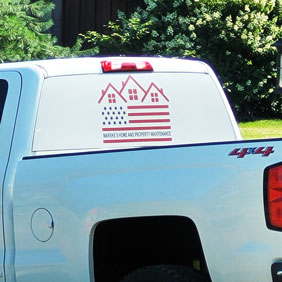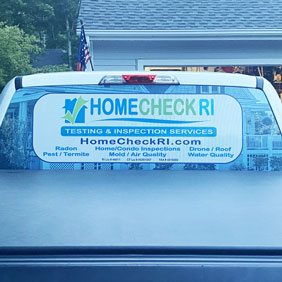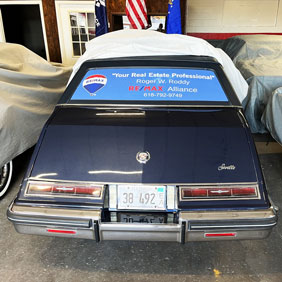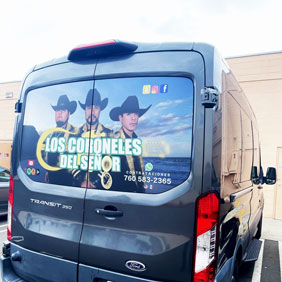 Rear Window Graphics - Frequently Asked Questions
General
What is the turnaround time?
Our turnaround time is 3 business days, plus days for shipping. We offer rush production and expedited shipping options at checkout. To see your estimated delivery date, click the "Estimate Delivery" button located at the top of the page.
How do I design my back window decals?
We offer three easy methods: Design Online, Upload Template, and Free Design Service. Each method is risk free and a free design proof is provided for every order.
What file types do you accept?
We accept multiple different file types. These include: JPEG, PNG, TIFF, PDF, PSD, AI, EPS, and SVG file types. We also accept Adobe® Photoshop® and Adobe® Illustrator® file types.
Do you offer any other car decals?
Yes. We also offer opaque car window decals as well as car magnets. The opaque car window decals are popular for both business and personal use and are offered in permanent and temporary adhesive strengths. Our custom car magnets are offered with two strength options and are available in standard and custom sizes.
What is the maximum size I can order?
Our perforated car window decals are available in a standard size of 48" x 24". If you would like a larger size, we offer custom sizes ranging from 2" x 2" up to 600" x 50". Van and pickup truck rear window decals typically run larger than car sizes, and may need a custom sized decal.
Printing Specs
What kind of printing is used?
These back window decals are digitally printed using UV resistant inks. This form of printing creates striking, eye-catching colors and the graphic will not peel or rub off from the outdoor weather. These decals are crafted to last through long-term outdoor display.
Does it cost extra to design truck graphics with multiple colors?
No. Design your rear window stickers with as many colors as you would like for no extra cost. For car window advertising, we recommend using colors that will attract the attention of passing traffic.
Materials and Durability
What material are your custom rear window decals made from?
Our car and truck window graphics are digitally printed on our mesh adhesive vinyl. This vinyl has 60% print area and 40% perforated holes and comes with an adhesive backside for easy installation.
How long will this custom rear window decal last?
These car or truck stickers for back windows are designed to last between 1 – 3 years with proper care. As with all custom truck decals, continuous expose to harsh climates and direct sunlight may decrease the lifespan or fade the graphics prematurely, but that is only in extreme situations. It is important not to use high pressure washers while the decal is installed to avoid weakening the adhesive.
Will the sun fade my car back window decals?
No, the sun will not fade the custom graphics. We digitally print the car and truck rear window graphics using UV-resistant inks, so the colors stay vibrant for years. However, after years of continuous sun exposure, there might be some fading, but this is only in extreme situations.
Automobile Usage
Will these back window stickers work on trucks?
Yes, we offer window decals for pickup trucks – in all sizes. Our custom truck stickers for back windows and sliding windows are easy to install and are 100% customizable so you can showcase your personalized design or artwork. Truck rear window decals are popular for small business advertising and spreading brand awareness for local businesses.
Will these damage my vehicle windows in any way?
No, these decals will not damage your car or truck windows. We do recommend exercising caution using sharp objects like razorblades, as these may leave scratches on your window or car body.
Will my window be transparent with the decal installed?
Yes, you will be able to see out of the window with the custom rear window graphics installed. The decal works sort of like one-way-vision; you can see out from the inside but cannot see in from the outside.
Will these fit my automobile?
These decal stickers are sized to fit a wide variety of cars, trucks, and other types of vehicles. The standard size we offer is 48in x 24in, but we also have the option for custom sizes for your car and custom truck decals. If the common 48" x 24" size will not fit your automobile, measure the size you do need and type the dimensions in our custom sizing boxes in the configurator. Keep in mind, these graphics are best used with flat windows rather than curved ones, if you want the perfect fit.
Can I use my rear wiper with the decal applied?
We recommend against using your wiper while the decal is installed. Because the custom rear window graphics are made from a perforated vinyl, they could rip or tear with repeated wiper use. Additionally, it may cause damage to the wiper if it gets stuck on the vinyl.
Another common issue is applying the perforated rear window decals to rear sliding windows found in certain pickup truck models. If truck back window decals are installed, be very careful opening the window because repeated use may cause damage to the perforated decal.
Setup and Installation
Can I install this myself or do I need more than one person?
Yes, these decals can be installed by one person. We do, however, recommend having a second set of hands around when installing the decal, as this makes installation quicker and easier.
Are these rear window graphics easy to remove?
Yes, our custom back window decals are easy to remove. If you had it installed for less than a year, it removes similar to a large sticker. If you have the decal installed for multiple years and it has aged, it may be more difficult to remove. It most cases, standard cleaners and some scrubbing will remove all remnants of the decal. It is easiest to remove these decals when they are warmed up, so we recommend parking your car in the sunlight and running the car heat before removing.
How do I cut the car rear window decals to shape?
Once you have the custom rear window graphics installed in the position you would like, cut the decal around the edges of the window using a sharp blade or a precision knife. When installing custom truck decals, it is important to note there may be an extra sliding rear window that needs to be accounted for before installation. For a more detailed installation overview, navigate to the "Videos" tab above to watch a truck window decals installation.
How do I install the decal?
Installation is a quick and easy task that can be completed with no professional help required. Car and truck rear window decals must be installed in weather temperatures over 60 degrees Fahrenheit. For step by step instructions, check out our "How to Video" located under the "Videos" tab above.
Thoroughly clean the window.
Apply application fluid (or a mix of soap and water).
Remove the backing from the decal and apply the decal to the window.
Squeegee out any fluid under the decal.
Cut off the edges of the decal to fit the shape of your window.
Squeegee out any remaining fluid under the decal.
Care Instructions
How do I clean the decal?
To clean your back window decal, gently wipe your window down with a soft cloth using warm, soapy water. To rinse, spray the decal with a hose. Be sure not to apply too much pressure when cleaning or rinsing the decal, as this may cause damage.
California Residents

Click here for Proposition 65 warning
Rear Window Decals Live Demo
Frequently Purchased With
Q & A
Reviews