configurable00

Need help? Hire one of our professional graphic designers at no additional cost!

Choose 'Pay Later' at checkout and receive a free proof
before submitting payment.

Design Online or Upload Template
Create custom products using our online design tool or provided template files.
Rear Window Decals Details
Rear window graphics are custom designed perforated vinyl that is applied to the rear and side windows of automobiles. Custom rear window decals are made from the same high-quality perforated vinyl that is applied to storefronts that can stand up to any weather conditions. Rear window graphics allow you to display your custom design toward the outside of the vehicle, while still being able to see out from the inside of the vehicle. Our rear window graphics vinyl is highly durable and is printed in minimum 800 dpi digital print for spectacular color reproduction.
Parts List:
Material:
Mesh Adhesive Vinyl: 60% print area / 40% perforated area PVC adhesive
Satisfied Customers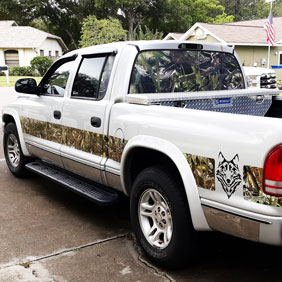 California Residents

Click here for Proposition 65 warning
Frequently Purchased With
Q & A