10x20 Custom Canopy Tents with Walls
configurable00

Need help? Hire one of our professional graphic designers at no additional cost!

Choose 'Pay Later' at checkout and receive a free proof
before submitting payment.

Design Online or Upload Template
Create custom products using our online design tool or provided template files.
Custom 10x20 Canopy Tents with All Over Print Details
10x20 custom canopy tents are the perfect way to look professional while promoting your brand at outdoor events and trade shows. Get your custom design printed on the entire canopy and sides of this 10x20 tent so that everyone who walks by notices your logo and message. The 10x20 canopy is made from your choice of 300D or 600D polyester. The 300D polyester is perfect for indoor & outdoor use while the premium 600D canopy is great for heavy, repeated outdoor use due to its durability. Your design is printed on the canopy using a state-of-the-art dye-sublimation process, which infuses the ink into the canopy for striking colors that will not wash or scratch off.
In addition to the canopy, there is the option for custom printed or stock color sidewalls. Our custom 10x20 tents come in two tent frame options. The Basic is the more economic of the two while the Deluxe frame is stronger. Both frames are easily set up because they expand out to their full size and collapse back down to a compact size when not in use. The compact size of these frames makes them perfect for storage and travel. Install your 10x20 canopy tent on hard and soft ground by adding weights and/or stakes to your order for setup. The weights keep the tent stable on flat indoor floors or asphalt and pavement while the stakes are for securing the 10x20 tent in soft ground, such as grass and sand. Get your brand the attention it deserves at your next event with these high-quality 10x20 custom canopy tents.
Parts List:
Full-color custom printed 10x20 canopy tent
Optional sidewalls & hardware
Your choice of 10x20 tent frame
Material:
300D Polyester: Water-resistant, scratch-proof, flame-retardant fabric (6.00oz/yd²)
600D Polyester: Premium, ultra durable, water-resistant, scratch-proof, & flame-retardant fabric (9.00oz/yd²)
450D Solid Color Polyester: Water-resistant fabric with polyurethane coating (solid color tent walls only)
Canopy Dimensions:
Full Wall Dimensions:
Custom Printed 10ft Side: 10ft x 6.5ft
Custom Printed 20ft Side: 20ft x 6.5ft
Stock Color 10ft Side: 10ft x 6.8ft
Stock Color 20ft Side: 20ft x 6.8ft
Half Wall Dimensions:
Custom Printed 10ft Side: 10ft x 2.7ft
Custom Printed 20ft Side: (2) 10ft x 2.7ft
Stock Color 10ft Side: 10ft x 3ft
Stock Color 20ft Side: (2) 10ft x 3ft
10x20 Tent Frame Options
| Series | Material | Color | Max Clearance | Leg Diameter | Leg Thickness | Display Size (W x H x D) | Collapsed Size (L x W x H) | Weight | Part Number |
| --- | --- | --- | --- | --- | --- | --- | --- | --- | --- |
| Basic | Steel | Off-white | 83in | 1.6in | 0.04in | 10ft x 10.2ft - 11ft x 20ft | 5.2ft x 1.4ft x 0.75ft | 101lbs | DI5052 |
| Deluxe | Aluminum | Silver | 84in | 1.6in | 0.05in | 10ft x 9.8ft - 10.8ft x 20ft | 5.2ft x 1.3in x 0.75ft | 68lbs | DI5003 |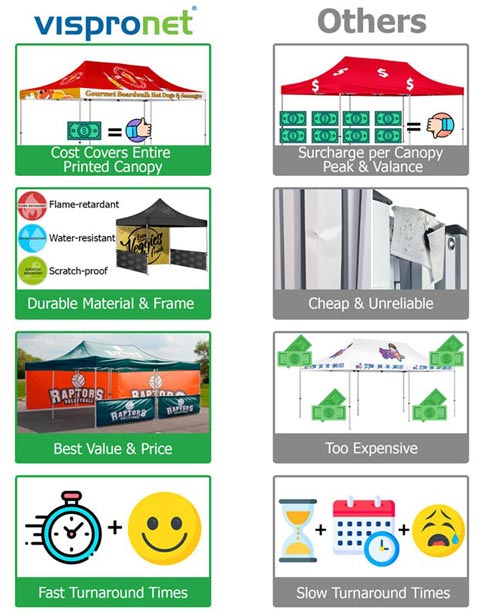 California Residents

Click here for Proposition 65 warning
Frequently Purchased With
Q & A