Stretch Table Covers
Durable Polyester / All Over Print or Logo Print / Fast 3-Day Turnaround
configurable 0 0
Custom printed solutions in 3 simple steps.

1. Choose from 3 Design Methods
Click the Proceed to Artwork button to choose Design Online, Upload Template, or Free Design Services.

2. Receive & Approve Your Proof
We'll process your artwork within 2 business hours and send a proof for your approval via email.

3. We'll Bring Your Idea to Life
Our standard turnaround time is 3 business days plus shipping with expedited options available.
Custom Stretch Table Covers Details
Draw attention to your vendor booth at events and shows with custom stretch tablecloths. These stylish tablecloths cling to the table with no wrinkles or folds, allowing for your custom design or logo to be fully visible at all times. We offer our stretch tablecloths in multiple sizes and with your choice of 3-sided or 4-sided coverage so you can find the perfect table cover for your display application. Our stretch table cloths are printed on durable polyester fabric using dye sublimation for full-color, fade-resistant graphics that are safe for machine wash. Transform your display tables into super-effective advertising tools with custom stretch table covers.
Parts List:
Custom printed table throw with hemmed edges and feet pockets
Material:
Stretch Display Polyester: Stain-resistant and flame-retardant stretch fabric (5.30oz/yd²)
Coverage Options:
3-Sided (arched back)
4-Sided (with zipper)
4-Sided (without zipper)
Banquet (arched front, back, and sides)
Cleaning Instructions:
Wipe away stains with a damp cloth and mild soap immediately after spills. If your product becomes dirty, wash in a household washing machine on delicate setting with cold water and hang to dry.
Specifications
Model
Print Size
*Custom sizes available
Table Size
*Fits table sizes below within +/- 1in
4ft Table
48in x 29in x 24in
48in x 29in x 18.35in
6ft Table
72in x 29in x 30in
72in x 29.5in x 23in
8ft Table
96in x 29in x 30in
96in x 30in x 24.25in
---
Affordable Table Covers for Superior Advertising
Draw attention to your table at events like conventions, trade shows, and sales presentations with these custom stretch table covers. Let passing foot traffic know what business or organization you represent by displaying a logo or a full coverage design. A well-dressed table can be the perfect place for your business to engage with passerby, and is a great way to promote the products and services your business provides. A custom stretch table cover offers an excellent way to separate your vendor booth from competitors and is an asset at any show or event.
---
Stand Out With Custom Stretch Tablecloths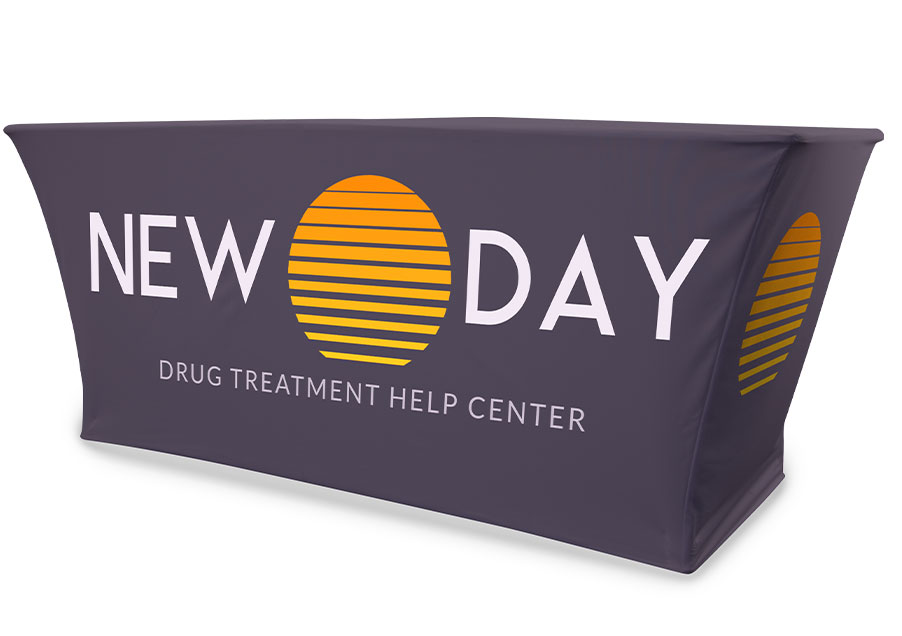 Easy Design Process
Designing your all over print tablecloth is a quick and easy process. Choose from three design methods: Design Online, Upload Artwork, or Vispronet's Free Design Service.

Dye Sublimation Printing
All tablecloth styles are printed using dye sublimation. This premium printing technique produces vibrant, full-color graphics that are fade-resistant.

Stain-Resistant Material
These table covers are stretchy, stain-resistant, wrinkle-resistant, and flame-retardant, making them safe for all indoor and outdoor applications.

Reusable and Easy to Clean
Our table cloths are easy to wash and reuse. Simply throw the tablecloth in the washing machine and air dry. Our printing style is scuff and fade-resistant.

Choose Your Coverage
Choose between 3-Sided and 4-Sided coverage options. Both coverage styles can be beneficial for different applications.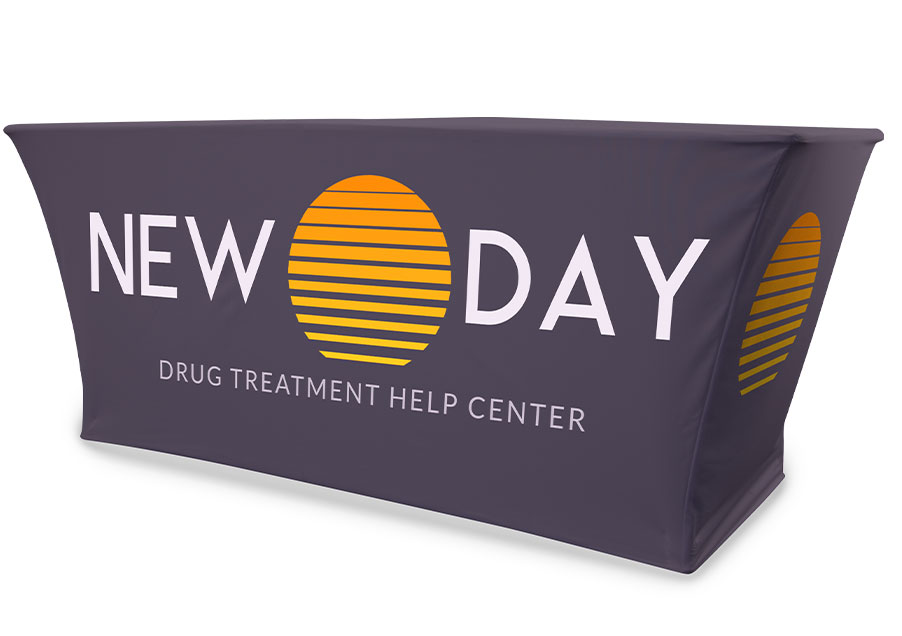 ---
Design Your Table Covers Online
We offer three easy ways to design your stretch table covers. All design submissions are checked by our pre-press team for any errors or issues. We will email you a final design proof for your approval before we begin printing.
Design Online: Create your artwork online, in real time, using our online design tool. This tool makes it easy to add logos, images, and other artwork files directly from your computer and also provides free online fonts, clip art, shapes, and more.
Upload Artwork Template: This design approach is best for users with their own design software. This method involves downloading the artwork template, adding your artwork using design software, and reuploading the completed template to our website, before or after placing your order.
Free Design Services: We offer free design services if you would like us to design your table covers for you! Just send our team your logo files, artwork ideas, or some design inspiration and we will correspond with you until the design is completed.
---
Long-Lasting Polyester Material
Stretch table covers are incredibly functional due to their long-lasting spandex material that can be used for years of repeated display. This stretchy polyester is tear-resistant, flame-retardant, and stain-resistant, making it perfect for a wide range of display applications. The stretch of the fabric makes them easy to place on multiple table sizes, while making it look like it's a perfect fit.
Using a custom spandex table cover that clings to the table eliminates the need for cheap, unreliable clips. You can place a stretch covered table outside and not worry about it blowing away if it's windy. It will always keep your message fully displayed regardless of the weather and without wrinkles.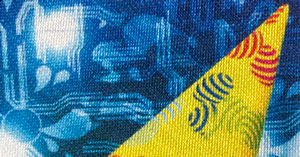 ---
Area Imprint vs All-Over Print
To suit different preferences, we offer two different options: stretch table covers with logos only or with all-over print. The all-over print style can have the design printed on the entire stretch tablecloth while the logo print option can have the graphic displayed on designated areas with your choice of background color.
No matter which option you choose, these custom stretch table covers deliver a simple yet eye-catching appearance that is sure to give your company a professional look that will pique the interest of your potential customers.
All Over Print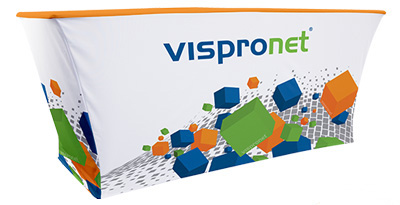 Area Imprint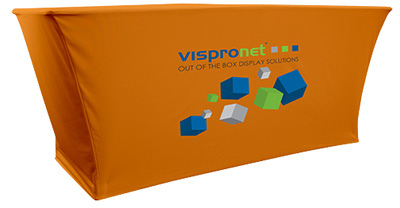 ---
Stretch Table Cover Options
3-Sided

Stretch table covers with an arched back. Ideal for sitting at the table and extra storage.

Banquet

Arched front, back, and sides for a sophisticated look and the ability to sit at the table.
4-Sided with No Zipper

Complete coverage on all sides to showcase your design.

4-Sided with Zipper

Back that can be unzipped to fit contents underneath the table and for sitting at.
---
Video Comparison
---
Frequently Asked Questions
General
What is the turnaround time?
Our standard turnaround time is 3 business days, plus shipping. Rush production is offered if you need your stretch table covers sooner than our standard turnaround time. We also offer expedited shipping options if you need your products as soon as possible.
How do I design my custom table cover?
We offer three easy methods to design your table cover: Design Online, Upload Artwork Template, or our Free Design Services. Each artwork submission is checked by our pre-press team for any errors or issues. We will email you a final design proof for your approval before we begin producing your order.
How do I put the cover on my table?
Due to the stretch of the fabric, placing your branded stretch tablecloth on a table is very easy. You simply stretch it across the table and extend the ends over the feet of the table. For a step-by-step guide, see our "Videos" tab.
What is the difference between a stretch table cover and a standard cover?
Custom stretch table covers form the shape of the table so that the print is fully visible. Standard tablecloths hang down the table like the classic style used for regular table covers.
What are these table covers used for?
These table covers are often seen at events where a lot of vendors set up booths. Companies create their own stretch tablecloths for their setup at tradeshows, street fairs, conventions, product demonstrations, and more. The table covers don't just have to be used in professional settings. They can also be created with personal information, such as wedding dates for rehearsals and receptions.
If you have a message or brand that you're trying to enforce, these stretch table covers are a cost-effective advertising tool. They can be used to perfectly complement other printed products such as custom pop up tents, step and repeat banners, backdrops, and more.
Printing Specs
How are the table covers printed?
All of our custom stretch table covers are produced via dye sublimation printing. This means that the ink is infused into the fabric to create a seamless appearance. While lesser printing methods make the graphic look like it was placed directly on top of the fabric and include texture, this kind of printing blends the fabric and the print together. This form of printing is also best for creating vibrant, full colors for noticeable graphics. We offer full color CMYK printing so that you can utilize all the colors you want at no extra charge.
What is the difference between all over print and area imprint?
The difference is based on how you want your table covers printed:
All Over Print – The entire custom stretch tablecloth can be covered in your design. You have free range to design across the whole cover, including the top.
Logo Print – This option is ideal if you want a stretch table cover with logo print. The printed graphic appears in specific areas of the tablecloth on top of your choice of several background colors.
Materials & Durability
What material is used for the stretch table covers?
Our tablecloths are made from our stretch display polyester. This fabric can be used indoors and outdoors due to its stain-resistance. The stretch makes the spandex material cling to the table rather than drape over it.
How do I clean the stretch table covers?
They can be cleaned in a washing machine, but some precautions need to be taken. The cycle needs to be on a delicate setting with cold water. Do not tumble dry the fabric. Hang it to dry. If you get minor spills on your table cover, they can just be wiped away due to the stain-resistance of the fabric. Stretch tablecloths with logo print and all over print can be cleaned the same way.
Are the tablecloth edges hemmed?
Our table cover edges are hemmed to prevent tearing on the ends. Your stretch tablecloth with logo shouldn't rip unless it's intentionally pulled.
Are these stretch tablecloths flame-retardant?
Yes, our custom printed stretch table covers are flame-retardant. If your event has requirements that you need to use a fire-resistant material, then this is a perfect choice.
Sizes, Shapes, and Styles
How do I find out if the stretch tablecloth will fit my table?
Both of the available tablecloth styles have the same sizes. We include a 4ft, 6ft, and 8ft table cover. The table size should be roughly the same size as the stretch table cover for the best fit. See more details below.
4ft tablecloths measure 48in x 29in x 18.35in.
6ft tablecloths measure 72in x 29.5in x 23in.
8ft tablecloths measure 96in x 30in x 24.25in.
Do you offer custom sizes?
Yes. For more information about custom sizes please contact our customer service team by phone at (877)-822-0201 or via chat which is located on the lower right hand corner of our website.
What is the difference between the coverage options?
We offer four coverage options for our custom stretch table covers. The 3-sided coverage leaves an arched opening in the back of the display. This is a great selection if you plan on having people sit behind the table. The banquet style includes a slight arch on the front and back that gives the cover a sophisticated look. The 4-sided version comes either with or without a zipper. The option without the zipper gives a complete look while the zipper version has a complete look that can be opened in the back to store items below the table.
Do you have a branded stretch tablecloth for round tables?
Yes, we have round tablecloths in standard, fitted, and stretch styles.
California Residents

Click here for Proposition 65 warning
Stretch Table Cover Options
Frequently Purchased With
Q & A
Reviews