configurable00

Need help? Hire one of our professional graphic designers at no additional cost!

Choose 'Pay Later' at checkout and receive a free proof
before submitting payment.

Design Online or Upload Template
Create custom products using our online design tool or provided template files.
Pole Banners Details
Take it to the streets! Vispronet pole banners feature full-color custom prints, aviation-grade fiberglass poles, and heavy-duty cast aluminum mounting brackets that allow up to three (3) steel ties to support your custom prints. Our pole banners are available in multiple standard and custom size options in rectangular and triangular shapes. They are able to be printed on a variety of different materials and are available in a wide array of layouts.
Parts List:
Custom-printed pole banners
Heavy-duty cast aluminum mounting brackets
Aviation-grade fiberglass poles
Steel ties depending on banner size
Material:
18oz Opaque Vinyl: 100% opaque weather-resistant & UV-protected satin vinyl
23oz Opaque Vinyl: 100% opaque heavy-duty weather-resistant & UV-protected satin vinyl
Outdoor Flag Polyester: Tear-resistant lightweight knitted fabric with excellent thru-print (3.25oz/yd²)
300D Polyester: Water-resistant, scratch-proof, flame-retardant fabric (6.00oz/yd²)
Disclaimer:
Our street pole banner hardware has been wind tested and can withstand wind speeds up to 55-63mph (10bft). Steel ties are intended for use with round (not square) poles. See assembly instructions for more details.
Specifications
Model
Part Number
Sizes Available
Weight
Option 1
KX0220 (1.5ft wide)
KX0221 (2ft wide)
KX0222 (2.5ft wide)
KX0223 (3ft wide)
1.5ft - 3ft wide
3ft - 10ft tall
5lbs
Option 2
KX0224 (1.5ft wide)
KX0225 (2ft wide)
KX0226 (2.5ft wide)
KX0227 (3ft wide)
(2) 1.5ft - 3ft wide
(2) 3ft - 10ft tall
10lbs
Option 3
KX0228 (1.5ft wide)
KX0229 (2ft wide)
KX0230 (2.5ft wide)
KX0231 (3ft wide)
1.5ft - 3ft wide
3ft - 10ft tall
4lbs
Option 4
KX0232 (1.5ft wide)
KX0233 (2ft wide)
KX0234 (2.5ft wide)
KX0235 (3ft wide)
(2) 1.5ft - 3ft wide
(2) 3ft - 10ft tall
9lbs
Banner Hardware Styles
Option 1: This product option is a traditional pole banner that is customizable on the front and back sides. Double-hemmed pole pockets are installed on the top and bottom of the banner, and banner rods are inserted through both pole pockets for a secure installation.
Option 2: This product option is a dual-sided traditional pole banner. These banners are installed on both sides of the pole for maximum exposure. Double-hemmed pole pockets are installed on the top and bottom of each banner, and banner rods are inserted through the pole pockets for a secure installation. Both banners are fully customizable on the front and back, allowing for 4 unique prints.
Option 3: This product option is for overhang pole banners. These pole banners have a double-hemmed pole pocket installed on the top of the banner only, and grommets installed on the bottom so your banner can move in the wind. They are available in a rectangular or triangular shape.
Option 4: This product option is for dual-sided overhang pole banners. These banners are installed on each side of the pole and are customizable on the front and back, allowing for 4 unique prints if desired. Banner rods are installed in the double-hemmed pole pockets on the top of each banner only, and grommets are installed on the bottom so the banner can move in the wind. These pole banners are available in a rectangular or triangular shape.
What Are Pole Banners?
Pole banners are vertical flag banners made from vinyl or polyester that are paired with bracket hardware to display on lamp and light posts to promote a message to passing foot and car traffic. Places these banners are commonly installed include popular avenues in cities & towns, malls, churches, boardwalks, shopping plazas, and corporate, college, and school campuses. They are also commonly used to promote local festivities and events such as parades, food festivals, and flea markets, as well as seasonal and holidays celebrations.
100% Customizable
Vispronet offers an array of customization options compared to our competitors. Our light pole banners are 100% customizable from the size, shape, material, style and print options.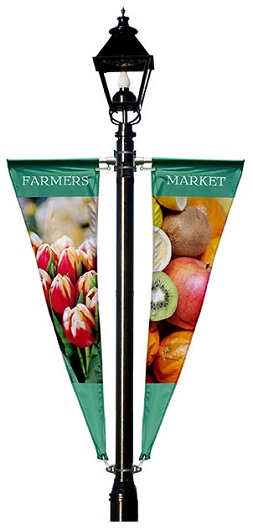 Design method: Choose from: Design online, upload your artwork, or have us design it for you free of charge
Sizes: Over 15+ stock sizes and custom sizing for special applications
Shape: We offer two different shapes: rectangular and triangular
Material: Four different material options: 18oz Vinyl & 23oz Vinyl, Standard Flag Polyester and 600D Polyester
Style: Two different style options: Traditional (with poles on the top and bottom of flag) and Overhang (with pole on top and connected with grommet at the bottom)
Print Options: Single-reverse and double-sided printing options
What's the Benefit of Pole Banners?
Super-Effective Advertising
Pole banners allow for maximum exposure of your marketing message to a passing audience of foot and car traffic. They are a form of hyperlocal marketing, meaning they are tactically placed to generate awareness among the immediate regional community. The more exposure the public has to your custom banners, the more likely they will attend the promotion or event. They are commonly used to promote upcoming events, or to tell stories of notable community members who should be celebrated.
Premium Printing & Materials
Street pole banners are typically designed with eye catching bright colors to grab the attention of the passing audience. Our banners are digitally printed using UV-Resistant inks for a vibrant, full-color finish. Some other benefits of digital printing include water-resistance, scuff-resistance, and fade-resistance to keep your banners looking new for an extended period of time.
Multiple Styles & Shapes
If you don't want to use the traditional rectangular design, consider using one of our many other available shapes, such as the triangle or the overhang; they are a great way to give your street-side advertising a flair that not many others have. This way, you'll be more likely to draw visitor's attention to your event.
Easily Changeable Banners
The setup process involves installing brackets, poles, and flags onto a street or light pole. Once the hardware is installed, replacing the banners with new prints is a simple and straight-forward process. This is especially handy if you are changing your vertical banners frequently with seasonal and promotional messages. This makes it easy to towns and cities to swap out new designs for the upcoming event season.
Community Engagement
Not only do light pole banners give businesses and towns a simple way to showcase their brand and marketing message, they also are now such a familiar part of American culture that we've come to expect their presence as part of outdoor advertising campaigns in campuses, towns, and cities ranging from small to large. Small towns commonly utilize light pole banners to celebrate honorable citizens, or to remind community members of important events or celebrations.
Advertise Using Street & Light Poles
Great for advertising or other promotions, our street pole banners can be attached anywhere – telephone, flag, and light poles & lamp posts. Commonly seen during street fairs, parades, and festivals, they're a great way to promote a company, event, team or school. Many towns and cities usually have a set of banners up and down Main Street and other busy roads.
A light pole flag doesn't really need active participation – people can take it in as they walk by or drive by or stop and take the time to digest everything the banner is promoting. They're much more effective than standard ads piped through television, radio, or displayed in a newspaper, which require active participation.
Choose Your Material
Choose from four different materials for your custom pole banners. These include: 18oz Vinyl, 23oz Vinyl, Outdoor Flag Polyester, and 300D Polyester.
18oz Vinyl: This is our most popular material option. This durable vinyl is designed for added strength and is perfectly suited for outdoor applications, even in harsh weather environments. Double-sided printing is available with this style vinyl. It is water resistant, UV-resistant, anti-curl, and 100% opaque.
23oz Vinyl: This is our heaviest vinyl option and is only offered by Vispronet. This style vinyl boasts the maximum tear strength and durability and is best suited for light pole banners installed the most extreme weather environments. It is 100% opaque, and double sided printing is available. It is water-resistant, UV-resistant, and anti-curl.
Outdoor Flag Polyester: This is our standard outdoor polyester, most commonly used on our custom flags and feather flags. It is designed to be durable, and for year-round outdoor use. This material has brilliant color reproduction but also is more transparent compared to our other material options. It is suitable for single-reverse and double-sided printing. Fabric pole banners are printed using dye sublimation, which has spectacular color reproduction but is not UV-resistant or completely opaque.
300D Polyester: This is the same material as our custom pop up tents. This heavy-duty polyester has a canvas like feel and is tear-resistant, flame-retardant, scratch-proof, and water-resistant. This fabric is printed using dye sublimation for vibrant color reproduction but is not UV-resistant or completely opaque.
Pole Banners for All Weather Conditions
All of Vispronet light post banner styles are designed with weather-resistance in mind.
Hardware: The included pole banner hardware is built to withstand harsh weather elements. Our mounting brackets are crafted from rust-resistant cast aluminum that will support whichever mounting method you choose.
The included mounting poles are made built from aviation-grade fiberglass, to hold your pole banner securely in windy weather. All our pole banners are grommeted with brass grommets to further secure them and keep them anchored against the pole in windy weather conditions.
Hemmed Pole Pockets: Our light pole banners come with double-hemmed pole pockets sewn by our expert sewing team for extra reinforcement in poor weather and windy conditions.  
Reinforced Grommets: Grommets are added for extra reinforcement to ensure the banner will not tear or rip during strong winds and heavy storms. Our grommets are crafted to be extremely durable and completely rust free for the life of your banner.
Banners: While most of our competitors offer 13oz vinyl, Vispronet offer 18oz and 23oz vinyl among other material options. Both our 18oz and 23oz vinyl are extremely durable, tear resistant, and perfect for displaying outdoors. They are designed to be displayed all year round, whether that means summer or winter, rain or shine. All the vinyl materials we offer are designed to be water-resistant and UV-resistant so that they'll look just as vibrant outdoors as they will indoors.
The blue scale (DIN 53387) test helps figure out a general assessment of both the material and the inks that we use for our pole banners. Each of our vinyl banners are rated 8 out of 8 on the DIN 53387 scale, so they'll last several seasons in moderate sunlight.
Easy To Install Pole Banner Hardware
Our street pole banners are designed for hassle-free assembly on any lamp post or street pole. Attach the top mounting bracket to your pole at the desired height, then screw together with a drill or screwdriver. Thread the mounting arm onto the bracket, then follow up with the graphic itself, which can be secured with a zip-tie. Reverse the process to attach the second mounting bracket. Slide the mounting arm into the graphic, then attach the mounting bracket to the pole at the required height for a taut fit. Connect the mounting arm to the mounting bracket - and your lamp post banner is ready to go.
Pole Banners - Frequently Asked Questions
How wide is the pole pocket on your banners?
We currently offer 2" pole pockets for our banners, fitting hardware poles around 1.25" in diameter.
What sizes are offered? What is the most popular size? Are there custom sizes available?
The most popular sizes we offer are our 1.5ft x 3.0ft (18in x 36in) and our 2ft x 3ft (24in x 36in). We offer an array of different sizes ranging from our 1.5ft x 3.0ft all the way up to our 3ft x 8ft. We do offer custom sizing as well ranging from 1.5ft x 18in up to 3ft x 8ft. If you have any additional custom sizing questions, please contact our customer service.
How many brackets do you need to hang one banner?
2 heavy duty pole brackets and fiberglass poles are included in your order for standard sized banners options #1 & 2. Options 3 & 4 only include one bracket and fiberglass holding pole per banner. We also offer steel ties - depending on how large the pole banners are.
Are your banners printed only single-sided or do you offer double-sided printing as well?
Yes, we do offer double-sided printing. Our polyester banners are offered with single-reverse which means they are printed on one side only, with the print bleeding through to create an image in reverse on the opposite side of the flag. We also offer our double-sided option for our vinyl banners which means that two banners are printed and sewn together with a piece of fabric in between to block any light from passing. This double-sided style produces a more vibrant and detailed display. This also allows for different designs on each side of the banner.
What materials do you offer for your light pole banners?
We offer four material types for this product. These include our:
18oz Opaque Vinyl - weather resistant, UV-protected, anti-curl, with a satin finish
23oz Opaque Vinyl - heavy duty, 100% opaque, UV-protected, anti-curl with a satin finish
Outdoor Flag Polyester - tear resistant, knitted fabric
300D Polyester - heavy-duty, water-resistant, scratch-proof, flame-retardant fabric option
Is there a difference between street pole, light pole, and lamp post banners?
No, there are no differences between those terms and they each refer to our pole banners. Each of these terms is commonly used throughout the industry and advertising professionals.
How do you print your banners?
For our vinyl pole banners – they are digitally printed using UV-resistant inks. This makes them water-resistant as well as UV-safe for outdoor use. Our fabric material options are printed using dye sublimation for outstanding, full-color, fade-resistant color reproduction.
What shape pole banners are available?
We offer two shapes: rectangular and triangular. For our two first product options (#1 & #2) a rectangular shape comes standard. Option #3 and Option #4 are offered with your choice of triangle or rectangle.
Are there grommets included with your pole banners?
There are two grommets on each banner. These come standard and the placement is not optional.
Are prices discounted for bulk orders?
Yes, prices are discounted for large orders. The larger the order, the less expensive each pole banner is. Depending on how many your order, wholesale prices are available. If you would like more information on wholesale discounts, contact our customer service team.
What comes included with my order?
Your order will include custom printed banner, heavy-duty pole bracket(s), fiberglass pole(s), and possibly steel ties depending on your banner size.
Am I able to buy a banner without the hardware? Can I buy the hardware without the banner?
Yes! You certainly can buy just hardware if needed as well as just a custom pole banner. When you are configuring your product, navigate to the first dropdown "Order Type". Click the down arrow and select either "Prints and Hardware", "Prints Only", or "Hardware Only".
How do I upload my design to your design tool? What file types are accepted?
We offer two ways to design your custom pole banners online. The first option is to insert your files and logos into our design tool where you will have the ability to add extra text and design elements. The second option is to upload your artwork on one of our provided ready-to-print templates.
Choose how you want to create your pole banner by navigating to the product configurator at the top of the page. Customize your light pole banners with the available options and click the "Design/Upload" tab. Here you will see the options for "Design Online" and "Upload Template".
Design Online: To upload your artwork inside our Online Design Tool, look on the left hand pane for an arrow with a horizontal line below it. Click this and see the option to "Choose Your File". Format on the online tool from there.
Upload Template: To upload your artwork with our Upload Template option, look directly above to the Artwork Template and Reseller Artwork Template. Download the appropriate template, apply your artwork to the template within the specified limitations, and reupload to the Vispronet with the "Upload Template" button. The artwork will then be checked by our professional design team, and then will be approved or disapproved. You will receive notification in your email.
Do you offer design services?
Yes! We do offer design services for your convenience at no additional charge. Please contact customer service to speak with one of our design professionals. For a small hourly fee, we can create your design from scratch and then send it to you for approval.
Will weather damage my pole banners? Will my custom design fade?
We have designed our banners to be weather resistant. Each banner has grommets included so you can secure them to the pole in high winds with zip ties or something similar. Each banner is digitally printed with UV-resistant inks, or dye sublimated, for fade-resistance and the ability to withstand prolonged sun exposure. Your banners may start to fade over an extended period like any outdoor banners or signs. Your design will never wear off.
How do I remove wrinkles from my vinyl?
If you must remove any small wrinkles left from the shipping process, simply lay your light post banners out in the sun for a couple hours and all wrinkles will smooth out. Simply installing your banners in the sun will also smooth the wrinkles out.
For more information on how to remove wrinkles from vinyl, check out this blog post.
How should I clean my street pole banner?
To clean your pole banners, simply wipe with a soft cloth soaked in soapy water and let air dry. Do not use any scrubbers or harsh cleaners as these may damage the finish on your banner.
California Residents

Click here for Proposition 65 warning
Frequently Purchased With
Q & A