Custom Shipping Boxes
Looking for a Sample?
Purchase custom shipping boxes with no minimum order quantity. If you need to review our custom shipping boxes before buying a bulk order, change the quantity to one and choose which size and material you are considering.
View our size chart below to see quantity pricing, popular sizes, and recommended use-case scenarios. If you need help ordering your sample, contact us by using our live chat or calling a customer service representative at 877-822-0201.
configurable00

Need help? Hire one of our professional graphic designers at no additional cost!

Choose 'Pay Later' at checkout and receive a free proof
before submitting payment.

Design Online or Upload Template
Create custom products using our online design tool or provided template files.
Custom Shipping Box Details
Parts List:
Sturdy custom printed shipping box, ships flat and is ready to use
Box Closing Style:
Top: Standard Closing
Bottom: Standard Closing
Material Options:
White B-Flute Corrugated Cardboard: 1/8" one-sided white corrugated cardboard (compliant with Mullen 200# test)
Kraft B-Flute Corrugated Cardboard: 1/8" brown corrugated cardboard (compliant with Mullen 200# test)
Additional Notes:
Kraft cardboard causes graphics to appear faded and less vibrant as opposed to white cardboard
Why Custom Shipping Boxes?
No minimum order quantity
1-piece sample orders available
Ships flat and is easy to assemble
Environmentally friendly
Durable corrugated cardboard
Bulk discounts at wholesale prices
Risk-free ordering with Pay Later
Fully customizable box exterior
Full color CMYK printing
Free artwork proof to review before printing
Fast turnaround and rush shipping available
Pricing
Size (L x W x H)
Recommended Use
Price for 50
Brown/White
Price for 100
Brown/White
Price for 200
Brown/White
6in x 6in x 6in
Watches/glasses
$189.50
$204.50
$164
$182
$328
$364
8in x 8in x 8in
Figurines/statues
$153.50
$170
$307
$340
$610
$676
10in x 10in x 8in
Travel mugs/tumblers
$205
$227
$410
$453
$812
$898
11in x 8.5in x 5.5in
T-shirts/apparel
$153.50
$170
$307
$340
$610
$676
11.25in x 8.75in x 4in
Paper products/stationary
$153.50
$170
$307
$340
$610
$676
11.25in x 8.75in x 6in
Books/magazines
$153.50
$170
$307
$340
$610
$676
12in x 12in x 6in
Flatware/dinnerware
$246
$272
$490
$541
$974
$1,070
12in x 12in x 12in
Toys
$409.50
$452.50
$811
$898
$1,166
$1,274
13in x 13in x 10in
Jeans/sweaters/apparel
$307
$340
$610
$676
$1,158
$1,118
15in x 15in x 15in
Coffee, other beverages
$409.50
$452.50
$811
$898
$1,166
$1,274
20in x 20in x 20in
Vases, large items
$1,157.50
$1,116.50
$1,563
$1,730
$2,978
$3,146
Call 877-822-0201 or live chat with a sales representative to inquire about custom sizes.
What Is a Shipping Box?
Both large and small businesses use custom shipping boxes to spread brand awareness while shipping products to customers. Shipping boxes with a printed logo create a personal, friendly company image that also promotes brand familiarity. Anyone who sees the packaging instantly becomes aware of your brand name and image if the box has a unique, eye-catching design. Companies that use custom design boxes for shipping their products include retail stores, ecommerce sites, and large subscription box kits.
Who Uses Custom Shipping Boxes?
Any company that ships products to the homes or businesses of customers uses shipping boxes. These shipping boxes are affordable for both small and large businesses to use, which is one of the reasons why they are popular. Because these boxes come in a wide range of sizes, custom printed shipping boxes can fit many products sold online, such as clothing and home décor. Many companies want to reinforce their brand name and personality, even as customers are opening their packages. By displaying their logo and slogan on a shipping box, they are further advertising their brand to the customer. Therefore, branded shipping boxes are an effective way to promote and keep the brand name in the minds of customers so that they can order from the business again.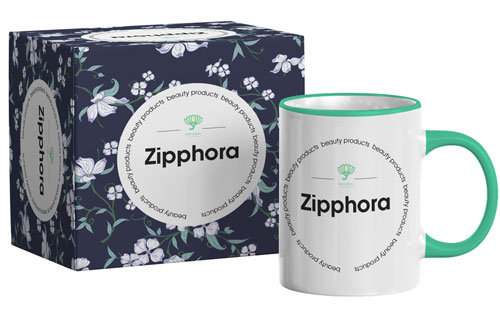 Boxes Made from High-Quality, Durable Material
Our custom shipping boxes come in either white or kraft corrugated cardboard. Both materials are durable enough to use for shipping purposes, what differs about them is how they look and print. If you are using a design with a lot of bright colors, we recommend using the white cardboard. This material has a blank, matte finish that creates bold, saturated colors that stand out. For a more natural and affordable look, there is the kraft option, which makes the colors in the design look more faded due to its brown material. This cardboard is popular with food companies and charity organizations. No matter which of the two corrugated cardboard materials you choose, you will be able to fully customize a design.
Environmental and Travel Friendly Corrugated Cardboard
Both corrugated cardboard materials are recyclable. When customers are done using them, they can just toss them in their recycling bin. Not only are they environmentally friendly, but the cardboard material is also dependable for travel. Both materials for the custom shipping boxes pass the Mullen #200 test. This means that each square inch of the packaging can withstand up to 200lbs of pressure without ruining the cardboard. If the custom printed cardboard boxes are dropped or fall over, they will not crumble, making them ideal for travel. The 1/8in cardboard is also thick enough to keep the contents inside safe.
Shipping Boxes Are Easily Assembled
While these boxes ship flat, they are easy to assemble to their full width. These custom shipping boxes set up the same way other shipping boxes do. In just a few simple steps, our custom shipping boxes are assembled and ready for use:
Push the two diagonal sides together to create a square.
Fold the flaps on the top and the bottom down
Before shipping these boxes, make sure to tape the flaps closed.
For a more visual guide, view our "Assembly Instructions" tab.
Custom Shipping Boxes Available in a Wide Range of Sizes
Our printed shipping boxes come in several popular box sizes from 6in to 20in. If you are not sure what size you should use for your products, look at our size chart above. We have examples of what to place in each box size. For example, the smallest 6in x 6in x 6in size is great for such small products as prescription glasses and jewelry. The largest 20in x 20in x 20in box can fit decoration items and smaller appliances. It is important to measure the items you will be shipping to see what box size works best for you.
Here are the size ranges we offer for all the dimensions:
Length: 6in – 20in
Width: 6in – 20in
Height: 5.5in – 20in
Digital Printing in Full Color
We use a modern digital printing method for our custom shipping boxes. This type of printing creates quality, eye-catching colors that do no scratch or peel off, making them durable for travel. Digital printing is done in full CMYK color, which means that you can include as many colors as you want in your design without it affecting the price.
Custom Shipping Boxes Enforce Your Brand
Creating a memorable unboxing experience for your customers is a one of the best ways to uphold and enforce your brand. Implementing your brand's colors, logo, and slogan into the packaging material creates an impact on product enthusiasts sharing content on social media sites & YouTube. Unboxing videos have become a marketing tool that both big and small businesses can leverage to reach their target audiences. Influencers will showcase their first impression of your brand and product to the masses. This allows influencers to give their first impressions of the product and recommend it to their audience. By using colorful custom shipping boxes with your logo, you make your brand stand out when seen by all the viewers of the video.
Frequently Asked Questions
How do I design the box template?
We have three different ways for you to customize the box template:
Design Online: Add business logos and photos to your design, as well as clipart, backgrounds, and text boxes, in our online design suite.
Upload Artwork Template: Download the box template onto your computer to use a software program to create a shipping box design.
Free Design Services: Let us know what you want in your print and our professional graphic designers will create a template free of charge.
How should I decide between choosing white or kraft cardboard?
Choosing between white or brown craft cardboard should be determined by your brand and the desired look of the shipping boxes. Outdoor, food and beverage, or businesses with natural products can utilize the brown kraft material to as an intentional marketing concept. If you're looking for bold, saturated colors with no discoloration, then the white kraft cardboard is the ideal choice.
How do you measure custom shipping boxes?
When the personalized shipping boxes are setup to their full size, they are measured this way:
Length: left to right
Width: front to back
Height: top to bottom
Keep in mind, these boxes ship flat to save you shipping costs.
How long will it take for me to receive my boxes?
We require some production time to manufacture these boxes. Our standard production time is 4-6 business days. If, however, you need your custom shipping boxes sooner than that, we offer rush options.
Can I create a design for the inside of the shipping boxes?
We only offer printing on the outside of the custom shipping boxes for now. The inside will be blank to match the kraft or white cardboard material.
California Residents

Click here for Proposition 65 warning
Frequently Purchased With
Q & A