configurable 0 1
Get started with personalized products in 3 simple steps.

Click the Get Started button to upload a high-resolution photo and place your order.

2. Receive & Approve Your Proof
We'll process your photo within 2 business hours and send a proof for your approval via email.

3. We'll Bring Your Idea to Life
Our standard turnaround time is 3 business days plus shipping with expedited options available.
Custom Sports Player Cut Outs Details
Setup these team player cutouts in your yard or schoolgrounds during game day. These custom player cutouts are made from long-lasting, outdoor-tested corrugated plastic, which is weather-resistant and UV-protected to withstand all kinds of weather. Your photo is recreated through UV-printing for stand-out prints that will not fade or peel off, even after repeated use. We print the photo on one side of the corrugated plastic, leaving the other side blank. Whether it is hot, rainy, snowy, or windy, the sign material and print will not get ruined when displayed outdoors. Two stakes are included with your order for installing these sports cardboard cutouts in grass or dirt. The bottom of the stake pushes into the ground while the top slides through the flutes of the life size sports figures. These stakes are also durable enough to last you through many uses. Set these lightweight sports cutouts up for your main event and then take them down and easily store them away until they are ready to be used again.
Parts List:
Custom printed team player cut out
2 Beefy stakes
Sizes:
Material:
4mm Coroplast®: Weather-resistant & UV-protected lightweight corrugated plastic
Additional Notes:
Product is printed on one side (single-sided)
Celebrate Local Athletes with Custom Player Cutouts
These sports cardboard cutouts are ideal lawn decorations for homes and schools that are showing off their team athletes for football, baseball, basketball, soccer, and more. Get football cutouts made of the whole team or one player and place them in a yard for people walking or driving by to see. Our team player cutouts are perfect decorations for the whole sports season, pep rallies, marching band, or during a special gameday. These sports cutouts can also be taken to games for fans or parents to hold in the stands. The life size athlete cutouts are made from the waist up to showcase the jersey and face of the player. Most custom cutouts feature player with their hands at their side or behind their back for the best results. Choose between 24in x 35in and 28in x 40in sizes. Let everyone meet the players of your team or special honorees with these custom photo cutouts.
Team Player Cutouts Photo Requirements
It is important to use high-quality, high-resolution images to get the best results for your team player cutouts. Here are some tips for what kind of photos make the best custom player cutouts:
High-resolution images are more than 2MB
Pixel size should be greater than 1800x1800
Dots per inch (or DPI) should be around 180-300
We prefer JPEG or TIFF files, but also accept PDF, AI, GIF, and PNG files
Don't use photos that are zoomed in as they will be blurry due to the decreased resolution
Make sure the waist up of the athlete fills as much of the photo as possible
Make sure the photos are taken in good lighting to avoid the picture coming out fuzzy
Please only send us photos you own the rights to or that you took yourself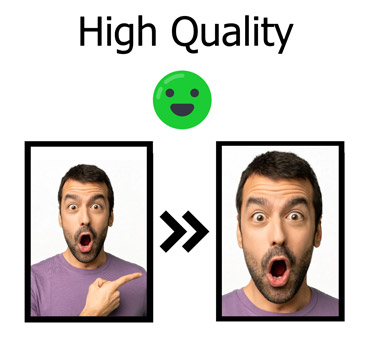 Size - 1,000KB
Resolution - 3,000px x 3,350px
High resolution images like the one shown above will be printed with very little or no pixilation at all.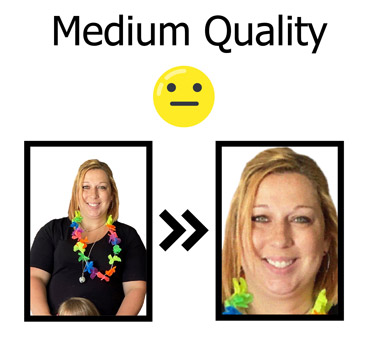 Size - 680KB
Resolution - 480px x 486px
Medium resolution images like the one shown above can be printed but will have visible pixilation in the image when printed.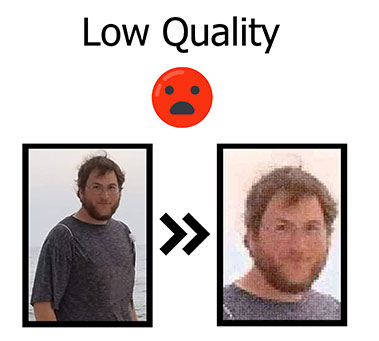 Size - 17KB
Resolution - 365px x 412px
Low resolution images like the one shown above cannot be printed due to the amount of pixilation in the image.
You need to own the rights to the photo: If you are the one who took the photo then you are the copyright owner of the photo. You will need to get permission if someone else takes the photo. You can upload professional pictures if the photographer gives you a release form. If a photo is uploaded and you do not have the rights to it, we will not be able to print the photo for your custom cardboard cutouts.
If you have any questions, please live chat with us, call us at (877) 822-0201, or email us at info@vispronet.com.
Frequently Asked Questions
How are do I setup my sports player cutouts?
These team player cutouts are easy to setup. They are installed the same way as yard signs. Simply insert the stakes into the ground until they stand on their own. Secure the athlete cardboard cutouts to the stakes by sliding the top through the sign's flutes. When you are finished displaying these athlete cutouts, simply pull the sign off the stakes and remove the hardware from the ground.
To display the cutouts on a chain link fence, be sure to configure your product with holes cut in all 4 corners under the additional options. Then, use zip ties to fasten the corrugated plastic sign to the fence. Zip ties must be purchases separately.
What is the turnaround time?
Standard turnaround time is 3 business days plus shipping times. We offer rush production fees and shipping options for those who need their sports cutouts by a date. To see what shipping options are available for your location, view our Estimate Delivery button on the top right of the page.
What material are they made from?
These life size athlete cutouts are made from long-lasting, outdoor-tested corrugated plastic. This is the same material we use for our yard signs, yard letters, and life size cardboard cutouts. Corrugated plastic is weather-resistant and UV-protected, meaning that it will be able to withstand wind, rain, snow, heat, and other weather conditions without the cutouts or print getting ruined. For example, if you displayed football player cutouts outdoors for an extended period of time, they would still look as good as new, not showing any signs of wear and tear.
Are sports cardboard cutouts double or single sided?
These life size sports figures are available in single-sided printing, the same as our custom cardboard cutouts. One side of the material will be printed with your photo while the other side will be left blank.
California Residents

Click here for Proposition 65 warning
Frequently Purchased With
Q & A
Reviews