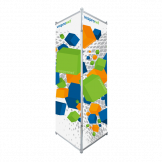 3D Banner Displays
Looking for a way draw your audience's attention and captivate them as they come up to your booth? Consider 3D Banner displays from Vispronet® -- our triangle banner stands and other 3D displays are an excellent way to catch a potential customer's attention and promote your trade show booth.
How do our 3D displays work?
Our floor displays, like the cubes, triangles and towers are easily assembled using the included aluminum poles and connectors – no tools required.
What are the benefits of using a 3D Display?
These products are excellent for public events. Whether it is a trade show, work event, or a shopping center, these banners stand out among the rest. These 3D banner displays are especially effective because the marketing message is displayed on every side of the product. There is no poor view of the advertisement.