Trade Show Furniture
You want to make sure that your trade show booth stands out. Adding furniture to your trade show booth is a great way to draw potential visitors to your exhibit and promote your products, services or brands at the same time. Features of our trade show furniture pieces include:
Custom printed seating displays
Rugged steel construction for all legs and joints
Anti-slip black rubber feet
High-density polyethylene (HDPE) tabletops & chair seats/backs
Why is Trade Show Furniture Important?
Trade show booth furniture is an excellent investment, especially if you're a first-time trade show vendor.
Here's the bottom line:
The furniture at your booth serves a multitude of purposes to help your exhibit be successful. Here's how:
Benefits
Grabs customer's attention: It catches the customer's eye because most vendors go with the basics and aren't willing to spend money on furniture. Along with the rest of your trade show display, the furniture you put in front of and around your booth is one of the things that help you stand out from the pack – the goal of all trade show exhibitors everywhere. Using furniture is one of the best ways to turn your booth into a place your customers actually want to visit – especially if you pair the furniture with things like charging stations and free Wi-Fi.
Customers will seek out your booth: It provides a welcoming, comforting environment. The people that come past your booth have probably been at the show for hours – why not offer them a place where they can sit down and rest? This sort of booth environment works great when paired with the charging stations and free Wi-Fi from the previous tip – as word spreads, people will be lining up to take advantage of the benefits that you're offering them.
Showcases your brand: Trade show furniture offers you valuable real estate for brand promotion. Once you've built a business branding package for your company, you can use the furniture you buy to emphasize and advertise parts of that package, with your logo and slogan being two obvious candidates.
Makes your booth look cohesive: It can give your display a polished, professional look. Choose trade show tables and chairs that match and augment the look and feel of the rest of your display – this way you have a unified, consistent brand image for your display.
Everything is portable. Since you're often taking your furniture on the road along with the rest of your display, all of it needs to portable and easy to transport – the last thing you want to do before the show begins is bust out your toolbox. We solve this problem by making sure that everything – from the chairs and stools to the banquet and cocktail tables – is foldable or able to be disassembled without tools. Save your trade show cases for your pop up displays and retractable banner stands.
What Kind of Trade Show Display Furniture Do We Offer?
We offer a number of different types of trade show booth furniture – pick and choose depending on your needs.
Display Benches, Cylinders and Dice: Designed to provide a combination of comfortable seat and functional advertising display, these promotional seating elements are sure to attract attention your way. Each of these display items is made from a high-density foam core wrapped in our Polydeco Deluxe knitted polyester material – perfect for printing on. All of the display items we offer – whether it's a die, bench or cylinder, can be custom-printed with your graphics or art.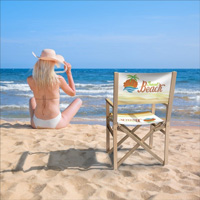 Promotional Chairs: Advertising should be fun and unique – and what's more unique than a promotional chair? Available in natural beechwood and an aluminum frame option, these chairs also feature your custom prints, artwork or graphics printed on our fire-resistant Sundeco 6oz knitted polyester material. Looking for a great gift? Check out our custom director's chair.
Custom Seat Cushions: Great as company, team or trade show giveaways, these custom seat cushions come with the option for a full-color print that can feature your images, graphics or text. The seat cushions are available in two shapes – your standard square shape and a round shape that's perfect for tire or tree stump designs – or anything that has a similar round shape. Give your customers a way to remember you with some custom, comfortable seating that's great for sporting events, parties and more.
Portable Counters: Our portable counters combine form and function to create a piece of trade show furniture that functions as an all-in-one display solution. Collapse it and pack it up to take on the road – the lightweight aluminum and durable black plastic used in its construction mean that it's built to last. Our custom printed portable podiums are a popular choice for trade show exhibitors.
Cocktail Tables: A great way to add class to your event, whether it's a trade show or wedding reception. Cocktail tables are available in two diameters (27.5" and 31.5") with the option to include a fitted, stretch or standard table throw.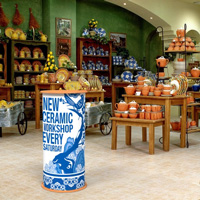 Pallet Tables: Tired of wasting money on trade show rental fees? Tired of wasting time waiting for pallet delivery post-show? Get the best of both worlds with our Trade Show Pallet Tables – each one is 2-in-1 solution designed to tackle both of these problems at once. Load up the pallet with all your trade show items and then turn it into a table once everything's been unloaded!
Plastic Folding Tables: When it comes to trade shows and events, you need lightweight, durable folding furniture – it saves you money in the long run, especially compared to renting furniture from the venue at every event you go to. Our plastic folding tables feature a 45mm thick high-density polyethylene tabletop that's scuff and stain-resistant. A built-in carrying handle makes these tables easy to transport – they're moveable by just one person. Stop wasting money on tables you can't keep – get a plastic folding table from Vispronet! Compatible with stretch, fitted, and standard table throws.
Brochure Holders and Literature Racks: What better way to add some dimension to your paper goods than with a brochure holder? Make your paperwork stand out so that your customers are easy aware of your specials. Pick from brochure holders, magazine display racks, tablet kiosks, snap signs and more!