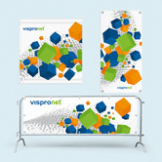 Quality Custom Banners, Design & Printing
Whether they're small or large, custom-printed banners from Vispronet guarantee attention for you, your business or your brand at a low cost. From custom banners for promoting an arena event to advertising banners for a local festival, you'll find in our line of custom-printed banners the perfect match for your advertising goals. Creating the perfect custom-printed banner depends on selecting the right material. Our custom-printed banners are available on mesh, fabric, vinyl and more.
The Right Custom Printed Banners for Your Business
The right custom printed banners can make the difference when it comes to effectively promoting your business or brand. Our Custom Vinyl Banner Signs are great for any industry, including entertainment, retail, hospitality and more. Custom Mesh Banners are perfect if you're planning on using the banner outdoors in a windy location. Any of our custom Fabric Banners are great for use with indoor retail displays. Each custom banner material has its own unique use, so be sure to view all options.
Custom Printed Banners: More than Just for Advertising
Custom printed banners are heavily associated with advertising, but they can also be used to celebrate a birthday, wedding or other event. Our custom vinyl banners are great for welcoming guests and being a real eye-catcher at a variety of different get-togethers, including baby showers, retirements and more. The best part about working with Vispronet for your custom-printed celebration banners is we can turn your idea for a banner into reality. If you have an idea but don't have a finished design, our design team can help at an affordable cost with our Professional Graphic Checking services and Design Time.
Which Custom Printed Banner Material is Right for You?
We offer 7 main types of custom printed banners:
Vinyl

: Custom Vinyl Banners are the most popular. They have been used for everything from a large advertising campaign to welcoming home a loved one. Your Vispronet-printed custom vinyl banner features weather-resistant and UV-coating to protect it from fading due to excessive sunlight. You'll find with custom vinyl banners a wide array of finishes, formats, shapes and more to choose from. If you're looking for a simple banner to promote an event or for a birthday banner, you'll want to check out our custom-printed Vinyl Banners.

Fabric

: Custom-printed Fabric Banners are a lightweight option that travels well. A big benefit to using fabric for your custom printed banners is you can easily steam and fold your banners to make sure they look their best when they're displayed. Fabric Banners custom printed don't crack or peel. Since we wash all custom-printed Fabric Banners after printing to remove excess ink that may cause bleeding, your custom fabric banners won't bleed-out in the rain. Your Fabric Banners will be ready for use upon arrival, and you won't need to wash them to use. Whether you're looking to advertise at an arena or in the mall, a custom-printed fabric banner with your design provides a high-end look thanks to being printed on our polyester material.

Mesh

: Mesh Banners with your custom design are great for larger advertising campaigns. Custom-printed Mesh Banners are printed on Varioflag® A, a textile mesh material that allows light and wind to pass through, making them translucent and windproof. If your business or brand wants to create a buzz by placing a banner along the side of a bridge or other large area, a custom printed mesh banner is more than likely your best bet. Mesh Banners are also great for use as fence wraps.

Heavy-Duty Vinyl

: Heavy-Duty Vinyl Banners are for those who like the look of vinyl, but want extra protection from unforeseen events. Heavy-duty vinyl banner printing is perfect if you're looking for a large banner at a trade show, museum or other area with a high turnout. Heavy-duty vinyl banners are made of 18oz vinyl and are outfitted with extra reinforcement along the edges and durable grommets.

Adhesive

: Adhesive Banners are perfect for those who want to advertise their business or product, but have a limited amount of space. These custom printed banners have an adhesive back that allow them to be easily mounted onto any flat surface. Our custom printed Adhesive Banners are made for indoor use and are perfect for promoting a sale or discounted item.

Oversized XXL

: If your theory is go big or go home, we have the perfect custom printed banners for you. Our Oversized XXL Banners are an excellent fit if you're looking to make an extra big impact with your banners. Our custom printed Oversized XXL Banners are made for indoor and outdoor use, and are great if you're looking to make a big splash with your stadium, concert, museum or other type of advertising banner.

Window

: If you would like your custom printed banners to attract passersby as they pass by your storefront, any of our window banners can do the job. Window Banners can be custom printed on front-only or front and back, and are printed on primarily clear and mesh adhesives. Draw in your customers with window banners.
Vispronet: Your Custom Printed Banners Partner
It's easy to order and print the perfect custom printed banners from Vispronet. You can select any of our banner materials by clicking them above and viewing the different layout and configuration options for each custom banner. Vispronet makes it easy to order your custom designed banners to be printed. You'll have the ability to add grommets and other mounting accessories with your banners, so they're easy to hang. Simply use the configuration system by clicking "Get Started" on any product page to select the perfect custom banner for your needs.