Yard Letters
Notify guests where the party is, congratulate someone on an achievement, or announce your latest addition to the family with these large Yard Sign Letters and wholesale Yard Cards from Vispronet! Designed from 4mm corrugated plastic, these yard letters can withstand hot and wet weather conditions while still looking pristine.
High-Quality Corrugated Plastic | 18" or 24" Height | Reusable | Free Shipping | 100% Customizable
---

Choose Your Yard Letters Set or Customize It
Stock yard letter sets are available in several stand-out colors for an attractive appearance that also catches the attention of passersby. Placing yard sign letters in front lawns or in front of venues is easy and requires no tools. Depending on how wide the letter or graphic is, they come with either a piggyback step stake or a beefy stake that slides into the flutes of the sign. The stakes are placed into the ground by being pushed, sometimes with a foot, until the letter is firmly standing on its own. The lawn letters have their own stake for support, so they will not fall over or spin in the wind. Let your friends and neighbors know about achievements and celebrations with these well-constructed, and vibrantly printed letter sets. Popular ready to ship sets include happy birthday letters, heroes work here, and congratulations yard letters.
Corrugated Plastic Letters in Ideal Sizes
All our yard cards are made from 4mm corrugated plastic. This material is perfect for outdoor use because it is weather-resistant and UV-protected, meaning that the colors and shape will not be ruined from the rain or sun. While the material is lightweight so that the yard letters are easily setup and taken down, it is also incredibly durable.
18" or 24" Large Yard Letters
The lawn letters are 18in or 24in tall, and the emojis and clip art vary in height. Some letters are wider than others. For the large yard letters, they are paired with an H-stake, while the slimmer letters are compatible with the thin beefy stake. The stakes are automatically added to the order and paired with the correct letter size.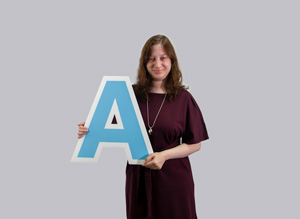 Easy to Set Up Yard Letters with Stakes
Assembling the yard sign letters in the yard is simple and does not require a lot of time. All that needs to be done is that the stakes should be pushed into the ground (using a foot can help) and then the letter or symbol is placed over the stake once the hardware is inserted far enough into the ground. We recommend putting the stake in the ground first and then putting the flutes of the letter over the stake. If you try placing the stake in the ground with the large yard letters already attached, you can bend the corrugated plastic.
Yard Sign Letters for Any Occasion
We have plenty of stock phrases and colors to choose from. Stock phrases include ones for graduating students, birthday parties, birth announcements, and welcoming home friends and family. Sets, such as our popular happy birthday letters, come in several colors to choose from, including the eye-catching rainbow option.
Is there a specific message you want to place in your lawn? Do you want to include the names of a couple getting married, the name of a new baby, or a motivational message in front of your business? Make your own yard letters sets with our incredibly popular custom phrases. For this option, you can choose from a variety of colors, such as sky blue and purple, and many symbols, such as a teddy bear and a cupcake, and type out your very own message for us to print. We allow up to 35 characters. These custom phrases can be specifically tailored for themed parties or used as school decorations.
These alphabet letter yard signs are often used to share announcements with neighbors and passersby or to let guests for parties and other events know where their destination is. Lawn letters are eye-catching, making them easy attention-grabbers for people trying to find where a party is from directions. Jumbo yard letters are becoming more and more popular as lawn decorations for planned events and holidays.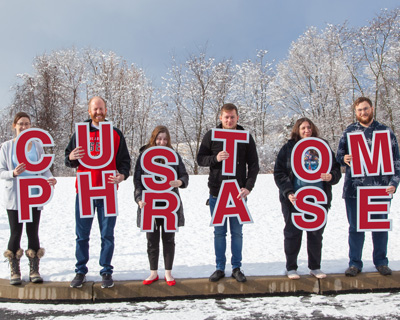 Large Yard Letters at Wholesale Prices
We are proud to offer long-lasting, high-quality yard letter sets at wholesale prices. The listed prices for the sets change depending on whether you add emojis or more letters to the stock or custom phrases. The base price for 18in stock sets and emojis is $69.99. The large yard letters sets are for sale at $149.99. If, however, you want to change the defaulted size or add extra symbols and letters, the price will go up accordingly. If you exclude the emoji symbols, the price remains the same. If you want to add additional symbols or letters to your wholesale yard cards, the price adds $5 for every new character. We will automatically add the stakes to your order to accommodate the new corrugated plastic letters and emojis.
Frequently Asked Questions
When can I expect my yard message?
Your custom letters require production time. Some yard sign letter sets ship out faster than others, but they all ship out within a few days. If you need your yard letters faster than our standard production time, we offer rush options. Just go to our Delivery Estimator to see what delivery options we can offer you.
Do you offer customizable yard signs, not letters?
Yes, we offer wholesale yard signs in different shapes and sizes if you are looking for the more traditional style. They are made from the same material as our lawn letters.
Do I have to order stakes separately to go with my yard letters?
No, we automatically add the correct stakes to your order. You do not have to figure out how many beefy stakes and how many H-stakes you need. We do all that work for you. Big yard letters are paired with H-stakes while slimmer letters receive beefy stakes. Each order includes yard letters with stakes for no extra cost.
What kind of printing is used?
The corrugated plastic material is digitally printed with UV-inks which results in fantastic, eye-popping colors that are great to display outdoors. The design will not peel off or fade in the sun, ensuring the longevity of your custom yard letters investment.
What if I want a stock message in a different color than what you have?
If you would like one of our messages in a different color, you can easily type out the stock message when purchasing our custom yard letters. These large yard letters include a wider range of colors that will suit what you are looking for. We also include all the stock emojis we offer, so you can add them to your order. You can also contact our customer service team for assistance, and they will be glad to help you get the exact yard sign letters you are looking for.
How tall are your corrugated plastic yard letters?
Our jumbo yard letters are offered in 18in and 24in sizes. The above pictures show people holding 18in letters to give you a rough idea of how big the signs will be in a yard. Both sizes are common for yard signs and letters. These giant yard letters are easy to spot on any small, medium or large sized lawn. The emojis suit the height of the letters but vary in sizes depending on the symbol.
Do you offer discounted prices for large or multiple orders?
Our yard cards are already offered at low, wholesale prices for their quality and durability, but if you are looking for a discount for a business order, please contact customer service by emailing info@vispronet.com or calling (877) 822-0201.
What our customers have to say