configurable 0 1
Get started with personalized products in 3 simple steps.

Click the Get Started button to upload a high-resolution photo and place your order.

2. Receive & Approve Your Proof
We'll process your photo within 2 business hours and send a proof for your approval via email.

3. We'll Bring Your Idea to Life
Our standard turnaround time is 3 business days plus shipping with expedited options available.
Custom Cardboard Cutouts Details
Get a one-of-a-kind poster of yourself or someone you know or work with to display in front of your store, at a trade show booth, or as a decoration at a party. Upload a personal photo and we will cut it to shape for your standee. The height can vary depending on the photo you use. These single-sided cardboard cutout standees come in several heights to suit tabletop displays and custom life size cutouts. Our custom cardboard cutouts ship with protective framing that you easily remove when you are ready to use them. Your custom standee also comes with an easel so that it will stand freely on a flat surface. The photo is printed on durable corrugated cardboard or plastic for either indoor or outdoor setups. We also use state-of-the-art digital printing to produce a product that will last for years. Give your friends and loved ones something they will remember: a custom cutout of themselves that they can keep forever.
Parts List:
Custom printed standee
Standee easel
Print Size:
Enter your own size between 18in & 7ft tall
Width will vary based on the photo (max is 36in)
Additional Notes:
Cardboard cutouts are printed on one side (single-sided)
Cutout may vary in size due to the quality of the photo provided
Keep in mind the person's hair, standing position, and accessories like hats when entering their height
Larger standees ship folded for better cost
Recommended for indoor use or outdoor areas with no wind
Uncut areas of negative space may occur between arms and legs of the custom life size cutouts for extra stability
Material:
4mm Coroplast®: Weather-resistant & UV-protected lightweight corrugated plastic
White B-Flute Corrugated Cardboard: 1/8" one-sided white corrugated cardboard (compliant with Mullen 200# test)
Custom Cardboard Cutouts for Personal & Professional Use
Personalized cardboard cutouts of people are seen in a variety of business and private settings. Businesses often make life size cardboard cutouts to place in front of their store, in their lobby, or at their trade show booth. Having a cutout of someone creates a friendly environment that catches the eye of potential customers. Using large, life size cutouts is an easy way to attract attention to something you want to showcase and gives your business a face that makes it more personable. Our smaller size cardboard cut outs also fit on tabletops to compliment product displays and printed table covers. Custom life size cutouts are a great choice for retailers that sell apparel because they can show the articles of clothing on a life size model that is easier to travel with and move than a mannequin.
Our cardboard cutout standees are also great decorations and gifts for parties. Customers turn photos of their friends and family members into life size cut outs that they can display at a birthday party or wedding. Place custom cutouts of people at the entrance where they will be the first thing your guests see or get smaller ones for tables at an event venue. Personalizing cardboard cutouts with a photo of the honoree gives the party a fun touch and makes it more personal and special. These cut out standees also make funny gifts for a theme party or serve as giant cards that everyone can sign with a marker due to the cardboard or plastic material.
Photo Cardboard Cutouts Requirements
To ensure that your life size custom cardboard cutouts print clearly, please follow the steps below.
Image size should be more than 2MB
Pixel size should be greater than 1800x1800
DPI (dots per inch) should be between 180-300
We prefer JPEG or TIFF files, but also accept PDF, AI, GIF, and PNG files.
Avoid zooming in since it will decrease the resolution and cause the image to be blurry.
Get close to the person so they fill up as much of the picture as possible.
Take the picture in good lighting - if the photo is dim, the image will look fuzzy or dark.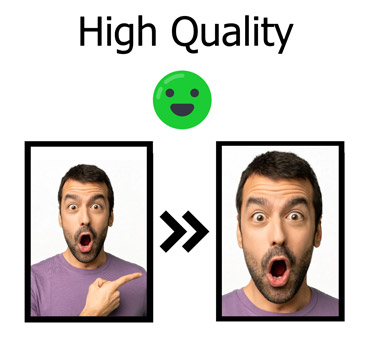 Size - 1,000KB
Resolution - 3,000px x 3,350px
High-resolution images like the one shown above will be printed on cardboard cut outs with very little or no pixelation at all.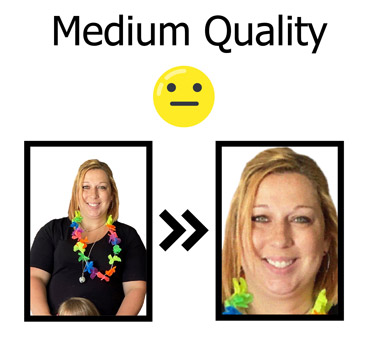 Size - 680KB
Resolution - 480px x 486px
Medium resolution images like the one shown above can be printed but will have visible pixelation in the image when printed.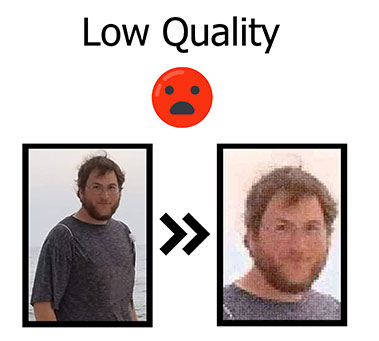 Size - 17KB
Resolution - 365px x 412px
Low-resolution images like the one shown above cannot be printed due to the amount of pixelation in the image.
You need to own the rights to the photo: If you are the one who took the photo then you are the copyright owner of the photo. You will need to get permission if someone else takes the photo. You can upload professional pictures if the photographer gives you a release form. If a photo is uploaded and you do not have the rights to it, we will not be able to print the photo for your custom cardboard cutouts.
If you have any questions about how to make a life size cardboard cutout, please live chat with us, call us at (877) 822-0201, or email us at info@vispronet.com.
Custom Cardboard Cutouts Material Options
Our custom life size cutouts are offered with cardboard and corrugated plastic material options to accommodate different locations and uses. Think about where you will be placing your standees and for how long when deciding which one to choose:
Cardboard
Our White B-Flute Corrugated Cardboard is an excellent choice for indoor displays, such as inside party venues and at store entrances. It comes at an inexpensive price, but the quality is not cheap. Our corrugated cardboard material is lightweight but more durable than your average store-bought cardboard. This is because the 1/8in thick material is not flimsy, offering you a longer life for your cardboard standee. Your photos will also show up well on the crisp white background so that your life size cardboard cutouts really stand out. This is the same kind of material that we use for many of our custom boxes.
Durable Corrugated Plastic
If you plan on placing your photo cardboard cutouts outdoors, such as at a festival booth or a storefront, we have corrugated plastic material, which is our premium material option. This choice is recommended for outdoor use because it is weather-resistant and UV-protected, making your print and the material able to withstand a wide range of weather conditions for long-term use. Your custom photo will also show up nicely on the material that makes colors pop. This is the same kind of corrugated plastic that we use for some of our most popular products, like our
yard signs
and
yard letters
.
Life Size Cardboard Cutouts Come in Many Sizes
Choose between getting small, tabletop size cutouts or life size cutouts. We have a mini 18in standee size that is a perfect decoration for placing on tabletops at weddings, trade show conferences, and at store checkouts. If you are looking for life size versions of human cardboard cutout standees, we also have larger 3ft, 4ft, 5ft, 6ft, and 7ft options. Get the perfect size for a picture of a dog, a small child, a teenager, or a full-grown adult so that your custom life size cutouts can seem more lifelike. The giant cardboard cutouts sizes are what you see at the entrance of parties, weddings, and stores. Keep in mind that our life size photo cutouts will ship folded in half to save you money on shipping costs. All life size photo prints will arrive with a protective framing around the cut shape. Carefully remove the perforated framing from around the edges of the photo before setting up your personalized cardboard cutout standees.
Satisfied Customers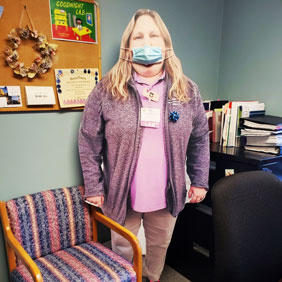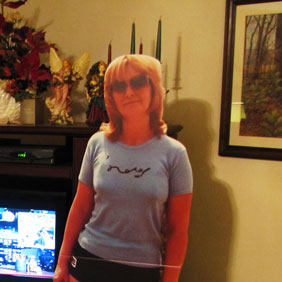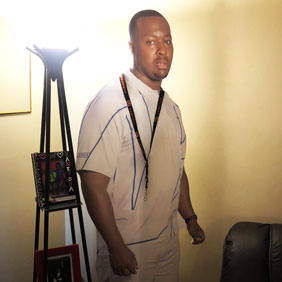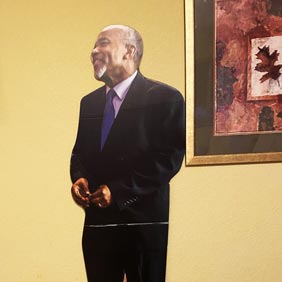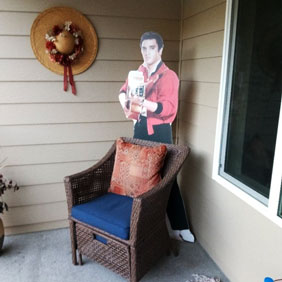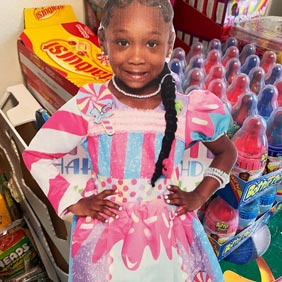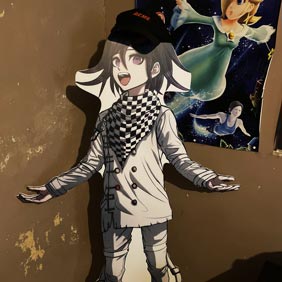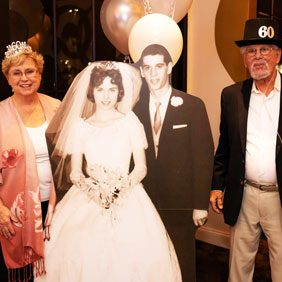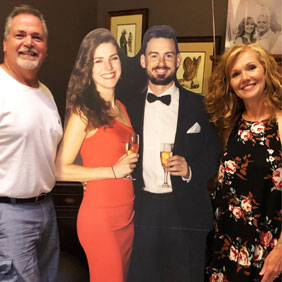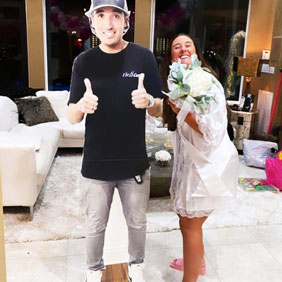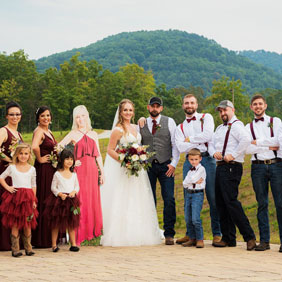 Custom Cardboard Cutouts - Frequently Asked Questions
General
What is the turnaround time?
Our standard turnaround time is 3 business days, plus shipping time. We offer rush production and expedited shipping options at checkout if you need your custom cardboard cutouts as soon as possible. To preview of estimated delivery dates, click the "Estimate Delivery" button at the top of the page.
How do I design my cutout?
Click the "Get Started" button above and upload your image or customized design. We will email you a free design proof of your cutout for your approval. Once approved, we will begin printing your order.
What sizes are available? Do you offer custom sizes?
Yes, our life size cutouts are available in a wide to range of standard and custom sizes so you can choose the exact size you need. These sizes range from 18in all the up to 84in. If you're looking for a custom size or have a special request, please contact our customer service team by phone at 877-822-0201 or by email at info@vispronet.com.
What file types do you accept?
We accept multiple different file types for your artwork. These include JPEG, PNG, TIFF, PDF, PSD, AI, EPS, and SVG file types. We also accept Adobe® Photoshop® and Adobe® Illustrator® file types.
Does the cutout include something to help it stand up?
Yes, all sizes of these full body cut outs include easels so that they easily stand on flat surfaces. The easel is only visible on the non-printed side and is made from the same material as the custom cardboard cutouts. The standee comes with supports on the back that the easel fits into.
What do people use custom cardboard cut outs for?
Cardboard cut out persons are popular for a variety of professional and private events and settings. For business purposes, customers may set larger life size cut outs up at their trade show booth to give it a friendly atmosphere or at the entrance of their store to greet people as they enter. The smaller size is for tabletop displays, such as in a lobby or at a trade show table. For more private events, all standee sizes are common decorations at birthday parties and weddings because many people get photos of the birthday person or the bride and groom printed on the cardboard standups. Whether you are getting a full size cardboard cutout of yourself, friend, or family member, it will always illicit a smile and enjoyment from passersby.
How much is a cardboard cut out person?
Buy cardboard cut outs at affordable prices without sacrificing the quality of the material or print. Our giant cardboard cutouts are cheap in price but first-rate in quality. How much is a picture cardboard cutout? The average 6ft tall cutout costs $89.99 on corrugated plastic and $86.99 on cardboard. The price depends on the size and material you choose - with 4mm corrugated plastic being the most popular. Smaller cardboard people between 18in and 1ft 11in high cost $19.99 with the corrugated cardboard and $39.99 with the corrugated plastic. Larger sizes that measure 2ft up to 7ft range from $79.99-$189.99 for corrugated plastic and $39.99-$186.99 for cardboard. Free shipping is available for all standees to make them more affordable for our customers. Vispronet is a leading life-size cardboard cutout maker, with a 100% satisfaction guarantee.
Printing Specs
What type of printing do you use?
Our picture cardboard cutouts are digitally printed, which offers sharp, vibrant colors that will not fade or peel, even when set up outdoors. As a premium cardboard cutout maker, we also use full CMYK color printing, which allows you to include as many colors as you want in your design without it affecting the price, making it perfect for printing photos. As opposed to the cheap cardboard cutouts provided by other vendors, Vispronet custom cardboard cutouts are printed with rich, life-like colors that will last the life of the product.
How can I get the best-looking photo for my personalized cardboard cutouts?
Getting a high-quality image for your cardboard cut out person is especially important if you want your standee to attract attention. There are several rules to follow so that your lifesize cardboard cutout comes out looking its best:
Make sure the image for your photo cardboard cutouts is high-quality

Size more than 2MB
Greater than 1800x1800 pixels
180-300 DPI (dots per inch)

Use a JPEG or TIFF file
Do not use zoomed-in photos
Get the image as close to the person as possible
Make sure there is good lighting in the picture
If you need help figuring out how to make a cardboard cutout or creating your design, please contact our customer service team.
Materials and Durability
What is the difference between corrugated cardboard and plastic?
The material options differ in where they should be set up and their quality. The corrugated cardboard option is recommended for indoor use while the corrugated plastic is better suited for outdoor locations because of its weather resistance and UV protection. Cardboard life size cutouts are more affordable than the premium corrugated plastic versions. Both custom cardboard cutouts materials are made to last a long time if they are set up and stored properly.
Can I use these custom life size cutouts outdoors?
Yes! Use our beefy stakes to install the custom cardboard cutouts in the ground. The bottom of the stakes pushes into the soil while the top inserts between the layers of the cardboard. Depending on the size of your cutout, you may need several stakes to fully support the display.
Setup and Care
How do I set up the standees?
These life size cardboard cutouts of people are easily set up without tools. Your standee ships flat and will be scored and folded in half for sizes 3' and larger. Strong adhesive tabs are included for displaying your cardboard stand. The life size photo cutouts will come with a perforated frame around them for protection. When you are ready to use them, carefully remove the frame. The easel will also be folded. The easel fits into the supports on the back of the standee. Go to our "Assembly Instructions" tab for a step-by-step guide on how to set up your life size custom cutouts.
How do I make a cardboard cutout?
Learning how to make a cardboard cutout is incredibly easy. All you have to do is send us the photo you want printed on your standee. When you are finished configurating your product and click on "Get Started", a pop up appears where you can upload your photo to us. We take care of the rest. It is important, however, to review the Photo Requirements section so that you send a high resolution image for getting the best looking cutout.
California Residents

Click here for Proposition 65 warning
Frequently Purchased With
Q & A
Reviews