configurable 0 0
Custom printed solutions in 3 simple steps.

1. Choose from 3 Design Methods
Click the Proceed to Artwork button to choose Design Online, Upload Template, or Free Design Services.

2. Receive & Approve Your Proof
We'll process your artwork within 2 business hours and send a proof for your approval via email.

3. We'll Bring Your Idea to Life
Our standard turnaround time is 3 business days plus shipping with expedited options available.
Custom Selfie Frame Details
Add some life to your party decorations with these custom selfie frames. Personalize these frame templates with your business name or logo, the date of the special event, or quirky designs that will catch the attention of anyone who sees your photos. These custom photo booth frames are popular for social media branding because they get your message out there without your followers having to read the photo description. This means that your business or party theme will be seen by more people. Create a fun, festive design so that your selfie photo frames catch the attention of everyone nearby if you are at a large event. Many businesses find these types of frames helpful at trade shows because it entices potential customers to their booth. Schools also use these Instagram selfie frames for homecoming or prom celebrations to create photographic memories that the students can post on social media or take home with them. Adding your brand to a selfie frame gives your company or party maximum exposure with minimum effort.
Parts List:
Custom printed selfie frame with middle cut out
Two adhesive tabs for stability
Size:
21in x 29in (Inner dimensions: 14in x 15in, 1-2 people can fit into frame)
29in x 40in (Inner dimensions: 21in x 22in, 2-3 people can fit into frame)
34in x 47in (Inner dimensions: 26in x 25in, 3-4 people can fit into frame)
Material:
4mm Coroplast®: Weather-resistant & UV-protected lightweight corrugated plastic
Additional Notes:
Frame is folded in half to ship
Light assembly required
Design Custom Selfie Frames Online
We offer three ways to craft the frame print to accommodate those with or without graphic design experience:
Design Online: This method is great for those who do or do not have a lot of design knowledge. In our design tool, you can upload your business logos or funny photos to the template and add clipart, text boxes, and colors to make your selfie frame unique.
Upload Artwork Template: Do you have a design program that you prefer working in? If this is the case, download our template link and upload it onto your computer. Personalize the template using your own software and then upload the complete design on our website before or after placing your order.
Free Design Services: Are you completely lost with how to make a selfie frame or what to include in your design? We are here to help. Let one of our professional designers create a design free of charge based on your specifications. You will receive an artwork proof to give your final approval to before we print the selfie signs.
Durable, Corrugated Plastic Material
Our selfie frames last a long time due to the quality 4mm Coroplast we use. This is a corrugated plastic that is lightweight, yet UV-protected and weather-resistant. This means that the material can withstand different indoor and outdoor settings without ruining your print. This is the same kind of material that we use for our yard signs and yard letters, so you know that it is durable enough to survive repeated use. Many companies use flimsier material like cardboard, but you will get much more use out of corrugated plastic and the print will look crisper.
Storing Your Selfie Frames
If you plan on reusing your custom selfie frames, corrugated plastic is also simple to store. We recommend placing it in a dry room, such as a closet, attic, or basement. Avoid keeping the material in a place where it can bend. You cannot repair creases in corrugated plastic, much like how you cannot in cardboard. Corrugated plastic, however, is much harder to bend and crease compared to cardboard, adding to its durability in outdoor conditions.
Simple to Set Up
Our custom selfie frames require light assembly before using them. To save you money, we ship the frames flat and folded in the middle. To properly set the frames up, unfold the corrugated plastic. Your order includes two adhesive tabs. Peel off the backer of the tabs and place the sticky end on the two folds of the frame. This will allow the entire size of the frame to lay flat, showcasing your full design always. All that you and your guests must do when you take your photos is hold the frame up so that your face is visible through the middle opening.
Selfie Frames in Multiple Sizes
Often more than one person wants to use a selfie board at a time. Groups of friends like taking group photos with the custom selfie frames, so you need to make sure that you have a size that accommodates several people. In more business settings, having a smaller frame for 1-2 people is a good idea, but for parties with friends and family, it is a good idea to get larger frames that more people can use at once. All these sizes offer enough space for more than one person while also maintaining a selfie-like closeup.
| Size | Dimensions | Number of People It Fits |
| --- | --- | --- |
| Small | 21in x 29in | 1-2 |
| Medium | 29in x 40in | 2-3 |
| Large | 34in x 47in | 3-4 |
Satisfied Customers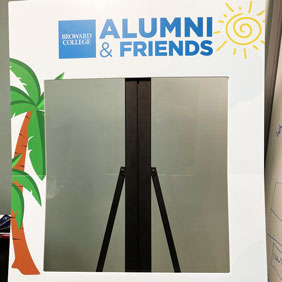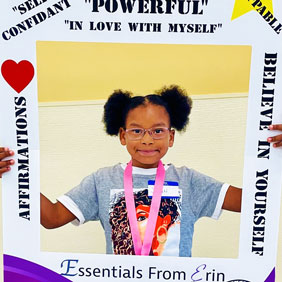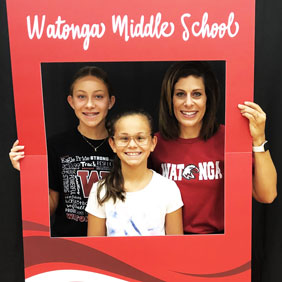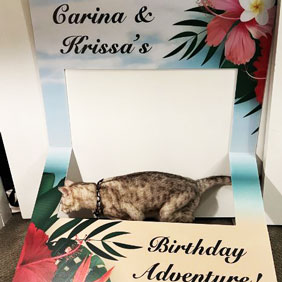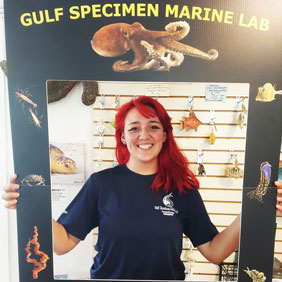 Selfie Frames - Frequently Asked Questions
Where are selfie frames used?
Selfie photo frames are a common decoration at parties and events. Some special event parties, such as bridal showers or birthday parties uses these custom photo booth frames to include special dates and personal messages that include names. Businesses, however, also brand these with their logos and use these at company functions, such as trade shows. Using these selfie boards at your trade show booth encourages passersby to stop by your booth and adds an element of fun to a business setting.
What kind of printing do you use for your selfie frames?
Our custom selfie frames are UV-printed, which is a modern printing technique that creates vivid, eye-catching colors. This type of print will not peel off due to the weather, offering a long print life. We also use full CMYK color printing. This allows you to add as many colors to your custom graphic as you want without it affecting the price of the selfie party frames.
When can I expect my frames to come?
We require our standard 3 day turnaround time to print your selfie frame boards. It mainly depends on how big your order is and when it is placed. We offer both rush production and shipping rates if you need your selfie frames by a certain time. Use the Delivery Estimator in the top right of this page to see what shipping options are available for your location.
Can I use these signs indoors and outdoors?
Yes! The 4mm corrugated plastic material can withstand both indoor and outdoor conditions due to its UV protection and weather resistance.
Are your selfie boards recyclable?
Yes! When you are done using our selfie frames you can recycle them.
California Residents

Click here for Proposition 65 warning
Frequently Purchased With
Q & A
Reviews