Custom Pop Up Tents for Events
We guarantee that our custom pop up tents will get you noticed at your next event. Our custom tents feature your brand's artwork or logo printed on a high-quality polyester canopy that is UV, scratch, and water-resistant. Choose from a wide variety of styles, durable frames & hardware, accessories, and walls to truly personalize the perfect custom canopy tent. We offer the highest quality outdoor advertising tents at a fraction of the cost of our competitors!
FREE Design Services | Lowest Prices | Design Online or Upload Template | 4-6 Day Turnaround | Rush Options | Free Proof | Pay Later
---
Custom Tents from Vispronet®
Whether you need a branded pop up tent for a small event, like a festival, fair or backyard party, or a big event, like a company function or wedding, Vispronet® has you covered. Our custom pop up tents come in a range of sizes, from 5ft by 5ft compact, all the way up to 13ft x 26ft for truly large events. Our advertising tents come in three print styles: All Over Printed Tents, Logo Printed Tents, and Stock Color Tents.
In addition to the different styles of custom tents we offer, we also offer a number of accessories, including walls, rain gutters, awnings, leg banners and drapes, flags, banners and bows. If you're looking to truly make a splash at your next event, consider pairing one of our event tents with any one of the accessories we offer. Pair your custom pop up tents with other custom products, such as our step and repeat banners.
Looking for something even bigger? Check out our star tents.
---
Custom Canopy Tents Features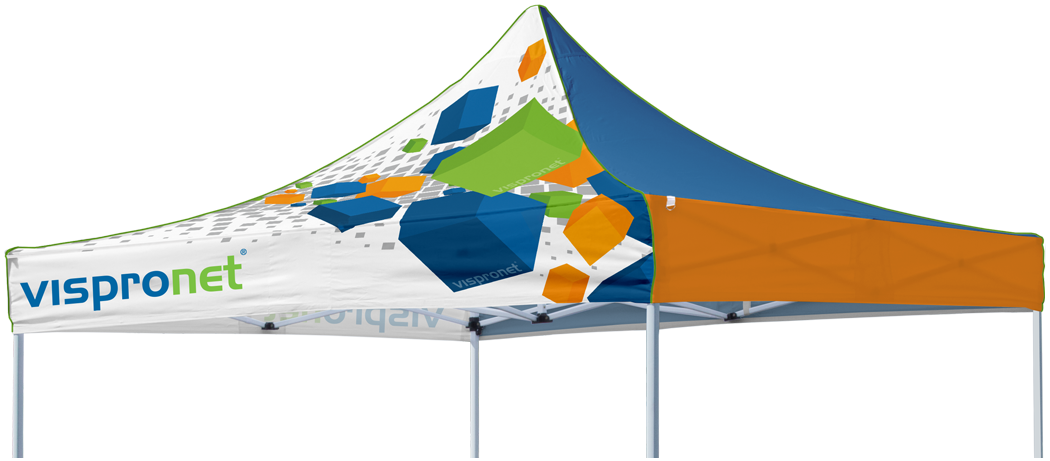 Full-Color Dye Sublimation Printing
All our custom pop up tents are printed in full digital color for bold, dramatic color reproduction. Each side of the canopy can be custom designed.

Water-Resistant And Flame-Retardant
Designed for indoor and outdoor use, our custom canopies are finished with a water-resistant and flame-retardant finish to best withstand the elements.

300 or 600 Denier Polyester Fabric
Each custom canopy is printed on durable yet lightweight 300 Denier Polyester Fabric. This super smooth, high-quality fabric is scratch and tear-resistant and has superior lightfastness. Upgrade to our ultra-durable 600D fabric for even more protection.

Heavy-Duty Binding Strips
Reinforced strips are added into the seams on each corner to add strength and extend the life of the custom canopy.

Quick and Secure Setup
Lightweight polyester paired with hook and loop fasteners makes for a quick and secure setup and breakdown.
---
Custom Canopy Tents Frame Options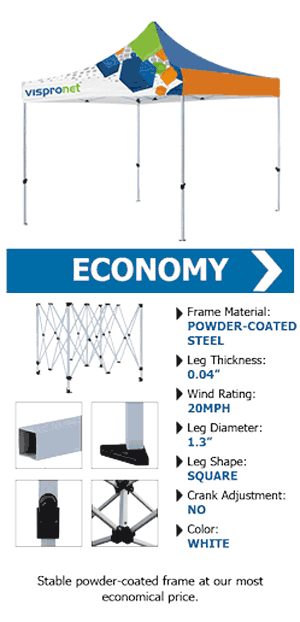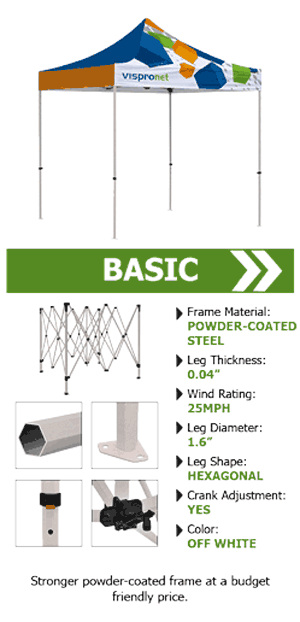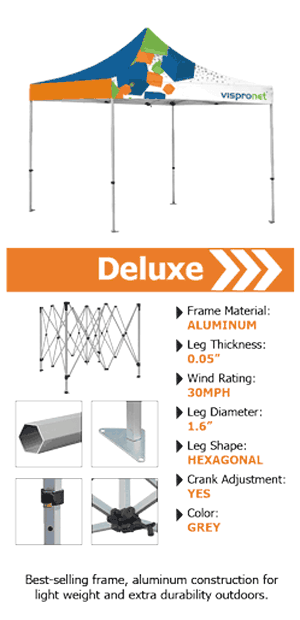 ---
Personalized Pop Up Tents Are Easy to Set Up
Vispronet®'s personalized pop up tents feature a high-quality aluminum folding frame that is able to support your custom canopy. All pop up canopies are easy to set up and can be assembled without tools. Simply fold out the frame, use the hook-and-loop fastener tabs to secure the print to the frame and expand. It takes little time to properly assemble our custom pop up tents.

---
UV & Scratch Resistant Custom Pop Up Canopy Tents
All custom canopy tents from Vispronet® feature scratch and UV resistance. In addition to the different styles of event tents we offer, our custom pop up tent fabric is also water-resistant. You can count on your custom canopy tent to endure and effectively shelter you and prospective clients/customers from the rain. The rain will just roll off the roof and walls, keeping everyone and anything underneath your water-resistant pop up tent dry.
---
Customizing Your Pop Up Canopy Tent
Vispronet® offers a number of different ways to customize your advertising canopy event tent. We offer a variety of different sizes of pop up tents, so you'll be able to choose the perfect custom tent canopy for your needs. We also offer just hardware and accessories, so if you already have a custom print ready to go, all you have to do is order a pop up tent frame.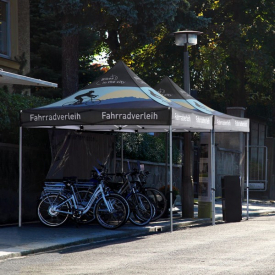 Order a Pop Up Tent with Sides
Looking for a way to add extra flavor to your custom canopy tent? Add Pop Up Tent Walls, which allow you to add extra protection to your custom pop up canopy, while also giving you extra space for custom graphics. We offer pop up tent walls in full wall and half wall configurations. Fully custom printed and stock color (no print) options are available. All custom tent walls easily attach to our pop up tents. Full tent walls are quickly connected with hook-and-loop fastener tabs, while half walls require a hardware kit for proper display. Configure your fold up canopy tent with sides by clicking on your desired product and add your custom walls with our custom pop up tents configurator.
Custom Tents with Walls
Looking for an easy way to get the pop up canopy tent with sides that best fits your needs? Our custom tent wall configurator is here to help. Simply click on the event tent that you'd like to configure walls for in order to get started. As part of the ordering process, you'll be presented with a series of buttons that have the wall sizes you're selecting next to them. Clicking "Choose Wall" will bring up the configurator, allowing you to configure your pop up canopy tent's walls. We offer a number of different wall styles, such as full walls, half walls, walls with doors, walls with windows, and walls with doors and windows. Once you've chosen the walls that best fit with your pop up canopy, you can click on the "Save Wall Selection" button, which will save your tent wall selections in the configurator, so that you can either purchase them right then and there as part of the order process or come back to the whole thing later as you need to.
---
Who Uses Custom Pop Up Tents? 
Our advertising canopy pop up tents can be used both indoors and outdoors, and have been utilized by a wide variety of different industries at fairs, events and more. Some of the industries that have used a custom canopy from Vispronet® include:
- Business Tents for Company Use
- New/Used Car Sales
- Sports Teams – Football, Baseball, Soccer Tents & More
- Clubs & Organizations
- Auto Parts & Repair
- Catering Companies
- Radio Stations
- Travel Agencies
- Local, State & Federal Agencies
- Cell Phone Companies
- Sports and Custom Outdoor Canopies
- Military Recruiters
- And More!
Custom Event Tents for Any Occasion
Looking for a custom tailgate tent with sides? Throwing a party? Our custom printed event tents will deliver a polished look to your cause. Whether it's a party, a wedding, a graduation, a birthday, a buffet, or a business party, you can use our event tents for any special occasion. Let it be a cover for the food, or place several custom tents together with custom pop up tent walls to create an elegant sitting area.
Taking Care of Your Custom Canopy Tent
It's easy to take care of an advertising tent from Vispronet®. Cleaning can be done easily by wiping away dirt and debris with a damp cloth. Once you're done tearing down your pop up tent, all you need to do is to fold it up and store it away. One of the best ways to keep your personalized pop up canopy tent free of dust and debris is to detach it from the frame and place it in a bag. The frame can be stored in one of our optional pop up tent bags, which are made of a durable polyester that keeps your custom pop up tent safe until the next time you need to use it.
Replacement Parts for Custom Printed Tents
If you need replacement items for your event tent, we are here to help! If a piece of your custom canopy tent hardware breaks or goes missing, we offer substitute products such as canopies, hardware, and accessories. You can contact our customer service representatives at (877) 822-0201 to place an order or ask any questions you have concerning custom tents supplies.
Questions About Our Custom Tents?
If you have any questions about our customized tents, please contact us today or Live Chat with a Representative.
---
Custom Canopy Tents – Frequently Asked Questions
What factors contribute to the event tent price?
The final price of your custom canopy tent depends on several things. What advertising tent frame model is being used? The budget-friendly versions, such as the economy and basic styles will cost less than the deluxe or premium versions. What size is the event tent frame? A 5x5 sized tent won't cost as much as a 13x13 size. Our all over print canopies cost only a few dollars more than the logo print option. Stock canopy tents with no print are significantly cheaper. Finally, in our custom pop up tents configurator, if you add cases or other accessories to your order, it will increase the price.
What custom tent sizes do you offer?
It depends on the tent frame. Here's the minimum and maximum sizes we carry for each tent frame. For the whole list of sizes for each frame model, see the chart below.
Economy: 5x5 – 10x10, weighs 32-45lbs
Basic: 6.5x6.5 – 10x20, weighs 42-101lbs
Compact: 8.5x8.5 – 10x10, weighs 28-31lbs
Deluxe: 5x5 – 10x20, weighs 27-68lbs
Pavilion Deluxe: 10x10 – 13x13, weighs 45-55lbs
Premium: 13x13 – 13x26, weighs 89-157lbs
Can I adjust the height of my custom tents?
Yes! All of our personalized pop up tents have adjustable heights. The legs include push levers that lock into place. You can adjust the height by pushing the button in and pulling up or down on the tent leg. Each tent size goes to different heights. For more specific height adjustment information, go to the product page of the tent or the frame.
What material is used for the canopy?
The printed tent canopy material is available in 300D or 600D polyester. This fabric is water-resistant, scratch-proof, and flame-retardant for outdoor and indoor use.
The stock color tent canopies are made from 300D polyester. They are water-resistant with a polyurethane coating.
What is the difference between the tent frame models?
Economy: This model is a steel frame and has a wind rating up 20MPH. This frame does not include a crank adjuster.
Basic: This model is a steel frame and has a wind rating up to 25MPH. This frame includes a crank adjuster.
Compact: This model is an aluminum frame and has a wind rating up to 25MPH. This frame is our lighest option and is designed to fit into a vehicle trunk.
Deluxe: This model is an aluminum frame and has a wind rating up to 30MPH. This frame includes a crank adjuster.
For more of a comparison between the tent frames, see the infographic above or the chart below.
How do I attach my tent canopy?
The custom pop up canopy is finished with hook-and-loop fasteners that attach to the top of the event tent frame. For a more in-depth look into how exactly the fasteners connect to the frame, you can view one of our assembly videos on one of the custom pop up tents product pages under the "Videos" tab.
How do I prevent my promotional tent from falling over in the wind?
We stock several accessories that can prevent your pop up event tent from tipping over in windy conditions. If you go to our "Hardware & Accessories" category on this page and then go to the "Pop Up Tent Weights" subcategory you will see the weights we have that are compatible with our tents for events.
Some of these weights can be filled with either water or sand, but they all are attached to the bottom of the tent legs to stabilize the weight. We offer weights as light as 11lbs and as heavy as 50lbs.
What are custom canopy tent valances and peaks?
When discussing printing on custom pop up tents, two terms that are often used are valances and peaks.
The valance is the bottom section of the custom canopy where the fabric is straight. This section is often used for including a business name or contact information like phone numbers and email addresses.
The peaks are the top, larger sections of the custom pop up canopy that are shaped like triangles or trapezoids depending on the size of the tent. This section is also printable and accommodates larger designs than the valances.
What is the difference between all over print and logo print options?
We separate our printed tents into two categories: all over and logo print canopy tents.
The peaks and valances of all over printed tents can be completely customized so that your design covers the entire canopy.
Only a certain section of the peaks and valances can be printed on logo advertising tents. The background color can be selected to cover the whole canopy, but the actual design is restricted to certain areas. The printable sections are indicated in the templates.
For more information about the different between all over and logo printing, check out this video.
What is the turnaround time for custom tents?
Our custom printed canopy tents require production, so it takes the standard 4-6 business days to complete before we ship it out to you.
If you need your event tent quicker, we have rush options. If you click on the "Delivery Estimator" on the top right of our configurator, you can see which rush options we have available.
How do I design my custom canopy tent?
Our branded pop up tents can be designed in three different ways:
Design Online – on our product pages, if you go to the "Design/Upload" tab in the configurator you will see the button "Design Online". This will direct to our website's design tool where you can upload any artwork you have onto our custom pop up tents. You can also access different colors, backgrounds, text, and clipart to use.
Use Our Templates – you can also download one of our templates where you can design your tent using your own software and then reupload the finished template before or after placing your order. We do offer templates for resellers without Vispronet branding.
Free Design Services – if you are having trouble designing the artwork yourself, you can contact our customer service department with specifications of what you want your design to look like. We will have our graphics department design the custom canopy for you – free of charge. They will send you a proof to approve of before printing.
We send artwork proofs to all our customers for their final approval before we print anything.
How are your custom tents printed?
The custom canopies are printed with a state-of-the-art dye sublimation printing process. This is a very efficient printing technique that produces beautiful colors that won't fade or scratch off. If you would like to know more about this form of printing, we have a blog post with more information.
All of our designs use full color CMYK printing. This means that no matter how many colors you include in your design, your price will remain the same.
What accessories and add-ons can I order with my custom canopy tents?
If you are looking to add a little flare to your promotional tent setup, we offer a number of accessories and add-on's.
Hardware & Accessories –
Flag Mount Hardware – attach a customized or stock flag to your custom canopy tent frame.
Frames – if you just want to purchase the frame without canopy, the frames can be bought separately.
Tent Bags & Cases – purchase quality bags with wheels and pockets for transporting your custom pop up tents.
Pop Up Tent Weights – stabilize your event tent in the wind by adding weights to the tent legs.
Half Wall, Awning & Clamp Hardware – attach half walls and awnings to your custom pop up tents with these parts.
Pop Up Tent Flooring – include a floor to your advertising tent set up with these tiles.
Pop Up Tent Lights – stand out in the dark by displaying these lights by your personalized canopy tent.
Tent Stakes & Anchors – stabilize your printed tents in grass or soil with these kits.
Add-Ons –
Tent Leg Banners – printable banners that attach to the custom canopy tent frame's legs.
Removable Tent Banners – printed banners that are connected to the advertising tent walls.
Tent Flags & Feather Flags – feather flags or regular flags that attach to the event tent frame.
Tent Leg Drapes – stock color curtains that connect to the branded pop up tent's legs.
Tent Bows – printable or stock color bows that go on the pop up event tent legs.
Tent Rain Gutters & Awnings – keeps the water out of custom pop up tents.
Can I order just the canopy without the frame?
If you just want to purchase a custom canopy by itself or a frame alone, this can be done on the product page in the "Order Type" dropdown. We have options for "Print Only", "Hardware Only", and "Prints and Hardware". Hardware, such as bags and stakes, can also be purchased on the product page in different tabs in the configurator.
How do I set up my custom canopy tent?
For step-by-step assistance in setting up one of our custom made tents, go to the product page and scroll down to the "Videos" tab.
In this tab you will find assembly videos that will show one of our custom printed tents being set up. You can also view our YouTube channel for other instruction videos.
If you have any other questions, you can call customer service.
How should I store my custom tents?
Collapse the advertising tent frame before storing and make sure to place it in a dry room without excess heat, like a closet.
The custom canopy should be stored in the same place, except make sure to fold it properly so that it won't get wrinkled.
---
Personalized Pop Up Tent Prices & Comparisons
Outlined below is a table comparing the features, benefits, and custom pop up tent prices of the six different frames & styles available.
Click here to download this table as a PDF.
 
Economy
Basic
Compact
Deluxe
Pavilion Deluxe
Premium
 
$499 for 10 x 10 size
$599 for 10 x 10 size
$699 for 10 x 10 size
$799 for 10 x 10 size
$974 for 10 x 10 size
$1465 for 13 x 13 size
 
Features
Most economical pop up tent with good stability
Budget-friendly with strong construction
Collapses to a small size and fits into the trunk of a car
Best-selling frame is lightweight and durable
Strong and lightweight in unique pavilion shape
Highest quality frame constructed in large sizes
Frames
Steel: Powder-coated, cream white color

Steel: Powder-coated, off-white color

Aluminum: Powder-coated, grey color

Aluminum: Anodized commercial-grade, silver color

Aluminum: Anodized commercial-grade, silver color

Aluminum: Anodized, industrial-grade, silver color

Leg Size
33mm x 33mm
(1.3in x 1.3in)
40mm x 40mm
(1.6in x 1.6in)
30mm x 30mm
(1.2in x 1.2in)
40mm x 40mm
(1.6in x 1.6in)
40mm x 40mm
(1.6in x 1.6in)
52mm x 52mm
(2in x 2in)
Leg Thickness
1mm (0.04in)
1mm (0.04in)
1mm (0.04in)
1.2mm (0.05in)
1.2mm (0.05in)
1.6mm (0.06in)
Size
5ft x 5ft
8.5ft x 8.5ft
10ft x 10ft
6.5ft x 6.5ft
8.5ft x 8.5ft
10ft x 10ft
10ft x 15ft
10ft x 20ft
8.5ft x 8.5ft
10ft x 10ft
5ft x 5ft
10ft x 10ft
10ft x 15ft
10ft x 20ft
10ft x 10ft
13ft x 13ft
13ft x 13ft
13ft x 20ft
13ft x 26ft
Weight
32lbs
42lbs
45lbs
42lbs
46lbs
60lbs
74lbs
101lbs
28lbs
31lbs
27lbs
40lbs
52lbs
68lbs
45lbs
55lbs
89lbs
118lbs
157lbs
Collapsed Size
60in x 7in x 7in
61in x 7in x 7in
63in x 8in x 8in
61in x 10in x 10in
61in x 8in x 8in
62in x 9in x 9in
62in x 12in x 9in
62in x 17in x 9in
48in x 9in x 9in
48in x 10in x 10in
62in x 9in x 9in
62in x 9in x 9in
63in x 12in x 9in
62in x 16in x 9in
62in x 10in x 10in
83in x 10in x 10in
83in x 12in x 12in
83in x 11in x 16in
83in x 23in x 13in
Wind Rating
20mph
25mph
25mph
30mph
30mph
43mph
Stability*
*Pull ups for demo only. Do not try at home. Will void warranty.
Feet
Disclaimer
Tents should always be staked down with Premium Tent Stake Kit and weighed down. Tents should not be used in inclement weather, including thunderstorms, heavy rains, lightning, and high winds. No grill or any type of open flame is to be used under or near the tent. User must read and observe assembly instructions. If this is not done correctly, it may result in damage to the unit, injury, or death, and all warranties will be void. All warranties will be void if hardware is used with any print not produced by us. Properly care for prints to keep them in great condition. Prints should never be dragged along the ground or stored without being properly folded and free from moisture. Make sure print is completely dried from any weather, and fold and store in a clean, dry place. We don't recommend storing print on frame.
Custom Pop Up Tents Reviews