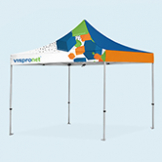 Custom Pop Up Tents for Events & More
Custom Pop Up Tents from Vispronet® prove bigger is always better! Whether used as a promotional trade show tent, a party tent, or as a temporary base of operations while advertising outside, custom pop up canopy tents create visibility for you, your brand and your event. Vispronet® offers a variety of custom tents, hardware, accessories and bags. We also offer Pop Up Tent Walls, so you'll be able to configure your very own pop up tent with sides. These custom canopy tents feature UV and scratch resistance, and are waterproof.
back to top
Personalized Pop Up Tents Are Easy to Set Up
Vispronet®'s personalized pop up tents feature a high-quality aluminum folding frame that is able to support your custom printed fabric. All tent pop ups are easy to set up and can be assembled without tools. Simply fold out the frame, use the hook-and-loop tape tabs to secure the print to the frame and expand. It takes little time to properly assemble your custom pop up tent.
UV & Scratch Resistant Custom Pop Up Canopy Tents
All canopy pop up tents from Vispronet® feature scratch and UV resistance. Our custom pop up tent fabric is also water resistant. You can count on your tent to endure, and effectively shelter you and prospective clients/customers from the rain. The rain will just roll off the roof and walls, keeping everyone and anything underneath your waterproof pop up tent dry.
Customizing Your Pop Up Canopy Tent
Vispronet® offers a number of different ways to customize your advertising canopy tent. We offer a variety of different sizes of Pop Up Tents, so you'll be able to choose the perfect custom tent canopy for your needs. We also offer just hardware and accessories, so if you already have a custom print ready to go, all you have to do is order a Pop Up Tent Frame.
but wait ...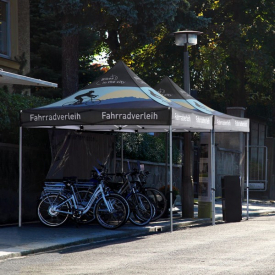 Looking for a way to add extra flavor to your custom canopy tent?
Order a Pop Up Tent with Sides
Add Pop Up Tent Walls, which allow you to add extra protection from the elements while giving you extra space for custom graphics. We offer pop up tent walls in full wall and half wall configurations. Fully custom printed and stock color (no print) options are available. All custom tent walls easily attach to our pop up tents. Full tent walls are quickly connected with hook-and-loop adhesive tabs, while half walls require a Hardware Kit for proper display. Configure your canopy tent with sides by clicking on your desired product and add your custom walls with our product configurator.
Who Uses Custom Pop Up Tents?
Our advertising canopy pop up tents can be used both indoors and outdoors, and have been utilized by a wide variety of different industries at fairs, events and more. Some of the industries that have used Vispronet® pop up tents include:
- New/Used Car Sales
- Sports Teams – Baseball, Soccer & More
- Clubs & Organizations
- Auto Parts & Repair
- Catering Companies
- Radio Stations
- Travel Agencies
- Local, State & Federal Agencies
- Cell Phone Companies
- Sports and Outdoors
- Military Recruiters
- And More!
Pop Up Party Tents
Looking for a tailgating tent with sides? Throwing a party? Custom printed event tents will deliver a polished look to your cause. Whether it's a party, wedding, graduation, birthday, buffet, or holiday party, you can use our event tents for any special occasion. Let it be a cover for the food or place several custom tents together with Pop Up Tent Walls to create an elegant sitting area.
Taking Care of Your Custom Canopy Tent
It's easy to take care of an advertising tent from Vispronet®. Cleaning can be done easily by wiping away dirt and debris with a damp cloth. Once you're done tearing down your pop up tent, all you need to do is to fold it up and store it away. One of the best ways to keep your personalized tent canopy free of dust and debris is to detach it from the frame and place it in a bag. The frame can be stored in one of our optional Pop Up Tent Bags, which are made of a durable polyester that keeps your custom pop up tent safe until the next time you need to use it.
Questions About Our Custom Tents?
If you have any questions about our customized tents, please contact us today or Live Chat with a Representative.
Personalized Pop Up Tent Comparison