configurable 0 0
Custom printed solutions in 3 simple steps.

1. Choose from 3 Design Methods
Click the Proceed to Artwork button to choose Design Online, Upload Template, or Free Design Services.

2. Receive & Approve Your Proof
We'll process your artwork within 2 business hours and send a proof for your approval via email.

3. We'll Bring Your Idea to Life
Our standard turnaround time is 3 business days plus shipping with expedited options available.
Adjustable Banner Stands Details
An adjustable banner stand is the perfect addition to your trade show booth, event, or presentation. Use this at business parties, convention entrances, in a fair booth display, and more. This banner stand is made from telescopic poles that can be adjusted to different heights to suit your preferences. The banner frame is adjusted without tools, so it can be done quickly. This banner stand is not only functional, but highly portable too. The display weighs 11lbs and can be easily moved to another location without having to disassemble the frame. Choose from different materials and sizes to find the right fit for your message. You will also have your design printed in full color so that it will stand out over other tension fabric banners. Vinyl or fabric prints can easily be changed out with this adjustable banner stand so that you can use it for different events. This product shares the same hardware and frame as our popular step and repeat banners.
Parts List:
Printed banner
Optional stand hardware

Telescopic aluminum poles
Metal stabilizing feet
Elastic bungee cords
Allen wrench
Carry bag included for 4'x4' - 4'x8' banner stands
Specifications
| Model | Part Number | Print Sizes | Hardware Size | Weight |
| --- | --- | --- | --- | --- |
| 4ft Wide Banners | DI3061 | 4ft x 4ft up to 4ft x 8ft | 2.75ft-4.5ft (W) x 3.0ft-7.9ft (H) x 1.4ft (D) | 12lbs |
| 6ft/8ft/10ft Wide Banners | DI3060 | 6ft x 6ft up to 10ft x 10ft | 6.1ft-10.2ft (W) x 4.3ft-10.6ft (H) x 1.5ft (D) | 13lbs |
Material Options:
We offer four material options for our adjustable banner stands. Choose between different grades of vinyl or polyester fabric materials. Our vinyl choices can either be economic indoor vinyl or weather-resistant premium vinyl. Our polyester options can either be nearly opaque or 100% opaque. Both polyester materials are flame-retardant to meet with tradeshow regulations. All material options, except for the standard indoor vinyl, are available in double-sided printing.
13oz Indoor Vinyl: Weather-resistant & UV-protected matte vinyl
13oz Indoor Opaque Vinyl: 100% opaque weather-resistant & UV-protected satin vinyl
Display Polyester: Nearly opaque flame-retardant knitted fabric (6.10oz/yd²)
Premium Opaque Polyester: 100% opaque flame-retardant knitted fabric (7.67oz/yd²)
Finishing
Pole pockets top and bottom with side grommets: slide the top and bottom of the banner stand through the telescopic poles and attach the sides to the stand with bungee cords.
Satisfied Customers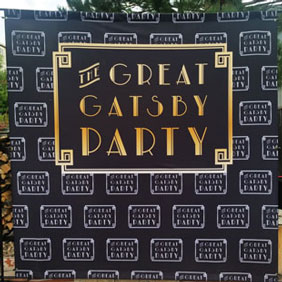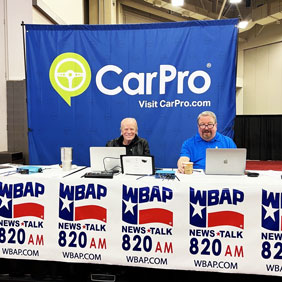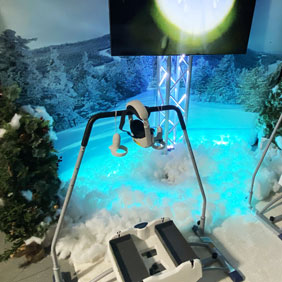 Adjustable Banner Stands – Frequently Asked Questions
What is the difference between the adjustable banner stands and the step and repeat banners?
Our step and repeat banner and adjustable banner stands use the same telescopic pole hardware. Both options also have the same material selection. It's the print style that differs between the two. Step and repeat banners usually have logos or brands displayed in a pattern across the banner material. Our adjustable banner stands offer all-over printing that isn't in a pattern format. This kind of layout is used for large images and logos that take up the entire print.
Can the adjustable banner stands be used as photo banners?
Yes! Both of our step and repeat banners and adjustable banner stands are often used as backdrops for photos. They are often displayed at "red carpet" entrances.
What are the minimum and maximum sizes you offer?
The large telescopic hardware can be adjusted to the following dimensions:
6ft – 10ft wide
4ft – 11ft high
1.5ft deep
The small telescopic hardware can be adjusted to the following dimensions:
4ft – 8ft wide
3ft – 8ft high
1.4ft deep
The banner size can be printed from set sizes 6ft x 6ft to 10ft x 10ft for the large and 4ft x 4ft up to 4ft x 8ft for the small. These are the sizes that will comfortably fit the banner frame.
Do you print double-sided adjustable banner stands?
All our material options, except for the economy indoor vinyl, are available in double-sided printing. Just click on the "Double-Print" thumbnail in the configurator to get your design printed on both sides.
How do I attach a banner to the adjustable banner stands?
The banner can be attached to the frame two different ways. We includ bungee cords in every order for connecting the portable banner's grommets to the frame. Additionally, pole pockets are included on the top and the bottom of the banner to fit the frame's aluminum poles for easy assembly.
The telescopic aluminum poles, connectors, and stabilizing feet are assembled with the included flat head screws and the Allen wrench.
If you want to see a whole step-by-step process that you can easily follow along with, click on the "Videos" tab and watch our set-up video.
What is the printing process for the adjustable banner stands?
All polyester banners are printed using modern dye sublimation printing. This state-of-the-art technique provides rich, vivid colors and is resistant to fading and scratching. For more information about sublimation, click here for our blog about the printing process.
All vinyl banners are digitally printed in full color using UV inks that are resistant to fading. Both processes utilize CMYK printing and allow for unlimited colors in your design at no additional cost.
Can the adjustable banner stands be used outdoors?
The banner stand is made from durable aluminum, so it is resistant to rusting if used outdoors. As for our material, they can be used for light outdoor use in the proper weather. Our vinyl is weather-resistant and UV-protected, and our polyester is flame-retardant, so they can be used outside for a short period of time without getting ruined. Keep in mind that polyester lasts longer than vinyl does.
How do I remove wrinkles from my vinyl banner?
Vinyl wrinkles very easily. It is important when storing your vinyl banner, that you roll it rather than fold it, as folding causes creases. In order to get rid of the wrinkles, lay the banner flat outside or set it up in its frame and let it sit for around a day or so.
For a full step-by-step process of getting rid of wrinkles, see this blog post for more details.
How do I clean my portable banner stand?
Polyester fabric banners can be washed in a machine on a low cycle with cold water. Do not use bleach when cleaning your banner. Make sure to air dry the material rather than tumble drying.
For the vinyl option, the material can be cleaned with a soft, wet cloth that is wiped across the surface. Use another dry, soft cloth afterwards to dry the material. The aluminum frame can be cleaned with a wet cloth the same way.
California Residents

Click here for Proposition 65 warning
Frequently Purchased With
Q & A
Adjustable Banner Stands Reviews