Canopy Frames for Pop Up Tents
Shopping for canopy frames for your pop up tents? Create a solid foundation with Vispronet's high-quality pop up tent frames, available in multiple sizes and styles. Our frames constructed from long-lasting materials with a durable truss structure to create a solid base for your printed canopy. Each frame features telescoping legs for easy setup and convenient height adjustment. We offer canopy tent frames for 5'x5', 6'x6', 8'x8', 10'x10', 10'x15', & 10'x20' sizes. Select your frame size and style below to start your order.
Same Day Shipping for Orders Placed Before 1PM EST | Rush Options | Pay Later
Durable Canopy Frames Built to Last
Displaying a canopy tent is an excellent way to spread brand awareness and promote your companies' products and services. Showcasing a custom canopy tent is an affordable and effective way to separate your brand from competitors. Choosing a reliable canopy frame is one of the most important aspects of event exhibiting and is crucial for a successful ground marketing and sales campaign.
Read below to find the best frame option for your application.
Economy
Economy frames are the most economical choice for pop up tent exhibitors. Each canopy frame is crafted from powder-coated steel and has wind rating up to 20MPH. These frames have a leg diameter of 1.3" and a leg thickness of .04". These frames do not feature a crank adjustment. Our economy frames are finished with a white color and feature a foot attachment on each leg for extra stability.
Basic
Our Basic pop up tent frames are crafted from powder-coated steel and are a step up from our Economy frame style. These canopy frames are wind rated up to 25mph and have a leg diameter of 1.6" and a leg thickness of .04". Our Basic canopy tent frames do include a crank for quick and easy setup and canopy installation. Our Basic frames are finished with an off-white color and feature a foot attachment on each leg for extra stability.
Deluxe
Our deluxe styles are the highest quality pop up tent frames we offer. These frames are made from aluminum and are rated for winds up to 30mph. Aluminum frames are very durable and are lightweight, making them perfect for on the go applications and frequent display. Our deluxe canopy frames have a 1.6" leg diameter and a let thickness of .05". Each frame is includes a crank adjustment for easy setup and canopy installation. Deluxe frames are finished with a grey color and feature aluminum feet on each leg for increased stability.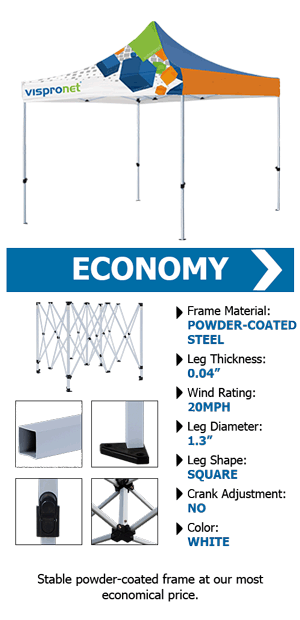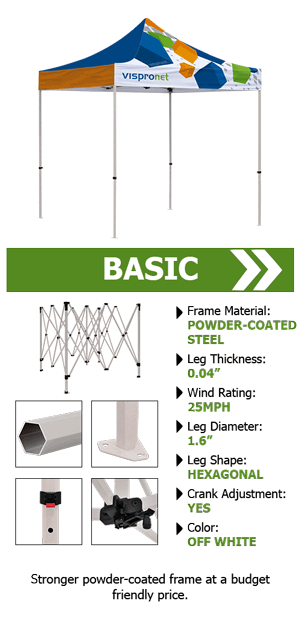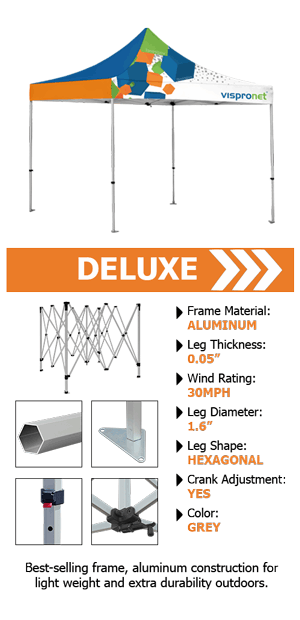 Frequently Asked Questions
Can I buy a custom canopy with my pop up tent frame?
Yes, if you are interested in buying a canopy with your frame, we recommend shopping our custom canopy tents. Here, we offer complete customization, offering tent frames only, as well as frame and canopy bundles at industry best pricing. 
What factors contribute to canopy frame pricing?
The most important factor to frame pricing is the material. Our Economy and Basic frames are made from powder-coated steel. Although steel is highly durable, our Deluxe frames are crafted from aluminum. Aluminum is the more expensive material and is lighter-weight, offering an easier traveling and setup process. All canopy frame options are made for long-term display and offer a reliable foundation for your canopy.
Will a canopy from another brand fit on these frames?
Yes, it is possible for another canopy to fit on these tent frames. However, we do not recommend applying a tent frame from another brand, as the canopy may not fit correctly and may not have a perfect professional finish.
What our customers have to say