Custom Tablecloths
100% Customizable / Made in the USA / Fast 3-Day Turnaround
configurable 0 0
Custom printed solutions in 3 simple steps.

1. Choose from 3 Design Methods
Click the Proceed to Artwork button to choose Design Online, Upload Template, or Free Design Services.

2. Receive & Approve Your Proof
We'll process your artwork within 2 business hours and send a proof for your approval via email.

3. We'll Bring Your Idea to Life
Our standard turnaround time is 3 business days plus shipping with expedited options available.
Custom Tablecloths with Logos for Your Business
Stand out at your next show or event with custom tablecloths. Tablecloths are a staple at trade shows and events and are a powerful marketing tool for businesses and organizations. We offer table covers in a number of different styles and sizes, and with your choice of 3-sided or 4-sided coverage. Our tablecloths are crafted from durable polyester materials. These materials are machine washable, flame-retardant, and designed for repeated long-term use. We print our tablecloths using dye sublimation, a cutting edge printing technique that produces bright, full-color graphics that are scratch and fade-resistant. Transform your booth display into a highly effective advertising tool with custom table covers.
Parts List:
Customized table cover with hemmed edges
Material:
Display Polyester: Nearly opaque flame-retardant knitted fabric (6.10oz/yd²)
300D Polyester: Water-resistant, scratch-proof, flame-retardant fabric (6.00oz/yd²)
Stretch Display Polyester: Stain-resistant and flame-retardant stretch fabric (5.30oz/yd²)
Coverage Options:
3-Sided (open back for storage and seating behind the table)
4-Sided (all sides covered)
Cleaning Instructions:
Wash the tablecloth in a household washing machine on delicate setting with cold water and hang to dry.
Specifications
| Model | Print Size |
| --- | --- |
| 4ft Table | 48in x 29in x 24in |
| 6ft Table | 72in x 29in x 30in |
| 8ft Table | 96in x 29in x 30in |
*Custom sizes available upon request. Please contact our customer service team by phone at 877-822-0201 or by email at info@vispronet.com.
---
Premium Quality Table Covers For Any Event
If your company is looking to better promote its brand awareness, getting a fully custom or logo tablecloth is a must. A well-dressed table is the perfect place for your company to engage with its customers, whether that engagement consists of giveaways, handouts, samples, or other kinds of promotional merchandise. When it comes to promoting your company and its products, don't waste money on lackluster, cheap trade show table covers – consider turning your table into premium-quality advertising space with custom tablecloths from Vispronet.
Whether you need custom table covers for trade shows, job fairs, or at events with a red carpet backdrop, Vispronet carries custom promotional tablecloths for every setting under the sun. We have multiple styles, so there are printed table covers available for every use imaginable.
---
Custom Tablecloths Guaranteed to Get Your Brand Noticed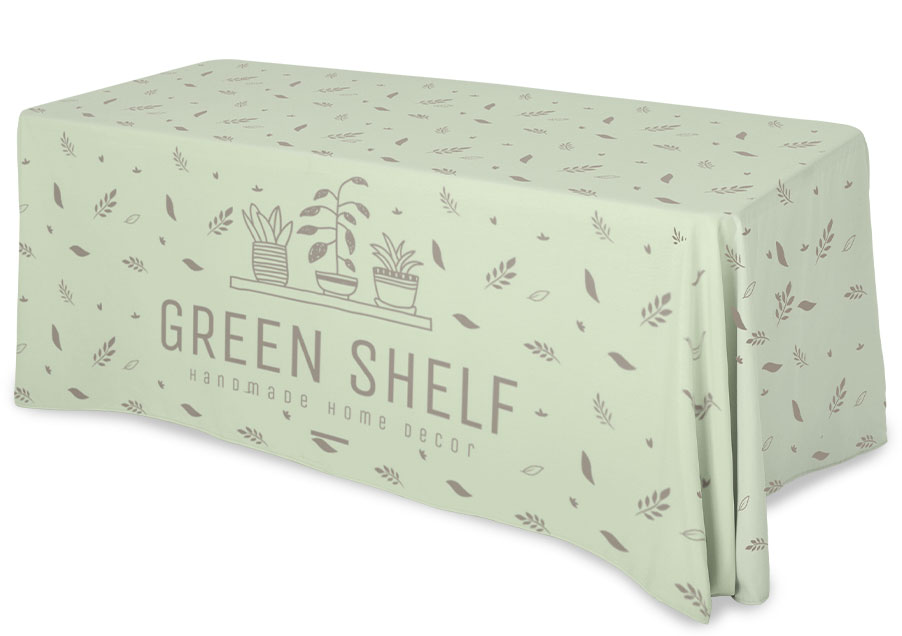 Easy Design Process
Designing your tablecloth is a quick and easy process. Choose from three design methods: Design Online, Upload Artwork, or Vispronet's Free Design Service.

Dye Sublimation Printing
All over print and custom tablecloths with logos are printed using dye sublimation. This premium printing technique produces vibrant, full-color graphics that are fade-resistant.
Wrinkle-Resistant & Flame Retardant
These table covers with are wrinkle-resistant and flame-retardant, making them safe for all indoor and outdoor applications.

Reusable and Easy to Clean
Our table cloths are easy to wash and reuse. Simply throw the tablecloth in the washing machine and air dry. Our printing style is scuff and fade-resistant.

Choose Your Coverage
Choose between 3-Sided and 4-Sided coverage options. Both coverage styles can be beneficial for different applications.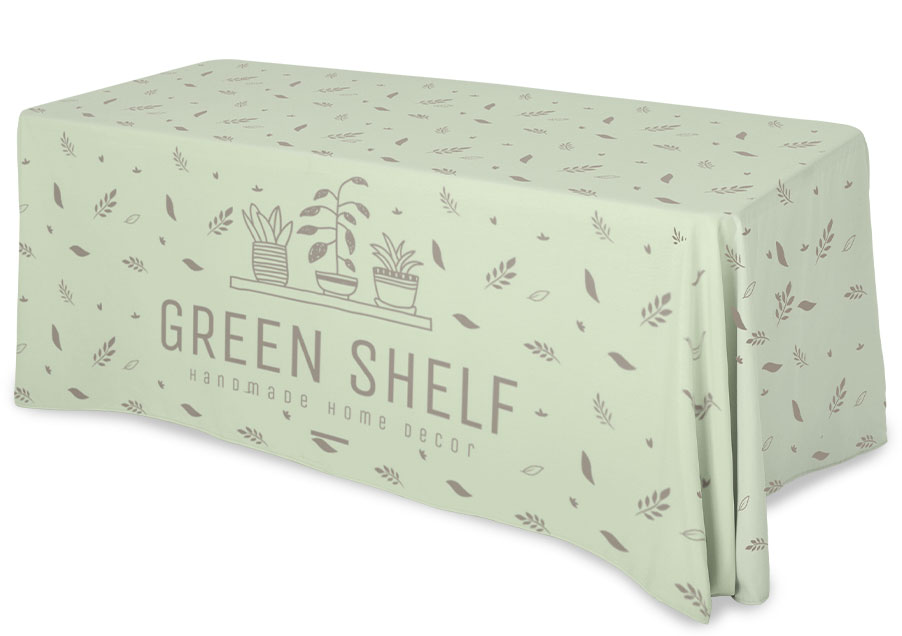 ---
Design Your Own Tablecloths Online
Choose from the three methods listed below to design your custom tablecloths. Every design submission is checked by our pre-press team for any errors or issues, and we will email you a free digital proof for your approval before we begin printing.
Design Online: Design your tablecloths online, in real time using our online design tool. Our online tool allows you to upload logos, images, and other artwork files directly from your computer and also provides font options, background designs, clip art, and more.
Upload Artwork Template: This option is best for users with professional design software. This method involves downloading the artwork template, adding your artwork using design software, and reuploading the completed template to our website, before or after placing your order. You can find the artwork template by clicking the "Proceed to Artwork" button listed above.
Free Design Service: Not sure how to design your tablecloths? Our pre-press team can help you create a design from scratch, for free! All you need to do is send our team your current files, artwork ideas, or some design inspiration and we will work with you until the design is completed.
---
Custom Tablecloth Styles
We offer three different tablecloth styles to choose from: Standard, Fitted, and Stretch. Each style is made from durable polyester material and is printed using dye sublimation for bright, full-color graphics that are scratch and fade-resistant.
Standard
If you're looking to exhibit a traditional tablecloth at your next show or event, our standard tablecloth style is the way to go. This style showcases a standard drape that hangs loosely from the table sides. It is available with 3-sided or 4-sided coverage, and with your choice of area imprint or all over print.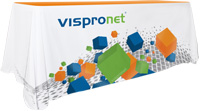 Fitted
Fitted custom tablecloths are designed to fit snuggly against your table while completely covering three sides or all four sides. This style provides a more sophisticated and professional appearance compared to the standard style and is available with your choice of area imprint or all over print.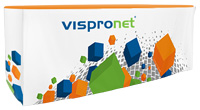 Stretch
The stretch tablecloth style gives you the ability to showcase your custom design while delivering a sleek and modern appearance. Stretch table covers are available in a traditional and banquet style, and with your choice of 3-sided or 4-sided coverage. Select between area imprint or all over print to showcase your custom design.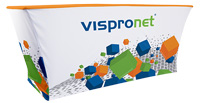 ---
Choose The Right Size For Your Application
When showcasing your brand or custom design at shows and events, it is important that your tablecloth size matches your table size. Choosing the right tablecloth size may seem inconsequential but it is an important aspect of exhibiting your brand in a neat and professional manner. We offer three standard sizes so you can find the perfect match for your table. Each size option is hand-crafted from durable polyester to withstand years of repeated use:
If you are interested in custom sizes, please contact our customer service team by phone at (877)-822-0201 or via chat which is located on the lower right hand corner of our website.
---
3-Sided or 4-Sided Coverage
Our rectangular custom tablecloths are available in two different coverage options, depending on your needs. Our economy, 3-sided tablecloths, are a budget-friendly solution which allows for an open back for extra storage and easy access. The full cover, 4 sided tablecloths covers the entire table – front, back, and both sides. Both custom table covers are available in 4ft, 6ft, and 8ft sizes.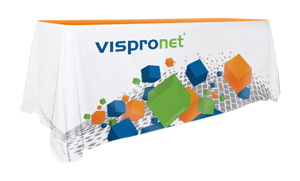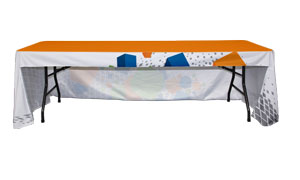 We recommend using a 4-sided custom printed tablecloth with full coverage if you're presenting at a tradeshow or event where your vendor booth is going to be viewed from a full 360 degrees. Our 3-sided, economy version table covers are used to permit extra storage and easy access to your belongings while at an event.
---
All Over Print vs. Area Imprint
Custom tablecloths are offered with your choice of print coverage: Area Imprint or All Over Print. No matter which style you choose, each tablecloth is printed on durable polyester using dye sublimation for stunning, full-color graphics that are fade-resistant and safe for machine wash.
All Over Print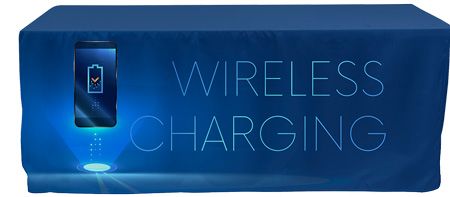 All over print gives you 100% creative control, allowing you
the ability to completely design your table cover from the ground up.
Area Imprint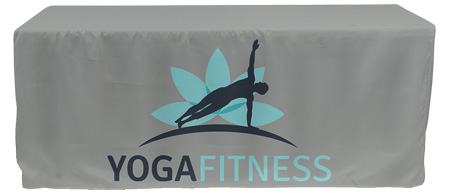 Branded tablecloths an excellent option for exhibitors looking to showcase their logo at shows and events. Choose from over a dozen background colors.
---
Tablecloth Material Options
We offer multiple materials so you can choose the best option for your display application. Each material is crafted from durable polyester and is designed to last for years or repeated display.
---
Add Accessories to Your Order
Accessories are a great way to help your business stand out among competitors at shows and events. Tablecloth accessories can make the traveling and setup processes easier, ensuring everything goes as planned, with no surprises.  
Padded Carry Bag
Carry bags are a must-have accessory while exhibiting on the road. The carry bag keeps your custom tablecloth safe while traveling and functions as a storage bag when you're not exhibiting. These bags are crafted from durable polyester and are finished with padded sides, ensuring your tablecloth will be safe from damage through a rough and tumble trade show season.

Table Cover Clips
Table cover clips keep a tablecloth secured to the table and ensure it lays flat and doesn't shift or fly off. Our clips are made from durable plastic and come in packs of 4. Choose from two different color styles: Clear or white. These table cover clips can be used for any of our tablecloth products, and are perfect for applications like trade shows, parties, weddings, restaurants, and more!

---
Caring for Your Custom Table Covers
Cleaning your table covers is a quick and easy process and a great way to extend the life of your table cover. If you follow these guidelines, the print and material of your custom tablecloths will not be affected in any way.
Machine wash on a delicate cycle or hand wash with cold water
Do not use bleach on the custom table throws
To dry, place in a dryer on a low cycle or hang dry
Use a steamer or low heat iron to smooth out and eliminate any wrinkles
Taking these precautions will keep your logo tablecloths in excellent condition so you can use them over and over again. Contact customer service for any further questions about cleaning and caring for your products.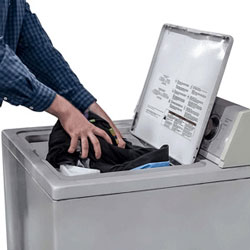 ---
Additional Tabletop Displays
Maximizing your brand's exposure at an event not only means creating the custom table covers with logo print, but also the advertising tools placed on top of your printed table covers. Our line of table top displays and banners helps you do just that, by capitalizing on every inch of space available on your custom tablecloths. This can be achieved by utilizing portable booths, backdrop banners, header banners, table top retractable banners, and more.
Check out this blog post on how to set up a vendor booth for you next trade show.
---
Satisfied Customers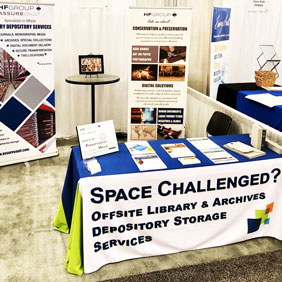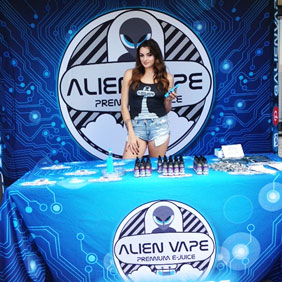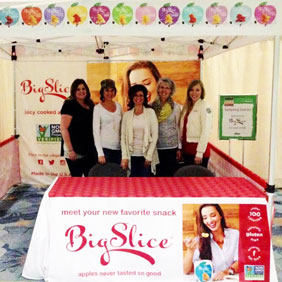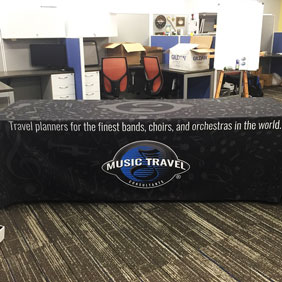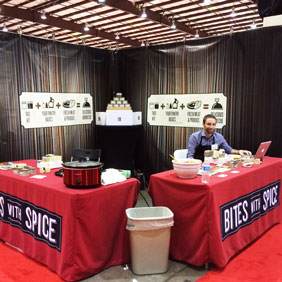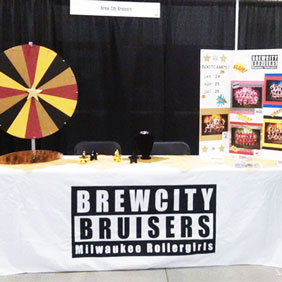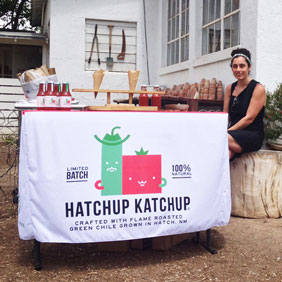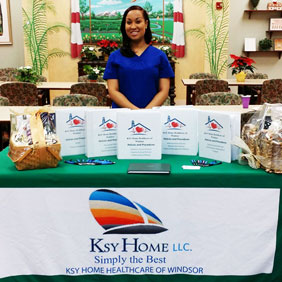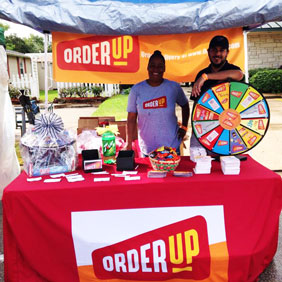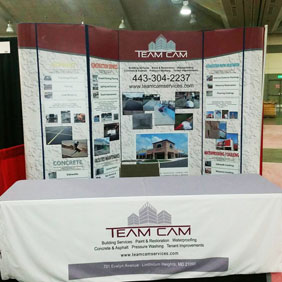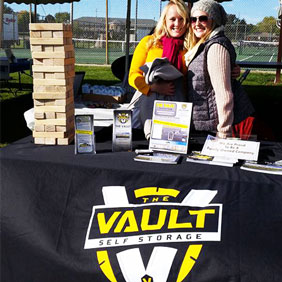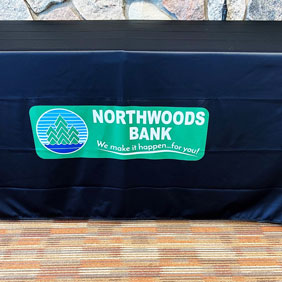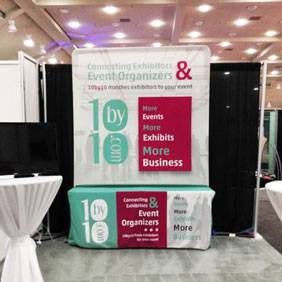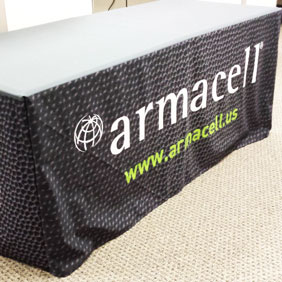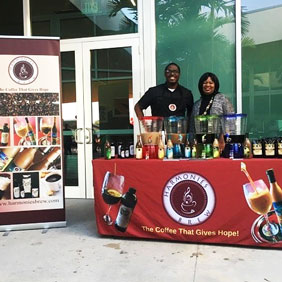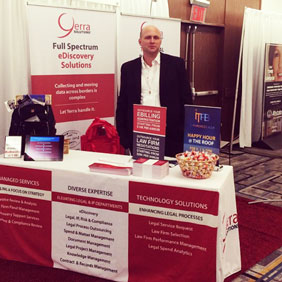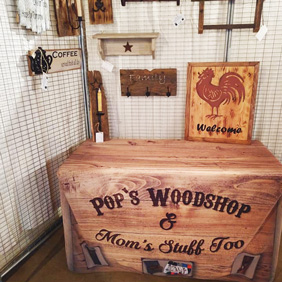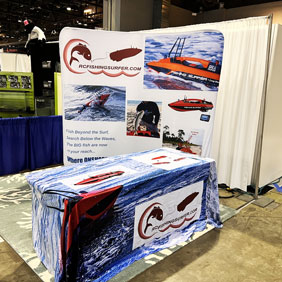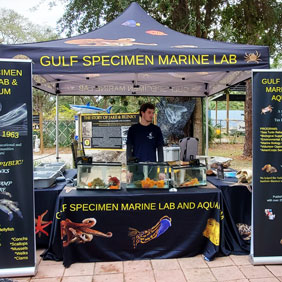 Frequently Asked Questions
General
When will I receive my custom table cover?
Our standard turnaround time is 3 business days plus shipping time. Rush production is offered if you need your tablecloth sooner than our standard turnaround time. We also offer expedited shipping options if you need your products as soon as possible.
How do I design my branded tablecloth?
We offer three easy methods to design your custom tablecloths: Design Online, Upload Artwork Template, or our Free Design Services. Each artwork submission is checked by our pre-press team for any errors or issues. We will email you a final design proof for your approval before we begin producing your order.
Will your tablecloths fit my table?
Yes! Our custom printed table covers are designed to fit 4ft, 6ft, and 8ft plastic folding tables. The most common size for most events is the standard 6ft table.
8' tablecloth: fits 96" x 29" x 30" table
6' tablecloth: fits 72" x 29" x 30" table
4' tablecloth: fits 48" x 29" x 24" table
Do you offer custom sizes?
Yes! If you are looking for a custom table cover in a custom-size for a table with unique dimensions or shape, you've come to the right place! Almost every style of our table covers can be produced in custom dimensions of your choice. For custom sizes, please contact our customer service team by phone at (877)-822-0201 or via chat which is located on the lower right hand corner of our website.
Where are printed table covers typically displayed?
Businesses and organizations display custom tablecloths for an array of advertising and promotional applications. Because personalized tablecloths are great at showcasing logos, brands, and custom designs, they are commonly exhibited at trade shows, flea markets and festivals, religious events, corporate events, weddings and family gatherings, restaurants, and car dealerships among many others.
Which coverage option is better for me: 3-Sided or 4-Sided?
Choosing the right coverage option depends on how you intend on displaying your custom tablecloth. If you are displaying at an event and will be seated behind the table, we recommend choosing a 3-sided tablecloth as it leaves room for your legs to stretch under the table. It also avoids the issue of your shoes pulling or tugging on the tablecloth when standing up and sitting down. 4-Sided tablecloths are the best option if you are not seated at your table, or if you are displaying near a wall. Another benefit of displaying 4-sided custom table covers is the hidden storage space underneath the table. All over print and table cloths with logo print are available for both the 3-sided and 4-sided configurations.
Do you have circular or custom round tablecloths?
Yes, we offer round custom table coverings in an array of styles including All Over Print, Area Imprint, Fitted, Stain-Resistant, and Cocktail. Standard sizes ranges from 27in up to 96in with custom sizes also available. All tablecloth styles are available here.
Printing Specs
How are your custom tablecloths printed?
All of our table cover styles are printed using dye sublimation. This means that the ink is infused directly into the fibers of the polyester, creating a seamless appearance. While lesser printing methods make the graphic look like it was placed directly on top of the fabric and includes texture, this kind of printing blends the fabric and the print together. This form of printing is also best for creating vibrant, full colors for noticeable graphics. You can add any color you would like to your design for no extra charge.
What is the difference between Area Imprint and All Over Print?
Choosing the print style for your promotional table cloths depends on your custom design or artwork. If you are interested in just displaying your brand or logo, we recommend designing on our Area Imprint table covers, otherwise known as custom logo tablecloths. If your brand or artwork is more intricate than just a table cloth with logo, we recommend designing on our All Over Print tablecloths, as these allow you to design on every inch of fabric.
What file types do you accept?
We accept multiple different file types for your artwork. We prefer artwork to be submitted on a template as a PDF file. We also accept Adobe® Photoshop® and Adobe® Illustrator® file types. Supported file types are: .PDF, .AI, .EPS, .PSD, .JPG, and .TIFF.
Materials & Durability
What materials are these tablecloths made from?
Our custom made tablecloths are crafted from display polyester, which is a durable, flame-retardant, wrinkle-resistant, glossy polyester fabric material. Our stain-resistant tablecloths are made from stretch display polyester or 300D polyester, which are wrinkle-resistant, stain-resistant, flame-retardant, and excellent options for messy applications.
Can I use an iron on my custom table cloths?
Do not use an iron on any personalized printed tablecloths. The direct heat risks ruining the print and the fabric. If you have some stubborn wrinkles you would like to straighten out, we recommend using a steamer for best results.
Are your custom tablecloths fire-resistant?
Yes. The tablecloths' custom print is recreated on polyester material that's NPFA-701 fire class certified and allowed for use at all events and trade shows. Some of our tablecloth styles, including ones made from our Display Polyester and our Stretch Display Polyester are fire-retardant, offering additional safety.
How do I clean my customized tablecloths?
Cleaning your printed table cover is as easy as doing a regular load of laundry. Machine wash on delicate cycle or choose to hand-wash the material with cold water. For spot cleaning, treat soiled areas with mild soap and cold water. Do not use bleach or any harsh chemicals as these may damage the custom table throws. To dry, run through dryer cycle on low heat or let hang dry. A steamer can be used as a final touch to remove any creases and wrinkles.
Will my branded table cloths fade after washing?
No, your custom tablecloths will not fade from washing. No matter if you choose a logo tablecloth or an all over print style, we print our table covers using dye sublimation, a printing technique that embeds ink directly into the polyester fibers, yielding vibrant and permanent colors. Unlike the cheap printed tablecloths with logos offered by some competitors, our custom printed table cloths will not peel or fade even after multiple washings.
Can these table covers be displayed outdoors?
Yes, our custom table covers can be displayed outdoors. We recommend not displaying them outside on very windy days or during stormy weather to avoid any possible damage. As with anything printed, prolonged outdoor display in direct sunlight may fade the personalized table cloths over time, but that is only in extreme situations.
How should I store my custom table throws?
For storage, table covers should be folded tightly and stored in a dry, dark area such as an indoor storage closet. It is important to make sure your custom tablecloths are completely dry before folding and storing to avoid any mold or mildew damage.
California Residents

Click here for Proposition 65 warning
Frequently Purchased With
Q & A
Reviews