configurable00

Need help? Hire one of our professional graphic designers at no additional cost!

Choose 'Pay Later' at checkout and receive a free proof
before submitting payment.

Design Online or Upload Template
Create custom products using our online design tool or provided template files.
Step and Repeat Banner Details
Parts List:
Printed banner
Optional stand hardware

Telescopic aluminum poles
Metal stabilizing feet
Elastic bungee cords
Allen wrench
Specifications
| Model | Part Number | Print Sizes | Hardware Size | Weight |
| --- | --- | --- | --- | --- |
| 4ft Wide Banners | DI3061 | 4ft x 4ft up to 4ft x 8ft | 2.75ft-4.5ft (W) x 3.0ft-7.9ft (H) x 1.4ft (D) | 12lbs |
| 6ft/8ft/10ft Wide Banners | DI3060 | 6ft x 6ft up to 10ft x 10ft | 6.1ft-10.2ft (W) x 4.3ft-10.6ft (H) x 1.5ft (D) | 13lbs |
Material Options:
13oz Indoor Vinyl: Weather-resistant & UV-protected matte vinyl
13oz Indoor Opaque Vinyl: 100% opaque weather-resistant & UV-protected satin vinyl
Display Polyester: Nearly opaque flame-retardant knitted fabric (6.10oz/yd²)
Premium Opaque Polyester: 100% opaque flame-retardant knitted fabric (7.67oz/yd²)
What Is A Step and Repeat Banner?
Have an event coming up? Custom step & repeat banners are an awesome way to promote your brand or logo while also creating a picture-perfect photo opportunity for guests and/or prospective customers and clients alike. These step and repeat backdrops are most typically used as photo backgrounds, displaying a repeating pattern of complementary logos or branding that stand out behind the person being photographed. Your logo backdrop is printed on a vinyl or fabric material in a custom step and repeat fashion, finished with pole sleeves and/or grommets, and is mounted to a telescoping aluminum step and repeat frame.
Step & repeat banners are popular for any large gatherings including trade shows, company events, weddings, red carpet premiers, press conferences, high end clubs, or any event that could benefit from a professionally styled red carpet backdrop.
These versatile step & repeat backdrops add extra charm to the gathering while providing an upscale photo background, making the event a more memorable occasion. They can be used as an inexpensive way to make an event fun while helping to create lasting memories for the attending guests. Because of the style and entertainment factor, step and repeat banners are popular among all age groups, and by all types of businesses! They are also great for promoting a company to all guests, prospective customers, and viewers of the event photos. Photos are often shared on website and social media giving the promoted company an extra bit of brand awareness, especially when they are shared on websites, newspapers, and social media.
Custom Step and Repeat Banners
Sizing
We offer step & repeat banners in multiple sizes, ranging from a small 4 x 4 up to a large 10x10. Choosing the right size can be based on several factors.
How large will the event be?
How many people will be attending?
Will people be posing in groups?
How much space is available for the banner set up?
If you are unsure about sizing, or have any further questions, do not hesitate to contact customer service. They will be happy to assist you.
Materials
Our step and repeat banners are offered in two different material types: vinyl and polyester. We offer two different vinyl options, as well as two different polyester options for our step and repeat backdrops, each with their own benefits:
13oz. Indoor Vinyl – durable, most economical, anti-curl, vibrant colors, tear resistant, minimum of 800dpi graphics
13oz. Opaque Vinyl – durable, 100% opaque, super smooth, anti-curl, vibrant colors, less glare, tear resistant, minimum of 800dpi graphics
Display Polyester – dye sublimation print, non-glare, nearly opaque, spectacular colors, beautiful print for photo, wrinkle resistant, optional double-sided print, minimum of 360 dpi graphics
Premium Opaque Polyester – dye sublimation print, non-glare, 100% opaque with backing, spectacular colors, highest quality print for photographs, wrinkle resistant, optional double-sided print, minimum of 360 dpi graphics
Stand & Finishing Options
We offer an optional step and repeat stand and optional finishes for the backdrop including:
3" pole pockets top & bottom with 3 grommets on each side
Grommets around perimeter
3" pole pockets top and bottom
Step and Repeat Frame – Lightweight, adjustable sizing

Large: between 6.1' – 10.2' x 4.3' – 10.6' x 1.5', black finish, weight – 10.5lbs
Small: between 

2.75' – 4.5' x 3.0' – 7.9' x 1.4', black finish, weight – 9.5lbs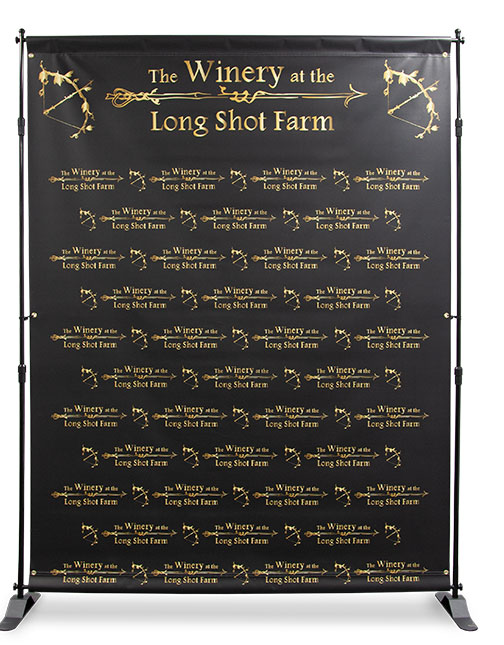 Step and Repeat Banners - Frequently Asked Questions
Is there a difference between the terms "step and repeat banner" and "step and repeat backdrop"?
No, these are the same product. Backdrop is commonly used when referring to this event step and repeats because of its size. These banners are also often used as backdrops for photos, which is why the term "backdrop" suits them, as well.
What are step and repeat banners often used for?
One of the most common uses for step & repeat banners is as a backdrop at events and for photos. These are the kind of stands you see at "Red Carpet" events, because they serve as the perfect background for photos. If your company is holding an event, get your logo printed across these banners so that it shows up in photos taken at the gathering. These step and repeat backdrops are also perfect for more business-like settings, such as a background for your trade show booth. Step & repeat banners are the perfect stand for wherever you need to increase your brand awareness, especially if you have a lot of space. Step and repeat banners pair perfectly for custom pop up tents. Click here to see our tent products.
What material should I choose for my banner? What is the difference between the options?
The banners of these step and repeat stands are available in four materials. We offer two vinyl options: 13oz Indoor Vinyl and 13oz Indoor Opaque Vinyl. If you are mainly using these banners as a backdrop for photos, go with the matte Indoor Vinyl option so that the print will not glare. The Indoor Opaque Vinyl has a glossy finish and works best as a decoration. We also offer two polyester materials: Display Polyester and Premium Opaque Polyester. Each material is flame-retardant, but the Premium Opaque Polyester is 100% opaque for a glossy finish while the Display Polyester has a matte finish that is better for photo backdrops.
What is the banner frame made from? What is included with the hardware?
The step and repeat banner frame is made with telescopic aluminum poles. The feet that attach to the bottom to support the whole stand are made from metal. The lightweight material makes the frame easy to carry and move from one location to another.
What sizes do you have for the banners and hardware? Is the step and repeat frame adjustable?
Our step & repeat banners are available in a wide range of sizes. We have two models, a 4ft wide version and a 6ft/8ft/10ft wide version. The hardware of all these frames is adjustable. The smallest size is ranges from 3ft-4.5ft widths and 3ft-8ft heights. The larger size is adjustable to 6ft-10ft widths and 4ft-11ft widths. We offer our banner prints in a large selection of sizes to accommodate all widths and lengths. The 4ft wide banner stand is compatible with banners from 4ft x 4ft to 4ft x 8ft. The wider step and repeat stand pairs with banner sizes 6ft x 6ft to 10ft x 10ft.
Do you have double-sided printing?
Some of our materials come in double-sided options while others do not. Our 13oz Indoor Vinyl only comes in a single-sided option. The 13oz Indoor Opaque Vinyl is available in single-sided or double print options. The double print layout means that the design is printed on both sides of the material. Both the polyester materials, on the other hand, come in either single-reverse or double-sided options. Single-reverse means that the graphic is printed on one side and the mirror-image bleeds through to the other side. This allows the image to be visible from both sides of the step and repeat stand. Double-sided means that two prints are sewn together with a liner in the middle so that one side is not visible from the other.
What finishing options can I get with my banner?
We offer three finishing options for the step and repeat banner. Think about how you want to set up your banner when selecting a finish. You can get pole pockets on the top and the bottom for attaching the banner to the adjustable banner stand. You can also get grommets around the perimeter if you are using bungee cords to secure the banner to the step and repeat stand. Finally, you can get both finishing options together if you plan on using your banner with different frames or need extra security.
What should I do if the banner sags when I set it up on the frame?
It is important to adjust the frame to the perfect height so that the whole print is taut. Make sure you get the hardware the same width and height as the print to prevent this from happening.
What type of printing do you use for recreating graphics on the banners?
Our printing is different depending on what material you choose. If you are using a vinyl material, your custom step and repeat will be digitally printed, which is a modern printing technique that offers striking colors that will not fade. Our polyester material, on the other hand, utilizes dye sublimation printing, which is a high-quality printing method that is scratch-resistant because the ink infuses into the fabric.
How do I upload my graphics for printing?
We have three methods for designing the prints for your step and repeat banners. Choose one of the following options:
Design Online: Go to our online design tool to upload your logo across the banner template. Our design suite also allows you to adjust colors and text to further customize your banner. You can complete your whole design without leaving our site.
Upload Template: Download the link of our custom step and repeat template and upload it onto your computer so that you can personalize the template on a software program. Upload the template on our site when you are done.
Free Design Services: Are you having trouble with what to add to your step & repeat banner or how to design the template? Let us know and we will have our professional designers customize the template free of charge. You will be sent an artwork proof to review before we print the banner.
Can I get the same design on other products?
Yes, our custom trade show table covers and feather flags pair nicely with the step and repeat banners for trade show booths and event entrances. You can get the same design or one similar to it on these other custom products to complete your setup.
Can I use these step and repeat banners outdoors?
You can set these banners up outdoors, but not for a long time. Our Indoor Vinyl is mostly intended for indoor use, but our polyester has a knitted fabric that will suit day-long events, such as parties and outdoor trade show booths.
Am I able to replace old graphics with new ones?
Yes! These banners are not permanently set up on the hardware. Step & repeats are easily removed and changed out with new ones. We have the option of ordering just the hardware, just the print, or hardware and prints to accommodate people getting a new set or those who are creating new graphics to add to their existing stand.
How do I set up these step and repeat banner and stands?
Our step & repeat banners are simply set up without tools. We recommend using two people, but it is possible to assemble the whole thing with one person. The frame is adjusted by loosening the knobs and pushing or pulling the poles to your desired width and height. The custom step and repeat either slides across the poles if you have pole sleeves, or wraps around the edges with bungee cords if you have grommets. For a step-by-step guide, view our "Videos" tab. We also have printable assembly instructions.
How do you recommend I store the banner?
When you are storing your step and repeat banner, it is important, especially if you are using vinyl material, that you roll the banner rather than fold it. By rolling the banner, you are preventing it from getting wrinkled. We also suggest that you place the banner in a mild room, such as a basement, a closet, or attic. Constant heat can ruin the print.
How do I remove wrinkles from my banner?
Polyester banners are machine washable. There should, however, be some precautions taken if you are washing the fabric. The machine should be set to a low cycle with cold water and no bleach should be used. Hang the banner dry rather than using a dryer. You may also use a steamer to get rid of wrinkles and creases. Vinyl banners should not be put in a washing machine. If they are wrinkled, they should be setup on the step and repeat backdrop and left in the sun. The wrinkles will disappear after a while.
California Residents

Click here for Proposition 65 warning
Frequently Purchased With
Q & A
Step and Repeat Banner Reviews