configurable 0 0
Custom printed solutions in 3 simple steps.

1. Choose from 3 Design Methods
Click the Proceed to Artwork button to choose Design Online, Upload Template, or Free Design Services.

2. Receive & Approve Your Proof
We'll process your artwork within 2 business hours and send a proof for your approval via email.

3. We'll Bring Your Idea to Life
Our standard turnaround time is 3 business days plus shipping with expedited options available.
Step and Repeat Banners Details
Have an event coming up? Custom step and repeat banners are an excellent way to promote your brand or logo while also creating a picture-perfect photo opportunity for guests and clients alike. These backdrops are typically used as photo backgrounds, highlighting your custom logo behind the person or group being photographed. We offer custom printing on vinyl or fabric material, with your logos printed in a repeating pattern. The banners are finished with pole sleeves and/or grommets and can be mounted to a telescoping aluminum frame.
Parts List:
Printed banner
Optional stand hardware

Telescopic aluminum poles
Metal stabilizing feet
Elastic bungee cords
Allen wrench
Carry bag included for 4'x4' - 4'x8' banner stands
Specifications
| Model | Part Number | Print Sizes | Adjustable Hardware Size | Weight |
| --- | --- | --- | --- | --- |
| 4ft Wide Banners | DI3061 | 4ft x 4ft up to 4ft x 8ft | 2.75ft-4.5ft (W) x 3.0ft-7.9ft (H) x 1.4ft (D) | 12lbs |
| 6ft/8ft/10ft Wide Banners | DI3060 | 6ft x 6ft up to 10ft x 10ft | 6.1ft-10.2ft (W) x 4.3ft-10.6ft (H) x 1.5ft (D) | 13lbs |
Material Options:
13oz Indoor Vinyl: Weather-resistant & UV-protected matte vinyl
13oz Indoor Opaque Vinyl: 100% opaque weather-resistant & UV-protected satin vinyl
Display Polyester: Nearly opaque flame-retardant knitted fabric (6.10oz/yd²)
Premium Opaque Polyester: 100% opaque flame-retardant knitted fabric (7.67oz/yd²)
Multipurpose Step and Repeat for Any Occasion
Our professionally styled step and repeat banners are popular for large events or gatherings. They offer an inexpensive way to add a fun photo opportunity and can turn an event into a more memorable occasion for guests. These banners are typically featured at:
Company events
Weddings receptions
Red carpet premiers
Nightclubs and bars
Press conferences
School photo booths
---
The Perfect Step and Repeat Banners for A Successful Event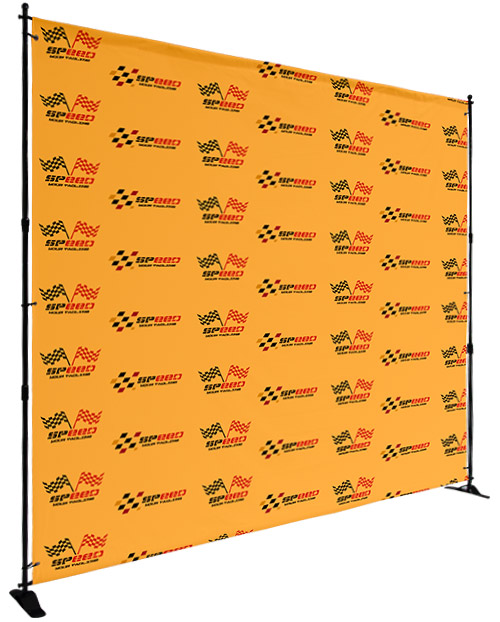 Vinyl or Polyester Materials
Choose between two vinyl and two polyester materials depending on how and where you will use your banner. Vinyl fabric is weather-resistant and UV-protected while the polyester fabric is knitted and has less glare. Both materials are great for indoor and light outdoor use.


Easy Assembly
Our step and repeat banners include everything you need for setup. The telescopic stand is adjustable to suit a wide range of banner sizes. The poles simply snap and click together and connect to the frame with screw knobs. The banners connect to the pole set with pole pockets or grommets.

Portable for Travel
Take your step and repeat backdrop with you to trade shows, social events, and business conferences. The whole stand is incredibly lightweight and is easy to set up and take down. The poles disconnect without any tools needed and the banners roll up into a compact size.

Long-Lasting Backdrop
The frame and the banner are made from durable materials that will endure the wear and tear of multiple uses. The poles are made from aluminum while the supportive feet are made from metal. We offer step and repeat printing using dye sublimation or digital printing depending on your material choice, producing vibrant graphics that won't fade or peel.
---
Create Your Own Step and Repeat Banners
Choose from the three design methods listed below to customize your step and repeat banner. Each design type is checked by our pre-press team for any errors or issues before being approved for printing. 
Design Online: Create your banner online, in real time using our online design tool. This tool allows you to upload logos, images, and other files directly from your computer and also provides free online fonts, clip art, shapes, and more.
Upload Artwork Template: This design approach is best for users with their own design software. This method involves downloading the artwork template, adding your artwork using design software, and reuploading the completed template to our website before or after placing your order.
Free Design Services: Not sure how to design your step and repeat banner? Our graphics team can help you build a design from scratch, for free! Just send our team your logo files, artwork ideas, or some design inspiration and we will correspond with you until the design is completed.
Choose the Right Size for Your Event
We offer multiple step and repeat sizes, ranging from a small 4 x 4 up to a large 10x10. Choosing the right size can be based on several factors.
How large will the event be?
How many people will be attending?
Will people be posing in groups?
How much space is available for the banner set up?
If you are unsure about sizing, or have any further questions, do not hesitate to contact our customer service team through chat, phone at 877-822-0201, or by email at info@vispronet.com. They will be happy to assist you.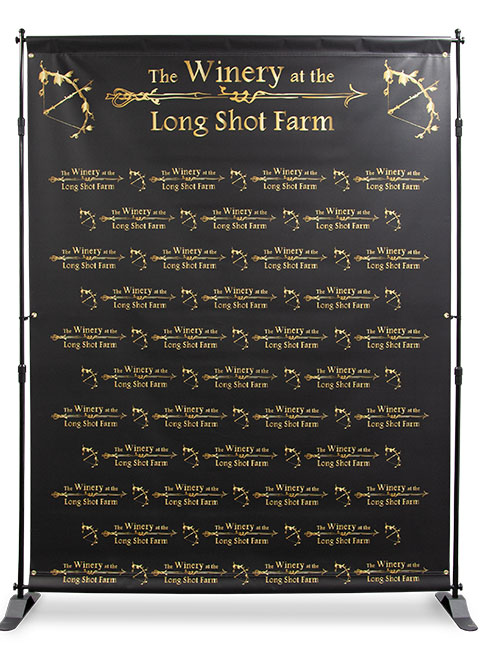 ---
Material Options
---
Select Your Finishing
We offer an optional step and repeat stand and finishes for the backdrop including:
3" pole pockets on the top and bottom plus 3 grommets on each side
Grommets around the whole perimeter of the banner
3" pole pockets on the top and bottom of the banner
Add a Telescoping Stand
Large: between 6.1' – 10.2' x 4.3' – 10.6' x 1.5', black finish, weight – 10.5lbs
Small: between 2.75' – 4.5' x 3.0' – 7.9' x 1.4', black finish, weight – 9.5lbs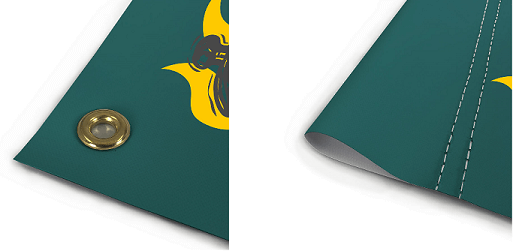 Why Display a Step & Repeat Banner at Your Event?
These versatile step & repeat backdrops add extra charm to the gathering while providing an upscale photo background, making the event a more memorable occasion. Because of the style and entertainment factor, red carpet step and repeat banners are popular among all age groups, and by all types of businesses.
Provide a photo backdrop for guests and clients
Attract attention to your brand or sponsorships
Increase engagement with guests and customers
Promote your brand through social media channels and print
Low maintenance, easy setup, and long product life
Increase professionalism and enhance credibility of the event
---
Frequently Asked Questions
What is the turnaround time?
Our standard turnaround time is 3 business days. Rush production is offered if you need you banner sooner than our standard turnaround time. We also offer expedited shipping options if you need your banner display as soon as possible.
Can the step and repeat banner and stand be set up by one person?
Yes, our backdrop can be set up by one person. It will, however, be an easier set up with two people. If you need help setting up the banner, go to the "Videos" tab and view our assembly video.
Do you offer alternative finishing options besides grommets?
Yes! We also offer an option for pole sleeves. If you go to the "Select Your Finish" question in the product configurator above, there are options available for pole pockets and grommets, just pole pockets, and just grommets. The default finishing option includes both pole pockets and grommets.
Which material should I select for my first custom step and repeat?
We would recommend using the display or premium polyester for your first banner, especially if you are hanging it on a frame. Polyester is more lightweight and has less glare than vinyl. Both polyester materials are great for most conditions.
Are these functional as a "Red Carpet Step and Repeat"?
Yes! These backdrops are typically used for red carpet functions. We also offer an adjustable banner stand that is perfect for events and parties. As opposed to cheap step and repeat banners that have quality issues following the first use, our banners and stand are designed to endure use at multiple events.
Can I order just the banner print without the stand?
Yes. You can order just the custom step and repeat banner without the stand. To do this, simply select "No Stand" in the product configurator above.
Can I order just the telescoping stand itself, without the print?
Yes! You can purchase the telescoping stand separately by going here.
Which step and repeat backdrop material is more durable for multiple uses?
Polyester banners hold up over longer periods of repeated use. We offer both display and premium polyester options. The display option is nearly opaque, and the premium fabric is 100% opaque. Both selections are made of flame-retardant knitted fabric.
Which material option is easier to travel with?
Polyester banners are far easier to transport. They are lighter, more flexible, and can fold like a flag. Vinyl backdrops are heavier, and are required to be rolled up to transported, something that can be difficult depending on how large your automobile is. For vinyl banners, you shouldn't fold them like you would with polyester banners. This will cause wrinkles.
What size banners can I choose from?
We have a wide selection of popular, set sizes in the configurator ranging from 6ft x 6ft to 10ft x 10ft with 8x8 banners being the most popular. These are the sizes that will fit best on the step and repeat stand. We don't offer any custom sizes because they are not as compatible with the hardware. If you would like a step and repeat banner in a custom size, we offer our print only vinyl and fabric display banners in custom sizes.
How do I get rid of wrinkles on my banner?
Wrinkles often appear on vinyl and polyester material, so it's important to know how to store them properly and how to get rid of them if they appear. When storing your banners, we recommend rolling it instead of folding the material, because this can cause the fabric to crease.
If your banner gets wrinkled, remove them by either laying the step and repeat banner flat outside or setting it up on its hardware and letting it sit for a day or so. Read our blog post that goes into further detail about how to get rid of wrinkles.
California Residents

Click here for Proposition 65 warning
Frequently Purchased With
Q & A
Step and Repeat Banners Reviews