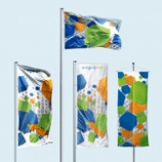 Advertising Flags for Sale
Our custom advertisement flags give you a number of benefits when it comes to putting together an advertising campaign for your brand or business, including:
Custom printing on various types and shapes
Wide variety of pre-printed stock designs
Variety of sizes ranging from 1.3' x 3.1' all the way up to 2.8' x 14.8'
Dye sublimation printing on high-quality polyester material
Single-reverse and double-sided printing available
Promotional Flags For Marketing Purposes
Flag advertising is one of the cheapest forms of promotion out there. Especially when it comes to getting your bang for your buck. According to this study, companies that used promotional flags as part of their out-of-home advertising initiatives saw a 180% return: for every $1 they spent on out-of-home initiatives, they got $2.80 in sales.
So how do you use our products support your marketing efforts?
Start With a Custom Design
All of our non-stock advertising banners and flags come with our design services as standard. Use our in-house design tool to build the artwork or logo that's right for your company, then have it custom printed in a variety of different shapes and sizes.
Being able to display your company's slogans and graphics in the way that you originally meant to display them is hugely important. This ensures that your marketing efforts go off without a hitch, and we want to give you a product that best suits your needs.
Outdoor Advertising Flags Work 24/7, Rain or Shine
Our outdoor flags and banners come with all the hardware you need to set them up outside your business. Pick from several different base styles, including:
Ground spikes, stakes and screws
Cross bases with connectors
Base plates with thorns
All of the products above are printed on our proprietary Polyflag Standard material - a fire-resistant knitted polyester fabric. We designed it to offer not only brilliant color reproduction, but also durability due to the fact that it's built for year-round use.
Assemble In Seconds
Each of our pole sets are designed to be assembled quickly and effortlessly. No tools are required for setup, so you don't have to worry about breaking out the screwdriver each time you want to reposition it..
With the poles assembled, any flag you want to use simply slides over the pole thanks to the pole sleeve that's sewn into the fabric. Hook the fabric loop at the end of the pole sleeve onto the notch cut into the pole and you're all set -- ready to start advertising.
Take Advantage of Available Space
Our Bowflags and standard 3' x 5' flags are great if you're looking to take advantage of the pre-existing available space that you already have. Both types of promotional products are designed to go up vertically rather than horizontally, so you take up much less of your actual available advertising space.
Instead of taking up the horizontal space around your business -- areas like the parking lot and the space just outside the storefront -- you're taking up vertical space like the sky outside your store -- and you have much more of that.
Here's an example. One of our best-selling models, the medium Blade Flag, is more than 5 feet tall from the bottom of the material. If you wanted to get 5 feet of vertical advertising space any other way, it would cost you horizontal space -- something that this product just doesn't do.
Which Advertising Flag Is Right for Me?
The kind of flag you get for your business depends on what kind of advertising you're planning on doing.
Custom printed. We offer our 3' x 5' and feather flags in a number of sizes and styles, including custom cuts and a number of different shapes
State flags. Want to show some state pride? We offer all 50 states in standard 5' x 3' rectangles for flying outside schools, businesses and at events. Optional pole options include a 6" handheld pole and a 20' pole for outside schools.
Stock designs and solid colors. Need something simple for your next event? We offer a number of stock designs that represent the LGBT community, fallen firefighters and policemen, the famous Jolly Roger pirate symbol, and more conventional options like OPEN and SALE. All of our feather banners are also available in stock colors, including red, blue, orange and green.
Backpacks. Take advantage of on the go promotion with our backpacks. Each one features a 1.5' x 3.0' feather banner and a backpack with pockets for water bottles, marketing collateral and others.
Pole banners. Put your message on a pole banner-sized version, perfect for street advertising.
Golf flags. Create an impression both on and off the course. Available as numbers 1 thru 18 or with custom printing.
Car flags. Promote your business or brand when you're on the road. Pick from multiple sizes and styles, including standard 3' x 5' and blade or teardrop shapes.
Table & desk flags. A great accessory for trade show counters and tables, these are 100% customizable. Full-color double-sided or single-reverse printing is available on all options.
No matter what you pick, our feather flags are great for when you want a piece of compact advertising that sets up or stows away in minutes. They come in a number of different sizes. We offer size options ranging from extra small (1.3' x 3.9'), all the way up to extra large (2.8' x 16.1').
If you need something in more of a traditional style, all of our 3' x 5' flags offer custom printing and one of several different mounting options to choose from:
The standard 6-foot handheld pole.
Wall mounts for above a door or other entrances.
Bracket mounts for attaching to tents or other structures.
20-foot flag poles for when you want to fly your message outside your home or business.
The Vispronet Advantage
When you choose to get your promotional flags from Vispronet, you get a number of advantages that other companies just don't offer.
Lowest Prices Possible Prices
We offer the lowest possible prices on all of our advertising flags. All of our pricing includes both the hardware and your choice of custom printed design. Just because you're getting major-quality hardware and printing, that doesn't mean that you have to pay major-quality prices.
Design Services
If your current flags just aren't cutting it when it comes to generating the kind of interest that you need to sell your products, let us help. For just $60/hr, our team of designers can help you put together a design for your advertising flags that will having people lining up in front of your trade show booth to take a look at your products.
As part of our artwork checking service, all customers get 15 minutes of professional design time included to help ensure that their design looks the way they want it to look.
Same-Day Shipping
All of our flags can be shipped the same day they are ordered if both the custom design and hardware are ordered before 10 AM EST. If you are just ordering hardware, all orders ship the same day if ordered by 1 PM EST.