Custom Printed Patio Umbrellas
Create custom designs to display on our functional, high-quality printed patio umbrellas. Our 300D polyester fabric is durable enough for outdoor use and features scratch and water-resistance. We offer our Display Polyester material for our indoor umbrellas, which is flame-retardant and knitted. Customize unique designs for all the umbrella panels or have each panel look the same for consistency. Advertise your restaurant, business, or hotel with these long-lasting logo patio umbrellas.
FREE Design Services | No Minimum | Design Online or Upload Template | 3-Day Turnaround | Rush Options | Free Proof | Pay Later
Custom Patio Umbrellas Spread Brand Awareness
Advertise your company brand with these printed patio umbrellas. We print your design on top of the tiltable umbrella panels so that your custom design is seen up close and from a distance. Many businesses place their logo on these umbrellas so that they are seen on a patio from the sidewalk, on the beach, or by the pool. People who may not be familiar with your restaurant or business will see your logo patio umbrellas as they walk by and become interested in your services.
These custom café umbrellas easily pair with our round cocktail tables. The umbrella pole fits in the opening in the middle of the tables, which also serve as the umbrella base. Using an umbrella with the tables provides shade to customers or visitors sitting outside your establishment. If you would rather use this umbrella without a promotional table, such as at an entrance of an event to catch the eye of newcomers, we offer other base options to suit many locations.
Design Printed Patio Umbrellas Online
We understand that different customers have different design preferences, so we offer three ways to design the promotional market umbrellas template:
Design Online: This is a great option for those with or without a lot of design experience. In our design tool, you can simply upload logo or photo images to add to your design and use the customization tools we offer, such as clipart and fonts.
Upload Artwork Template: Many designers feel more comfortable personalizing a template in a software program that they often use. To do this, download our printed patio umbrellas template and upload it onto your computer. When you are finished, send the template back to use for printing.
Free Design Services: Many customers need help designing their custom printed patio umbrellas. If you would like one of our professional graphic designers to customize your template, let us know by opting for our free design services. We will send you an artwork proof to review before we print your order.
Umbrella and Poles Made from the Best Materials
Our printed patio umbrellas are made from either Display Polyester or 300D Polyester, which are easy to print on. We use a modern dye sublimation technique that creates vivid, striking colors by injecting the ink into the fabric. This means that the design will not scratch or peel off the fabric, making it perfect for both indoor and outdoor setups. Further adding to the durability of the umbrella is the flame retardance of both polyester fabrics. Our logo patio umbrellas have both a top and bottom pole that connect. The poles are powder-coated, which makes them resistant to the elements. We use powder-coating hardware for many of our outdoor sign applications, such as our real estate signs. This method makes the hardware last a long time for repeated use.
Logo Patio Umbrellas with Base Options
Aside from our cocktail table option, we have many bases to use with our printed patio umbrellas. The water and sand bases fill with either water or sand to stabilize the entire display. These bases can add up to 88lbs or 132lbs of weight to keep your logo outdoor umbrellas from tipping over in unpredictable weather. Another option that is great for setting the umbrella up on hard patio ground is the base stands. These three bases provide secure support for the umbrellas and are recommended for indoor use or in light outdoor weather. If you are using these stands in more windy weather, you can stabilize them with weight bags. Finally, we have two car bases, which is for setting up the umbrella next to a car. This is a common practice for car shows and sellers.
Setting Up the Custom Patio Umbrellas
Setting up the printed patio umbrellas with a table or a base is easy and does not require any tools. Below is a step-by-step guide on how to properly assemble the umbrellas. You can also watch the setup instruction videos found on each product page.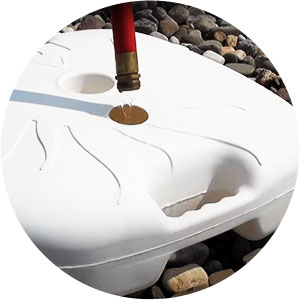 1. If you are using a water base or a weight bag, fill the base up with water.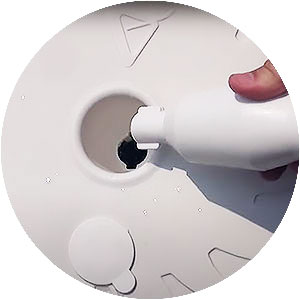 2. Attach the umbrella connector to the top of the base.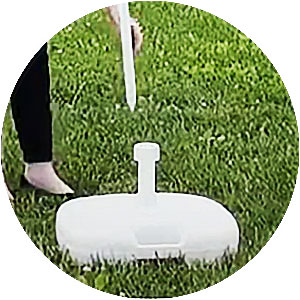 3. Connect the umbrella pole to the connector.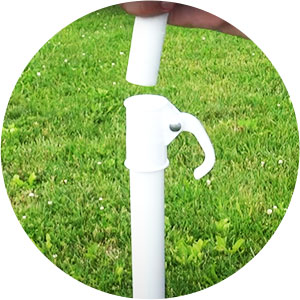 4. Connect the two umbrella poles together.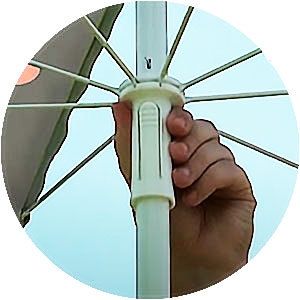 5. Push the top buttons in to tilt the umbrella in a certain direction.
Frequently Asked Questions
What type of events use branded market umbrellas for advertising?
Many commercial events that feature food or outdoor seating use logo patio umbrellas to promote businesses. They are seen at golf games, food festivals, trade show expos, and beach functions. There is no limit to the events that can take advantage of these printed patio umbrellas.
What is the difference between the Indoor Market Umbrella and the Market Umbrella Deluxe?
The Indoor Market Umbrella is designed for indoor use due to its Display Polyester fabric that is knitted and flame retardant to suit interior locations. The Market Umbrella Deluxe is for both indoor and outdoor use as it is made with the weather-resistant 300D Polyester.
How many printable panels do the branded umbrellas have?
The Indoor Market Umbrellas have the configurable option to include 2, 4, or 8 printable panels, depending on what kind of design you want. Both Market Umbrella Deluxe versions have 6 panels to include a custom design.
Do these umbrellas have valances?
The Indoor Market Umbrellas have valances that include your personalized design. This allows people to easily see the design, even if they cannot see the whole top design of the umbrella. Both the Market Umbrella Deluxe versions have the option to include or not include valances to suit a wide range of design ideas.
How do I tilt the umbrellas?
On the custom patio umbrella pole, there is a button to push. When you push the button, adjust the top section of the pole in the direction that you want. When you want to move the umbrella back, push the button again and set the top section of the pole straight. Both versions of the printed patio umbrellas have the tilt mechanism.
What our customers have to say