Custom Flag Printing
High Quality, Custom Flags Cheap
Unlimited Full Color Printing
Resists 3000 Hours of Intense Sunlight Without Fading
Double Hemmed Sides, Header Tape, Grommets
Design Online or Upload Template File
FREE DESIGN SERVICES
Receive A Proof with Every Order
Pay Later at Checkout - Risk Free
Custom Flags Details:
Custom printed flags for outdoor use come in a variety of standard or custom sizes
Custom flag printing on Outdoor Flag Polyester: Tear-resistant lightweight knitted fabric with excellent thru-print (3.25oz/yd²)
Custom single-reverse (1-sided), as well as custom double-sided flag (2-sided) printing options available
Choose from a variety of finishing options on the finishing tab
Add on flagpole kits for flags 5' x 3' (width x height) or smaller
Custom 3x5 Flags from Vispronet
Custom 3x5 flags are the most common flags out there. You'll often find them flying everywhere from homes to schools and even government offices. Each 3x5 flag is crafted from high-quality polyester and finished with two brass grommets on the side for easy mounting on a variety of hardware.
3 Ways to Design Your Own Flag Online
Design Online: Create your very own personalized flag in real-time with our online design tool where you can upload logos, images, and other files. Choose from a number of fonts, clip arts, and backgrounds to create the perfect design.
Upload Artwork Template: Configure your custom flag above and download the provided template file after you've finished selecting your desired orientation, size, finishing, and optional hardware. Design your custom flag on the template file using your own design software and reupload the finished file before or after placing your order.
Free Design Services: Having trouble getting the creative juices flowing? Need some help create your custom flag design? Our professional graphic designers will create a mockup of your design at no additional cost! We will send an artwork proof for your approval before we print anything. Contact us via phone, email, or chat to get started today!
Custom Double Sided Flag Printing Available
All of our custom 3x5 flags come standard with a single-reverse style print, where the image is printed on one side of the flag and bleeds through so that it can be seen in reverse from the opposite side.
We also offer double-sided flag printing so that you can get the custom double sided flag you need for outside your home or business.
Instead of the standard double-sided fabric printing process, we do something a little different. Each of our double-sided polyester flags is made from two single-sided fabric prints that are sewn together over a piece of blocker fabric. This prevents the reverse image from bleeding through.
Dye Sublimation Printing
All of our flags are printed using a dye sublimation method, meaning that you can get your custom printed flags cheap. Each flag is printed using a four-color printing process, then steam-imprinted to seal in the colors.
Combine this with the fact that we can print PANTONE colors and we have the ability to print almost any color that you send us.
Cheap Flags, Premium Specifications
We strive to provide you with a source of cheap, custom-printed flags that still adhere to all the specifications of the premium brands. Here's how:
All of our single-reverse flags read correctly on one side, with 80% of the image showing through to the other side.
All of our double-printed flags read correctly from both sides, which makes them a perfect choice to use as custom outdoor flags.
Your custom flag is printed on a durable, high-quality polyester that scores an 8/8 for lightfastness on the bluescale (DIN 53387) test. This means that it will last 3000 hours in intense sunlight before it starts to fade.
All flags come standard with wrapped header tape on the left side and brass grommets punched through the header tape every three feet, with a minimum of two per flag. Upgrades such as pole sleeves are available as part of the finishing process.
Satisfied Customers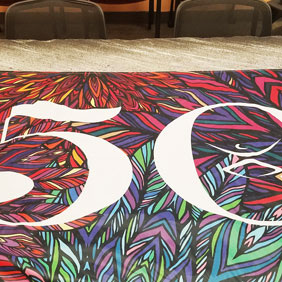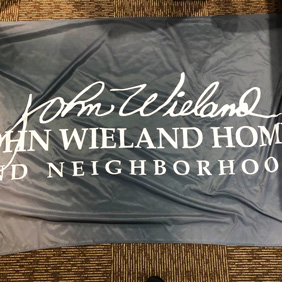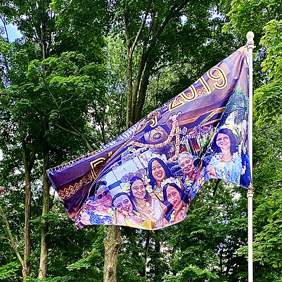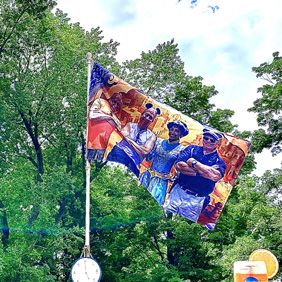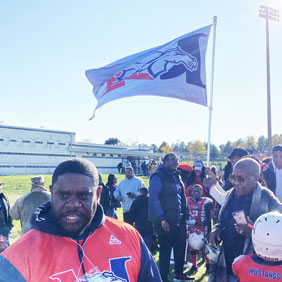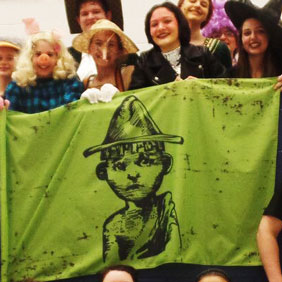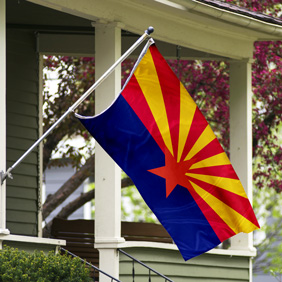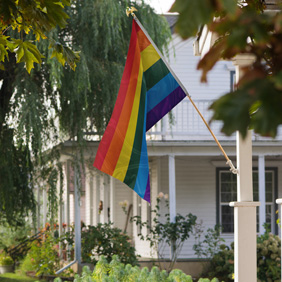 The Vispronet Advantage
The biggest advantage to choosing Vispronet is our custom dye-sublimation printing, which is included in the price of your flag so that you can rest assured you'll get your graphics looking great no matter how many colors you use: unlike screen-printing shops, we don't charge on a per-color basis. We also offer a number of other advantages -- even some that other companies can't or won't.
Custom Cheap Flag Printing
We're proud of the fact that we've slashed the prices on our custom flags so that they're as cheap as possible. Not only do they beat out the competition, but we pass the savings on to you. Our prices include custom printing using proven dye-sublimation techniques, plus all the hardware you need to run it up your own flagpole. 6ft and 20ft flagpoles are available for purchase separately.
Professionally-Designed Event Flags
Not sure where to get started when designing your new event flag? Let us help. Our professional design team will help you put together a design for your custom 3x5 flag that will make it look beautiful, no matter where it's flying at no additional cost.
As part of our professional checking service, all customers get 15 minutes of design time included to help ensure that their design passes our artwork checking process.
Fast Shipping On All Flags
Whether you order an event flag, one of our custom made 3x5 flags, or a different custom flag option altogether, you can rest assured that we'll do everything we can to get it to you ASAP. All of our orders ship via UPS Ground, and rush shipping is available for a small fee. Orders containing just hardware ship out the same day if ordered by 1 PM EST.
Rush Production Services
If you're looking for a way to get your order done faster, we offer several different rush services for production. Upgrade from the standard production time (4 – 6 business days) to next day, second day or third day production times. Note that none of these production times include shipping, but a faster production time can lead to faster shipping times.
California Residents

Click here for Proposition 65 warning
20ft flagpole setup video
Q & A