Custom Flags
#1 High Quality, Custom Flags Cheap
Unlimited Full Color Printing
Premium Inks & Materials for a Longer Flag Life
Double Hemmed Sides, Header Tape, Grommets
Design Online or Upload Template File
FREE DESIGN SERVICES
Receive A Proof with Every Order
Pay Later at Checkout - Risk Free
FREE SHIPPING
configurable 0 0
Custom printed solutions in 3 simple steps.

1. Choose from 3 Design Methods
Click the Proceed to Artwork button to choose Design Online, Upload Template, or Free Design Services.

2. Receive & Approve Your Proof
We'll process your artwork within 2 business hours and send a proof for your approval via email.

3. We'll Bring Your Idea to Life
Our standard turnaround time is 3 business days plus shipping with expedited options available.
Custom Flags Details:
Custom printed flags for outdoor use come in a variety of standard or custom sizes
Single-reverse (1-sided), as well as custom double-sided flag printing options available
Choose from a variety of finishing options (black or white header tape will be selected to match your design)
Add on flagpole hardware kits for flags 5' x 3' (width x height) or smaller
Design your own flag using our online design tool, downloading the product template, or through our free design services
Material:
Outdoor Flag Polyester: Tear-resistant lightweight knitted fabric with excellent thru-print (3.25oz/yd²)
Things to Know Before Placing Your Order:
Single-reverse designs are printed on one side and a mirror-image of your design bleeds to the other side.
Double-sided flags consist of two uniquely printed pieces of polyester fabric sewn together with a light-blocking liner in the middle. This prevents your unique designs from bleeding through each side of the flag. Please note: The liner makes a quiet, yet audible noise if you crinkle or scrunch your flag. This is the industry standard when producing double-sided flags.
Design flags to be used as wall hangings in homes, dorm rooms, man caves, home gyms, and more.
We do not recommend putting single-sided flags in front of window, as they are are not light-blocking.
Custom 3x5 Flags from Vispronet
Custom 3x5 flags are the most common flags out there. You'll often find them flying everywhere from homes to schools and even government offices. Each 3x5 flag is crafted from high-quality polyester and finished with two brass grommets on the side for easy mounting on a variety of hardware by default.
Print and Material Quality: All our flags and banners are printed on high quality and durable polyester using the dye sublimation printing method. This advanced printing style produces exquisite, bold, high definition prints sure to draw the eyes of any passerby. This process to print flags also makes for dramatically less fading long term compared to inferior printing methods.
Custom Sizing: In addition to standard sizes we offer six standard sizes ranging from 18" x 12" to 10' x 6', we also offer custom sizes for our traditional flags. Choose "Enter Your Own Size" from the size dropdown. Custom flags must have a minimum width and a height of 12" each.
Finishing Options: Aside from high quality printing and material, Vispronet also offers more finishing options than other custom flag makers so you can design your own flag exactly how you would like. These finishing options include horizontal or vertical orientation, an array of finishing accessories, and your option for single-reverse and custom double sided flags.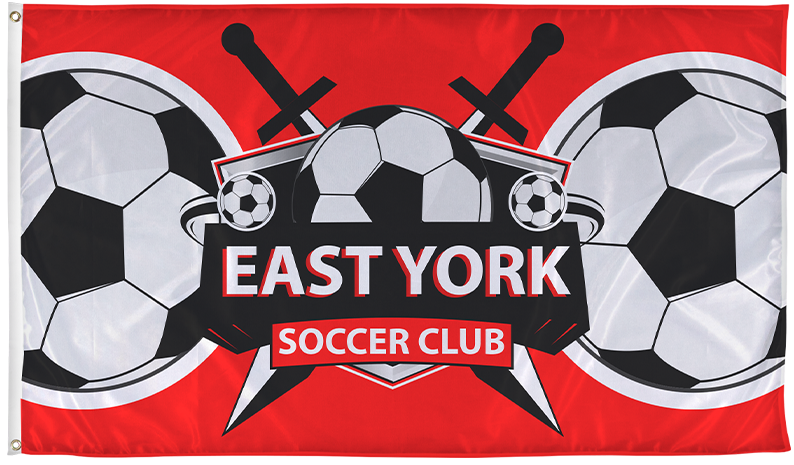 Finishing Options
All our custom flags come with multiple finishing options including grommets, pole sleeves, and header tape for no additional cost.

Standard and Custom Sizes
We offer 6 standard flag sizes to choose from as well as custom sizing for special applications. Custom 3x5 flags are the most popular size.

Dye Sublimation Printing
The material is printed using the top-of-the-line dye sublimation printing method. This custom flag printing technique makes for spectacular, bold color reproduction, as well as exceptional fade-resistance.

Premium UV Resistant Flag Material
All custom made flags are printed on our durable, high quality, polyester material. This material is outdoor-tested and suitable for use all-year round. It also boasts exceptional color reproduction.

Material Layout Orientation
Choose between Single-Reverse or Double-Sided printing options as well as the option for portrait or landscape customized flags.
3 Ways to Design Your Own Flag Online
Choose from three design methods that make it easy to customize your own flag. Each design submission is checked by our pre-press team for any errors or issues before being approved for print.
Design Online: Create your very own personalized flag in real-time with our online design tool where you can upload logos, images, and other files. Choose from a number of free online fonts, clip arts, and backgrounds to design your own flag.
Upload Artwork Template: Configure your custom flags above and download the provided template file after you've finished selecting your desired orientation, size, finishing, and optional hardware. Design your custom flag banners on the template file using your own design software and reupload the finished file before or after placing your order.
Free Design Services: Having trouble getting the creative juices flowing? Need some help to create your custom flag design? Our team of graphic artists can help you create your own flag design at no additional cost. We will send an artwork proof for your approval before we print anything. Contact us via phone, email, or chat to get started today!
Custom Double Sided Flag Printing Available
All of our custom 3x5 flags come standard with a single-reverse style print, where the image is printed on one side of the flag and bleeds through so that it can be seen in reverse from the opposite side.
We also offer double-sided flag printing so that you can get the custom double sided flag you need for outside your home or business.
As the industry standard, each of our double-sided polyester flags is made from two single-sided fabric prints that are sewn together over a piece of blocker fabric. This prevents the reverse image from bleeding through through both sides of the flag.
Single-Reverse

Double-Sided

Dye Sublimation Printing
All of our flags are printed using a dye sublimation method, meaning that you can get your custom printed flags cheap. Each flag is printed using a four-color printing process, then steam-imprinted to seal in the colors.
Combine this with the fact that we can print PANTONE colors and we have the ability to print almost any color that you send us. Design your custom flags and banners with as many colors as you would like for no extra costs or fees.
Complement Your Custom Design With Flag Fringe
Flag fringe offers a great way to add a touch of elegance to a flag and is commonly used as an honorable enrichment to a flag. We offer two fringe styles to choose from: Chainette and bullion. Fringe is typically added to three sides of the flag, keeping one side of the flag open to install hanging grommets, or a pole pocket. See below for a full explanation of each flag fringe style.
Chainette Fringe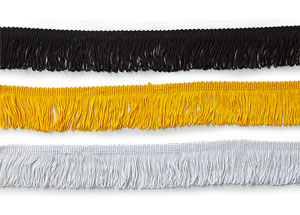 Made from 100% nylon material
Measures 2in for maximum exposure
Thick, braided appearance
Available in white, black, and yellow colors
Bullion Fringe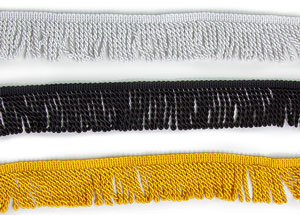 Made from 100% nylon material
Measures 2in to attract maximum attention
Thinner, looped appearance
Available in white, black, and gold colors
Cheap Flags, Premium Specifications
We strive to provide you with a source of cheap, custom-printed flags that still adhere to all the specifications of the premium brands. Here's what makes us top-of-the-line custom flag makers:
All of our single-reverse flags read correctly on one side, with 80% of the image showing through to the other side.
All of our custom double sided flags read correctly from both sides, which makes them a perfect choice to use as custom outdoor flags.
Standard 3x5 flag size and custom sizes available to suit all kinds of locations and types of printed designs.
Your custom flag design is printed on a durable, high-quality polyester that scores an 8/8 for lightfastness on the bluescale (DIN 53387) test.
All custom outdoor flags come standard with wrapped header tape on the left side and brass grommets punched through the header tape every three feet, with a minimum of two per flag. Upgrades such as pole sleeves are available as part of the finishing process.
Satisfied Customers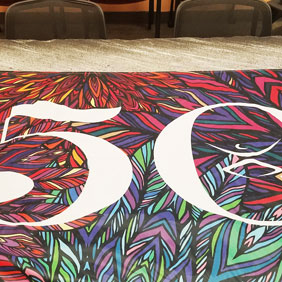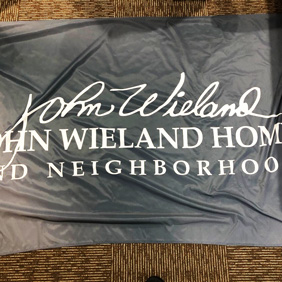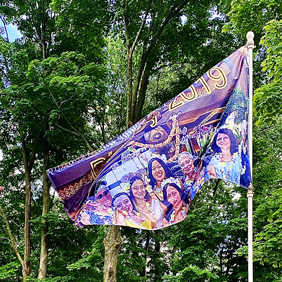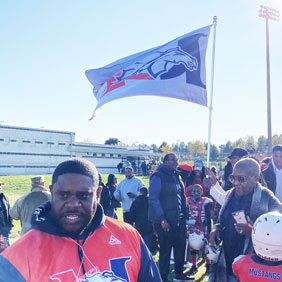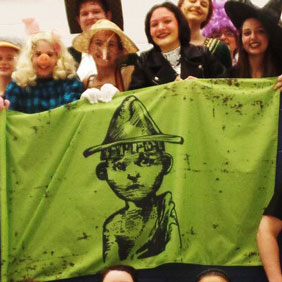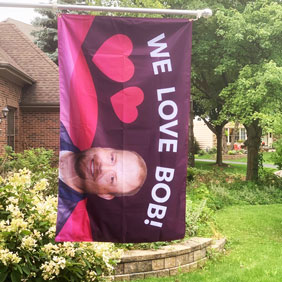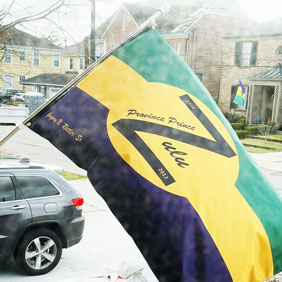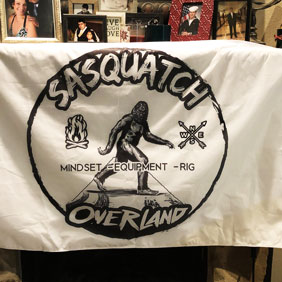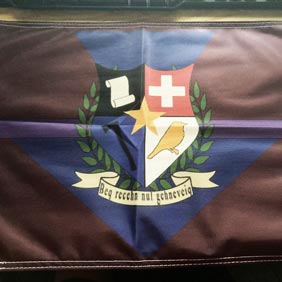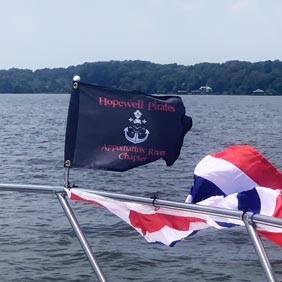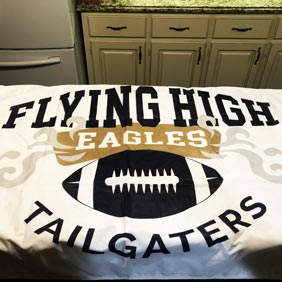 The Vispronet Advantage
The biggest advantages to choosing Vispronet over other competitors is our custom dye-sublimation printing, and our years of experience as a custom flag maker online. Dye sublimation printing is included in the price of your personalized flags so that you can rest assured you'll get your graphics looking great no matter how many colors you use: unlike screen-printing shops, we don't charge on a per-color basis. We also offer a number of other advantages to make your own flag -- even some that other companies can't or won't. Whether you need a logo flag or fully custom flag, Vispronet offers all the design and hardware options you need to make a flag.
Custom Cheap Flag Printing
With over 15 years of experience as a custom flag maker, we are proud of the fact that we've slashed the prices on our 3x5 custom flags so that they're as cheap as possible. Not only do they beat out the competition, but we pass the savings on to you. Our prices include custom printing using proven dye-sublimation techniques, plus all the hardware you need to run it up your own flagpole.
We offer sectional aluminum flagpoles that are perfect for home, business, and portable display. They are height adjustable and are available with an array of different base styles. We offer base styles for multiple applications including yard display, tailgate display, as well as indoor showcase.
Professionally-Designed Event Flags
Not sure where to get started when designing your new event flag? Let us help you create your own flag. Whether you need a custom 3x5 flag for a charity event, or a branded flag for advertising purposes, our professional design team can help you design a flag for no additional cost.
As part of our professional checking service, all customers get 15 minutes of design time included to help ensure that their custom flag design passes our artwork checking process. Whether it is for a single-reverse print or a custom double sided flag, Vispronet's graphics team is here to help you make a flag design - free of charge.
Fast Shipping On All Flags
Whether you order custom flags for events, custom made 3x5 flags, or a different option altogether, you can rest assured that we'll do everything we can to get it to you ASAP. All of our orders ship via UPS Ground, and rush shipping is available for a small fee. Orders containing just hardware ship out the same day if ordered by 1 PM EST.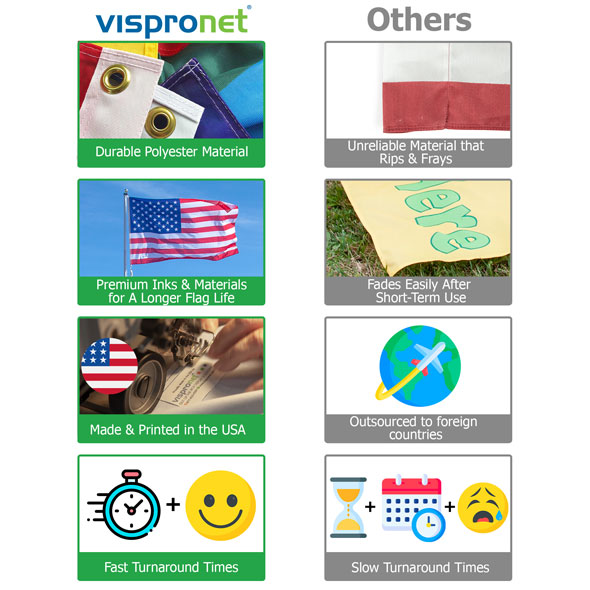 Rush Production Services
If you're looking for a way to get your order done faster, we offer several different rush services for production. Upgrade from the standard production time (3 business days) to next day, or second day production times. Note that none of these production times include shipping, but a faster production time can lead to faster shipping times.
Custom Flag Printing - Frequently Asked Questions
General
When will I receive my printed flag?
Our standard turnaround time is 3 business days plus shipping. We offer rush production and expedited shipping options at checkout if you need your flag by certain deadline. Preview which options are available for you by using the Estimate Delivery button at the top of the page.
How do I design my flags?
We offer three easy methods to design your custom flags: Design Online, Upload Artwork, and Free Design Service. All design methods are risk free and include a free artwork proof.
Is a design proof provided for each flag design?
Yes, our pre-press team will email you a free design proof for your approval before we begin to produce your order.
What file types do you accept?
We accept multiple file types for your artwork submissions including JPEG, PNG, TIFF, PDF, PSD, AI, EPS, and SVG file types. We also accept Adobe® Photoshop® and Adobe® Illustrator® file types.
Do you offer custom sizes?
Yes, in addition to our six standard sizes, we also offer custom sizes. Our custom sizes range from 12" x 12" up to 98" x 236".
How much does a custom flag cost?
The custom 3x5 flag size costs $65.99 for a single-reverse option and $98.99 for a custom double sided flag. These affordable prices for our set sizes range from $35.93 for our smallest 18in x 12in single-sided flag to $327.99 for a double-sided option of our largest 10ft x 6ft size. If you looking to make a flag with a custom size, simply insert your custom dimensions above to get a price. Custom size flags are available in both single-reverse and double-sided printing. All custom made flags receive free shipping!
What are custom flags?
Custom flags are personalized with your own graphics and logos rather than a ready-made image, such as a state or country flag. Design your own flag image to be replicated on the material, such as your business slogan and logo or your local sports team mascot. Customized flags are made uniquely for customers upon request. Create custom flag designs for anything you would like, whether that be for business, education, showcasing custom artwork, or just for home display!
Can you make your own photo flags?
Yes! If you would like to create a flag featuring your photos, we offer three different design methods. We print our custom flags in full CMYK color, which allows us to recreate photos in great detail.
What is the standard flag size?
The most popular custom flag banners sizes are available as standard sizes in the size dropdown. The most frequently purchased size is our custom 3x5 flag. Another very popular size often used for custom made flags is 5x8. It is important that the pole size being used with the flag is factored into what the size of the flag should be. The typical rule is that the flag's height should be ¼ of the pole height.
Printing Specs
How are my graphics printed on the custom 3x5 flag?
Graphics are printed onto flags using a printing method known as dye sublimation. With dye sublimation printing, the material is heated and then inked or dyed with each color needed to create the finished image, one layer at a time. By using this custom flag printing process, we create full, vibrant colors and the print is resistant to scratching and peeling off. Another benefit of dye sublimation printing is unlimited color usage. Whether you are designing a custom logo flag or an all-over graphic, make your own flag with as many colors as you would like for no extra cost.
Read more about dye sublimation here.
Does it cost extra to design my flag with multiple colors?
No, it does not cost extra to design your flag with multiple colors. Because we print using dye sublimation, you can make a custom flag with many colors as you would like, for no extra cost.
What's the difference between single-reverse and double-sided custom flags?
Single-reverse style is standard, and means that your design is printed on one side of the polyester material is the mirror image of your design bleeds through the other side.
When we print custom 3x5 flags double sided, you're not limited to just one image or graphic like you are with a single-reverse printing style. The use of a piece of blocking liner between the two sides of the flag means that you can print anything you want on either side without having to worry about it bleeding through to the other side. Please note that the inner line makes a quiet crinkling sound if you were to scrunch or squeeze your flag. You can rest assured that this is the industry standard when producing double-sided flags. The liner is imperative so that your unique designs do not bleed through both sides of the flag. 
Keep in mind that single reverse is a popular style because it's more enduring for outdoor use and easily flows in the wind. Custom double sided flags are heavier than single-reverse flags and won't wave in the wind as much.
Material and Durability
What material are the custom outdoor flags made of?
While we offer custom flags cheap, we do not use lesser materials. We print our custom flags and banners using dye sublimation on our outdoor flag polyester material, a lightweight polyester that is designed to be scratch-resistant and UV-resistant. This material is designed for extended outdoor use in wet or dry conditions. As a custom flag maker, we believe that polyester material is best for flags because the printing method creates bold, stand-out colors that will not scratch or peel in different weather conditions. Our polyester also has an excellent thru-print, making it the perfect option for single-reverse flags. Polyester flags are also ideal for displaying all year round because the knitted fabric is tear-resistant for durability.
Can these flags be displayed indoors and outdoors?
Yes, these flags can be displayed indoors and outdoors. They are made from our flag polyester, a durable fabric material that can be displayed indoors and outdoors for long periods of time without showing any signs or wear and tear.
What's the lifespan of the personalized flag material?
Regarding the lifespan of the print and material, customers can generally expect over 6 months of use, plus or minus some time depending on facts such as air pollution, severity of weather, lightfastness level, and material composition. In order to get the most out of the product, we recommend that customers perform general maintenance, such as washing, trimming, reinforcing and re-hemming every 8-12 weeks (3 months).
Are your personalized flags flame-retardant?
Our custom flags are made from a knitted polyester fabric that is not meant to be flame-resistant. We advise that you keep your flag away from fire and sparks, or else it could catch on fire and ruin the design.
How will the weather affect my custom made flags?
The material is UV-resistant and printed using dye sublimation. This means that the rain and sun won't wear down the custom outdoor flags material or the printed image.
Finishings and Accessories
Do you offer flag fringe?
Yes, we do offer fringe for flags. Choose from Chainette Fringe or Bullion Fringe styles. For more information on each style, see the fringe comparison section located above.
Do you offer kits? Is a flagpole included with my purchase?
We do offer flagpoles as an optional accessory for our custom flags. For an additional fee, you can purchase one of the four pole options listed below:
6ft handheld – for use in parades and similar events
6ft wall mount – for use outside homes and businesses
6ft pole-mount with steel bands for mounting on street poles
20ft standard pole for flying your flag outside schools or residences
Do you offer grommets or pole sleeves?
We offer both grommets and pole sleeves under the "Finishing" tab in the product configurator. Grommets are ideally used for custom wall flags or for using with a large flagpole. Pole sleeves are for use with thinner, more portable poles. All feather flags use pole sleeves rather than grommets.
Setup and Care
How do I take care of my personalized flag?
Our custom made flags can be washed, but it's very important to follow some specific guidelines. They shouldn't be washed with bleach, only soft detergent on a delicate cycle. We recommend not washing your flag with other fabrics for best results. Don't dry your flag, it should be air dried outdoors. If your flag is wrinkled after being washed, the wrinkles will be removed after the flag dries. Don't iron your flag to get rid of the wrinkles, it will ruin the material.
California Residents

Click here for Proposition 65 warning
20ft flagpole setup video
Frequently Purchased With
Q & A
Custom Flags Reviews