Custom Vinyl Banners
Weatherproof / UV-Protected / Fast 3-Day Turnaround
configurable 0 0
Custom printed solutions in 3 simple steps.

1. Choose from 3 Design Methods
Click the Proceed to Artwork button to choose Design Online, Upload Template, or Free Design Services.

2. Receive & Approve Your Proof
We'll process your artwork within 2 business hours and send a proof for your approval via email.

3. We'll Bring Your Idea to Life
Our standard turnaround time is 3 business days plus shipping with expedited options available.
Custom Vinyl Banners Details
Advertise your business, brand, or event with custom vinyl banners. Our banners are available in a variety of standard sizes, material types, and finishing styles. Choose from five vinyl material options ranging from our indoor 13oz up to our ultra-durable 23oz vinyl. We digitally print our vinyl banners using UV-resistant inks for vibrant, fade-resistant graphics that can be displayed indoors and outdoors. Choose from single-sided or double-sided printing and from an array of standard and custom sizes. We offer multiple finishing options so you can choose the exact style you need for your display application.
---
Design Your Banners Online: 3 Easy Methods
Design your banners using one of the methods listed below. Each design you submit is checked by our pre-press team for any design errors or issues. Our team will email you a free digital proof of your design before we begin printing your banners.
Design Online: Create your design online, in real time using our online design tool. Our tool allows you to upload artwork and logo files directly from your computer and makes it easy to insert clip art, text, background designs, and more.
Upload Artwork: To design using this method you must download the artwork template, add your artwork using design software, and reupload the completed template to our website, before or after checking out. To download the artwork template, click the "Download Template" link located above.
Free Design Service: Not sure how to design your vinyl banners? Let our team help you fix your current artwork or create you a design from scratch – for free. Just send us your current artwork files or some design ideas and we will correspond with you until the design is completed and applied to your banners.
---
Material Options
Each of our custom vinyl banners is printed on one of five different vinyl materials that are all excellent at keeping your finished product safe from the elements. The following materials are available: 12oz mesh, standard 13oz, opaque 13oz, opaque 18oz, and 23oz heavyweight opaque vinyl. Each of these five materials can then be fitted with weld hems for durability to ensure that your signage can stand up to the elements without coming off of its mounting.
---
Finishing Options
How will you install your custom outdoor banners? We offer an array of different finishing options so you can find the exact one needed for your application. Finish your banners with grommets, pockets, all sides hemmed, or all sides cut. Each finishing option is provided for no extra cost to you.
Grommets: Will you be hanging your banner signs from the ceiling, across a wall, or on a post? If so, get your banners with grommets, either in the four corners or on every 1.5ft of vinyl. This finishing is compatible with bungee cords and hanging rope.
Pole Pockets: Are you using a banner frame to set up your banner? Many banner stands include pole sets for connecting the banner to the frame. If this is the case, add pole pockets on either the top or the top and the bottom of the banner. The poles slide through the opening of the pockets.
Hemmed Sides: You may add hemmed sides to grommets or get them alone. Hemmed sides are perfect for heavy duty outdoor displays because they prevent the edges from ripping. This is a great option if you are not using hardware, such as tacking the large outdoor banners to a wall.
Cut Sides: You may add the classic cut sides finishing to one of the previous options or get them by themselves. This is another choice if you are not using hardware to set up your banners or if you are using clips.
Ultra-Strong Adhesive Tabs:Want to hang the banner up in a window? Ultra-Strong Adhesive Tabs are perfect for hanging banners in retail store windows. Banner will have a tab in each corner for hanging.
---
Custom Vinyl Banners For Your Business
The most popular use for our vinyl signs is to help draw customer attention to businesses and advertising campaigns. If your business, brand, or product is being showcased at a trade show, job fair, conference or other event, consider utilizing our vinyl banner printing service to create the centerpiece for your next display.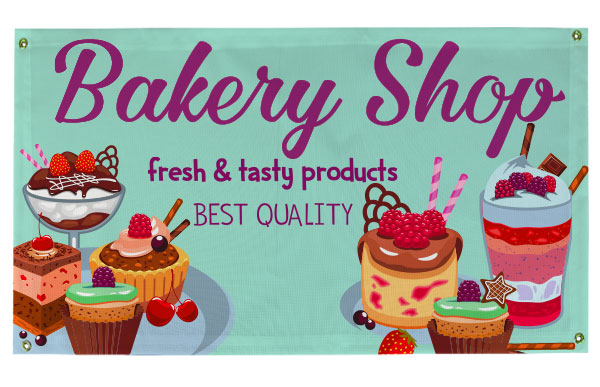 Choose Your Material
Choose from multiple vinyl materials ranging from our 12oz vinyl mesh up to our heavy-duty 23oz vinyl.

Double-Sided Printing
We offer single and double-sided banners. Add the same design or a different design on each side.

Premium Quality Printing
All of our vinyl banners are digitally printed with UV-resistant inks for a brilliant, fade-resistant finish.

Free Banner Finishing
Choose from 8 different finishing styles for your banner, free of charge.

Indoor/Outdoor Tested
Our vinyl materials are weather-resistant and safe to display during all four seasons.
---
Mounting & Accessories
Once you've decided on the size you need, you can pick out a number of mounting accessories to help hang your custom vinyl banners how and where you want them. Our large list of mounting accessories includes:
Basic Accessories
Small clear banner clips
Large white banner clips
Loops of polyester cord
Suction cups with pins
Suction cups with hooks
Pear-shaped snap hooks
Carabiner snap hooks
Bungee cord loops with PVC hooks
Bungee cord loops with PVC toggles and hooks
Spring snaps
Deluxe Mounting Options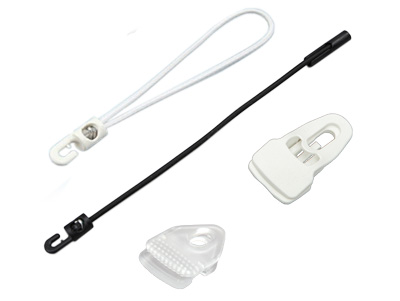 ---
Standard Sizes
From double-sided printing with cut edges, to single-sided printing with weld seams for better durability, we offer several layout and finishing options for our vinyl banners. You can choose to have your custom design printed on one or both sides of the product in either landscape or portrait orientations. Standard sizes include:
4' x 2'
6' x 2'
6' x 3'
8' x 2'
8' x 3'
8' x 4'
10' x 2'
10' x 4'
20' x 4'
In addition to these and other standard banner sizes, we also offer a number of custom sizes, ranging anywhere from 10in by 10in, all the way up to 90in by 600in (7.5ft by 50ft). 
---
Frequently Asked Questions
General
What is the turnaround time?
Our turnaround time is 3 business days. We offer rush production and expedited shipping options at checkout. To preview your delivery date, click the "Estimate Delivery" button located at the top of the page.
Do finishing options cost extra?
No, finishing options do not cost extra. Unlike some cheap vinyl banner companies that nickel and dime customers for every finishing option, ours are included in the sale price.
Where can I find the accessories?
To see all the banner accessories, click the "Accessories" tab located below the finishing options when you are configuring your banner. There, you are able to choose from dozens of hanging accessories.
Printing Specs
How are these banners printed?
We digitally print our custom vinyl banners with UV-resistant ink for bright, full-color graphics that are fade-resistant and safe for indoor and outdoor display.
Do you offer double sided banners?
Yes, we do offer double sided vinyl banner printing. To create a double sided banner, you must select one of the opaque vinyl material options. You are able to print the same design or a different design on each side of the banner. 
Does it cost extra to print with multiple colors?
No, it does not cost extra to design your banners with multiple colors. Use as many colors as you would like for no extra cost.
Will these banners fade in direct sunlight?
These banners are printed with UV-resistant inks making them fade-resistant, even in direct sunlight. However, after years of display the banners may show some signs of deterioration.
Materials and Durability
Which material option is best for windy weather conditions?
For applications with high winds, we recommend using our 13oz vinyl mesh. This material allows the wind to blow through the vinyl sign without much resistance. The 18oz and 23oz vinyl materials are also excellent options for windy outdoor weather conditions.
Are these banners fire-resistant?
Yes, our banners are fire-resistant.
Can I hang these outside?
Yes, all of our vinyl banner material options are digitally printed with UV-resistant inks, making them safe for outdoor display.
Maintenance
How do I remove any wrinkles in my banner?
Place the banner in direct sunlight to remove any wrinkles in the material. If direct sunlight is not an option, you can smooth out any wrinkles using a steamer set to low.
Can these banners be cleaned?
Yes, you can wipe these banners down with warm soapy water. We recommend customers clean their custom vinyl banners after each use to keep them in pristine condition for the next time they are displayed.
California Residents

Click here for Proposition 65 warning
Frequently Purchased With
Q & A
Reviews