A-Frame Sideline Signs
Modular Banner System / Fast 3-Day Turnaround
configurable 0 0
Custom printed solutions in 3 simple steps.

1. Choose from 3 Design Methods
Click the Proceed to Artwork button to choose Design Online, Upload Template, or Free Design Services.

2. Receive & Approve Your Proof
We'll process your artwork within 2 business hours and send a proof for your approval via email.

3. We'll Bring Your Idea to Life
Our standard turnaround time is 3 business days plus shipping with expedited options available.
A-Frame Sideline Signs Details
Advertise your team branding or sponsorships with customized sideline a-frame signs. These portable banner systems are often featured at sporting events like football games or soccer matches, and showcase your custom designs through vibrant, full-color graphics. The custom graphics are printed on your choice of 13oz Vinyl, Outdoor Polyester, or two sheets of corrugated plastic. The sign frames are crafted from durable corrugated plastic and can be set up instantly with no tools needed. Graphic banners can be quickly applied and removed and are easy to swap out for the next promotional or advertising banner. Customized banners are connected to the corrugated plastic frame using hook and loop fasteners in each corner, ensuring a tight and reliable attachment. These versatile a-frame sideline signs can be displayed indoors or outdoors and graphics are easy to spot from all directions. Steel stakes are provided with each sign to keep it secured to the ground, even during windy weather conditions. Two weight bags that are fillable with sand or water are available as an accessory for extra stability.
Parts List:
Custom printed sign
A-Frame Sideline Frame
4 - L-Stakes
Connector Pin
Sizes:
4mm Corrugated Plastic: 47.0" x 34.0" (x2)
Vinyl: 47.0" x 68.5"
Suntex: 47.0" x 68.25"
Material:
4mm Coroplast®: Weather-resistant & UV-protected lightweight corrugated plastic
13oz Vinyl: Weather-resistant & UV-protected matte vinyl
300D Polyester: Water-resistant, scratch-proof, flame-retardant fabric (6.00oz/yd²)
Additional Notes:
Product is printed single-sided
Design Your Banners Online
Choose from three design methods to customize your sideline a-frame sign. Each design submission is checked by our pre-press team for any errors or issues before being approved for print. Our team will email you a final design proof for your approval before we begin printing.
Design Online: Create your football sideline signs online, in real time using our online design tool. This tool allows you to upload logos, images, and other artwork files directly from your computer and provides free online fonts, background designs, shapes, clip art, and more.
Upload Artwork: This design option is best for users who have their own design software. This method involves downloading the artwork template, adding your custom artwork using design software, and reuploading the completed template to our website, before or after placing your order.
Free Design Service: Not sure how to design your a-frame sideline banner? Our pre-press team can work with you to improve your current design or can help build a design from scratch, for free! Just send our team some ideas or artwork inspiration and we will work with you until the design is completed.
The Perfect Banner System for Any Sporting Event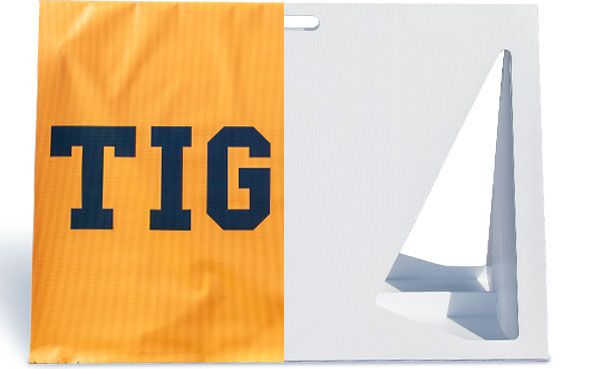 High-Quality Graphics
Promotional graphics are printed using UV-resistant inks for a vibrant, full-color finish that is scratch and fade-resistant. Graphics are interchangeable and safe for long-term outdoor display.

100% Weather-Resistant
The sideline sign frames are crafted from durable 4mm corrugated plastic. This material is waterproof, weather-resistant and will hold up throughout the entire season for outdoor or indoor display.

Collision-Safe
These signs collapse if fallen on, eliminating the risks associated with falling on metal or wooden sideline signs. Showcase these signs at sporting events, parades, school events, and more!

Easy Setup & Storage
Setup takes only minutes and can be completed by one person, with no tools required. These a-frame sideline banners are lightweight and fully collapsible, making them easy to store and transport.

Connect Multiple Frames
Easily connect two or more frames together using the included connector pin. Whether you're looking for sideline signs that are 4ft of 400ft long, we have you covered.
Benefits of Displaying Sideline A-Frame Signs
Effective Advertising
A-frame sideline signs are displayed at games and events because they are highly effective at showcasing sponsorships, logos, or customized graphics to crowds and passing foot traffic. They are typically used as soccer or football field signs, serving as a barricade between the playing field and the crowd, and are printed on both sides so they can be easily spotted from all directions. Sideline a-frame signs are valuable for sponsors because they provide an advertising vehicle for businesses to showcase their brand, products, or services to potential customers attending the sports match or event.
Professional Banner Printing
We print the customized graphics on your choice of 13oz Vinyl, Outdoor Polyester, or on two corrugated plastic sheets. Fabric graphics are printed using dye sublimation, a cutting-edge printing technique that produces vibrant, fade-resistant graphics that are safe for machine wash. Our vinyl banners and corrugated plastic signs are digitally printed with UV-resistant inks, making them perfect for long term outdoor applications. Both the vinyl and fabric materials are wrinkle-resistant, flame-retardant, and safe for outdoor display, even in wet weather conditions.
Changeable Graphics
Our sideline a-frame signs make it easy to swap out graphics when you need to update the custom banner with new promotional or advertising designs. Banners are connected to the plastic frame using hook-and-loop fasteners and changing out the banner is an easy process that can be completed by one person. The ability to easily change out graphics allows for multiple uses and extends the product life of the sign.
Portable Hardware
These a-frame sideline signs are highly portable and are easy to move from one location to another. The frame for these college football sideline signs is crafted from corrugated plastic. This material is durable and waterproof, making it safe to display outdoors even during wet weather conditions. These a-frame sideline banners are also lightweight, allowing for easy setup and breakdown before and after games.
Safety
These sideline signs are made from corrugated plastic, making them a far safer display option than signs made from metal or wood. If an athlete falls onto the signs during competition, the signs will collapse, reducing the risk of injury to the player. This can be especially critical when used as football field signs and soccer field signs because athletes are moving so quickly.
Frequently Asked Questions
What is the turnaround time?
Our a-frame sideline banners require our standard 3 day turnaround time plus shipping. If you need your banners faster, expedited production and shipping options are available at checkout. Preview which shipping options are available to you by clicking on the 'Estimate Delivery' button at the top of the page.
How do I design my sign?
We offer three easy design methods: Design Online, Upload Artwork, and Free Design Service. Each design method is risk-free and includes a free design proof with every order.
Can I order a banner larger than 47" wide so that it fits over two or more conjoined frames?
Of course! These banner systems are fully modular and can reach any desired length by connecting the frames together. If you're looking to purchase a banner greater than 47" wide to display over multiple joint frames, please contact our customer service team for assistance placing your order. Customer service is available by phone at 877-822-0201 or by email at info@vispronet.com
Can these be displayed outdoors?
Yes, these a-frame sideline signs are safe for outdoor display. The banners are crafted from weather-resistant polyester or vinyl and the frame is made from durable corrugated plastic. The banners attach to the frame using hook and loop fasteners, making them suitable to display in all weather conditions.
If you are displaying in areas where windy weather may occur, we recommend weighing down the frame using the provided stakes to keep it in place. For example, if displaying as soccer or football field signs, insert the stakes and/or place sandbags on the bottom of the frame to secure the signs on football sidelines.
Can the graphics be changed?
Yes, the graphics are easy to change or swap out for the next promotional or advertising banner. The process of swapping out the graphics is simple and can be completed by one person, with no tools needed.
Are these padded sideline a-frames?
No, these are not padded a-frame sideline signs. However, they are safe for sideline display. These football advertising signs will collapse on impact if fallen on during a sporting event, avoiding injury for the athlete.
How are the field banners printed?
The vinyl banners are digitally printed with UV-resistant inks, creating fade-resistant graphics that can be displayed in direct sunlight for long periods of time. The fabric sideline billboards are printed using dye sublimation. This premium printing technique infuses ink directly into the polyester material, creating vibrant, full-color graphics that are fade-resistant and machine washable.
Can I order just the frame or just the banner?
Yes, you may order just the sign frame or just the printed banners. When configuring your pop up a-frame sideline banner, choose the appropriate order type: Prints and Hardware, Prints Only, or Hardware Only.
California Residents

Click here for Proposition 65 warning
Modular A Frame Sign Demo
Frequently Purchased With
Q & A
Reviews
There have been no reviews about this product.