configurable 0 1
Get started with personalized products in 3 simple steps.

Click the Get Started button to upload a high-resolution photo and place your order.

2. Receive & Approve Your Proof
We'll process your photo within 2 business hours and send a proof for your approval via email.

3. We'll Bring Your Idea to Life
Our standard turnaround time is 3 business days plus shipping with expedited options available.
Pet Cutouts Details 
Design a one-of-a-kind cutout of your favorite pet, animal, or furry friend! These life-size pet standees are perfect for events like fundraisers, parties, and reunions, and also great for displaying around the house or office! Upload your pet's photo or create a custom design and we will produce it in brilliant, full-color printing on your choice of cardboard or corrugated plastic. Each pet cutout is trimmed to the exact height and shape specified in your order and can be designed with sizes ranging from 18in up to 7ft tall. All cutouts are shipped with an easy-to-remove protective framing to avoid any possible damage during the shipping process.
Parts List:
Custom printed pet cutout
Standee easel
Print Size:
Enter your own size between 18in & 7ft tall
Width will vary based on the photo (max is 36in)
Additional Notes:
Product is printed on one side (single-sided)
Cutout may vary in size due to the quality of the photo provided
Larger standees ship folded for better cost
Recommended for indoor use or outdoor areas with no wind
Uncut areas of negative space may occur between arms and legs for extra stabilty
Material:
4mm Coroplast®: Weather-resistant & UV-protected lightweight corrugated plastic
White B-Flute Corrugated Cardboard: 1/8" one-sided white corrugated cardboard (compliant with Mullen 200# test)
Cat & Dog Cardboard Cutouts for Every Event
Customize a pet or animal cutout for your next event! An easel is included with each order so the dog, cat, or animal cutout can stand freely on any flat surface without worrying about it falling over. We print all colors and graphics with UV-resistant inks so they can safely be displayed outdoors or in front of windows without worrying about any fading or color deterioration from the sun. Our pet cutouts are built from high-quality materials and are designed to last, offering your family and friends years of memories and fun photo opportunities for children and adults.
Custom Pet Cutouts Image Requirements
Please follow the guide below to ensure your pet standee is printed clearly with no pixelation issues. If you have questions about the requirements, our customer service and graphics teams can answer any questions you may have.
Image size should be greater than 2MB
Pixel size should exceed 1800 x 1800
Dots per inch (DPI) should fall between 180 – 300
JPEG, TIFF files preferred – also accept PDF, AI, GIF, PNG
Image should not be zoomed in – can cause blurry finish
From top to bottom, your pet should take up as much of image as possible
Best photos have good, bright lighting - Dim images can produce a fuzzy or dark finish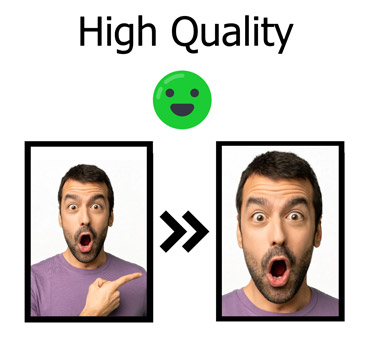 Size - 1,000KB
Resolution - 3,000px x 3,350px
High-resolution images like the one shown above will be printed with very little or no pixelation at all.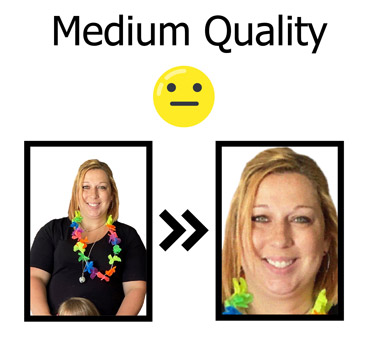 Size - 680KB
Resolution - 480px x 486px
Medium resolution images like the one shown above can be printed but will have visible pixelation in the image when printed.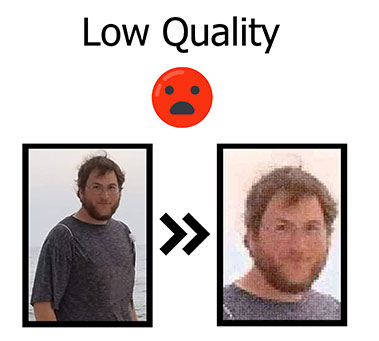 Size - 17KB
Resolution - 365px x 412px
Low-resolution images like the one shown above cannot be printed due to the amount of pixelation in the image.
You need to own the rights to the photo: If you are the one who took the photo then you are the copyright owner of the photo. You will need to get permission if someone else takes the photo. You can upload professional pictures if the photographer gives you a release form. If a photo is uploaded and you do not have the rights to it, we will not be able to print the photo for your custom cardboard cutouts.
If you have any questions, please live chat with us, call us at (877) 822-0201, or email us at info@vispronet.com.
Home, Party, & Family Display
Custom pet cutouts are perfect for parties and events, or just for displaying around the house! Surprise family members and friends with a dog standee of their favorite furry friend! Dog and cat cutouts offer a fun bonding experience for children and adults and are also create memorable photo opportunities. Display them at weddings, family reunions, showers, religious celebrations and more! Want to display a human-sized cardboard cutout alongside the pet cutout?
School & Office Display
Displaying a pet cutout at the office or in a work environment can promote a more joyful atmosphere and can be a helpful ice breaker for new employees and management. Using these cardboard cutouts at work events and conferences can encourage teamwork and comradery among the participants and can loosen up even the tightest of personalities. Not only are custom cat and dog standees a fun display, but they also excel at attracting the attention of passerby at trade shows, charities, and outdoor events. Photographers and businesses can also utilize pet cutouts as creative photo props at events and parties. Because they are crafted from high-quality materials, these standees can last for multiple years of use before showing any signs of quality deterioration.
Pet Cutouts Material Options
We offer two different material options for our pet standees. Both materials are high-quality with unique benefits depending on the application. Read below to find the right material for your display.
Cardboard
Our cardboard material option is perfect for pet cutouts that will be displayed indoors, away from any rain or water. Our cardboard standees are made from White B-Flute Corrugated Cardboard. Unlike the cheap animal cardboard cutouts offered by other vendors, our cardboard material is 1/8in thick, making it stronger than typical store-bought cardboard. Because the cardboard is bright white, these cutouts have excellent color reproduction, showcasing your cat, dog, or animal in bright, life-like colors. The cardboard material option should not be displayed in areas where it may get wet as the water may damage the integrity of the cardboard and printing.
Corrugated Plastic
Corrugated plastic is our most popular material for this product and is the best option for outdoor display applications. This material is best for repeated, long-term use. Corrugated plastic is highly durable and waterproof, making it ideal for busy party applications and outdoor displays. Our corrugated plastic pet cutouts are UV-resistant so they will not fade if displayed outdoors in direct sunlight. This material option is also stain-resistant and can easily be cleaned with a warm wet cloth after use. Overall, this material is the higher-quality option and best for reuse and long-term display applications.
Satisfied Customers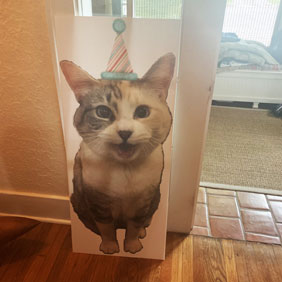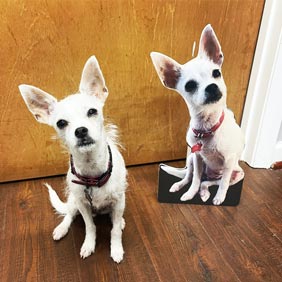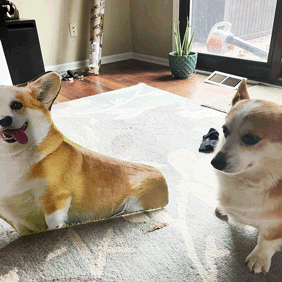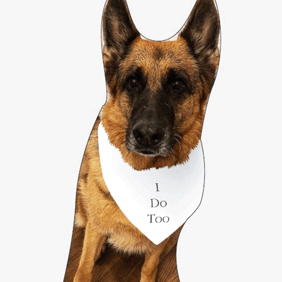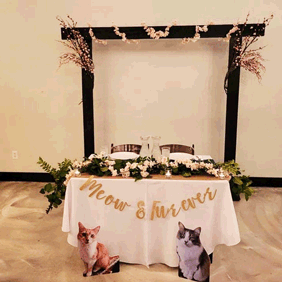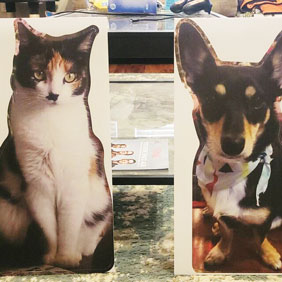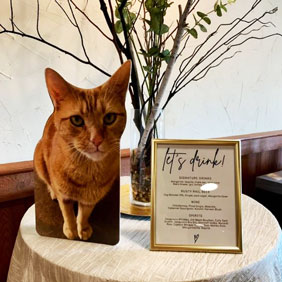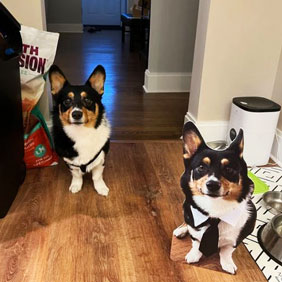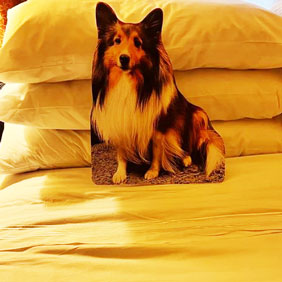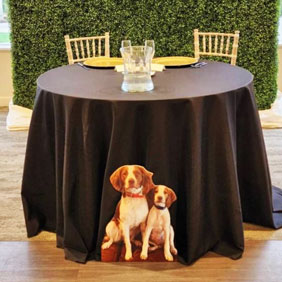 Frequently Asked Questions
How long is the turnaround time?
Our standard turnaround time is 3 business days plus shipping days. If you need your cutout soon than our standard turnaround time, we offer expedited production and shipping options at checkout.
Where are cat and dog cardboard cutouts typically displayed?
Custom pet cutouts can be showcased at a variety of events, and around the house as an enjoyable memento to a furry friend. They are a fun addition to large family gatherings like weddings, showers, anniversaries, and religious celebrations. Cardboard cutouts can also serve as ice breakers in more formal settings like corporate events, trade shows, and charity events. Showcase a cardboard cutout of your dog at your next event and really turn up the laughs!
Are corrugated plastic and cardboard pretty much the same?
No, these materials have important structural differences. The cardboard material option is optimal for indoor display only. It is more prone to damage compared the corrugated plastic material and can be distorted and ruined if it comes in contact with water. For example, if you bring your cat or dog cardboard cutout to an outdoor event and it rains, the cardboard can become warped if exposed to rainwater for too long. The corrugated plastic material option is waterproof and has a stronger build quality compared to cardboard. Corrugated plastic can get wet and is safe to wipe down with water if it becomes soiled during display. The corrugated plastic material is the recommended and best option for outdoor, long-term, and multi-use displays.
How do you print the pet standees?
We digitally print out an animal, dog, and cat cutouts with UV-resistant inks. This printing process produces bright, full-color graphics that are fade-resistant and won't scratch or peel off, even after long-term display.
Does each cutout order include a stand or easel?
Yes, each standee comes with an easel for a quick and easy setup process. The easel will keep your pet cutout standing upright on any flat surface. Looking for a cat or dog face cutout that you can hold? Check out our custom big heads.
Can these be displayed outdoors?
These can be displayed outdoors, however, we advise against displaying your pet cutout in an area where they made be any wind conditions. If you are displaying outdoors, we recommend choosing our corrugated plastic material as this material is waterproof and will not get damaged if it gets wet or rained on. The cardboard material option can be damaged or ruined if exposed to rain or wet ground areas.
Can these standees get wet?
Yes, but only the corrugated plastic material option can be exposed to water. The cardboard material option can be damaged or ruined if exposed to rain or wet applications.
How can I ensure my pet cutout will be clear and not pixelated?
To ensure your life-size dog cutout or animal standee is printed with the highest quality, we recommend following this design checklist. If you have any questions, feel free to reach out to our customer service team who can relay your questions to our graphic designers.
Image size should be greater than 2MB
Pixel size should exceed 1800 x 1800
Dots per inch (DPI) should fall between 180 – 300
JPEG, TIFF files preferred – also accept PDF, AI, GIF, PNG
Image should not be zoomed in – can cause a blurry finish
From top to bottom, the pet/animal should take up as much of image as possible
Best photos have good, bright lighting - Dim images can produce a fuzzy or dark finish
Please call 877-822-0201, email info@vispronet.com, or live chat with a customer service representative with questions regarding your order, photo, or production times.
California Residents

Click here for Proposition 65 warning
Frequently Purchased With
Q & A
Reviews