configurable 0 0
Custom printed solutions in 3 simple steps.

1. Choose from 3 Design Methods
Click the Proceed to Artwork button to choose Design Online, Upload Template, or Free Design Services.

2. Receive & Approve Your Proof
We'll process your artwork within 2 business hours and send a proof for your approval via email.

3. We'll Bring Your Idea to Life
Our standard turnaround time is 3 business days plus shipping with expedited options available.
Photo T-Shirts Details
Are you looking for a fun gift, a party favor, something to display your company or organization's logo? Custom photo t shirts are a popular custom item for a wide range of events. Upload t shirt photos, logo files, and graphic designs for print on the front, back, or both sides of these shirts. These comfortable polyester personalized photo shirts come in a range of sizes and are available at bulk discounts with no minimum order quantities. This means that you may order as little or as many custom picture shirts as you need at a low price.
Parts List:
Custom printed photo t-shirt (Jerzees®)
Material:
Specifications
|   | S | M | L | XL | 2XL | 3XL |
| --- | --- | --- | --- | --- | --- | --- |
| Dimensions | 26.75in x 29in | 28.5in x 32.25in | 28.75in x 36in | 29.25in x 36.75in | 31in x 38.25in | 31.75in x 42in |
| Logo Dimensions | 15in x 17in | 15in x 17in | 15in x 17in | 15in x 17in | 15in x 17in | 15in x 17in |
| Weight | 0.3lbs | 0.4lbs | 0.45lbs | 0.5lbs | 0.55lbs | 0.6lbs |
| Part Number | AP2000 | AP2001 | AP2002 | AP2003 | AP2004 | AP2005 |
Easy to Order Custom Photo T Shirts
These custom picture shirts are simple to order and do not require tedious artwork delays. The first thing that you should decide is what imprint option you want? You can either have t shirt photo printing on the front, the back, or both the front and back. If you select to customize your t shirt with a picture on the front and back you can use a different design on each side.
You should also determine the quantity of custom photo t shirts you will need. Our sizing option allows you to distribute quantities of each size included in your order. Designing your shirt is as easy as can be. To accommodate different abilities, we have three options:
Design Online Tool – If you would like to create your personalized photo shirts online, we have a design suite available. Click on the "Design/Upload" tab on our configurator. There is a blue box that says, "Design Online". When you click on this box, it takes you to our design tool. Using our tool, you can upload t shirt photos, use clipart, add text in different fonts, and much more!
Download Template – If prefer to use your own computer software that you are familiar with, we have a downloadable template. On the "Design/Upload" tab there is a table that says, "Artwork Template". There is a "Download" bottom that you click on to get the template on your computer. Use such programs as InDesign to customize your shirt template. When you are done, send the template to us by clicking the "Upload Template" button on the same tab. Make sure to view our artwork guidelines to avoid design issues.
Design It For You – If you have no experience in designing custom photo t shirts, but know what you want, we have a convenient option for you. Contact our customer service team and let them know that you would like one of our designers to create the artwork for you. Just give them your instructions and guidelines and they will design your tee shirt free of charge! We will also send you the template to proof before we print the photo on t shirts.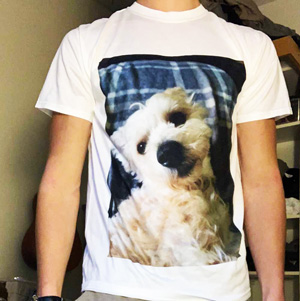 Premium T Shirt Photo Printing
To create your custom photo shirts, we use a high-quality dye-sublimation printing method. This is a state-of-the-art printing technology that infuses the ink into the custom photo t shirts to create a seamless design that feels like it is part of the fabric. Because of how we print photos on tshirts, the image will not peel or wash off, allowing the print to last a long time. This is the type of method that is also used on our tents, table covers, feather flags, and other polyester based products. To learn more about the dye sublimation process, read our blog post on this t shirt photo printing technique. Our custom shirts with pictures are also printed using full-color CMYK printing. This means that your picture or image can have as many colors and details as you want without it affecting the overall price, making it perfect for t shirt image printing. We recommend sending us a high-resolution photo for the best results. The higher quality the photo you send us is, the better it will look when printed on the front, back, or front and back of the personalized photo t shirts.
Custom Photo T Shirts - Frequently Asked Questions
Do you have options for t shirt photo printing on the whole shirt?
Yes, we have other print options for tee shirts, including full print and youth sizes. Click here to see our full t-shirt line so that you can find the style that suits your needs.
Can I send a custom graphic design rather than a photo?
While this product is a "Custom Photo T Shirts", you do not have to get a t shirt with photo print. We can also print your own personal graphic designs. We include the term "Photo" in the title so you are aware that we have the means to print high-quality custom picture shirts, as well as logos.
How do I know which size to get?
If you see the chart above, there is a row with the specific dimensions of each shirt size. The imprint dimensions remain the same no matter which photo printed t shirts size you choose. This size chart will help you determine which personalized photo shirts are the best fit for you.
If I am ordering for a group, how much should I get of each size?
If you go to our Sizing section, there is the bold sentence, "Need Size Recommendations?" Below is a link that says "here". If you click on this, the sizing field will automatically load with the quantity recommendation for each size. The quantity for each size depends on which sizes are the most popular. This is a great option if you are buying custom photo t shirts in bulk.
How fast will it take to deliver my personalized shirts with pictures?
Our standard turnaround time is 3 business days to print the design on the custom picture shirts. Standard shipping time is 3-5 busines days after they are produced. All t shirt photo orders receive free shipping.
If you need to expedite your custom photo t shirt order, we offer rush options that require an additional fee. Rush options can be applied to your order at checkout or viewed in our delivery estimator.
California Residents

Click here for Proposition 65 warning
Print Picture on Shirt Demo Video
Frequently Purchased With
Q & A
Reviews