configurable 0 0
Custom printed solutions in 3 simple steps.

1. Choose from 3 Design Methods
Click the Proceed to Artwork button to choose Design Online, Upload Template, or Free Design Services.

2. Receive & Approve Your Proof
We'll process your artwork within 2 business hours and send a proof for your approval via email.

3. We'll Bring Your Idea to Life
Our standard turnaround time is 3 business days plus shipping with expedited options available.
Custom Photo T-Shirts Details
Photo t shirts are a popular custom item used for a wide range of applications. Our shirts are crafted from comfortable polyester and are printed using dye sublimation for top-of-the-line graphics that won't fade or wash out. Upload photos, logo files, and graphic designs for print on the front, back, or both sides of the shirt. We offer bulk discounts and require no minimum order quantity, allowing you to order as little or as many shirts as you would like - at everyday low prices.
Parts List:
Custom printed photo t-shirt (Jerzees®)
Material:
Specifications
|   | S | M | L | XL | 2XL | 3XL |
| --- | --- | --- | --- | --- | --- | --- |
| Dimensions | 26.75in x 29in | 28.5in x 32.25in | 28.75in x 36in | 29.25in x 36.75in | 31in x 38.25in | 31.75in x 42in |
| Logo Dimensions | 15in x 17in | 15in x 17in | 15in x 17in | 15in x 17in | 15in x 17in | 15in x 17in |
| Weight | 0.3lbs | 0.4lbs | 0.45lbs | 0.5lbs | 0.55lbs | 0.6lbs |
| Part Number | AP2000 | AP2001 | AP2002 | AP2003 | AP2004 | AP2005 |
Create Your Design: 3 Easy Methods
Choose one of the three design methods listed below. All design submissions are proofed by our pre-press team for any errors or artwork issues. We will email you a free digital proof of your design for your approval before we begin printing your shirts.
Design Online: Design your shirts online, in real time using our online design tool. This tool makes it easy to upload artwork and picture files directly from your computer and includes text options, background designs, clip art, and more.
Upload Artwork: To design using this method you must download the artwork template, add your artwork to the template using design software, and reupload the completed template to your account, before or after checking out.
Free Design Services: Let us design your shirts for you – for free! Just send our team any artwork files you may have or some design ideas and we will correspond with you until the designs are completed and applied to your shirts.
Premium Quality Shirts Crafted to Last
As mentioned above, we print our custom photo t shirts using dye sublimation. This state-of-the-art printing technique infuses the ink directly into the polyester fibers of the shirt, creating full-color, seamless graphics that won't peel or wash out, and are safe for machine wash. We make our shirts from a knitted polyester material. This comfortable fabric is soft to the touch and designed for long term durability and repeated wear.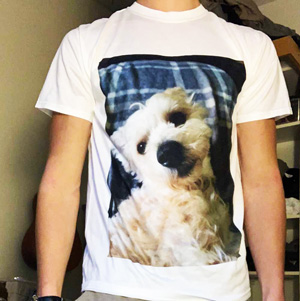 Frequently Asked Questions
What is the turnaround time?
Our standard turnaround time is 3 business days. If you need your shirts as soon as possible, we offer rush production as fast as one business day. We also offer expedited shipping options at checkout. To preview your delivery date, click the "Estimate Delivery" button located at the top of the page.
What material are the shirts made from?
Our t shirts are Jerzeez® brand polyester shirts. These shirts are designed for a comfortable fit and enhanced durability.
Can I personalize my shirt with artwork or logos, rather than a photo?
Yes, while these are custom photo shirts, you may customize shirts with pictures, graphics, logos, brands, and more.
Can my image or design cover the entire shirt?
No, for this product your photo or design will be centered on the front or back of the shirt, or a combination of both. However, we do offer all over print t-shirts available in youth and adult sizes.
How do I know which size to order?
See the specifications chart above for the exact dimensions of each shirt size. The imprint dimensions remain the same no matter which photo printed t shirts size you choose.
Does it cost extra to add multiple colors?
No, it does not cost extra to add multiple colors to your shirt design. We offer t-shirt photo printing with unlimited colors for no extra cost.
If I am ordering for a group, how many should I order of each size?
If you go to our Sizing section, there is the bold sentence, "Need Size Recommendations?" Below is a link that says "here". If you click on this, the sizing field will automatically load with the quantity recommendation for each size. The quantity for each size depends on which sizes are the most popular. This is a great option if you are buying custom photo t shirts in bulk.
California Residents

Click here for Proposition 65 warning
Print Picture on Shirt Demo Video
Frequently Purchased With
Q & A
Reviews