Yard Signs
Promote a brand or an event from a front lawn with these yard signs. Made from durable corrugated plastic, these signs can be displayed indoors and outdoors and are crafted to last. Get your own personalized graphics printed in bright, vibrant colors that are sure to stand out and grab the attention of passersby. Plus, the great bulk pricing allows you to order as many needed without minimum order quantities. Advertise a house for sale, a birthday party, or support someone running in a local election with these custom yard signs.
Bulk Discounts | No Minimums | Design Online or Upload Template | 4-6 Day Turnaround | Rush Options | Free Proof | Pay Later
Looking for our yard letter signs?
Why Yard Signs?
Custom signs are an incredibly popular and recognizable form of getting a message "out there". Corrugated plastic lawn signs are easy to print on and offer bold, crisp colors. Whether you are printing a message with different texts and clipart or a personal photo image, the graphics are sharp and easy to see from a distance. Not only is the quality of these signs great, but custom yard signs are made cheaper than personalized banners and flags. Just because they come at a lower price, however, does not mean that they are shabbily made. Lawn signs are typically cheap because the corrugated plastic is lightweight (making shipping costs low) and easier to print in bulk. Despite their affordable pricing, custom lawn signs can be reused if they are cared for properly, making them an economical choice, as well.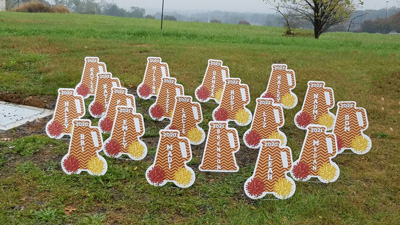 Create Custom Yard Signs Online
You can make a personalized lawn sign with your message online. We offer three simple options for uploading graphics to suit different levels of design experience.
Online Design Tool: On all our custom product pages, we have a "Design/Upload" tab in the configurator. Clicking on this tab will display the design options. If you would like to use our online design tool, click on the "Design Online" link. This will open your browser to the product template online, where you can add your own graphics, stock clipart, fonts, text boxes, and backgrounds to your yard signs.
Upload Artwork Template: If you would rather design the product template using a program on your computer, such as Adobe Illustrator®, there is a download option. On the "Design/Upload" tab, there is a downloadable "Artwork Template" link. Clicking on this will automatically download the template onto your computer. When you are done customizing the template, you can upload the file before or after placing your order.
Free Design Services: Are you inexperienced with design or do not have a professional graphic designer to help you? Do not worry, we are here to help! If you contact customer service, they will help you place an order and our pre-press team will design your product at no additional cost. All that's required are your specifications regarding your design. They will send you a design proof to approve before the custom yard signs are printed.
Made From Durable 4mm Corrugated Plastic
All our lawn signs are made from 4mm corrugated plastic. This is the most common material used for front lawn signs and is a go-to for real estate businesses and political campaigns. Corrugated plastic is two plastic sheets with flutes in the middle. It is very lightweight, but it is also long-lasting. The material is weather-resistant and UV-protected, which allows it to be displayed outdoors for an extended period. It should, however, be taken down if there are severe windy conditions. If the sign is exposed to a lot of force, it can bend, causing a permanent crease. The material, overall, can withstand ordinary inside and outside use and can even be reused due to its durability.
How to Set Them Up
Our custom made lawn signs can be set up in a few minutes without the need for tools. Our yard signs have the option of coming with display hardware, such as a beefy stake or an H-stake. Depending on the size of the sign, more than one beefy stake or H-stake might need to be applied. These stakes are easily pushed into the ground or any soft surface until they are taut. For the H-stakes, pressure can be applied to the middle for easier assembly.
Once the stakes are inserted into the ground, the sign is added by inserting the top of the stakes through the flutes of the sign. The fluting is the section between the two plastic sheets. This is all that is required to set up the sign with these stakes. If you are using the real estate sign hardware, the frame is placed into the ground the same way, but the sign is attached with the included push buttons. The buttons connect to each other by being pressed through the holes on the corners of the sign and frame.
If you would like to see a step-by-step process of how to set up these advertising signs, we include instructional videos on all the product pages.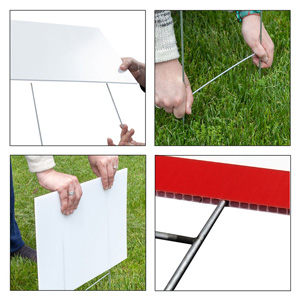 Common Uses for Yard Signs
Yard signs can be used for a variety of businesses and events. One of the most common brands is the real estate business. Placing these signs into a yard lets drivers and walkers know that a house is for sale or for rent. Another popular use for these signs is for political campaigns. Candidates running for office can promote their name and what they are running for by displaying custom yard signs in the lawns of their supporters. These signs are very recognizable when a local, state, or national election is approaching.
These personalized signs do not just have to be used for business. They can also be setup for personal events or as yard decorations. One increasingly popular use for these signs is for announcing a birthday, an anniversary, or another special party. Party-styled yard signs can be used to celebrate people of all ages. Since these advertising signs can be seen from the road, they are especially helpful for home and venue display since they can let attendees driving by know they have arrived at their destination.
Yard signs can also be used to bring awareness to school sporting events, celebrate graduations, offer seasonal greetings, and much more.
Frequently Asked Questions
Can I order yard signs in double-sided printing?
We offer both single and double printing. When you click on a yard sign product, there is a radio button for "Single-Sided" and "Double-Print". Double print is like double-sided, except the graphic is printed on both sides of the material rather than the reverse image being presented on the other side. Double print also includes the option for having two different designs on both sides. If you have multiple designs to be printed, we have a "Multiple Design" button located on the "Design/Upload" tab.
Will the signs cost more if a lot of colors are used?
We offer discounted printing if you plan on using only 1, 2, or 3 colors on your custom yard signs. If you choose full color printing, however, the cost will not go up if you use five or twenty colors. We print in full CMYK colors, which allows you to add as many colors as you want to your image without it affecting the final price.
What kind of printing is used?
These advertising signs are digitally printed using UV resistant inks. This form of printing creates striking, eye-catching colors and the graphic will not peel or rub off from the outdoor weather. What are common yard sign sizes?
If you go to the configurator on the yard signs pages, we have the most common sizes available to select. We also include the option for custom sizes where you can add your own width and height. The width and height are available in 10-48 inches. The stock message products are available in one common size.
Do you offer custom shapes?
You can create your own custom shape for your lawn signs with the Custom Shape Yard Sign product. This sign will be cut to your requested shape so that you can get such unique designs as cars and animals. If you would like a simple shape that is still different from the traditional rectangle shape, we also have a Stock Shape Yard Sign option where you can select such fun options as a ribbon or a heart. We also include a special birthday stock shape called our Happy Birthday Balloon Sign specifically tailored as a party decoration.
Can I order a blank yard sign?
If you would rather write on our corrugated plastic material or staple fabric over it as your own DIY project, we have the option to order a blank sign. If you go to our custom products, you can fill out the configurator for the size and hardware, but when you get to the template leave it blank. We will then send you a blank white yard sign for you to use.
Is the material strong enough to be reused?
Yes! Corrugated plastic is very lightweight, but that does not mean it is flimsy. The material can handle regular outdoor conditions and still be in great shape due to its weather resistance and UV protection. This allows you to use the yard signs for more than one occasion.
How do I clean my yard sign?
If you want a long life for your custom yard signs, it is important to keep them clean. If your sign is being displayed indoors, a simple damp cloth can be used to remove dust. If the sign is being used outdoors, then use a damp cloth with warm water and mild soap detergent to remove dirt and debris.
How should I store them?
Another way to ensure a long sign life is to store them properly. The lawn signs should be kept in a dry room that will not get hot or humid. The advertising signs should be removed from the stakes when being kept in a closet or basement so that the hardware will not scratch the print. It is also important to place the signs in a place where they will not get bent. If the signs bend and crease, it will be permanent.
What our customers have to say