configurable00

Need help? Hire one of our professional graphic designers at no additional cost!

Choose 'Pay Later' at checkout and receive a free proof
before submitting payment.

Design Online or Upload Template
Create custom products using our online design tool or provided template files.
Teardrop Flags Details
Advertise your business or a sale at a trade show or in front of your shop with custom teardrop flags. These advertising banners are for indoor and outdoor use, but are most commonly set up outdoors. They are made from durable outdoor flag polyester, which is a tear-resistant material that can withstand different weather conditions. These flags are also easy to assemble due to the lightweight hardware that does not require tools. The print of the teardrop banner flags is also weather-resistant due to the dye sublimation printing process. Get started with one of our three artwork options and we will print on the flag in full color.
Parts List:
Your custom-printed teardrop banner
Your choice of standard or premium pole set
Standard ground stake or cross stand with weight bag
Optional upgraded carry bag
Material:
Outdoor Flag Polyester: Tear-resistant lightweight knitted fabric with excellent thru-print (3.25oz/yd²)
Standard Pole Set:
Aluminum and fiberglass construction
Single-reverse flags withstand 30mph winds
Double-sided flags withstand 17mph winds
Recommended for indoor use or outdoors in low winds
Premium Pole Set:
Aviation-grade fiberglass construction
Single-reverse flags withstand 63mph winds
Double-sided flags withstand 46mph winds
Recommended for outdoor use
Additional Notes:
Disclaimer:
Do not use near overhead wires or allow flag to blow against structures. Allow a 4ft-12ft radius from base for flag clearance depending on size. See assembly sheet for complete instructions.
Standard Pole Set Specifications
Size
Part Number
Flag Size
Height Above Ground
Weight
Bottom Pole Diameter
XXSmall
BO0101
1.3' x 2.6'
3.6'
0.5lbs
Inner: 17mm (+/- 0.2mm)
Outer:19mm (+/- 0.2mm)
XSmall
BO0120
1.8' x 4.3'
5.2'
0.7lbs
Inner: 17mm (+/- 0.2mm)
Outer: 19mm (+/- 0.2mm)
Small
BO0130
2.5' x 5.6'
7.2'
0.8lbs
Inner: 17mm (+/- 0.2mm)
Outer: 19mm (+/- 0.2mm)
Medium
BO0131
3.1' x 6.7'
8.4'
1lbs
Inner: 17mm (+/- 0.2mm)
Outer: 19mm (+/- 0.2mm)
Large
BO0135
3.6' x 8.7'
11.0'
1.4lbs
Inner: 17mm (+/- 0.2mm)
Outer: 19mm (+/- 0.2mm)
XLarge
BO0138
3.9' x 11.8'
14.1'
2lbs
Inner: 17mm (+/- 0.2mm)
Outer: 25mm (+/- 0.2mm)
Premium Pole Set Specifications
Size
Part Number
Flag Size
Height Above Ground
Weight
Bottom Pole Diameter
Medium
BO0212
3.1' x 6.7'
8.4'
1.1lbs
Inner: 17mm (+/- 0.2mm)
Outer: 26mm (+/- 0.2mm)
Large
BO0312
3.6' x 8.7'
10.5'
1.4lbs
Inner: 17mm (+/- 0.2mm)
Outer: 26mm (+/- 0.2mm)
XLarge
BO0160
3.9' x 11.8'
14.4'
2.1lbs
Inner: 17mm (+/- 0.2mm)
Outer: 25.5mm (+/- 0.2mm)
Double Sided Teardrop Flags
Our single sided option is really a single reverse format, which is different from single sided flags. When a drop banner is single sided, the print is seen on one side while the other side is left blank. For our single reverse layout, however, we print the graphic on one side of the teardrop banner and the ink bleeds through to the other side. By doing this, the reverse image appears on the other side of the flag so that the message is seen from both sides. This is the cheaper option of the two.
For a clearer print on both sides, there is the double-sided option. For this version, we print the design on two separate pieces of polyester and sew them together. We place a liner in between the layers so that the design of one side is not visible on the other. This means that you can get two separate prints on each side. This option also shows the image correctly on both sides rather than having the reverse on one side. We recommend this for designs with a lot of text.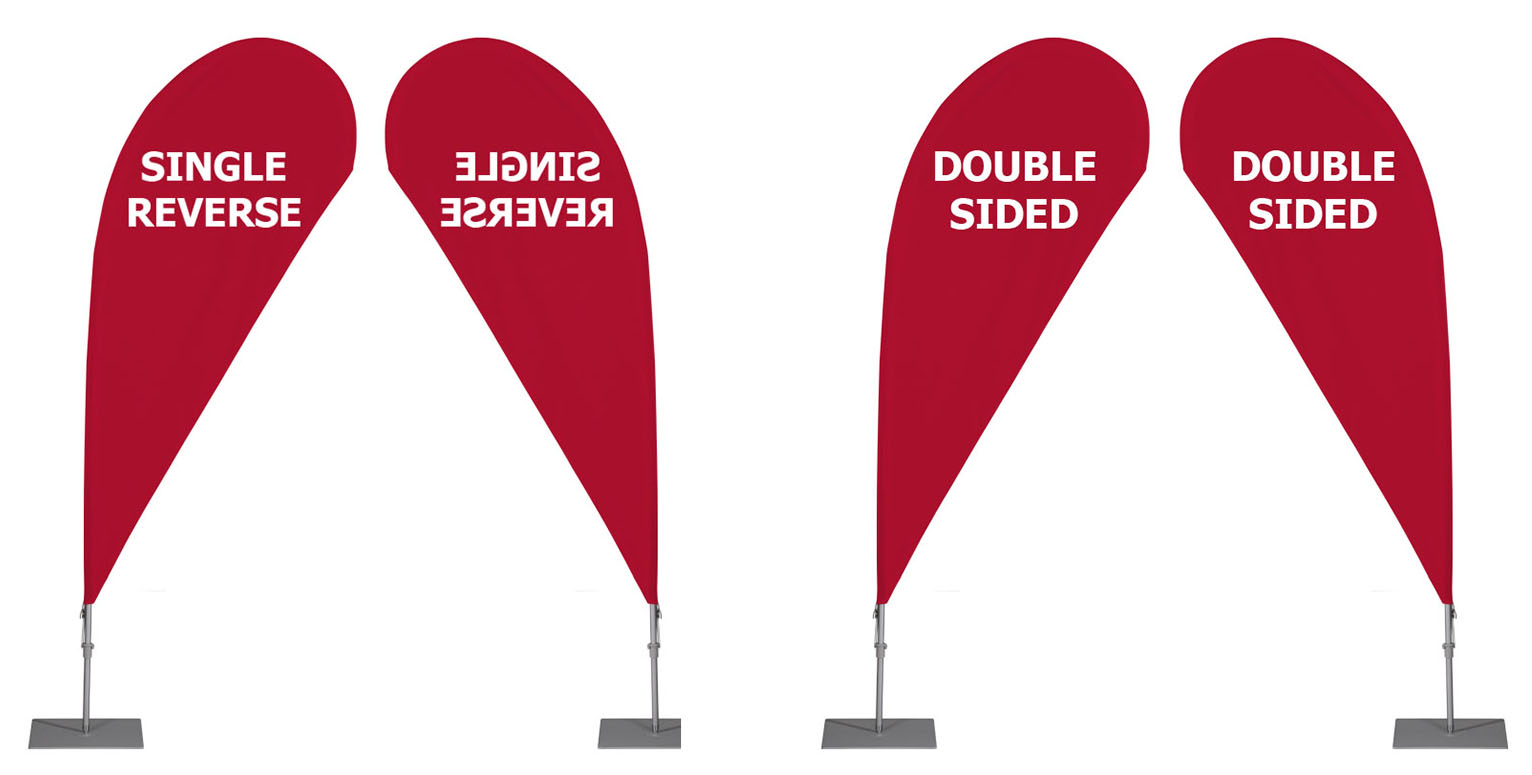 How to Set Up Your Teardrop Flags
Installing your teardrop banner and pole set is simple and only requires a few minutes. Follow the step-by-step graphic below or go to our "Videos" tab to see an instructional video.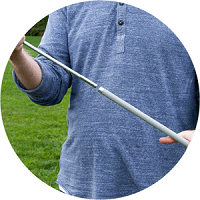 1. Connect the pole set by inserting the smaller pole into the larger pole.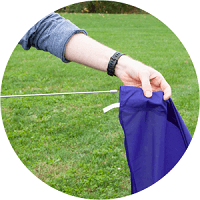 2. Slide the pole pocket down the pole until the teardrop banner is taut. Secure the top of the pole into the reinforced section of the flag banner.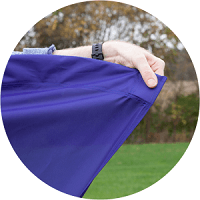 3. Push the pole into the pocket and secure the tip into the reinforced end pocket found inside the top of the flag.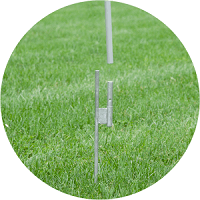 4. Connect the bottom of the pole set to the top of your base choice.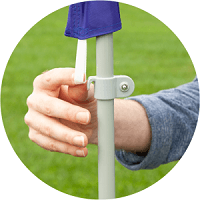 5. Further secure your custom teardrop flags by pulling the banner loop over the hook on the pole set.
Teardrop Flag Banners - Frequently Asked Questions
What is the difference between this flag and other flags?
The wide shape of the teardrop flags makes them stand-out from the standard rectangular flag shape by leaving more room for your custom print. This flag, like many other feather flags, also always remains taut. This means that the custom design on the flag is always visible, even if there is no wind.
What are teardrop flags commonly used for?
Drop banners are commonly seen at events and in front of businesses. These custom flags are for adverting a business name, a sale, a special occasion taking place, etc. to spread brand awareness or notify the public to something occurring. Some events, such as festivals and fairs, display teardrop banner flags at the entrance and some stores stake them in grass outside. Feather flags are mainly for getting a message across to people driving or walking by, so they are setup in many places for diverse promotions.
What material are they made of?
Our teardrop flags are made from outdoor flag polyester. This is a special polyester material that has great tear-resistance, making it ideal for withstanding different weather conditions. The knitted material also has a great thru print for single reverse formats.
What is the difference between single sided and double sided teardrop flags?
We offer either single reverse or double-sided printing options. For the single reverse option, we print the graphic on one side and the reverse image bleeds through to the other side. This is more lightweight and affordable compared to the double-sided option. The double-sided option, on the other hand, has the image correctly printed on both sides with a liner sewn in between the layers. No matter which options you choose, you will have the best teardrop flags.
What is the difference between the base options?
The base options are for how you want to set up your teardrop flags. If you are staking your flag into the dirt or grass, choose the ground base to push into the soil. If, on the other hand, you are placing your teardrop banner flags on a flat surface, such as pavement or indoor floors, the cross base supports the flag. The additional weight bag is for adding weight to the cross base to further stabilize the flag. If you plan on using your teardrop banner signs in a variety of settings, you can get both bases.
What other advertising flag shapes do you offer?
Teardrop advertising flags are just one popular flag shape that we offer. Popular alternatives include double sided feather flags. Other premium shapes, such as rectangular and razor styles, are also available for purchase.
Can I just buy the flag without the hardware or vice versa?
Yes. If you just want the flag print, you can select "No Pole Set" while configuring your product above. You can also select "No Case" and "No Base" at the bottom of our configurator. If, on the other hand, you just want the hardware, we offer the pole set as a separate product.
How do I clean my teardrop banners?
These teardrop flags are washable, but it is important to wash them on a delicate cycle with soft detergent. Do not use bleach. We recommend washing the flag by itself rather than with other fabrics. When you are done washing the flag, hang it out to dry outdoors. If the flag has wrinkles, do not iron it. The wrinkles will remove themselves when you dry the teardrop flags.
California Residents

Click here for Proposition 65 warning
Standard/Basic Teardrop Flag Wind Speed Test
Premium/Plus Teardrop Single-Reverse Wind Speed Test
Frequently Purchased With
Q & A