configurable 0 0
Custom printed solutions in 3 simple steps.

1. Choose from 3 Design Methods
Click the Proceed to Artwork button to choose Design Online, Upload Template, or Free Design Services.

2. Receive & Approve Your Proof
We'll process your artwork within 2 business hours and send a proof for your approval via email.

3. We'll Bring Your Idea to Life
Our standard turnaround time is 3 business days plus shipping with expedited options available.
Custom Folding Carton Boxes Details
Looking for a custom printed solution to package your products? These custom carton boxes are designed to be foldable, which means they have different closing styles to choose from. The posterboard material is easy to fold, but also durable enough for storing your products due to its coating. You can have the entire outside of the box custom printed with your unique design to showcase your brand in an eye-catching and professional way. We print on the material using a digital printing technique for striking colors that will not fade or peel off the box. Create stunning, closable product packaging for your customers with these custom folding cartons.
Parts List:
Custom printed carton with a variety of bottom closing options; ships flat and assembles easily
Box Closing Style:
Top:
Bottom:
Standard Reverse Tuck
Snap Lock Closure
Full Flap Automatic Closure
Material:
18pt Posterboard C1S: Coated one side white solid bleached sulphate (SBS) board
Order Custom Folding Carton Boxes Online
We have three ways for you to send us the artwork you wish to print on your folding cartons. These methods accommodate all kinds of design expertise and preferences so you can easily customize the carton box template.
Design Online: Our online design tool allows you to design your carton boxes online, in real-time without leaving our website. This tool allows you to upload any logo or other artwork files onto the template and further customize the graphics using text boxes, clipart, backgrounds, and other helpful features.
Upload Artwork Template: If you prefer designing your custom foldable boxes in a software program on your own computer, then choose this option and download the artwork template. Personalize the template using your own computer software and reupload the finished file back to our website before or after placing your order.
Free Design Services: Need help designing your folding cartons? Have one of our professional designers customize the artwork template for you. Send us any files you want included and your suggestions, and we'll take it from there at no additional cost.
Custom Carton Boxes in Multiple Sizes
Our folding carton boxes are created to fit a wide range of products to suit all kinds of businesses. That is why we offer a variety of popular carton sizes to select from. The dimensions go as small as 3in x 3in x 3.5in to as large as 8in x 8in x 3in. The smallest size is great for storing such items as small jewelry while the larger size fits things like picture frames and flatware. Make sure you know the measurements of your product before deciding what size box to get so that your products fit comfortably inside your carton.
Reliable Custom Carton Packaging
These custom carton boxes will keep whatever you place inside secure during travel due to its protective posterboard material. The board is thick, but still easy enough to fold into the chosen closing style. One side of the posterboard is coated with a strong, solid bleached sulphate for durability. This material is white, which yields incredible, vibrant printed results. Your custom graphics are guaranteed to last due to our state-of-the-art digital carton printing technique that produces unlimited CMYK colors. This means that your design can include unlimited colors without affecting the price. This printing method utilizes UV-resistant inks and ensures that the printed graphics will not scratch, peel off, or fade, even after long periods of time.
Styles of Folding Carton Boxes
We have three different box closing styles to choose from for your eCommerce business and brand. Each one requires unique instructions on how to assemble them.
Snap Lock Bottom
This type of packaging has a tuck flap on the top and snap lock flaps on the bottom for extra strength. This folding style creates a sleek, professional looking box for your product.
Recommended for moderately heavy products
Tuck the two dust flaps into the box.
Push the other flap in the box, over the dust flaps. The hinge on the end tucks into the box.
For the bottom, push the grooved top and side flaps into the small slits of the bottom flap.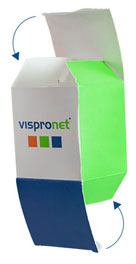 Standard Reverse Tuck
This version of closing your carton box is very common and simple to do. The top and bottom flaps of the box are closed the same way.
Most popular choice for eCommerce brands
Tuck the two side dust flaps on the top down.
Push the remaining flap over the two dust flaps. Make sure the flap's hinge is tucked into the box.
Assemble the bottom flaps in the same fashion.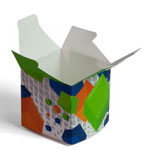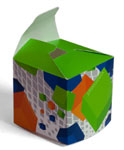 Full Flap Automatic Bottom
This final option comes with a pre-glued bottom, so all that needs to be assembled is the top section. The full flap automatic bottom folding box ships flat to save you on shipping costs.
Recommended for heavy products
Fold up the flat carton. The bottom will fold into place.
On the top section, tuck the two dust flaps down.
Push the final flap over the two side flaps. The hinge on the edge of the flap should tuck into the printed carton box.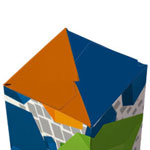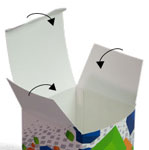 Satisfied Customers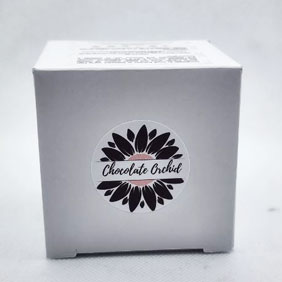 Frequently Asked Questions
What is the turnaround time?
Our custom folding carton boxes require our standard 3 day turnaround time plus shipping. Check out our Delivery Estimator to see what options we have for your area. If you need your boxes by a certain time, we offer rush production and shipping times for an additional charge at checkout.
Is there a minimum order quantity?
No, we designed our custom folding boxes not to have a minimum order quantity. Order as many as you need for a bulk order or just one for a sample. Type the exact number of cartons you want in the Quantity box.
What material are the custom printed folding cartons made from?
We make our custom folding cartons from our 18pt posterboard material. This kind of material is stronger compared to regular, store-bought posterboard because the one side is coated for extra durability. The pliable posterboard material is ideal for these boxes because it is easy to fold into your preferred style.
What printing technique do you use on the collapsible cartons?
Our carton packaging is printed the same way as our other box products. We use a modern digital folded box printing method to recreate your custom design. This technique is effective because not only does it create striking colors, but it also prevents the print from scratching, fading, or peeling off. The durability of the print makes it ideal for short and long-term use. We also utilize full CMYK color printing, which allows you to use as many colors and details as you want in your design without it costing you more.
Can I order a sample of folding carton packaging?
Yes. If you're looking for a sample, simply change the quantity box to "1" to order a single box and inspect our product before placing a bulk order. We recommend ordering a sample to make sure your product or contents fit inside the box.
How much do these custom carton boxes cost?
The size and quantity of your order determines the price. All carton folding styles are available at the same price. We offer bulk discounts to accommodate wholesale prices. Increase your quantity and pay less per carton.
What other types of boxes do you have?
Aside from custom folding carton boxes, we carry other types of boxes for all kinds of uses. We also carry custom mailer boxes, which are perfect for subscription boxes. There's our durable shipping boxes designed for mailing out several products to customers. Finally, there's also our wine boxes, which are designed for wineries and as gift boxes.
California Residents

Click here for Proposition 65 warning
Q & A
Reviews