Trade Show Lighting
Looking to shine a light on a new product so you can get it under the limelight? Want to illuminate an important piece of your convention exhibit or trade show display? No matter what kind of trade show lighting you need, we've got products that can put your brand and products up in lights for all to see. Read more
Using Trade Show Display Lights To Attract Your Visitors
When you're trying to attract an audience, there's one thing that you need to keep in mind: how is your booth lit?
To figure out how you want your booth to be lit, you have to consider why you're lighting your booth the way that you are. There are three main ways that successful booths use their lighting:
To attract customers
To set the atmosphere of their booth
To focus customer attention
When you're attracting customers to visit your booth, less is often more. You don't have to broadcast the Bat-Signal on the ceiling or set up a full laser light show with strobes and colors. Put some careful thought into how you're going to catch your customer's eye across the room. Think of the different types of lights at your disposal as tools to help you reach your goal, not the goal itself.
One of the best ways to attract customers and subsequently set the atmosphere of your booth is by using proper lighting – but "proper lighting" often depends on what you're illuminating.
Are you illuminating people? Go for warm lights like halogens – they're much more flattering to people, especially when compared to the cooler blue lights like LEDs, which can make your sales associates look pale and pallid.
Illuminating products, on the other hand, is best done with cooler trade show display lights, which can help pick out details and draw the customer's eye exactly where you want it.
Once you've illuminated your people and your products, it's time to accent the highlight – this is a great way to focus customer attention. Use your lighting to direct people's gaze to where you want them to look.
Here's what you should be highlighting, at the very minimum:
The logo. People won't stop if they don't know who you are.
Company branding. If someone has to stop and think about what your company does, they're even less likely to actually stop at your booth.
Any products that you want to highlight. Highlighting products brings attention to them and can help clarify what your company does.
Warm lighting and cool lighting: what's the difference?
We've made several mentions of "warm" and "cool" when it comes to lighting, but what do those words actually mean?
Light bulbs are divided by color temperature: softer, "warmer" lights have a lower color temperature, while harsher, "cooler" lights have a higher color temperature.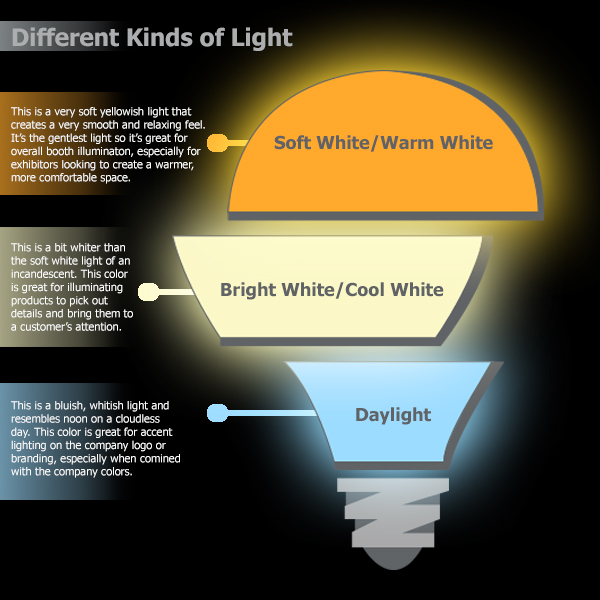 The three main color temperatures for bulbs are Soft White (2700 – 3000K), Bright White/Cool White (3500 – 4100K) and Daylight (5000K+). All color temperatures are listed in degrees Kelvin (K). The higher the temperature in degrees Kelvin, the whiter the color temperature – even among lights in the same color temperature range. A 3000K light will be whiter than a 2700K light, even though they're both listed as Soft White.
LED vs Halogen
Halogens and LEDs are the classic example of warm and cold light. A 100-watt halogen bulb has a color temperature of 3000K, right at the end range of the Soft White spectrum above: LED lights, on the other hand, range anywhere from 4000K (Cool White) to 7500K (Daylight). Aside from the obvious color temperature differences between LEDs and halogen bulbs, there are some other differences between the two:
| | | |
| --- | --- | --- |
| Features | LED | Halogen |
| Heat emissions | 10% - 20% of total energy | 80% - 90% of total energy |
| Power consumption | 8 watts (.008 kilowatts) | 90 watts (.09 kilowatts) |
| Lifespan (hours) | 50,000 - 60,000 hours | 800 - 1,200 hours |
| Cost (USD) | $15 - $20/bulb | $3 - $5/bulb |
| UV emissions | None | Minimal |
Still not sure what bulbs you want to go with when it comes to your exhibit lighting fixtures? Not only do we offer most of our trade show lighting options in both LED and halogen, but we've put together a handy halogen & LED calculator so you can see which fits your budget better.
When it comes to purchasing your trade show display lights, Vispronet offers several different options, each with their own benefits.:
Item Name
Wattage
Lumens
Voltage
Estimated Lifetime
LED Push Light
3.2 W
65 LM
N/A
N/A
Display Light
50 W
N/A
N/A
N/A
Roll Up Banner Stand Light
50 W
N/A
110/220 V
N/A
LED Bulb for Roll Up Banner Stand Light
6.5 W
500 LM
120 V
50,000 hours
Color-changing Bulb for
Roll Up Banner Stand Light
3 W
N/A
265 V
N/A
Halogen Pop Up Portable Booth Light
150 W
1200 LM
110/220 V
1,500 hours
LED Pop Up Portable Booth Light
21 W
1800 LM
85/265 V
50,000 hours
Wide LED Display Light
16 W
1300 LM
100/240 V
50,000 hours
9" LED Light Strip
9 W
80 LM
12 V
50,000 hours
20" LED Light Strip
18 W
80 LM
12 V
50,000 hours
T5 Tube Light
8 W
N/A
110/220 V
30,000 hours
LED Flood Light
30 W
2700 LM
90/260 V
50,000 hours
RGB LED Flood Light with Remote
30 W
2700 LM
90/260 V
50,000 hours
Some of our trade show display lights are designed to be used with specific backdrops or banner stands from our product catalog. When you visit the category page for these items, simply select the type of display booth lighting that you need.
Trade Show Display Lights for Pop Up Displays
If the main section of your trade show exhibit is a tabletop display or pop up booth, you shouldn't have to sacrifice the ability to use lighting in your favor just because you're taking up less space. Your lighting should still be doing a good chunk of the work when it comes to getting customers to your trade show table.
The most common lighting option for our table top displays and pop up displays is a clamp-on light, but we also offer pop-ups with their own backlighting system if that's more your speed.
Attaching clamp-on lights to your displays is as simple as putting the light where you'd like it and clamping it down, which means that you can illuminate your display any way you want.
Our clamp-on lights come in both halogen and LED varieties, so you can set up your displays to use exactly the kind of light you need to set the atmosphere that you want.
Using one of our curved booths? Put lights on the top and sides so that you can illuminate any part of your company's branding or message that you want.
Lighting for Roll Up Banners
No matter which banner size you choose, you don't have to sacrifice brand exposure. One of the best ways to point customers in the direction of one of your roll up banners is to use a banner stand light.
These lights attach right to the back support pole of our banner stands – no need for clamps. With its color temperature hovering right around 3000K, the 50-watt halogen bulb included with this light is great for when you need some warmer lights in your display to set an atmosphere or to keep your associates (and your customers) looking healthy and vibrant.
No matter whether this is your first convention or you're a veteran of the trade show circuit, a well-lit exhibit is crucial for capturing the attention of convention attendees and other passersby. People are interested in things that make them stop and wonder "How did they DO that?" As you make deliberate decisions when it comes to what kinds of lighting you want for your trade show exhibit, both that question and the principles outlined here are a great guide when it comes to wowing your potential customers with a sophisticated trade show booth.