configurable00

Need help? Hire one of our professional graphic designers at no additional cost!

Choose 'Pay Later' at checkout and receive a free proof
before submitting payment.

Design Online or Upload Template
Create custom products using our online design tool or provided template files.
Custom Face Masks Details
Help flatten the curve and protect your employees and loved ones with stylish custom face masks with logos from Vispronet. Our masks are reusable, machine washable, and are designed with a double-layer of anti-microbial polyester fabric on the outside and soft cotton on the inside for extra safety and maximum wearability. Each mask is printed using dye-sublimation for a high-definition, fade-resistant print that is unmatched by our competitors. Easily add your business logo or personalized artwork through our online design tool or downloadable templates. Start designing your custom masks with logo online today!
Parts List:
Reusable 2-layer face cover finished with soft elastic ear bands
Material:
Anti-microbial polyester on the outside, cotton on the inside
Additional Notes:
Wash in a washing machine on a cold setting to sanitize
Our masks are not intended to be used as a medical device or personal protective equipment (PPE)
Specifications
| Size (Flat) | Size (Expanded) | Weight |
| --- | --- | --- |
| 9in x 4in | 9in x 6.75in | 2oz |
Design Custom Face Masks with Logos Online
Popular uses for our printed masks range from individual, personalized masks to bulk quantity orders for businesses that are looking for a way to keep their employees protected while enhancing their brand. At Vispronet®, we offer our customers three different ways to create the perfect custom printed face mask that fits your needs. 
Design Online: Create your personalized face mask in real-time by using our online design tool to upload logos, images, and more. Choose from a variety of fonts, clip-arts, and backgrounds to include in your customized mask. Use the design tool at any time - before or after placing your order. Once you've finished your design, it will be sent to our pre-press department for review.
Upload Template: This option is recommended for skilled graphic designers. Download the product template from the 'Design / Upload' tab and opt to design your face mask in your own software. Save the template file and re-upload the finished template to our website before or after placing your order. Once you've uploaded the template to your order, our pre-press department will review the file to ensure it prints to your standards.
Free Design Services: If you need assistance in creating your custom face mask artwork, our professional graphic designers can assist you at no additional cost. Need to recreate your logo at a higher resolution? Send us your logo files, ideas, and requirements and our designers will come up with a masterpiece that you will love!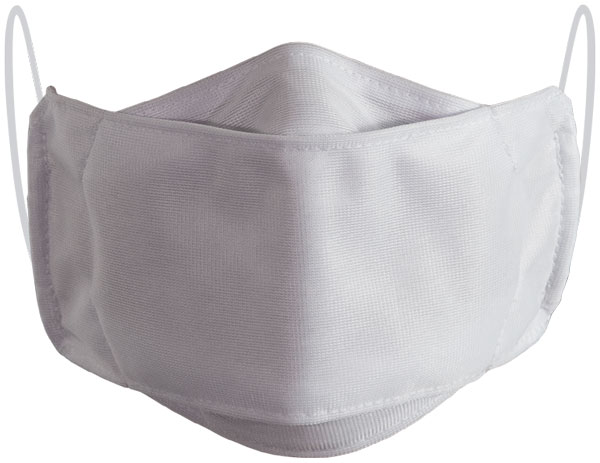 Double-Layered Protection
Each mask is made with a layer of antimicrobial polyester fabric on the outside and a layer of super-soft cotton on the inside for maximum comfort and protection.

No-Fog Mask Design
Our face masks are specially designed to fit snugly and comfortably against your face, ensuring your glasses will not get foggy even during long periods of wear.
Antimicrobial Fabric
Each custom face mask is made with an outer layer of antimicrobial fabric, offering extra protection against germs, viruses, and other hazardous microbes.
Washable and Reusable
These masks are 100% machine washable for easy cleaning. Each face mask is printed using dye sublimation for vibrant, full-color graphics that are resistant to fading.
Custom Printed Face Masks: Why Choose Vispronet?
Fully Customizable: Every inch of our premium face mask is 100% customizable. Design your custom face mask with logos, customized artwork, and unlimited colors for no extra cost.
Trusted Experience: Vispronet has over 15 years of experience servicing customers by creating, designing, and printing custom designs for a range of products.
Premium Quality: All of our custom face masks are crafted with a double-layer of anti-microbial polyester on the outside and plush cotton on the inside for maximum comfort & wearability. Whether you design your custom masks with logo print or with all-over print, each mask is printed using dye-sublimation - a top-of-the-line printing technique that makes for a vibrant, machine-washable finish.
Leading Customer Service Team: With over a decade of experience in printing, our customer service department is professionally trained and knowledgeable to answer any questions accurately and comprehensively. There are multiple ways to get in contact with our customer service department including by chat, phone, form submission, and email. Our customer service center is located at our headquarters in Carlisle, PA, and is ready to help if you have any questions or concerns.
Safely Applying and Removing Your Custom Face Mask
Before you apply your custom printed face mask, it is very important that you wash or sanitize your hands. This is to avoid contaminating your mask before it touches your face. 
To safety apply your face mask, carefully pick your mask up by the straps and put it behind one ear followed by the other. To properly cover your face, ensure the mask is covering both your nose and mouth. You also want to make sure that it is not too tight or loose and fits comfortably so you don't have to keep adjusting it. While your mask is on it is important to remember not to touch the front or inner lining of the mask to avoid contamination.
Wash or sanitize your hands before removing your custom face mask. When removing your mask, be careful not to make contact with your nose, eyes, or mouth as the virus could be on the outside of the mask. Take your mask off from back to front, meaning take off the ties or straps carefully and removing from your head without touching the mask. Place your mask in a safe area and wash your hands again.
Cleaning Your Custom Masks with Logos
Cleaning your custom face mask is a simple and straight-forward process. Wash your mask before first use. The CDC recommends washing your mask as often as you are wearing it, or daily, to keep it clean and disinfected. Sanitize your mask by simply throwing it into the washing machine with detergent, and once washed, place it into the dryer on the high heat setting.
Custom Face Masks - Frequently Asked Questions
Where can I wear this mask?
The Center for Disease Control recommends wearing masks that cover both nose and mouth in high transmission areas where social distancing may be difficult or impossible. Examples include but are not limited to: grocery stores, gas stations, pharmacies, workplaces, hardware stores, public beaches, and parks.
Are your custom face masks reusable?
Yes! These masks are reusable and we recommend washing often to keep clean and sterile. We also offer tubular-style custom neck gaiters.
What material are your custom face masks?
Our masks are crafted from a double-layer of anti-microbial polyester on the outside and soft cotton on the inside for a comfortable fit. 100% polyester for a lightweight, breathable wearing experience.
Is there a right way up?
Yes. The top of the mask should contour to your face over your nose.
Are custom printed face masks appropriate to use in medical settings?
No. Our face masks are designed to be worn for general use in public places. They are not medically rated masks and are not intended for any clinical, surgical, or airborne chemical setting. Our masks are designed to slow the spread and help prevent transmission of the virus.
Are these the same as N-95 respirators?
No, our custom face masks are not the same as N-95 respirators or surgical masks. Those specific types of masks are medically approved and meant for first responders and hospital staff across the country. Our masks work to help prevent transmitting the virus to others along with social distancing. Our masks, however, are suitable as an N-95 respirator cover.
How do I clean my mask? How often can it be cleaned?
We recommend washing your personalized face mask in the washing machine. It should be cleaned often depending on the frequency of use.
What printing style is used to print a custom face mask with logo?
We print all of our custom face masks using dye-sublimation. This makes for an impressive, full-color finish that is less susceptible to fading compared to inferior printing methods.
What sizes are available? What are the dimensions of your masks?
Currently we just have adult sizes available. The dimensions are: (flat laid) 9.0" x 3.0" /  (expanded): 9.0" x 6.0".
Are your face masks made with elastic straps or tie straps?
We offer our masks with super-soft elastic ear straps.
Does it cost extra for multiple colors?
No, it does not cost extra. Because we print our custom face masks using dye-sublimation, you can design using unlimited colors for no extra cost!
Will my custom printed face mask tear or rip?
No, your mask should not tear or rip if used correctly. It is crafted from 2 layers of fabric for extra comfort and durability.
Are your customized masks designed for children?
No, at this time we only have masks designed for adult sizes. The CDC recommends masks and cloth coverings should never be placed on any child under the age of 2 due to suffocation hazards.
How soon can I expect my custom face mask once my order is placed?
Once your order is placed, expect 1-3 production days before shipping out. We have expedited shipping if you need your mask earlier than standard shipping.
Do you offer any additional products that help minimize the spread of germs and viruses?
Yes, we do offer some additional products that can help slow the spread of Covid-19, as well as seasonal flu and viruses. These include our face shields, custom neck gaiters, and custom hand sanitizer stations. Our sanitizer stations pair our best-selling Pillowcase Banners with a no-touch sanitizer dispenser for a vibrant, full-color sanitizer display.
California Residents

Click here for Proposition 65 warning
Frequently Purchased With
Q & A