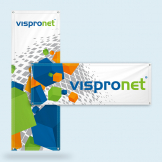 Fabric Banners
Add a touch of luxury and elegance to your advertising and marketing needs with these custom Fabric Banners printed by Vispronet®. Our custom portrait and landscape Fabric Banners are available in indoor and outdoor options with an array of different finishing options. These custom printed Fabric Banners are durable and portable, going with you wherever you need to put them on display. Custom Fabric Banners can be used in a wide variety of applications, whether you're looking to promote a business, brand or organization at a mall, special event or sporting event or want a banner with a high-end look for a wedding, party or other special occasion.
Benefits of Custom Fabric Banners
Versatility - Want your custom printed Fabric Banners to hang straight at all times? Have them finished with pole sleeves to ensure your entire banner is visible at all times. Want to display your banner on the side of a building? We can finish your custom Fabric Banners with grommets in all four corners, and more if necessary. You have a wide variety of options to select from with your custom printed Fabric Banners, including a number of different sizes (up to 9ft x 50ft), finishings and layout options.
High-end, vibrant look - Custom Fabric Banners are printed on Polydeco Deluxe Stretch (indoors) and Polyflag Standard (outdoors), which has excellent through print, ensuring bright and rich colors. With a soft look and no glare, these Fabric Banners provide a high-end appearance at an affordable cost, making them a great choice if you wish to give your brand or event a little more luxury.
Portability - Instead of having to roll up your banners in order to travel with them, you can simply fold up your custom Fabric Banner(s), pack them into your luggage and be on your way, unlike other materials that may need to be rolled up and placed into a tube in order to be transported.
Vispronet: Your Custom-Printed Fabric Banners Source
It's easy to order the perfect custom printed fabric banner from Vispronet. You can select any of our available Fabric Banners by clicking them above and viewing the different layout and configuration options for your custom vinyl banner. Vispronet makes it easy to order your custom designed Fabric Banners to be printed. You'll have the ability to add grommets or pole sleeves and other mounting accessories with your Fabric Banners, so they're easy to hang. Simply use the configuration system by clicking "Get Started" on any product page to select the perfect custom fabric banner for your needs.