Fabric Banners
Fast Turnaround / Premium Material / Free Design Services
configurable 0 0
Custom printed solutions in 3 simple steps.

1. Choose from 3 Design Methods
Click the Proceed to Artwork button to choose Design Online, Upload Template, or Free Design Services.

2. Receive & Approve Your Proof
We'll process your artwork within 2 business hours and send a proof for your approval via email.

3. We'll Bring Your Idea to Life
Our standard turnaround time is 3 business days plus shipping with expedited options available.
Fabric Banners Details
Material:
Outdoor Flag Polyester: Tear-resistant lightweight knitted fabric with excellent thru-print (3.25oz/yd²)
Display Polyester: Nearly opaque flame-retardant knitted fabric (6.10oz/yd²)
Premium Opaque Polyester: 100% opaque flame-retardant knitted fabric (7.67oz/yd²)
What Are Fabric Banners?
Make a strong impression at your next show or event with custom fabric banners. These banners are crafted from lightweight knitted polyester and offer a more premium style of banner compared to vinyl materials. Fabric banners are printed using dye sublimation and are machine washable and scratch-resistant, allowing for an extended product life and multiple uses. The knitted polyester fabric offers minimal light reflection, making it perfect for indoor and outdoor applications ranging from photoshoots to trade show displays. When you're finished using your banner, simply fold it and store it away. Places you will see printed fabric banners displayed include:
Trade shows and expos
Retail stores and spaces
Churches and places of worship
Offices and workplaces
Festivals and fairs
Schools and colleges 
3 Ways to Design Your Banners Online
We offer three design methods for you to customize and print your fabric banners. All design submissions are checked by our pre-press team for any errors, and we will send you a free proof of your final design for your approval before we produce your order.
Design Online: Create your banner design online, in real time using our online design tool. Upload logos, artwork, or images directly from your computer and choose from font options shapes, backgrounds, clip art, and more.
Upload Artwork Template: This method is best for users with graphic design experience. We provide downloadable templates so that you can add your artwork to the template using your own computer and software. When you're finished, simply reupload the saved template file to our website before or after placing your order.
Free Design Services: Not sure how to design your banner? Our graphics team can help you build a design from scratch, for free! Choose this option and send our team your design files, or artwork ideas. We will correspond with you until the design is completed to your satisfaction.
---
Choose Your Finishing Options
Consider how you want to set up and display your banners. Some customers showcase their fabric banners with hardware while others hang them with bungee cords from a ceiling or wall. Read below to find which finishing options work best for your display application.
Grommets
If you would like to use bungee cords or rope to hang your custom fabric banner from the wall or ceiling, add grommets to each of the four corners or around the perimeter of the banner. If the sign is long, we suggest grommeting the entire perimeter of the banner. The bungee cords or rope is inserted into the grommets of the banner, protecting the sides from tearing or fraying while on display.  
Pole Pockets
If you are displaying from a ceiling or using a banner stand that includes pole sets, we recommend adding pole pockets to your cloth banner. If your stand includes one pole set, apply one pocket on the top of the banner. If your hardware includes two sets, apply pole pockets on the top and the bottom of the banner. Poles easily slide through the pockets of the fabric banner without any hassle.
Hemmed Sides
You can either add hemmed sides to one of the previous finishing options or, if you are not using hardware to set up your banner, you can choose hemmed sides by themselves. Hemming the sides prevents them from tearing or fraying. Hemmed sides are commonly used for applications where the banner is hanging or displayed up against a wall.
Cut Sides
For a simple finishing, you can have all the sides cut or have the sides cut with pole pockets installed on the top or bottom. Getting the sides cut without hems creates thin edges that are perfect for use in a frame or on a canvas. Cut sides are typically used for indoor display.
---
Material Options
We offer three different material options to choose from. Read the descriptions below to find the best material option for your cloth banner.
---
Single-Reverse vs Double-Sided Printing
Our fabric banners are available in either single-reverse (mirror-image on back) or double-sided printing. Please read below to find out more about these options.
Single-Reverse
With single-reverse printing, we print your custom banner design on one side of the banner material. The mirror image of the print bleeds through to the other side of the banner. This allows passerby to see your personalized design from both angles of the fabric sign with the reverse side looking slightly less vibrant compared to the front. This is an affordable printing technique that is popular among designs that do not include a lot of text, such as large graphics and shapes.
Double-Sided
The upgraded double-sided option offers unique designs on each side of the banner. We print your image on two separate layers of material and sew them together. To avoid one side being visible from the other, an inner liner is sewn between the two layers. This also prevents light from shining through. This way, the design is showcased in brilliant, full color on both sides of the cloth banner. Keep in mind that since this banner option will include two layers rather than one, it will be slightly heavier compared to a single-reverse fabric banner.
Single-Reverse

Double-Sided

---
Fabric Banners Make for Better Photos
If you are hosting an event where a lot of photos will be taken for social media or a company website, fabric signs are your best option. The knitted polyester fibers are not nearly as reflective as vinyl, allowing the vibrant colors and graphics to be easily seen in photos without glare or distortion. This is especially helpful if you are using flash photography or are displaying these banners outdoors. The non-reflective graphics make for perfect photo backgrounds, such as step and repeat banners.
Care & Cleaning
One of the most appealing benefits of using fabric banners is that they are easy to clean. The polyester banners are machine washable, but specific cleaning instructions should be followed. Follow these simple guidelines when washing and caring for your banner:
Washing machines should be on the cold water setting
Use a mild, color-safe detergent and color-catcher (do not use bleach)
Allow the banner to hang dry or place it back on your banner stand to prevent it from shrinking slightly
Do not fold the banner when it is wet
Taking these precautions will keep your print in great condition for repeated use. Contact customer service for any further questions about cleaning and caring for your banner.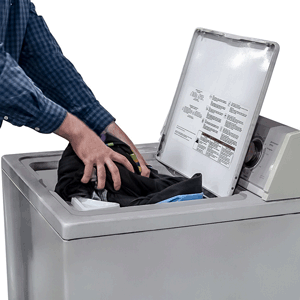 Frequently Asked Questions
What is the turnaround time?
Our standard turnaround time is 3 business days plus shipping. If you need your order faster than our standard turnaround time, we offer rush production. We also offer expedited shipping options if you need your custom cloth banners as soon as possible.
What banners stands can I use with my banner?
We offer a wide variety of banner stands that are compatible with custom fabric banners. Popular products include step and repeat banners, tension fabric displays, and X banner stands. It is important to use banner stands that attach the banner to the hardware with pole sets or with bungee cords. You can add one or two pole pockets as your banner finishing for stands with pole sets. Pole pockets are either added to the top or the top and bottom of the cloth banner. The pole sets of the stand slide through the opening of the pockets for easy assembly. If the sign connects to the stand with cords, make sure to add grommets. Most stands require having grommets in the four corners of the banner.
Where do you often see a fabric banner displayed?
These custom cloth banners are seen in a wide variety of locations, both in business and leisure settings. Businesses often use these signs to advertise product launches or upcoming promotions at trade shows, in their store, or in their lobby. Many companies that specialize in photos use these banners as backdrops in their studios for school and family portraits. Personal uses for these banners include installing them as decorations at house parties or setting them up at the entrances of venues holding an event.
What is the difference between custom fabric banners and vinyl banners?
The difference is in the materials we offer. Vinyl banners are available with different vinyl styles and cloth banners are available with polyester styles. Polyester is a knitted fabric and is machine washable, while vinyl is a more textured material. Many vinyl materials reflect light while polyester does not. This means that polyester banners are better suited for video and photo backdrops or at events where a lot of pictures will be taken. If you plan on reusing your fabric sign for multiple trade shows and events, then fabric banners are an excellent option.
How do you print these banners?
We offer fabric banner printing using the cutting-edge dye sublimation printing method. This technique is incredibly effective for creating vibrant banners. The ink is ingrained into the fabric, leaving a smooth graphic that will not scratch or peel off. This means that you can wash the banner without ruining the print. Sublimating the graphics also makes the colors pop. To get as many colors as you want, we use full CMYK color printing. This means that you can add as many colors as you want to your design without it costing you extra. Make the design as intricate and detailed as you want; it will come out looking amazing.
Will these banners rip or tear when set up outdoors?
If you are planning on using these fabric signs outdoors for a long time and do not want them to get torn in different weather conditions, we recommend using the Outdoor Flag Polyester. This is the same material we use for our flags, which means that this outdoor fabric banner material was specifically made to be displayed outdoors. This fabric can withstand wind due to its tear-resistance.
What is the range of custom sizes?
We offer a wide range of standard banner sizes that are common in the industry. If, however, you want completely different dimensions than the ones in the dropdown list, you can enter your own measurements. Keep in mind, however, that there is a limit to how large and small you can make it. If you are making a landscape banner, the width must be between 10in and 600in and the height must be between 10in and 108in. If you are fabric hanging banners a vertical format, the width needs to be between 10in and 108in and the height must be from 10in to 600in.
Are there other ways for me to hang my custom fabric banners besides using bungee cords?
Yes. If you have grommets, they are also compatible with ropes and strings. For lighter applications, you can also use ribbon for hanging your fabric posters. If you do not have grommets, you can use nails, tacks, or staples, but it is best to use grommet setups if you plan on reusing the banner at different events and locations.
How should I remove wrinkles from the fabric material?
Removing wrinkles from polyester is simple. A steamer is the best solution. Lay your cloth banner flat or set it up on its banner stand. Run the steamer across the material and the wrinkles will vanish. If you do not have a steamer and want to use an iron extra caution needs to be taken. Make sure the iron is on the lowest setting to avoid ruining your print.
How should I store my fabric banner?
To keep your banners from getting wrinkles, we suggest rolling them up with the print facing out. Once this is done, the sign should be placed in an area that is not too hot or cold and where the banner will not get wet. We recommend storage in a basement, an attic, or a closet.
Satisfied Customers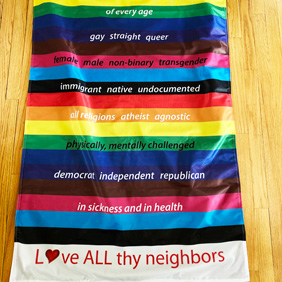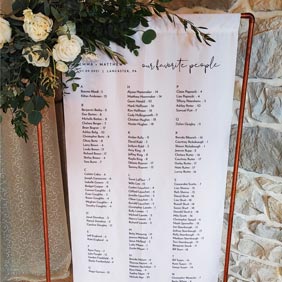 California Residents

Click here for Proposition 65 warning
Frequently Purchased With
Q & A
Reviews