Custom Fitted Table Covers
Durable Polyester / All Over Print or Logo Print / Fast 3-Day Turnaround
configurable 0 0
Custom printed solutions in 3 simple steps.

1. Choose from 3 Design Methods
Click the Proceed to Artwork button to choose Design Online, Upload Template, or Free Design Services.

2. Receive & Approve Your Proof
We'll process your artwork within 2 business hours and send a proof for your approval via email.

3. We'll Bring Your Idea to Life
Our standard turnaround time is 3 business days plus shipping with expedited options available.
Custom Fitted Table Covers Details
Stand out at your next show or event with fitted table covers. These stylish tablecloths are displayed without any creases or ruffles in the fabric, showcasing your custom logo or design in a polished and professional manner. Our fitted tablecloths are available with All Over Print or Area Imprint printing, and with your choice of 3-sided or 4-sided coverage. We craft our tablecloths from premium polyester materials. These durable fabrics are flame-retardant, machine-washable, and designed for repeated use. Our custom fitted table covers are printed using dye sublimation. This cutting edge printing technique infuses the ink directly into the polyester fibers, creating eye-catching, vibrant graphics that are scratch and fade-resistant.
Parts List:
Custom printed table throw with hemmed edges
Material:
Display Polyester: Nearly opaque flame-retardant knitted fabric (6.10oz/yd²)
300D Polyester: Water-resistant, scratch-proof, flame-retardant fabric (6.00oz/yd²)
Stretch Display Polyester: Stain-resistant and flame-retardant stretch fabric (5.30oz/yd²)
Coverage Options:
3-Sided (open back for storage and seating behind the table)
4-Sided (all sides covered)
Cleaning Instructions:
If your custom fitted table cover becomes dirty, wash in a household washing machine on delicate setting with cold water and hang to dry.
Specifications
| Model | Print Size |
| --- | --- |
| 4ft Table | 48in x 29in x 24in |
| 6ft Table | 72in x 29in x 30in |
| 8ft Table | 96in x 29in x 30in |
*Custom sizes available upon request. Please contact our customer service team by phone at 877-822-0201 or by email at info@vispronet.com.
---
What Are Fitted Tablecloths?
When preparing for events, shows, and conferences, practice and preparation are vital to ensuing a successful show for your brand or company. Small details can affect how passing prospective customers and clients view and internalize your company or brand. One way to ensure you have a tidy, eye-catching display is employing the use of fitted table covers with logos.
Fitted tablecloths are hemmed and reinforced at the corners down to the floor, designed to fit snuggly against your table while completely covering three sides or all four sides. The fitted style gives off a more sophisticated and professional appearance compared to the traditional loose style tablecloth, and is the perfect solution for covering any unsightly marks or bends on the table legs beneath. This style table cover is also excellent for hiding items under the table, so it makes for the perfect storage nook while you're at a show or event.
---
High-Quality Fitted Table Covers For Every Event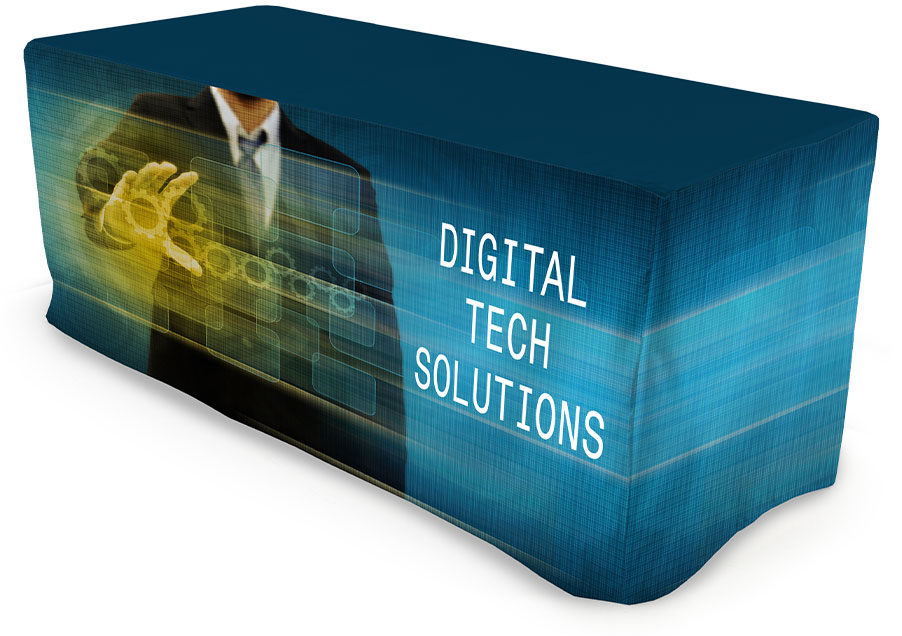 Double-Fold Hemmed Edges
All of our tablecloths come reinforced with double-fold hemmed edges. This reinforces the corners, extending the life of your tablecloth.
Wrinkle-Resistant and Flame-Retardant
Our custom fitted tablecloths are printed on a wrinkle-resistant and flame-retardant polyester material. Stain-resistance is also available.

Full-Color Dye Sublimation Printing
All Vispronet tablecloths are printed using top of the line dye sublimation printing for spectacular, bold, color reproduction.

Choose Your Tablecloth Coverage
Our fitted custom table covers are available with 3-sided or 4-sided coverage. Each style can be beneficial for different storage and display applications.

Easy to Clean and Reuse
Our tablecloths are easy to wash and reuse. Simply clean in washing machine on cold setting and air dry. The dye sublimation print is less susceptible to fading.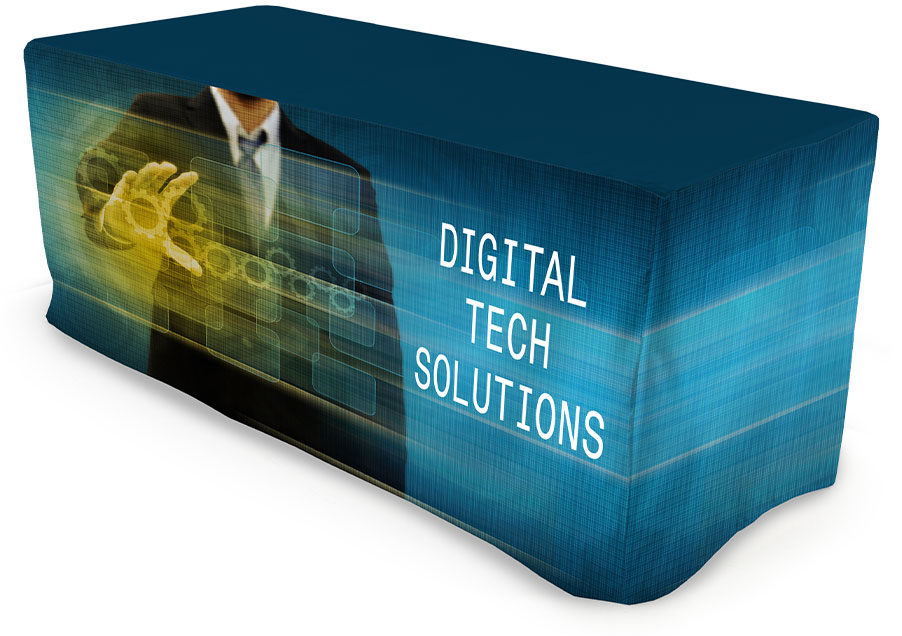 ---
Design Custom Fitted Table Covers Online
Choose from the three methods listed below to design your custom fitted tablecloths. Every design submission is checked by our pre-press team for any errors or issues. We will email you a final design proof for your approval before we begin printing.
Design Online: Design your tablecloths online, in real time using our online design tool. Our online tool allows you to upload images, logos, and other artwork files directly from your computer and also provides clip art, shapes, font options, and more.
Upload Artwork Template: This design approach is best for users with their own design software. This method involves downloading the artwork template, adding your artwork using design software, and reuploading the completed template to our website, before or after placing your order.
Free Design Service: Not sure how to design your table covers? Our graphics team can help you build a design from scratch, for free! Just send our team your design files, artwork ideas, or some design inspiration and we will correspond with you until the design is completed.
---
All Over Print Vs Area Imprint
We offer multiple style choices for our fitted tablecloths, including all over print, area imprint, stain-resistant, as well as our fitted round tablecloths. No matter which style of table cover you choose, all of them share some of the same features, including a seamless one-piece design, double-fold hemmed edges, a stunning dye sublimation print, and a wrinkle-resistant and flame-retardant polyester fabric. We offer each style with the same standard sizes: 4ft, 6ft, and 8ft.
All Over Print
All over print fitted tablecloths are an excellent way you to show off your brand, design, or company logo. Our custom fitted table covers with full print give you 100% creative control, allowing you to completely design your tablecloth from the ground up. All of our table covers are printed on durable, tear-resistant polyesters, which offer wrinkle-resistance and a slight stretch - all in one lightweight package.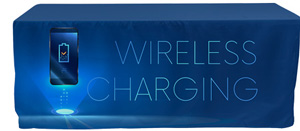 Area Imprint
If you don't need the full creative control that our all over print table cover offers but still want a way to show off a custom logo or brand, our fitted table covers with logo print are a great solution. These area imprint tablecloths offer a simpler way for you to attract the eye of passersby at trade shows or other events. Choose from over a dozen ready-to-print background colors, including red, green, yellow, orange, and grey.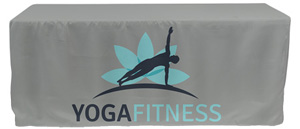 ---
Choose From 3 Material Options
We offer three material options so you can choose the best style for your display application. Each material is made from durable polyester and is printed using dye sublimation for bright, full-color graphics.
---
3-Sided and 4-Sided Custom Fitted Table Covers
To accommodate all preferences, we offer our fitted tablecloths in 3-sided and 4-sided coverage options. The 3-sided version includes an open back so that you can easily slide chairs into the table if you are planning on seating people from behind. This is also convenient if you store company information and catalogs underneath tables, since they will be easy to reach. Our 4-sided table custom fitted table covers have a closed back for a completed look. This is the ideal option if your table is going to be viewed from all angles.
Full coverage, 4-sided custom fitted tablecloths

3-sided tablecloths with printed front, sides, and an open back

 
---
Find the Right Size For Your Application
Choose From 3 Standard Sizes
There is no standard trade show table size. We understand that rectangular tables for business use come in all shapes and sizes, which is why we offer our fitted tablecloths in several sizes: 4ft, 6ft, and 8ft. All that you need to do is measure the table you are using and enter the exact size of your custom fitted table cover for that perfect fit.
Custom Tablecloth Sizes
Some tables don't fit our standard fitted tablecloth sizes and require custom sizes. For this reason, we offer custom sizes up to 20ft. For more information about custom sizes, please contact our customer service team by phone at (877)-822-0201 or via chat which is located on the lower right hand corner of our website.
---
Satisfied Customers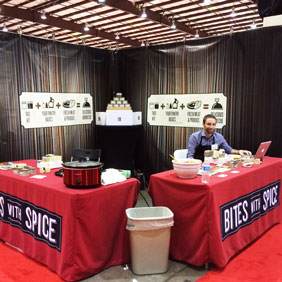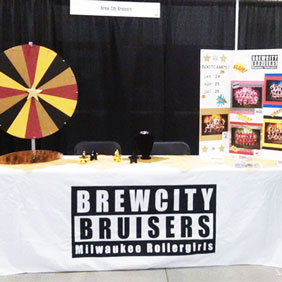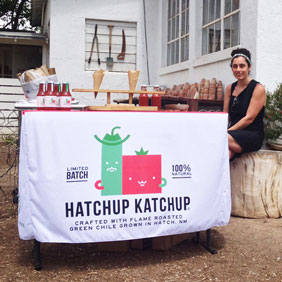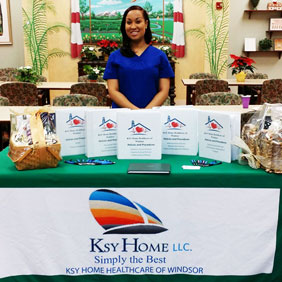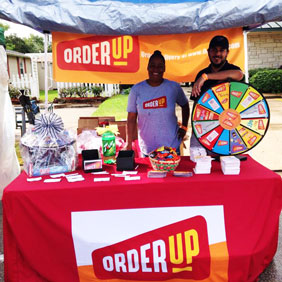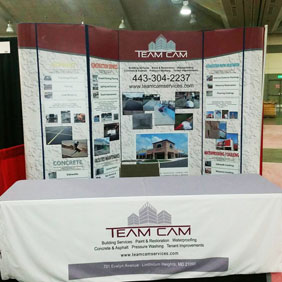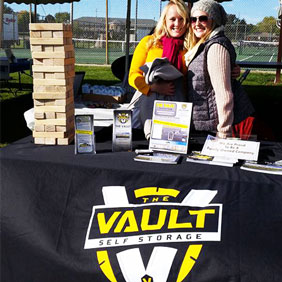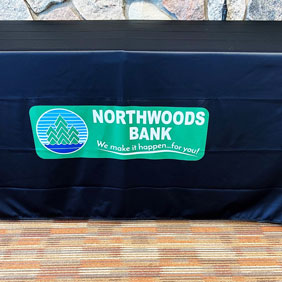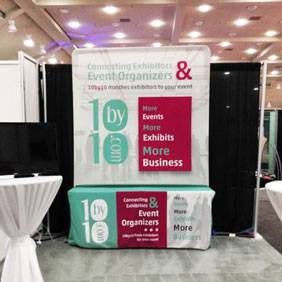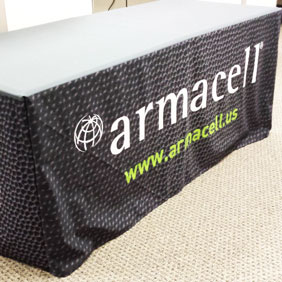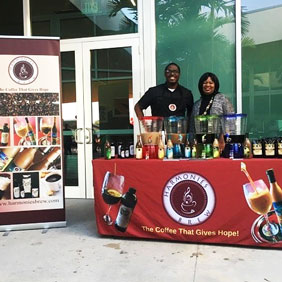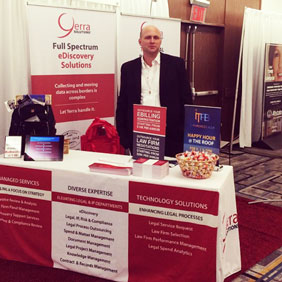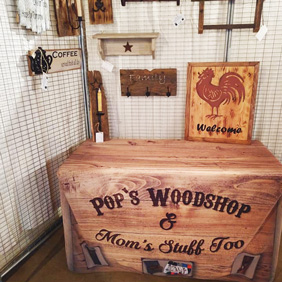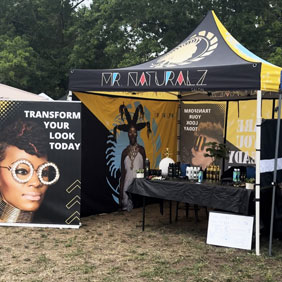 Frequently Asked Questions
General
How long will it take to print and ship my tablecloths?
The standard production time for our custom fitted table covers is 3 business days. Rush options are available for an additional cost. After your product is produced, it will then need another 4-5 days to be delivered to your address for standard shipping via UPS or Fed Ex. Expedited shipping methods are available at checkout.
How do I design my custom table cover?
We offer three easy methods to design your table cover: Design Online, Upload Artwork Template, or our Free Design Services. Each artwork submission is checked by our pre-press team for any errors or issues. We will email you a final design proof for your approval before we begin producing your order.
Are your tablecloths available in custom sizes?
Our fitted printed table covers are offered in standard sizes: 4ft, 6ft, and 8ft. If you would like custom sizes, please contact customer service.
What type of event is this table cover for?
A fitted table cover with logo print is typically used for conferences, trade shows, job fairs, farmer's markets and any large gatherings of people and businesses.
If I need assistant designing my table cover, are you able to help?
You bet! If you don't have much time or need our help with your design, you can contact our graphics department to help you from start to finish - free of charge. Simply click the "Proceed To Artwork" button above, then select "Let Us Design It For You".
Printing Specs
What's the difference between all over print and area imprint?
Our all over print fitted table cover style is completely customizable. The entire cover can be printed with your own design, from top to bottom. The custom fitted table cover with logo style, or area imprint, offers several background colors to choose from to compliment your logo and brand.
How are these tablecloths printed?
We use high-quality dye sublimation printing to produce our custom fitted tablecloths. This is a technologically advanced printing process that infuses the ink into the design for a smooth finish and sharp, eye-catching colors. We use full CMYK color printing, which allows you to add as many colors as you wish to your tablecloth design without it affecting the price. Unlike the cheap custom fitted table covers offered by some competitors, our dye sublimated graphics don't scratch or peel off, because the prints are infused into the fabric rather than printed on top of the material.
What colors are available to print for this style tablecloth?
All colors are available! Choose any and all colors for your custom design. Keep in mind, the design area changes depending on which fitted style you choose: All over print or area imprint.
Materials & Durability
What material is this made from?
Our standard custom fitted table covers are made from display polyester, which is a flame-retardant, wrinkle-resistant, glossy polyester fabric that works great for tablecloths. Our stain-resistant tablecloths are available in two material options: Stretchy display polyester and 300D polyester. Both stain-resistant materials are wrinkle-resistant, stain-resistant, and flame-retardant, making them perfect for messy applications.
How do I clean my custom fitted table cover?
Our table covers can be easily cleaned if they become dirty. All that you must do is wash them in a regular washing machine on a delicate, cold setting. This will keep the print looking pristine while still thoroughly cleaning your cover. When its cycle is finished, air dry the table cover for the best results. We do not recommend using a machine dryer to dry your cover.
Can I iron the tablecloths?
We do not recommend ironing, but we strongly recommend that you steam your tablecloth if needed to remove any slight ripples or wrinkles. Due to the fabric's anti-wrinkle feature, there shouldn't be any really hard to remove wrinkles and most should disappear as you stretch your cloth onto the table.
Will I be able to reuse my table cover?
Yes of course! All our fitted tablecloths are durably crafted from high-quality materials and are designed to last a long time.
Shapes and Styles
What's the difference between 3-sided and 4-sided coverage?
If you can't decide between 3-sided and 4-sided custom fitted table covers, think about what people will be doing around the tables you set up. The 3-sided version has an open back, so if you are having employees or guests sit at the table, you should go for this option. The open back allows chairs to be comfortably pushed underneath the table, and people can store personal belongings or company brochures and catalogs below the table for easy access.
If you plan on having people stand around the table and are having your table viewed from every angle, it's best to go with the 4-sided option so that your custom design can be seen from all sides. All four sides of your table are covered, giving your message further exposure.
Is this style tablecloth available in different shapes?
Yes! We also offer our fitted style in for round folding tables as well as round cocktail tables.
California Residents

Click here for Proposition 65 warning
Frequently Purchased With
Q & A
Reviews