configurable 0 0
Custom printed solutions in 3 simple steps.

1. Choose from 3 Design Methods
Click the Proceed to Artwork button to choose Design Online, Upload Template, or Free Design Services.

2. Receive & Approve Your Proof
We'll process your artwork within 2 business hours and send a proof for your approval via email.

3. We'll Bring Your Idea to Life
Our standard turnaround time is 3 business days plus shipping with expedited options available.
Showcase Your Brand with Custom Bollard Covers
Promote your business or products using custom bollard covers. These signs are easy to see from all directions and offer an excellent way to attract the attention of passing foot and car traffic. Choose from two different material styles: Corrugated plastic and fabric. Both styles are designed for indoor and outdoor display and can withstand outdoor weather conditions all year round. Our bollard advertising sleeves are 100% customizable and are printed in vibrant, full color with weather-resistant graphics that won't scratch or peel off. They can be installed in seconds with no tools required, making them an excellent advertising option for businesses like gas stations, grocery stores, strip malls, and more!
Material:
Stretch Display Polyester: Stain-resistant and flame-retardant stretch fabric (5.30oz/yd²)
4mm Coroplast®: Weather-resistant & UV-protected lightweight corrugated plastic
Specifications:
Material
Size
Stretch Display Polyester
4in x 52in, 5in x 52in, 6in x 52in, 6.5in x 52in, 7in x 52in
4in x 60in, 5in x 60in, 6in x 60in, 6.5in x 60in, & 7in x 60in
4mm Corrugated Plastic
2-Sided: 28in x 46in & 45in x 46in
Square: 7in x 36in, 7in x 48in, 7in x 54in, & 7in x 60in
Triangle: 4in x 36in, 4in x 48in, 4in x 54in, 4in x 60in, 5in x 36in, 5in x 48in, 5in x 54in, & 5in x 60in
Product Features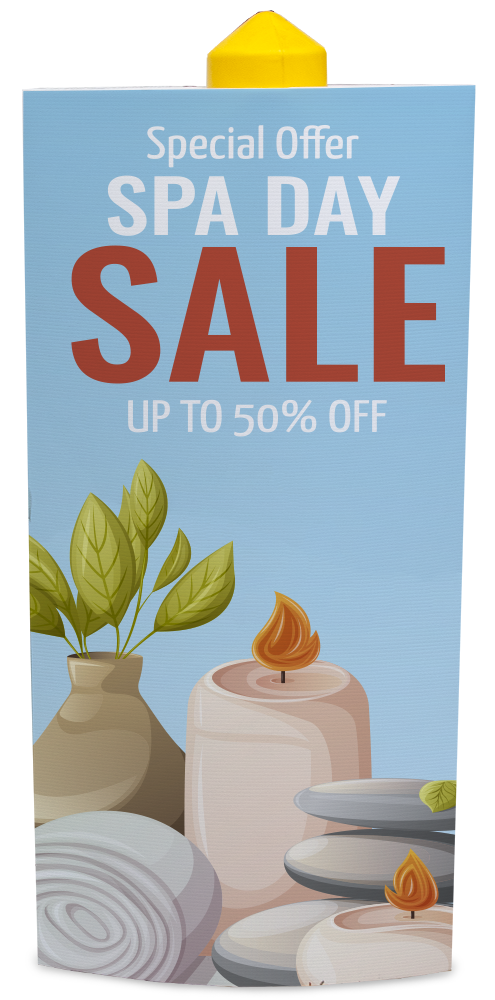 Durable Outdoor Materials
Choose from corrugated plastic or stretch display polyester materials. Both materials are highly durable and crafted to withstand outdoor weather conditions.

Striking, Full Color Printing
Your artwork is printed using either dye sublimation for the fabric or a high-quality UV printing technique for the plastic. Both printing methods use full color printing at no extra cost.

Easily Assembly & Replacement
Our custom bollard covers easily slip on or over the bollard for a fast, tool-free set up. The covers are also easy to replace to accommodate new marketing campaigns and messages.

Choose Your Size
Find the perfect size for your application! Choose between 7.2" and 9.2" sizes. Both sizes are easy to spot, and each features custom removable graphics. Larger sizes are typically chosen for outdoor events like marathons and sporting events.

Choose Your Shapes
Our corrugated plastic covers are offered in several different shapes. There's a 2-sided option for front and back exposure and triangle and square shapes for advertising your message from all directions.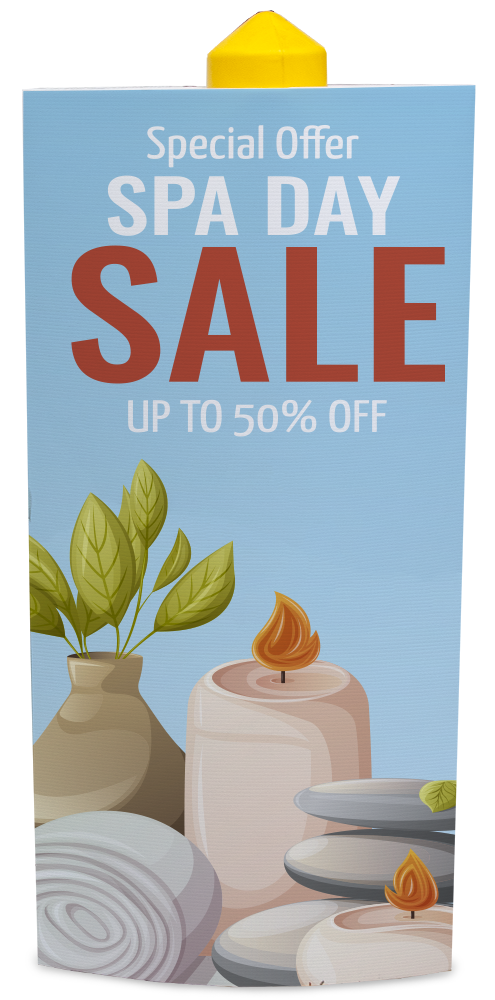 Create Your Design: 3 Easy Methods
Choose one of the three methods listed below to design your bollard cover signs. All design submissions are checked by our pre-press team for any errors or design issues. We will email you a free digital proof of your design for your approval before we begin printing.
Design Online: Create your design online, in real time using our online design tool. This tool makes it easy to upload your logo and artwork files directly from your computer and also includes clip art, background designs, font options, and more.
Upload Artwork: To design using this method you must download the artwork template, add your artwork using design software, and reupload the completed template to your account, before or after checking out.
Free Design Service: Need help designing your custom bollard covers? Our team is here to help – for free. Just send our design team any current artwork files you may have or some design ideas, and we will correspond with you until the design is completed and applied to your sign.
Frequently Asked Questions
What is the turnaround time?
Our turnaround time is 3 business days. We offer rush production and expedited shipping options at checkout. To preview your delivery date, click the "Estimate Delivery" button located at the top of the page.
Are these weather-resistant?
Yes, these signs are weather-resistant. They are made from professional quality advertising materials and can be displayed indoors and outdoors for long periods of time.
What is the difference between the two material options?
The corrugated plastic covers are waterproof and printed with UV-resistant inks. The fabric covers are made from our stretch polyester and are printed using dye sublimation for vibrant, eye-catching graphics that won't scratch or peel off.
Can these be installed without tools?
Yes, our custom bollard covers are easy to install. They are installed without tools or adhesives and are designed to stay in place for long periods of time.
California Residents

Click here for Proposition 65 warning
Q & A
Reviews