Welcome Home Yard Sign Letters
Welcome Home Yard Sign Letters Details
Make someone's homecoming extra special by displaying these welcome home yard letters in their front lawn. These welcome home yard signs come in a striking royal blue that will grab the attention of passersby. This set also includes two different colored stars and a heart emoji. If you wish to customize the message more, add on more letters, different colors, or other emojis. Write a memorable message to the person coming home to really make the moment special. These welcome home signs are available in either 18in or 24in sizes so that they stand out when placed in a front yard or along a driveway. Each letter of this welcome yard sign set comes with a stake that suits its length. Wide letters are paired with H-stakes while thinner letters get beefy stakes. Place the top of the stakes into the openings between the sign layers for simple assembly. Let friends and loved ones know how much you missed them with these welcome home yard letters.
Are you looking for welcome home signs for a service member or a loved one working abroad? Check out our Patriotic Welcome Home Yard Letters.
Parts List:
18in or 24in corrugated plastic characters
Wide characters come with H stakes
Narrow characters come with beefy stakes
Material:
4mm Coroplast®: Weather-resistant & UV-protected lightweight corrugated plastic
Additional Notes:
Welcome home signs are printed on one side (single-sided)
Faux glitter colors do not contain real glitter (mess free!)
Durable Welcome Home Signs
Our Welcome Home lawn letters are made from durable 4mm corrugated plastic. Corrugated plastic is 100% waterproof and safe to display in most weather conditions, making it perfect for outdoor applications. This material will not warp or bend when exposed to wet weather, allowing for a longer product life compared to imitation cardboard products. These Welcome Home signs are also very lightweight and easy to carry around, making them highly portable and simple to set up. Each sign is printed with UV-resistant inks for long-lasting graphics that won't fade or peel, even after long-term sun exposure. Our welcome home yard signs are also easy to clean. Simply wipe the signs with warm soapy water after each use so they look brand new for the next display.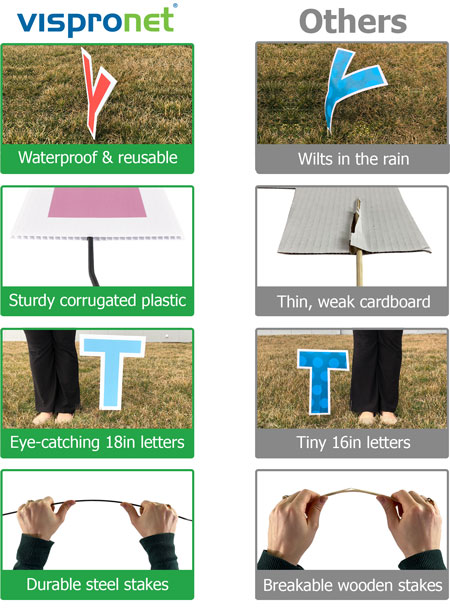 Satisfied Customers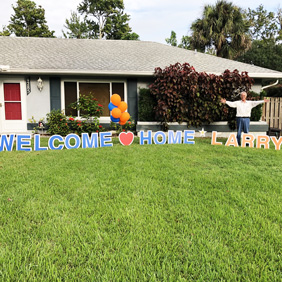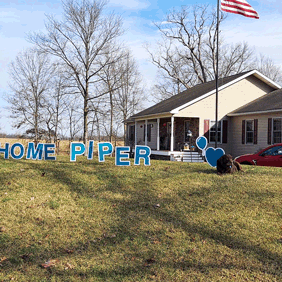 California Residents

Click here for Proposition 65 warning
Welcome Home Signs Setup Video
Frequently Purchased With
Q & A
Reviews