configurable 0 0
Custom printed solutions in 3 simple steps.

1. Choose from 3 Design Methods
Click the Proceed to Artwork button to choose Design Online, Upload Template, or Free Design Services.

2. Receive & Approve Your Proof
We'll process your artwork within 2 business hours and send a proof for your approval via email.

3. We'll Bring Your Idea to Life
Our standard turnaround time is 3 business days plus shipping with expedited options available.
Pillowcase Banner Details
Design high-quality pillowcase banner stands for your in-store displays or lobby entrances. This tension fabric banner is simple to assemble with no tools needed. The aluminum pole set just snaps and clicks together and gloves are included in the kit for the installation process. The pillowcase banner slips over the hardware stand for a sleek, smooth appearance. The bottom hardware stand includes a felt bottom to ensure the base of the display won't scratch the floor. The powder-coated steel base and aluminum stand allows the frame to last a long time without rusting. This fabric display is designed from knitted polyester that's flame-retardant, making it perfect for indoor tradeshow use. Add on an optional sanitizer dispensar and clamp to provide clean, safe work environments and event spaces.
High-Quality Dye Sublimation Printing in 9 Sizes
Choose which model sizes work best for you by selecting the width and height from options that range from 2-3ft and 5-10ft. The print covers the whole display, making your message stand-out. We print using dye sublimation, a state-of-the-art printing technique that produces vibrant, scratch-resistant graphics are safe for everyday use.
For a suspended version of this display that uses bungee cords, check out our suspension banner stand, which utilizes the same hardware.
Parts List:
Custom printed banner
Aluminum poles with base
Gloves
Optional touchless hand sanitizer dispensar, and metal clamp
Material:
Display Polyester: Nearly opaque flame-retardant knitted fabric (6.10oz/yd²)
Additional Notes:
Requires (8) AA batteries and sanitizer (not included)
Refillable dispenser can hold 1000ml of sanitizer
Specifications
| Model | Part Number | Print Size | Display Size | Weight |
| --- | --- | --- | --- | --- |
| 2ft x 5.3ft | KX0150 | 2ft x 5.3ft | 2.2ft x 5.3ft x 0.9ft | 11.5lbs |
| 2ft x 7.5ft | DI0281 | 2ft x 7.5ft | 2.2ft x 7.5ft x 0.9ft | 12.5lbs |
| 2ft x 9.7ft | KX0160 | 2ft x 9.7ft | 2.2ft x 9.7ft x 0.9ft | 13.5lbs |
| 2.5ft x 5.3ft | KX0151 | 2.5ft x 5.3ft | 2.7ft x 5.3ft x 0.9ft | 13.5lbs |
| 2.5ft x 7.5ft | DI0282 | 2.5ft x 7.5ft | 2.7ft x 7.5ft x 0.9ft | 14.5lbs |
| 2.5ft x 9.7ft | KX0161 | 2.5ft x 9.7ft | 2.7ft x 9.7ft x 0.9ft | 15.5lbs |
| 3ft x 5.3ft | KX0152 | 3ft x 5.3ft | 3.2ft x 5.3ft x 0.9ft | 15.5lbs |
| 3ft x 7.5ft | DI0283 | 3ft x 7.5ft | 3.2ft x 7.5ft x 0.9ft | 16.5lbs |
| 3ft x 9.7ft | KX0162 | 3ft x 9.7ft | 3.2ft x 9.7ft x 0.9ft | 17.5lbs |
Design Your Pillowcase Fabric Display Online
Choose from three methods to design your pillowcase banners. Every design submission is checked by our pre-press team for any issues or errors before being approved for printing. All orders receive a digital proof for your approval before we produce anything.
Design Online: Design your banners online, in real time using our online design tool. Our online tool allows you to upload logos, images, and other files directly from your computer and also provides a text editor, clip art, background designs, and more.
Upload Artwork Template: This option is best for users with their own design software. We provide downloadable templates for you to add your artwork to the template file using your own computer. When you're finished, simply re-upload the completed file to our website before or after placing your order.
Free Design Service: We offer free design services if you would like us to design your pillow case banners for you! Choose this method and send our graphics team any artwork inspiration or design files you may have, and we will work with you until the design is completed.
Frequently Asked Questions
What is the turnaround time?
Our standard turnaround time is 3 business days. If you need your pillowcase banners faster, expedited production and shipping options are available at checkout. Preview which shipping options are available to you by clicking on the 'Estimate Delivery' button at the top of the page.
What materials are offered for this display?
Display polyester is the only material option we offer for this product. This premium polyester is a step up from our Standard style, and boasts wrinkle-resistance, flame-retardance, a glossy finish, as well as exceptional color reproduction.
What is the frame made from?
The frame is crafted from aluminum. There are multiple benefits to using an aluminum frame including its light weight and exceptional sturdiness. The light weight allows for an easier setup and breakdown process, and easier travel.
How are the fabric graphics printed?
Custom graphics are printed using the dye sublimation printing process. This cutting-edge printing technique embeds the ink directly into the fibers of the fabric, creating a more resilient, full-color finish compared to inferior printing processes used by competitors. Another benefit of using this printing technique is exceptional fade-resistance, making the banner safe for regular machine washing.
Does it cost extra to design using multiple colors?
No, it does not cost extra to design your pillowcase banner with multiple colors. Because we print using dye sublimation, unlimited color usage comes standard for every model size and style.
Is the hand sanitizer dispenser included with the pillowcase banner stand?
No, the sanitizer dispenser is not included with the banner stand but can be added to your order when configuring your product. If you add the dispenser to your order, we also include a clamp to connect the dispenser to the frame of the display.
Satisfied Customers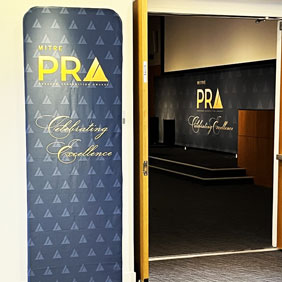 California Residents

Click here for Proposition 65 warning
Frequently Purchased With
Q & A
Pillowcase Banner Stand Reviews