Happy Birthday Yard Letters
100% Customizable / Corrugated Plastic / Weather-Proof
Happy Birthday Yard Letters Details
Our happy birthday yard letters are the perfect decoration to throw a surprise celebration for a friend, loved one, or child. These personalized birthday yard signs are made from 4mm corrugated plastic and stand at 18 or 24 inches tall. Two types of stakes are included for the perfect fit and support of each letter. The durable corrugated plastic is printed with UV-resistant inks and is water-proof so that the personalized happy birthday yard signs will not be damaged in the rain. Choose to display your happy birthday message in pink, blue, red, or rainbow color schemes. When your special guest arrives to the party, they will be delighted by these happy birthday lawn signs!
Parts List:
18in or 24in happy birthday signs
Wide characters come with H stakes
Narrow characters come with beefy stakes
Material:
4mm Coroplast®: Weather-resistant & UV-protected lightweight corrugated plastic
Additional Notes:
Birthday yard signs are printed on one side (single-sided)
Faux glitter colors do not contain real glitter (mess free!)
Happy Birthday Yard Letters Made from Corrugated Plastic
These big happy birthday yard signs are manufactured from 4mm corrugated plastic and are available in two sizes: 18in and 24in. The height makes them easy to spot from a distance, making them ideal front yard birthday signs that let guests know where the party is. Printing on corrugated plastic material also creates eye-popping, crisp colors that are both appealing and easy to spot from far away.
Guaranteed for Outdoor Use
These happy birthday signs for yards are made from durable corrugated plastic that is printed with waterproof, UV-resistant inks so they will not get damaged in the rain. This means that these happy birthday yard letters can be set up outdoors for more than one day. You can bring these jumbo happy birthday yard signs out year after year and make them part of a birthday tradition. The shape and printed color of these happy birthday outdoor signs will remain intact due to their durability.
Happy Birthday Yard Signs with Stakes
We include two different types of stakes with each order to best fit each yard card - H stakes and a beefy stakes. If the letter is wide, an H stake is used. If the letter is thin, then a beefy stake is paired with the letter. Both stakes easily push into a front lawn. Insert the stakes into soft ground until they are taut. When this is completed, then you can add the corrugated plastic happy birthday yard letters. There are flutes between the layers of the corrugated plastic. Insert the top of the stake through the flutes of the happy birthday lawn signs until it is securely on. If you would like to see a video about how to set up these large happy birthday yard signs, view our "Videos" tab.
Personalized Happy Birthday Yard Signs Make the Party
Create happy birthday yard letters as a party decoration. Personalize the stock "Happy Birthday" message by selecting three emojis to add to the order for only $69.99. You can choose emojis for children's birthday parties to match a theme, such as favorite dinosaurs, superheroes, and 20+ other categories. If you would like to add a name, nickname, number, or custom phrase to the yard letters, the message is also completely customizable. Just enter your unique text in the box in our configurator. We allow up to 100 characters for our custom happy birthday yard sign decorations. No matter how much letters and symbols you add to the order, these custom birthday yard signs always ship free. Further personalize your yard letters set by adding custom big heads of the birthday boy or girl.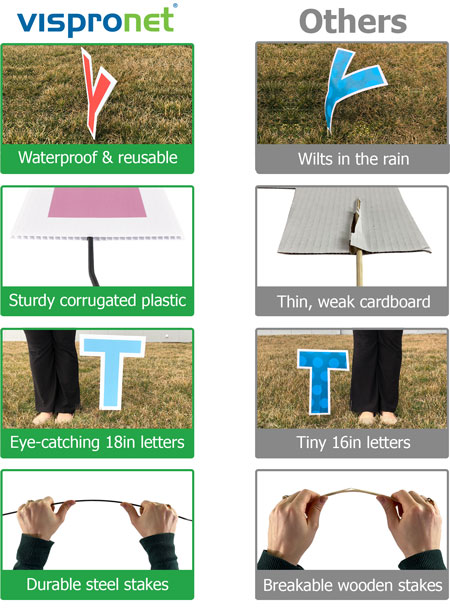 Frequently Asked Questions
Can I get my happy birthday yard signs to say something other than "Happy Birthday"?
If you would like to create personalized birthday yard signs, we have a custom phrase product where you can add your own letters and symbols in a wide range of colors. Custom happy birthday yard letters are popular for parties where you want to say how old the honoree is or if you want to include their name. We also offer other happy birthday signs for yard display. These include feather flags, banners, other yard letter designs, and a rectangular yard sign for birthday display.
What is the different between multicolor and gradient rainbow colors?
For the multicolor happy birthday signs option, each letter is a different color. For instance, the H can be red, and the B can be blue. For the gradient selection, each letter has its own rainbow color scheme.
How do I know which happy birthday yard letters get the H stakes and which get the beefy stakes?
When your happy birthday sign for yard display arrives, it will include instructions showing each letter in the set and a stake below them. The stake type below each letter is the type of stake that is compatible with that symbol. For example, the balloon symbol includes the image of a beefy stake underneath it. This means that the beefy stake needs to be used to setup the balloon. These birthday lawn decorations include 8 H stakes and 9 beefy stakes.
How long does it take for my happy birthday lawn signs to ship?
Our stock happy birthday lawn letters are ready to ship the same day if ordered by 1pm EST. Standard shipping for our birthday yard decorations is 3-5 days from our facility in central Pennsylvania. If you need your jumbo happy birthday yard signs sooner than the standard shipping time, go to our "Delivery Estimator" button below our configurator. Add what address the happy birthday yard letters are shipping to and the estimator will list what rush options are available.
What other yard letter phrases do you have?
If you are looking for signs other than front lawn happy birthday yard signs, we have a category featuring different jumbo yard letters for sale, including ones for anniversaries and graduations, and more! If you want personalized happy birthday yard signs with names or ages, use the text box in the product configuration to type out a custom message.
How big are happy birthday lawn signs?
These birthday yard cards come in 18in and 24in sizes. The wide range of additional emojis suit the height of the yard letters but vary in overall sizes. Both sizes of birthday yard letters are easy to see from a car or walking distance, making them ideal for front lawn or roadside displays.
Satisfied Customers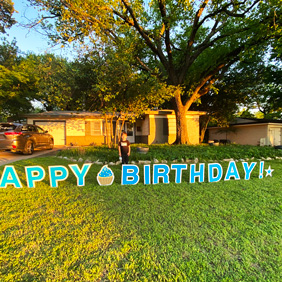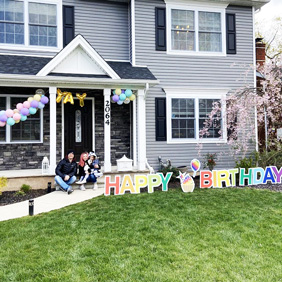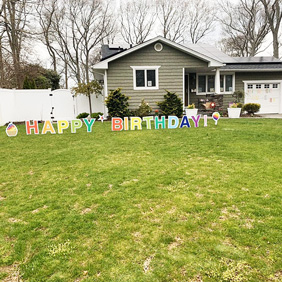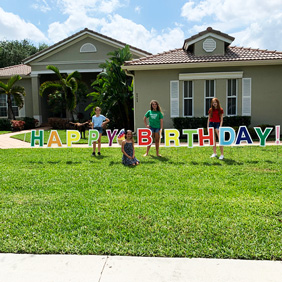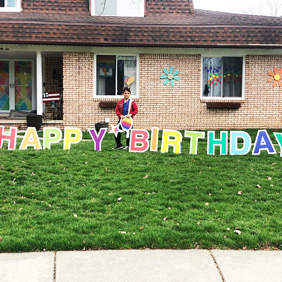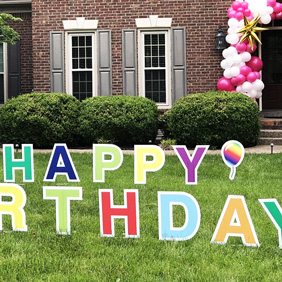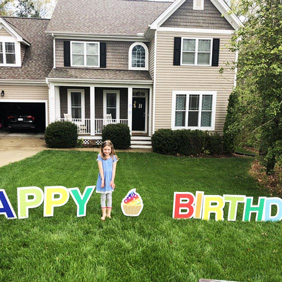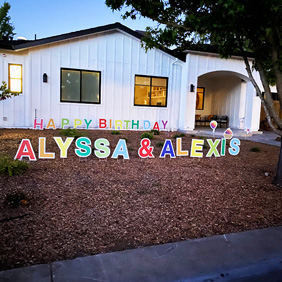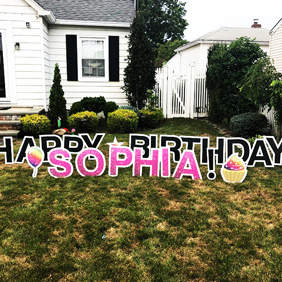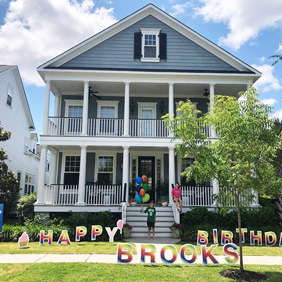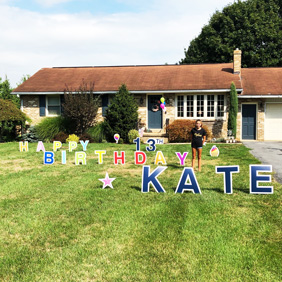 California Residents

Click here for Proposition 65 warning
Happy Birthday Yard Signs Demo
Frequently Purchased With
Q & A
Reviews