Silicone Edge Graphics & SEG Systems
Looking for a custom advertising display without the burden of set-up and tear-down time? Our SEG (Silicone Edge Graphics) line is the latest trend in the trade show industry, featuring a pristine look and feel without the maintenance. These dynamic marketing displays feature a sturdy aluminum frame with removable silicone strips to make swapping out new graphics a quick and easy process. All necessary hardware and wall mounts are included with each unit.
FREE Design Services | Lowest Prices | Design Online or Upload Template | 3-Day Turnaround | Rush Options | Free Proof | Pay Later
What are Silicone Edge Graphics (SEG)?
Silicone edge graphics are printed using the dye sublimation method of fabric printing to ensure the highest resolution possible. Each print is then finished with a piece of silicone that wraps around the edge of the graphic and allows it to be slotted into the frame with ease.
You're probably wondering what the benefits of SEG systems are:
Weight: Even though SEG graphics are much larger than normal graphic solutions, the fact that they simply slot into the silicone edge frame makes them lighter than traditional solutions.
Versatility: The sheer number of different styles of SEG displays means that you can use them as part of a display or as the centerpiece of an event structure.
No glare: The fabric construction of our SEGs means that they are perfect for use as a media wall or as the centerpiece of any kind of backdrop that needs to be photographed or filmed.
Fabric Printing and SEG Frames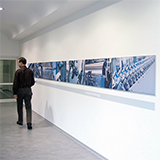 The graphics for each of our frames are printed in a process known as dye sublimation. Dye sublimation printing uses heat to transfer dye onto a variety of materials, including fabric. The use of dye sublimation as the printing process for our SEG systems ensures that our fabric SEG displays are more than a match for other graphics on the market.
Silicone edge graphics can be made for almost any kind of aluminum frames, but the primary silicone edge graphics extrusions we print for are our SEG Slim, Classic, Angled and Wide products.
Illuminate Your Display With Backlit SEGs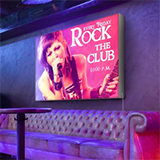 These backdrops are great for enhancing your presence at your next event: the included lights make sure that your product practically glows. Like our normal line of silicone edge graphics supplies and SEG frames, the backlit SEG features a durable aluminum frame that makes assembly and takedown a snap.
Currently, our backlit SEGs are offered in two different sizes, 7.4ft by 7.4ft and 9.8ft by 7.4ft.
Frequently Asked Questions
What industries are SEG frames popular in? Who uses them?
Our SEG frames are popular with customers because they offer a wide range of choices in sizing, style and use. They are commonly used as ceiling displays or wall displays. Our frames are in use in a number of different industries, including retail, hospitality, tourism and media.
What sizes and styles do you offer your frames in?
We offer our Silicone Edge Graphics in six different main styles:
Slim
Classic
Angled
Wide
Suspended
Each of our main SEG styles is offered in sizes ranging from 2ft x 3ft, all the way up to 8ft x 8ft. We also offer our SEG displays as pop-up portable booths in two separate sizes – 7.4ft x 7.4ft and 9.8ft x 7.4ft.
Why should you purchase SEG graphics?
Aside from the advantages listed above, silicone edge graphics provide a number of advantages over conventional fabric graphics, such as:
No sew line: The sew line for our edge graphics is hiding in the aluminum extrusion to provide a much more finished look to your wall display or exhibit.
Less frame: Since the graphic is housed within the silicone edge of the frame, you end up seeing more graphic and less frame.
Easy care: Our fabric graphics simply need to be washed and then steam-pressed to dry, which makes them much more durable and long-lasting than traditional graphics.
How do I clean my SEG graphics?
To clean your silicone edge graphics, you can simply wash them in your household washing machine on cold (105°F), using mild detergent. Remove the graphics from the machine immediately after the cycle is done and then use a steamer to remove any wrinkles. Reinstall the prints right away to prevent shrinking.
What our customers have to say