configurable 0 0
Custom printed solutions in 3 simple steps.

1. Choose from 3 Design Methods
Click the Proceed to Artwork button to choose Design Online, Upload Template, or Free Design Services.

2. Receive & Approve Your Proof
We'll process your artwork within 2 business hours and send a proof for your approval via email.

3. We'll Bring Your Idea to Life
Our standard turnaround time is 3 business days plus shipping with expedited options available.
Custom Playmats Details
Make tabletop games more memorable with custom playmats. These playmats are the perfect gift for a tabletop gaming fan or card player. Design your mat to be 100% customizable or select from multiple game zones. Our wide range of game zone options are inspired by popular tabletop gaming franchises. Our playmats come in a variety of sizes, including selectable standard sizes or custom sizing from 16in x 10in up to 48in x 48in. Your unique design is recreated on the game mat material using dye sublimation, a printing technique that produces striking colors that will not fade and are safe to wash. We print in full CMYK colors, which allows you to incorporate as many colors and details as you would like for no extra cost. The material is also designed for frequent use for a long playmat life. Take your favorite card game to the next level or create your own design to show off on these fun gaming playmats.
Parts List:
Custom print gaming playmat
Cardboard tube
Material:
Specifications:
One Player Size
Two Player Size
Standard Sizes
24in x 14in
24in x 28in
16in x 10in, 20in x 20in, 24in x 14in
24in x 28in, 36in x 36in, & 48in x 48in
Product Features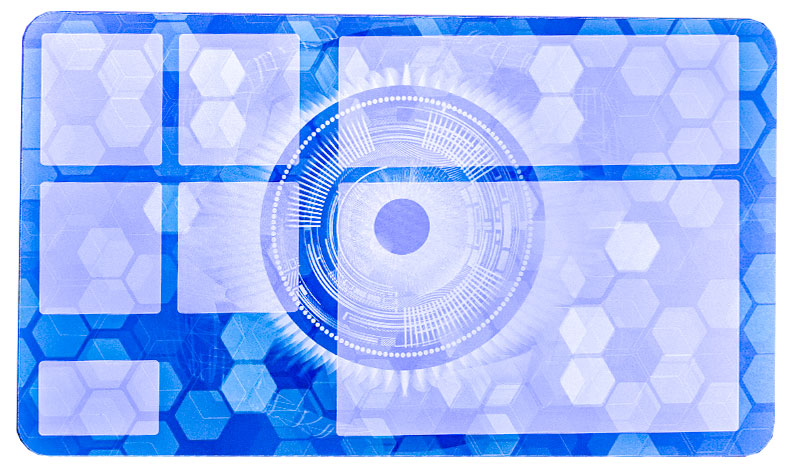 100% Customizable
Personalize your playmat with graphics and artwork. Choose your size, playzone, and finishing style.

Select Your Playzone
Choose from a wide selection of popular gaming franchise pre-designs, such as Pokémon, Final Fantasy, and Yu-Gi-Oh.

Long-Lasting Print
Your artwork is printed onto the material using dye sublimation for vibrant, fade-resistant graphics.

Two Finishing Options
Select from either cut sides or stitched sides. The stitched sides prevent cards from falling off the mat.

Included Storage Tube
Each playmat comes packed in a cardboard tube for easy travel and convenient storage.
Choose Your Design: 3 Easy Methods
To customize your mat, choose one of the following design methods. All design submissions are checked by our pre-press team for any errors, free of charge. We will email you a free digital proof of your design for your approval before we begin printing.
Design Online: Personalize your customizable playmat without leaving our site using our design tool. The design suite allows you to upload artwork and logo files directly from your computer and makes it easy to add text, colors, clip art, and more.
Upload Artwork: If you have design experience and have a program you prefer using, download our artwork template by clicking on the download template link. When you are finished creating your graphics, upload the template back onto our site.
Free Design Services: For those who aren't sure what to include on their playmat or need help with the design process, have one of our professional graphic designers create the artwork for free. You will receive a free digital proof to review before we print anything.
Frequently Asked Questions
What is the turnaround time for these playmats?
The standard turnaround time for this product is 3 business days. If, however, you want your playmat delivered to you by a certain time, we have rush production and shipping times available. See what rates we have for you using our "Estimate Delivery" tool.
What game play zones are offered?
Our custom playmats can feature play zones for Pokémon, Magic the Gathering (MTG), Yu-Gi-Oh, Dice Masters, Final Fantasy, Dragon Ball Super (DBS), Digimon, Flesh and Blood, and One Piece. You can choose between one player and two player games zones.
What are these used for?
These gaming mats are used for tabletop games. Many gamers display these mats on a gaming table and play on top of them. These playmats can be customized for specific games with play zones and single player or two player sizes.
Are all the sizes available with game zones?
The game zones are only available for 14in x 28in and 24in x 28in sizes. If you would like to add play zones to a larger size, add the game zones using our online design tool.
What's the difference between the finishing options?
Choose between having the sides of your mat cut or stitched. The cut sides offer clean edges, and the stitched sides prevent cards from sliding off the mat.
California Residents

Click here for Proposition 65 warning
Q & A
Reviews
There have been no reviews about this product.