configurable 0 0
Custom printed solutions in 3 simple steps.

1. Choose from 3 Design Methods
Click the Proceed to Artwork button to choose Design Online, Upload Template, or Free Design Services.

2. Receive & Approve Your Proof
We'll process your artwork within 2 business hours and send a proof for your approval via email.

3. We'll Bring Your Idea to Life
Our standard turnaround time is 3 business days plus shipping with expedited options available.
What Are Fence Banners?
Turn boring chain-link fences into valuable advertising space with our fence banners! These mesh banners are the perfect solution to promote your business, sponsors, promotions, and more. They are commonly used at sporting events and shopping centers and are perfect for those who want to put their business in the limelight. Fence banners are printed on your choice of fabric or vinyl material, with both materials featuring slits to allow wind to pass through.
Fence Banners Details
These high-quality fence banners are a great way to use fences for advertising your business or promoting your event. Our banners easily hook onto chain-link fences due to their grommet finishing. All you need is a snap hook for connecting the banner to the fence. No other tools are required. Choose from Mesh Vinyl and Mesh Polyester materials. Both mesh materials have small holes in the banner so that wind easily passes through without ruining the material or the print. Our vinyl option is weather-resistant, UV-protected, and perforated while our polyester material is a durable knitted fabric designed for outdoor use. We use dye-sublimation to print on fabric and digital UV-printing to print on vinyl material. Both printing options recreate your graphics in full color and are long-lasting in all kinds of weather. Get your fence signs in standard or custom sizes and turn your boring chain link fences into advertising space!
Material:
12oz Mesh Vinyl: Perforated weather-resistant & UV-protected matte vinyl
Mesh Polyester: Mesh-like structured knitted fabric with excellent thru-print (3.25oz/yd²)
Design Fence Banners Online
We offer three ways for customizing your banner to accommodate all levels of design experience and preferences:
Design Online: Create your custom fence banners online without having to leave our site. Our design suite allows you to upload your artwork and logo files onto the banner template. Further customize your graphics using our text box, clipart, colors, and other design tools.
Upload Artwork Template: If you have a software program that you prefer working with, we have the option for downloading our artwork template onto your computer. Click on the downloadable link, insert your artwork, and upload the finished template back onto our site before or after placing your order.
Free Design Services: If you are having trouble coming up with your own design or need assistance with the whole artwork process, our professional graphic designers are here to help! Our team can create your graphics based on your specifications and will send you an artwork proof before we print your banners.
Fence Signs Made from Outdoor Tested Mesh Vinyl or Polyester
Our printed mesh fence banners are a go-to for businesses because they are great for long-term outdoor display and are easy to set up and remove from any fence. The durable polyester or vinyl materials are perfect for the outdoors because wind, rain, snow, and heat will not damage the banner or the custom print. Both material options consist of perforated mesh to allow wind to travel through the material, preventing damage and allowing for extended outdoor use. The banners are also finished with grommets for connecting them to the fence with snap hooks for extra security during inclement weather. No tools are required for setup, saving you time and labor. Utilize your surrounding outdoor space as much as possible to spread brand awareness for your business!
Satisfied Customers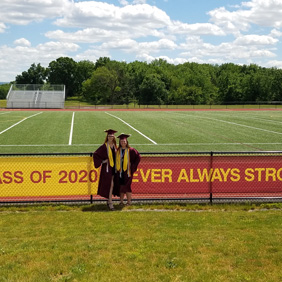 Frequently Asked Questions
What is the turnaround time?
Our banners require our standard 3 day turnaround time plus shipping time because they are custom made products. If you need a faster turnaround time, we have rush production and shipping options to choose from at checkout. See what shipping options and fees are available for you with our "Delivery Estimator" at the top of the page.
What material is used for these banners?
We print your fence banners on either vinyl or polyester material. Both options are mesh so that wind easily passes through your banner and fence to prevent the print from getting ruined. Vinyl and polyester are great for setting up outdoors, but vinyl is perforated while polyester is knitted. Your final decision depends on how you want your banner to look and feel.
How big or small can I get these banners?
We offer a wide range of common banner sizes, ranging from 10ft x 3ft to a larger 50ft x 7ft. If you do not see the size you are looking for in our list of options, we also offer custom sizes to suit a wide range of fences. If you are interested in a custom sized fence banner, click "Enter Your Own Size" on the dropdown menu. From there you can enter your preferred height and width into the dialogue boxes.
What printing process do you use?
Our printing method depends on which material you select. Our polyester banners get dye-sublimation printing, which infuses the ink into the fabric. This is the same printing technique we use for all our fabric products, such as our custom tents and flags. The vinyl option gets a digital UV-printing technique instead, which is great for outdoor displays and is the same kind of printing we use for our other vinyl products and yard signs. Both printing methods are ideal for long-term display and will not scratch or peel off from the elements.
Will these fence banners be fine in the wind?
Yes, all our fence signs are made from mesh material, which has small holes that allows the wind to pass through the banner rather than push up against it. This will keep your banner material and print in great condition, even when displayed during windy days. We recommend making sure your banners are fastened correctly on the fence so that the wind will not blow the banner away.
How do I hang these banners?
Hanging these banners on a fence is very easy. Our fence banners are finished with grommets around the edges. To place your print on a fence, connect each grommet to your chain link fence using snap hooks. Add pear snap hooks to your order from the "Accessories" tab in the product configurator. You don't need any other tools or hardware to secure your banner.
What kinds of fences can these be displayed on?
These banners are designed for chain-link fences, which are the types of fences you usually see around sports stadiums. You can, however, also connect your banner to other types of fences. The grommet finishing allows for all kinds of setups and fence types. For example, grommets also make it simple to hang the banner from a ceiling or wall when used indoors. This makes the banner versatile so that you can set it up in all kinds of places.
How should I properly store my fence banners?
When you are not using your signs, it's important to make sure that your banners are properly stored so that they remain in pristine condition for repeated setup. Instead of folding the print, we recommend rolling it up so that the fabric does not wrinkle. Try to keep your banner in mild places rather than areas with a lot of heat. Ideal storage locations are basements and closets.
If your banner becomes wrinkled, check out our blog post on how to remove wrinkles from vinyl banners and backdrops. How do I clean these banners?
If your banner becomes dirty, you can easily clean it by using a rag and warm water. This should remove dirt and debris from the material. If your banner is wrinkled, set it up on a fence or lay it out in the sun for about a day to get rid of them.
California Residents

Click here for Proposition 65 warning
Frequently Purchased With
Q & A
Reviews