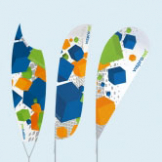 Custom Feather Flags - Bowflag®
Go custom with the Bowflag®. You can find these custom feather flags at trade shows, events, and outside of any business. These advertising teardrop banners are fully customizable with six sizes, five shapes, and multiple bases to choose from. All Bowflag® shapes fit the same corresponding sized hardware and changing prints is easy!
The Bowflag® is often referred to as a teardrop, feather, or blade banner due to its shape. It is a flexible advertising banner flag – both physically and in the number of ways it can be used. If you're looking high-quality and effective advertising, then the Bowflag® is perfect for you!
back to top
Custom Feather Flags for Sale at Vispronet®
Bowflag® Basic
Bowflag® Basic products are recommended for indoor or outdoor use in low-wind areas (up to 30 mph). Bowflag®Basic feather banners are available in six sizes, from 4.1 feet to 17.1 feet for all shapes except for the Bowflag® Basic Drop, which can measure 3.6 feet to 14.1 feet in height.
All Bowflag® Basic products include an aluminum and fiberglass pole set.
Bowflag® Plus
If you're looking for teardrop flags to use exclusively outdoors or are looking for a size larger than 17.1', then we recommend you look at our Bowflag® Plus products, as they are made to be used in high-wind areas (55 mph to 63 mph for single-reverse flags and 36 mph to 46 mph for double-sided flags). Our Bowflag®Plus line is available in three sizes, ranging from 10.2' to 17.7', except the Bowflag® Plus Drop, which ranges from 8.4' to 14.4'.
All Bowflag® Plus flags include aviation-grade fiberglass pole sets.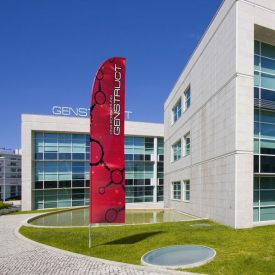 Which Bowflag® is Right for You?
Vispronet's custom feather flags are available in five different shapes:
Drop – The Drop is an advertising teardrop flag with a unique curved shape.
Angled – This swooper flag features an angled bottom and swoop spine.
Concave – The Bowflag® Concave is a custom teardrop banner with a curved bottom and spine.
Convex – A flutter flag with a curve on both the top and bottom of the flag.
Straight – Slice up the competition with this blade flag, which can be seen on the right. The Bowflag® Straight features a flat bottom.
Synonyms for Custom Feather Banners
We've heard Bowflags® called a variety of different terms. Feather flag is among the most popular, but other popular synonyms include: beach flags, swooper flags, teardrop flags or banners, advertising banner flags, wind flags, blade flags, feather signs, and feather banners. When you order your Bowflag® from Vispronet®, you won't look at other feather flags the same again.
High Quality Swooper Flags
All Bowflag® products are rigorously tested through a range of quality control assurances. Unlike other companies' flimsy, cheap feather flags, we don't skimp on using the best materials to construct our products. Our prints give you the maximum printing area, even allowing your artwork to be printed on the pole sleeve instead of using a solid color header tape pole sleeve that can detract from your image. Whichever size or shape option you choose, you will get the recognition you deserve. Let your Bowflag® do the work for you.
Design Feather Flags Online
Customize your own feather flag banners using our fully integrated design tool. The Vispronet design tool lets you create your own design in real time or upload your own custom artwork.
Setting Up Your Bowflag®
Setting up your Bowflag® teardrop banner is easy and takes little to no time! Slide the print onto the pole set, secure your Bowflag® with the bungee cord and bungee cord tensioner, and place the pole set onto the base.

Who Uses Feather Flags?
Our clients include a wide range of industries and large and small businesses, including:
Car washes
Real estate professionals
Bars and Restaurants
Schools and Universities
And More
Versatile Feather Banners
Six sizes are available, and because all shapes use the same hardware, buying more pole sets or bases for a new shape is unnecessary. A base is required and there are different base options available for indoors, outdoors, flat surfaces or grass. The optional Bowflag® carrying case makes it easy to store and transport.
Whether used as a trade show display, on a business campus or as a roadside campaign, Bowflag® custom feather flags make your message visible. It uses unique and eye-catching shapes that stand out where other display solutions cannot.
Ordering Your Bowflag® Feather Banner from Vispronet
During the Bowflag® custom configuration, you also have the choice between standard and professional artwork checking. You can also choose to have a PDF proof emailed to you for a $5 fee. All Bowflag® flags are printed on our durable Polyflag Standard material that will make your graphic stand out. Have questions? We'd love to help. Call us at 877-822-0201 or Live Chat with a Representative. You can also send us your question.
Bowflag® Custom Feather Flags Comparison
Basic
Plus
Premium
Available Bowflag®
Shapes

| | | | | | | | |
| --- | --- | --- | --- | --- | --- | --- | --- |
| | | | | | | | |
| Angled | | | | | | | Concave |

| | | | | | | | |
| --- | --- | --- | --- | --- | --- | --- | --- |
| | | | | | | | |
| Dart | | | | | | | Moon |

Razor

| | | | | | | | |
| --- | --- | --- | --- | --- | --- | --- | --- |
| | | | | | | | |
| Crystal | | | | | | | Surfer |

Pole Construction
Aluminum & Fiberglass
Aviation-Grade Fiberglass
Aviation-Grade Fiberglass
Overall
Display Size
Drop
Drop
Dart

| | |
| --- | --- |
| XXSmall | 1.3' x 3.6' |
| XSmall | 1.8' x 5.2' |
| Small | 2.5' x 7.2' |
| Medium | 3.1' x 8.4' |
| Large | 3.6' x 11' |
| XLarge | 3.9' x 14.1' |

| | |
| --- | --- |
| Medium | 3.1' x 8.4' |
| Large | 3.6' x 10.5' |
| XLarge | 3.9' x 14.4' |

| | |
| --- | --- |
| Small | 2.5' x 7.2' |
| Medium | 3.4' x 10' |
| Large | 4.9' x 14.8' |

Flying
(Angled, Concave, Straight, Convex)
Flying
(Angled, Concave, Straight, Convex)
Moon

| | |
| --- | --- |
| XXSmall | 1.3' x 4.1' |
| XSmall | 1.6' x 5.9' |
| Small | 1.8' x 8.2' |
| Medium | 2' x 10.2' |
| Large | 2.6' x 13.5' |
| XLarge | 2.8' x 17.1' |

| | |
| --- | --- |
| Medium | 2.0' x 10.2' |
| Large | 2.6' x 13' |
| XLarge | 2.8' x 17.7' |

| | |
| --- | --- |
| Large | 3.6' x 14.1' |
| XLarge | 3.8' x 18.4' |

Razor
Crystal

| | |
| --- | --- |
| Medium | 3.1' x 8.4' |
| Large | 3.6' x 11.2' |
| XLarge | 3.9' x 15.9' |

| | |
| --- | --- |
| Medium | 3.1' x 11.5' |
| Large | 3.8' x 14.1' |
| XLarge | 4.1' x 18.2' |

Surfer

| | |
| --- | --- |
| Small | 2.5' x 7.9' |
| Medium | 3.4' x 11' |
| Large | 4.9' x 16.1' |

Print Options
Single-reverse or double-sided layout
Available in custom prints, stock designs or stock colors
Suggested Use
Indoor/Low-wind Outdoor
Double-Sided Prints
Continuous Outdoor Use
Indoors and/or Outdoors
Wind-Speed Resistance

| | |
| --- | --- |
| Single-Reverse | 25-31mph |
| Double-Sided | 13-17mph |

| | |
| --- | --- |
| Single-Reverse | 55-63mph |
| Double-Sided | 39-46mph |

| | |
| --- | --- |
| Single-Reverse | Up to 46mph |
| Double-Sided | Up to 46mph |