Business Flags
Add a pole set and base to any business flag for easy display
Pre-printed via dye sublimation on super-knitted polyester material
Pole Sets: Standard (30mph wind) or Premium (63mph wind)
Base Options: ground stake, cross stand & weight bag, or both
All business flags ship the same-day if ordered by 1PM EST
---
Don't see the design you are looking for? Create your own custom feather flag.
| | | | |
| --- | --- | --- | --- |
| Wind Tunnel Tested | No Tools Required | Same-Day Delivery | Made in the USA |
---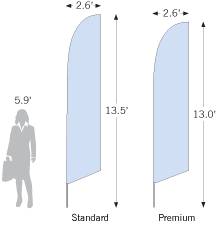 Business Flags That Are Tough & Weather Resistant Will Get You Noticed
Take your marketing efforts to new heights with our business flags and banners. Standing at 13' or 13.5' high, you can really make your advertising messages stand up larger than life.
 How will our products help you get noticed?
Get more traffic from people driving or walking by your store
Identify your space as belonging to you – helping you brand your storefront so that people who are looking for you know exactly where to find you
Give your business and event areas a more professional look
Dozens of Pre-Designed Banner Flags for Businesses
When it comes to picking out the business flags and banners that you'll need for advertising, we have a number of different options you can pick – everything from simple standby designs like "Sale," "Open" or "Welcome" to more flashy flags like "Beer," "Vapor," "Coffee" and "Fireworks." We've got the flags you need to help you advertise every aspect of your business.
What's Included?

Using our products outside your location is one of the best ways to promote your business and increase customer visibility of things like sales, promotions and product launches. Available in two different sizes and a number of different styles, our flags are designed to give you the durability and portability you won't get from any other advertising display.

Premium Material

Made from outdoor-tested polyester fabric that is both resilient and resistant to tearing, our advertising feather flags are designed for year-round use. With the best printing processes available today, we use specialized inks resistant to fading. Each one comes with all the hardware you need to assemble it together with your promotional print of choice – all in a nice little carrying bag to make storage and travel a breeze.

Multiple Base Options

All of our business flags come standard with a ground stake base – perfect for advertising in grassy outdoor areas. Depending on where you're advertising, though, you might need something different: we also offer a cross stand base with an included 26lbs weight bag – perfect for advertising on sidewalks or other places where you can't stake your flag down into the ground.

Design Your Own

Looking for something a little more custom? We also offer our business flags and banners as a series of custom feather flags available in many different forms. Choose from pole banners, tear drop flags, and a variety of custom shaped feather flags.

Includes:

Flag

Pole Set

Base

Carrying Bag



Check out our blog post on how to use marketing flags as part of your next advertising campaign or business plan.
Business Flags & Banners Keep Your Employees Inside – Not Holding Signs
Displaying an outdoor advertising flag is a great way to spread the word about your company's sales or events without taking up valuable storefront space or pulling an employee off the line to man a sandwich board sign.
The skills your employees possess are valuable – so why waste them by having an employee sit outside for eight hours a day holding a sign?
Our business feather flags are designed to sway in the wind so that they attract the attention of people walking or driving by – no one's going to engage with a vinyl banner that's just hanging in your storefront window, especially if they can't see it. At 13' to 13.5' high, our business flags are designed for one thing and one thing only: getting you noticed.
If you are interested in displaying a traditionally styled portable flagpole outside your business or home, we also offer sectional flagpoles that are available with an array of different base styles. These portable aluminum flagpoles can be displayed indoors or outdoors and are excellent at attracting the attention of passerby.
Ready to get started picking out the tools for your next advertising campaign or sale? Click on the flag signs for business to get started.
What our customers have to say