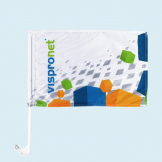 Custom Car Flags
Custom Car Flags from Vispronet® give you the opportunity to advertise and promote while you're on the go. These Car Flags with Custom Prints easily attach to vehicles and can be removed and reattached wherever you desire. Whether you want to promote your business or an event, or just express pride in your team or organization, Custom Car Flags are a great way to spread the word. Custom Car Flags are also a great item to hand out to customers, friends, family and supporters, so they can help generate buzz while they're on the road.
Car Flags From Vispronet®
Our custom car flags are a perfect mobile advertising solution to promote a business or draw extra attention at an event.
Custom car window flags are often used for:
car shows
parades
caravans
tailgate parties
funeral processions
Upload your own graphics using our online design tool to create your own custom car flags or choose from 20 stock color flags with no print.
We offer single-reverse and double-sided printing of your custom graphics on our Polyflag Standard material. Our large car flags measure 15.7" x 11.0" with a 17-inch car window flag pole included. Small vehicle flags measure 12" x 8" and come with a 12.8-inch flag pole and includes a car window flag mount.
Setting Up Your Custom Car Flags
All Vispronet® custom car flag poles have a durable plastic clip for easy attachment, no tools or messy adhesive required. Simply roll down a window, slide the car flag mount into place and roll the window back up to secure the flag pole. There's no need to worry about using our vehicle flags on your automobile. We guarantee that the adhesive strips won't leave residue on your vehicle and that the plastic mount clip will not scratch your window when removed.