Featured Categories
Premium Trade Show Displays & Booths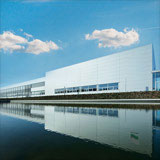 The Vispronet® online print shop represents fantastic quality coupled with an impressive production capacity and a vast inventory of products. We ensure orders undergo the fastest production times with quick, reliable, and guaranteed delivery. For each product - whether it be portable trade show displays, pop up booths, banners, flags, etc. - we provide a myriad of vendor booth supplies and trade show supplies to fully customize your product.
Use our Visprodesign® tool to plan and design the perfect trade show banners or advertising idea. We offer diverse ordering options such as rush production, and expedited, overnight and international shipping.
Our knowledgeable customer support staff is personal, professional, and available to assist you between 9a.m. and 6p.m. EST via live chat or by phone at 877-822-0201.
Why Choose Vispronet for Your Trade Show Supplies?
Extensive Product Inventory
Readily Available, Knowledgeable Customer Support
Artwork Assistance
Free Artwork Proofs through Our Online Design Tool
Custom Sizes Available (No Surcharge)
Digital and Large Format Printing
Value for Resellers
Quantity Discounts
Rush Production & Fast Delivery
Same-Day Shipping for Stock Color & Hardware Items
A Great Reputation for Service and Quality
See our ShopperApproved® reviews
Vispronet®'s Inventory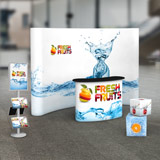 Whether it be for business or personal use, Vispronet® products are sure to make a lasting impression. The wide range of our product catalog provides you with multi-faceted solutions for individual presentation, advertising and brand awareness. Vispronet® trade show materials - whether you're looking for pop up displays, conference booths, convention displays, table display stands or popup banner stands - hold the answer to taking your exhibit displays to the next level. We guarantee quality production and printing on our special textile materials of our diverse product lines, thus creating truly unique advertising pieces and trade show displays for our customers.
Create an eye-catching, show-stopping, advertising arsenal for the ultimate trade show booth at your next event. Print your logo or custom artwork on products such as our booth displays, portable display stands or trade show signs. We are here for all your trade show supply needs.
We're not about just helping businesses: you can get personal at Vispronet.com with attractive gift ideas for that special someone. View our portfolio to see strikingly beautiful gifts and ideas to decorate your home. Our LED lightbox signs, tabletop displays, and portable trade show furniture are great examples of custom printed home décor. Explore the endless possibilities of Vispronet® and our diverse product range.
Design Online with the Visprodesign® Tool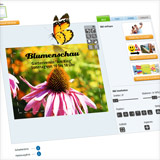 Here at Vispronet.com, we allow the customer be the graphic artist – no experience required. The user-friendly Visprodesign® tool gives you full control of the design experience of your trade show signage. It's free to use and helps you to quickly create original designs with our free clip art, photos and product templates. Vispronet® strives to provide a quality, user-center designed experience.
With just a few clicks, you can create a quality print for your business, or birthday gifts and funny holiday surprises for family, friends or co-workers. The Visprodesign® tool lets you load your own photos and combine them with custom text or clipart. You can even make different designs for each face of multi-sided, front-and-back products!
Choose Your Advertising Medium: Trade Show Banners, Backdrops, Booths & More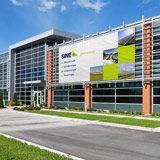 Vispronet® offers advertising solutions for trade show exhibits featuring fully customized designs on a variety of mediums. Our vast inventory ranges from large-format printed products such as banners, backdrops and pop up displays to PVC banners, sidewalk signs, small flags and table throws.
Choose from a versatile selection of quality advertising solutions. We print for your outdoor and indoor advertising needs. Utilize robust trade show banners, feather flags and booth displays precisely according to your needs. All products are printed on durable, specialized textiles. The longevity of your advertising is guaranteed with Vispronet® products.
Transform your subpar trade show display into a superior one. Create expo displays, pop up tents or retractable banner stands with enticing advertising. Most Vispronet® products can be used both indoors and outdoors, allowing you to inspire your visitors in any environment. Use your logo or brand artwork on the highest quality trade show equipment to separate yourself from the competition!
Creating the Perfect Trade Show Booth Displays
You are guaranteed to have a successful and professional trade show display with our stable and flexible product line. Vispronet® offers convention displays in a variety of sizes – from simple table top displays to stunning portable trade show booths and tension fabric displays. Upgrade your order with our extensive selection of accessories such as hanging structures, brochure holders, literature stands, portable trade show counters and info boards. Vispronet® can create any custom portable exhibit booth imaginable.
Trade Show Tents
Event tents are one of Vispronet®'s most notable product lines. We offer various sizes of tents in our Compact, Basic, Deluxe, and Premium models with either aluminum or steel frames. All event and trade show tents are available in full print, logo print, or stock color (no print). Choose from numerous tent accessories such as stakes, awnings, banners and walls. Our larger star tents are also available for purchase.
Custom Flags & Banners for Indoor & Outdoor Use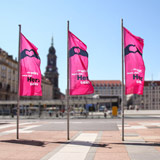 We also offer a wide variety of flags and popup banners printed on premium materials such as Polyflag, Sundeco, heavy-duty vinyl and more. These products are able to be utilized in both indoor and outdoor environments, in front of company buildings, or in the lobby of any establishment.
Achieve the highest representation of your brand with our double-sided flags, Bowflag® products and street banners. Go even smaller with table display stands. These maximum quality banners and flags are long-lasting, vibrant in color and weather-resistant. Choose Vispronet® for the highest quality materials and a pristine printing process.
Portable Trade Show Furniture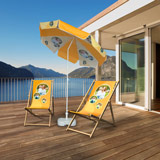 In our portable trade show furniture line, you will find original ideas for home décor, room design, and creative gifts for any occasion. We offer custom display cylinders, cubes, display benches, promotional seating sets, custom seat cushions and promotional chairs. Let your expo visitors sit in style with Vispronet®'s custom promotional furniture products.
Pre-Designed Templates Available
Don't have time to design your own artwork? Looking for something simple or need a head start? We have a collection of pre-designed product templates available for customer use. These designs are fully customizable and can be personalized or adjusted. Get started with our design templates here.
Printing Material Samples
With the multitude of options offered at the Vispronet® online print shop, it may be difficult to decide on which printing material is right for your trade show supplies. In order to pick the best material for your design, we allow customers to request samples of every material offered. You can choose between a free stock image sample or printed sample with your artwork at the cost of $25. Please contact support to receive any free material sample.